Premium Yacht (EXULT36 Sports Saloon-X) how-to guide
Reproduce the beautiful curves of the Premium Yacht (EXULT36 Sports Saloon-X) with amigurumi. We provide how-to videos.
Let's make a Premium Yacht by amigurumi.
The Premium Yacht (EXULT36 Sports Saloon-X), of which Japan can be proud, achieves unprecedented design,
unprecedented glide and unprecedented comfort.
Why not look at the pattern and the videos and make our Premium Yacht with amigurumi?

Tools / yarn you will need
Please prepare the yarn and tools that you will need to make the yacht. See the pattern and how-to videos for where to use what.
[1] Dot punch [2] Tweezers [3] Scissors [4] Hooks (3/0, 5/0) [5] Pins [6] Needle [7] Masking tape [8] Cardboard [9] Yarn - Navy blue, White, Pale blue, Light grey, Grey, Golden yellow
and Stuffing
Premium Yacht (EXULT36 Sports Saloon-X) pattern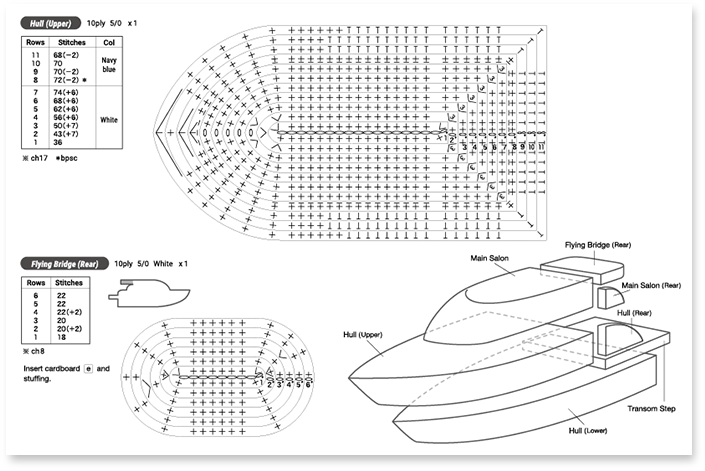 You can download the PDF pattern designs to make the Premium Yacht (EXULT36 Sports Saloon-X). The pattern includes knitting instructions as well as instructions for yarn thicknesses and colours.
Download the Premium Yacht pattern

Parts by colour
See the Basic Amigurumi Lesson page for the basics of amigurumi. Once you have seen that, have a go at making the Premium Yacht (EXULT36 Sports Saloon-X).
We have made how-to videos showing the parts in different colours so that it is easy to understand how they are made and assembled. Enjoy our specially made how-to guide.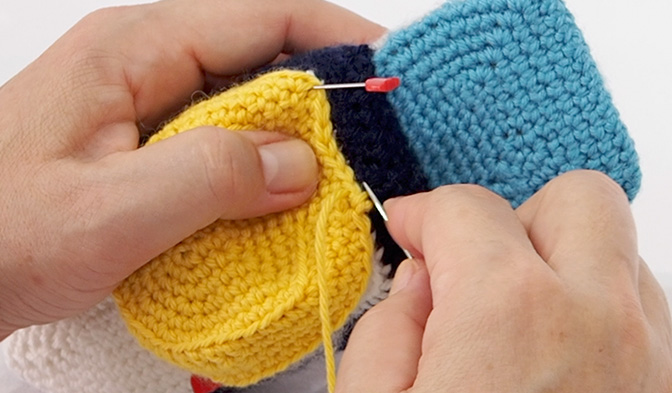 Please refer to the following diagram for the names of the parts of the Premium Yacht.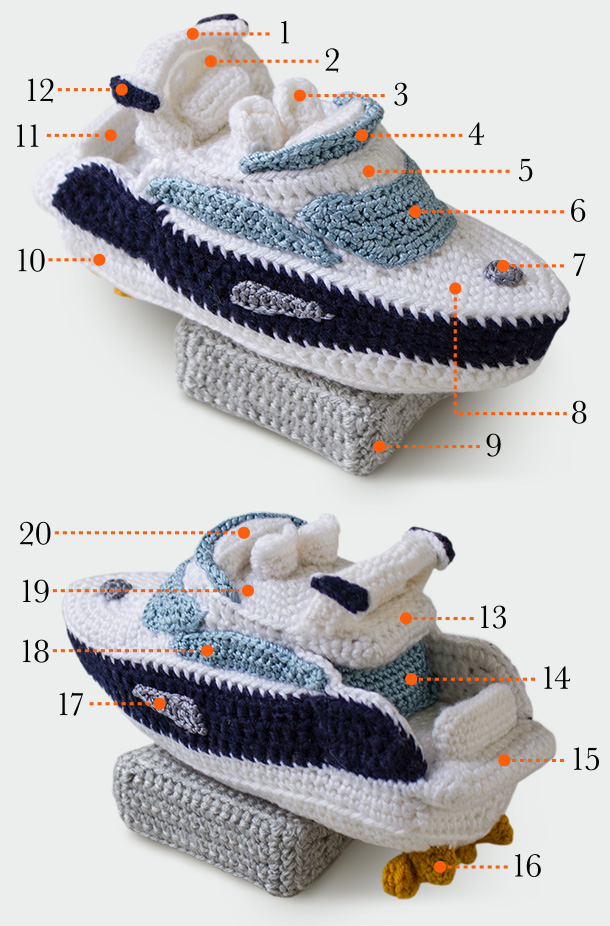 [1]Radar Gate [2]Seat [3]Seat [4]Wind Shield [5]Main Salon [6]Front Window [7]Sky Light Hatch[8]Hull (Upper) [9]Plinth part [10]Hull (Lower) [11]Aft Hatch [12]Radar Gate Sideparts
[13]Flying Bridge (Rear) [14]Slide Door [15]Aft Deck・Transom Step[16]Engine / Propeller [17]Ocean View Port [18]Side Window [19]Flying Bridge (Front)[20]Cockpit

Once you have prepared everything, you are ready to make your Premium Yacht!
11
Ocean View Porthole, Skylight Hatch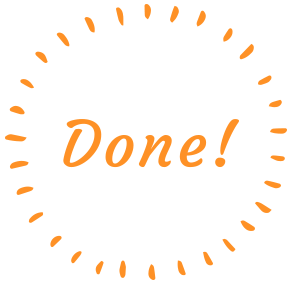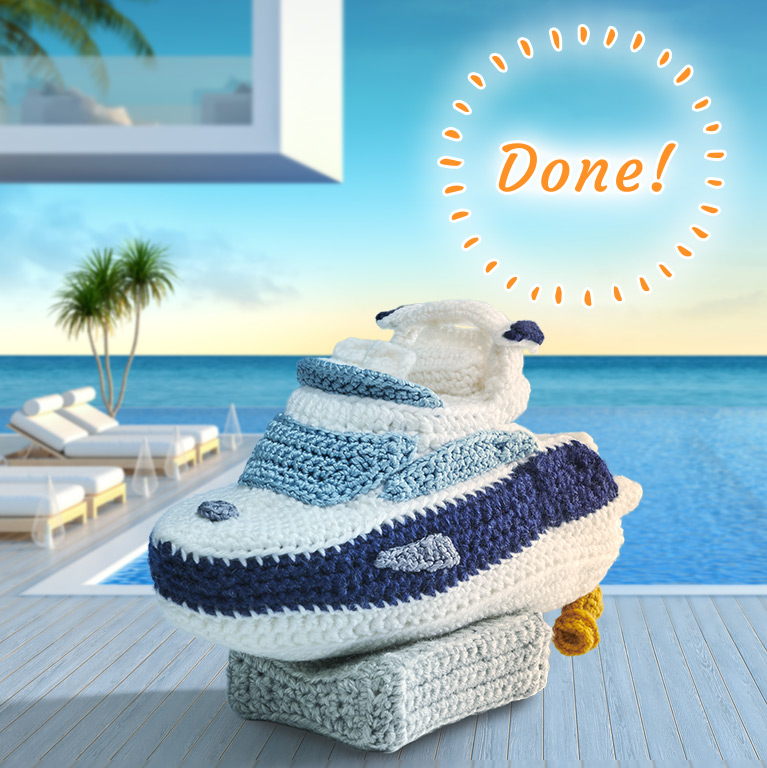 Official social media gallery -
Send in pictures of your work!
Let us post the work you have created using the how-to guide on this site on the official Yamaha Motor amigurumi / needle felting account on Instagram.
Just fill in the required fields on the posting page and upload photos of your work. We are looking forward to seeing them.
See gallery information
Terms of use
These contents are operated by Yahama Motor Co., Ltd. and are provided free of charge with the premise that they will be used in the pursuit of hobbies by individuals.
Please read the terms of use of the website before use. We hope you enjoy these contents.>Terms of use