2006
View an archive of races Yamaha competed in 2006.
Rossi ranked 2nd, misses consecutive titles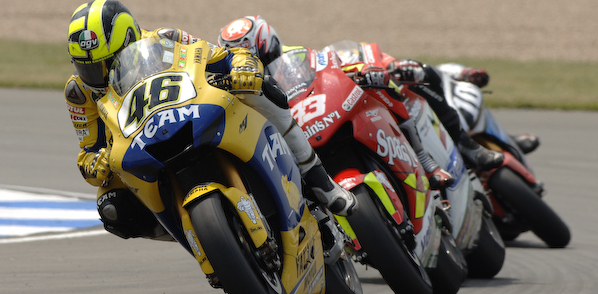 Rossi can't make it three in a row but still ranks 2nd



Despite winning five out of the 17 races in this year's series, Valentino Rossi's misfortunes in early part of the season meant that he was only able to finish 2nd in the ranking. Collin Edwards finished 7th in the ranking, while Carlos Checa and James Ellison finished 15th and 18th respectively.

The opening race was marked by a two-man contest between Loris Capirossi (Ducati) and Dani Pedrosa (Honda) in the latter's first MotoGP race. Eventually Capirossi finished on top. For Yamaha, on the other hand, it was a race of misfortunes. All four Yamaha riders were under 11th place. Rossi made contact with another machine and crashed in turn one, which left him nearly 50 seconds behind the leaders. He fought back but could only manage 14th place. Edwards went off the track while trying to avoid Rossi's collision. This dropped him to second from the very back of the pack, but he eventually managed to fight his way back to 11th at the finish. Checa, who returned to Yamaha this year, was running in 7th position in the early stages of the race, but gradually he fell back to finish 13th. Meanwhile, Ellison finished in 16th place.

Rossi fought back immediately. He won the next race in Qatar, and finished 4th in Turkey. But in China and France, trouble caused Rossi to retire from both races, dropping him down to 8th in the ranking with a 40-point deficit. He fought back again in Italy and in Catalunya to bring himself back to 3rd in the ranking. He missed the podium in the Netherlands due to an injury he incurred in qualifying, but he was ranked 2nd after coming 2nd in Britain and taking his fourth win of the season in Germany. With this, he was only 26 points behind the points leader, N. Hayden (Honda). In the American GP, Rossi once again retired from the race, while Hayden took another win. This put him down again to 4th in the ranking.
Rossi's fight back did not end here, however. After a 2nd place in the Czech Republic, a win in Malaysia, and a 3rd-place finish in Australia, Rossi brought his point deficit down to 21. He then went on to take 2nd-place finishes in Japan and Portugal, which put him ahead of Hayden by eight points.

In the final round in Valencia, Rossi qualified on pole. However, he made a bad start and fell while braking in lap five. Despite getting back into the race and overtaking seven riders, he was unable to catch Hayden, who was running in 3rd. This left Rossi ranked 2nd for the season.

Edwards showed a solid performance in the Netherlands, where Rossi was recovering from an injury. He started from the front row and led the race in the early running. He kept ahead of Hayden, who tried to make a pass in the final chicane but failed and went off course. With this it looked as though the win was secured for Edwards, but he too made a trip onto the gravel in the following left-hand curve and took a fall. Hayden overtook Edwards to win the race. Edwards made it back on to the tarmac eventually, but he crossed the finish line down in 13th. In all, Edwards collected points in 16 races out of the 17 rounds of the series to finish 7th in the ranking.

| Pos. | Cate. | Rider | Constructor | Point |
| --- | --- | --- | --- | --- |
| 1 | MotoGP | N. Hayden | Honda | 252 |
| 2 | MotoGP | V. Rossi | Yamaha | 247 |
| 3 | MotoGP | L. Capirossi | Ducati | 229 |
| 4 | MotoGP | M. Melandri | Honda | 228 |
| 5 | MotoGP | D. Pedrosa | Honda | 215 |
| 6 | MotoGP | K. Roberts Jr | KR | 134 |
| 7 | MotoGP | C. Edwards | Yamaha | 124 |
| 15 | MotoGP | C. Checa | Yamaha | 75 |
| 18 | MotoGP | J. Ellison | Yamaha | 26 |

| Pos. | Constructor | Point |
| --- | --- | --- |
| 1 | Honda | 360 |
| 2 | Yamaha | 289 |
| 3 | Ducati | 248 |
| 4 | Suzuki | 151 |
| 5 | KR211V | 134 |
| 6 | Kawasaki | 109 |