What the Japanese Bayberry Trees Have Seen Stories from the Early Years of Yamaha Motor
Introducing the stories behind Yamaha Motor's technologies.
20Testing the Prototype
There is a lot of pain and hardship behind the word "birth," but in exchange, it can deliver limitless joy and Kando. The completion of the first prototype that night on August 31st, 1954 thrilled everybody who had worked so hard on it, but we couldn't wallow in the glory of our first achievement forever.
Testing began right the next day and piston seizures were only the first of many problems we would have to face. However, like measles and other childhood diseases, they were "cured" one by one and the young motorcycle began to mature. We accepted this as the unavoidable growing pains of our new creation.
On September 5th, President Kawakami took the prototype out himself for an extended test ride, with General Manager Takai accompanying him on the Hercules. The pair's route was: Hamamatsu–Komatsu–Okuyama–Mikkabi. We all breathed a big sigh of relief when they returned to the company gates having completed the trip without any breakdowns or trouble. Today, we take it for granted that motorcycles run as well as they do, but back then when we lacked experience as well as confidence, having "no trouble" for us held far more weight and even more significance.
The next day, a working lunch was held for department managers and above at which President Kawakami praised us for how far we'd come: "The prototype we've produced is superior to the DKW in both performance and handling. It's truly a wonderful motorcycle; you've all done an excellent job." Being recognized for the achievement from the president himself delighted us all; it was as if all the fatigue and stress we'd endured to that point had been blown away by his words.
The second prototype was completed on the 7th, and a meeting was held the following day about how we should test it along a route circling Lake Hamana. At the time, 10,000 km tests were considered very rare in the industry, but we had planned to conduct one from the very beginning. It was all from our determination to produce motorcycles of the highest quality.
To complete the test as quickly as possible, we recruited the company guards to ride the prototype through the day and night since they worked in shifts regularly. However, we had to lay out a smorgasbord of very detailed rules for them to follow while they were out; it was to make sure the test started and ended safely.
On the afternoon of the 8th, President Kawakami and ten others made a preliminary examination of the test route. When they were done, they determined that it took around an hour and forty-five minutes to complete a single 65 km lap. Moreover, they'd returned covered from head to foot in white dust—not surprising since the roads were still unpaved back then.
And it was on this day that President Kawakami gave the formal command to Manufacturing Division General Manager Aisa: "Let's start producing motorcycles!" Until then the project had been run by the Technology Division, but its management now officially shifted to the Manufacturing Division.
21Business Plans
On September 10th, Managing Executive Officer Ogura held a no-nonsense meeting with a group of managers to discuss how we would make our motorcycles a viable business. The topics were financing issues, profit planning, our sales structure and more.
The reason I wrote that the meeting was "no-nonsense" was because the company's financial situation at the time was anything but rosy. In fact, finances were so bleak that the group was forced to consider selling some of the company's real estate assets to raise the funds needed to start motorcycle production.
At the time, the company had only sufficient assets to produce between 150 and 200 units monthly. At those low production volumes, it was all too clear that not only would the cost of each bike be unfeasibly high, but also every sale would result in a loss of tens of thousands of yen.
The decision had already been made to establish an independent company to produce motorcycles, but how long could Nippon Gakki shoulder the burden of a company constantly in the red? In the end, Nippon Gakki would indeed have to cover the losses, and that raised the next question: How long would it last? It was a conundrum that seemed everlasting.
As for sales, we figured that if we could get Nippon Gakki's branch offices across the country to help, we would be able to somehow reach our initial sales targets. We had to try and finish the first ten prototypes that we were working on by October 5th, and then try to add an additional 20 complete prototypes by mid-November.
During a road test held on September 11th, the No. 2 prototype completed 387 km in a single day, indicating that it would take about 26 days for us to complete the full 10,000 km test.
On the 13th, the president issued some guidelines as to how we would move forward for the foreseeable future, and we were forced to alter the plans we had made at the meeting just a few days ago.
Among his thoughts were:
– I want to make the formal announcement by mid-September.
– There's no need for the extra prototypes; I want production to start right away.
– October will be for making preparations for production and assembly starting in November.
– I want to start sales on December 1st.
Simply based on his scheduling, we thought most of these goals would be essentially impossible to meet. However, in retrospect, this is what got us fired up, scratching our heads and working together to make it happen. In the end, what we thought was "impossible" became possible. We experienced this pattern many, many times after that day.
22Backs to the Wall!
The testing to lap around Lake Hamana began in mid-September. After the No. 1 prototype had completed 1,200 km or so, our own in-house cylinders were ready, so we swapped them in and continued the test.
On September 26th, the president returned from a Tokyo business trip and surprised us by saying, "I want to make the announcement as soon as possible, so I want the preparations at the Komatsu Factory done by November 15th." This was only part of what he had to say, too! The pressure on us to get the factory ready to start production rose daily and every passing day sent clear reminders to me of how precious time itself can be.
On October 4th, the official notification was made to the government office. On the application was "Product Name: Yamaha 125; Engine Type: YA-1; Engine Registration No. 540000" and other information. The "Y" in YA-1 was for "Yamaha" and the "A" signified "125."
The next day, President Kawakami went to the factory and assembled prototype engine No. 7 himself. I think through this you can easily understand how deeply devoted the president was to this project and how hard he had worked to make sure he himself knew and understood firsthand how an engine was constructed.
Also on that day, a special order was given regarding personnel assignments and their duties. General Manager Takai was placed in overall charge of the project; Nemoto-san was in charge of design; Takahata-san and Ono-san would oversee sales; Murakami-san headed inspections; Ito-san and I were in charge of production; and the design team consisted of Yasukawa-san, Naito-san, Toyama-san, Kaneko-san, Takeuchi-san and Anma-san. Apart from that, Ishikawa-san (currently a Director at Yamaha Shatai) was in charge of general affairs; and Watase-san (currently Managing Executive Officer of Yamaha Gamagori Works) was also put in charge of sales.
With everyone's roles now clearly delineated, we couldn't escape even if we wanted to, like trying to skirt duties or voicing opinions like a critic on the sidelines. None of us had any experience with starting a completely new company nor did we have anything resembling confidence. What we did have in spades was unease and uncertainty.
Among the stark reality imparted by that day's order, we took solace in our salaryman mettle—the proverb of "look for a big tree when you seek shelter" fits this well—and that our fates were now inextricably tied to Yamaha motorcycles. We had to throw away whatever emotional attachments we had with the work we'd done until now. We had no alternative but to succeed, both for the company's sake and for our own. This whole endeavor was really starting with and from nothing.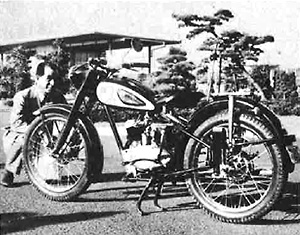 The author together with a YA-1 still being ridden (in 1977)
But all of us that had been selected were truly united in our determination by the president's order to make it work, even if our backs were well and truly to the wall.
This all may sound like hyperbole to some, but that's what it felt like to me at least. All around us motorcycle makers were going bust one after another due to the economic recession and there was no guarantee that we wouldn't also.
23The 10,000 km Test
The 10,000 km durability test was the first goal—and one we had set ourselves—that we had to pass in order to establish a reputation of "Yamaha Quality." After being ridden for days and nights, through dust and mud, and wind and rain, the No. 2 YA-1 prototype finally completed 10,000 km around the rough roads looping Lake Hamana.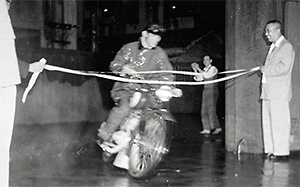 A smiling President Kawakami greets the YA-1 prototype upon its return
At 5:10 in the afternoon of October 6th, the YA-1 broke the red and white finishing tape as it rode through the main gate of Nippon Gakki before rolling to a stop to the applause of the president and many more. The rider of the No. 2 prototype was our vice chief of security, Shohei Suzuki, and the bike's odometer showed 10,006 km. The test had been completed in only one month.
Step by step, the groundwork laid by President Kawakami was showing results, and our confidence in getting our new company up and running was growing by the day.
The YA-1 was scheduled to debut in Tokyo, so on a rainy October 8th, the president left for the capital together with Yoneda-san and Takeuchi-san, the three of them riding the No. 3, 4 and 7 prototypes.
In those days there was no Tomei Expressway like we have now; there was only the partially completed National Route 1. The fact that President Kawakami set off on this road anyway—in the rain, no less—was an example of his iron will that no one who was there will ever forget. The trio spent that night in Izunagaoka and then continued on for Tokyo the next day. On October 12th in Tokyo at the Nippon Seinenkan at Meiji Jingu Gaien, the Yamaha 125 YA-1 made its historic debut. Test-riding sessions were also held.
Although it was unfortunately another rainy day, the news that Nippon Gakki was entering the motorcycle market was intriguing or odd enough to draw more than 100 people to the event. The visitors were impressed not only by the new machines on display but also—I think—by Yamaha's show of resolve by purposefully making public the fact that the company had done a 10,000 km test to prove the bike's performance and quality.
After those in attendance had taken the bike for a test ride, it was showered with praise for its unique 2-stroke exhaust note, impressive acceleration off-the-line as well as when under power thanks to the 4-speed transmission, and the painstaking attention to detail in the exterior design.
Our first marketing "call" upon making our entry into the motorcycle industry had been right on target and the event ended as a tremendous success.