15The Decision is Made
On April 26, 1954, President Kawakami called an important meeting for division heads and above where he outlined for us his vision of the company's future.
"Thanks to all of your efforts, our pianos and organs are selling well. In order to ensure the future of Nippon Gakki, we need to alter personnel distribution to free some hands so we can come up with some new products. Opening our branch in Tokyo was an expensive undertaking but it's already showing very good results. My plans for the future are as follows: One, we become experts at building motorcycles; two, we export wind instruments; and three, we produce electric products.
"Of these three, we've already decided to do motorcycles so I want to put everything we have into it. However, this doesn't at all mean that we'll scale down our production of musical instruments. On the contrary, I want increase their production in stages. I welcome any constructive opinions or frank objections regarding this policy." It was a powerful presentation that set forth a clear vision for the company's future.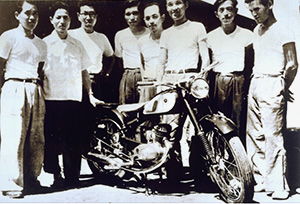 The engineers in front of the first prototype
We also got permission at this meeting to purchase a honing machine since the lead time for its delivery was a whopping six months. The president also designated who would continue to work on musical instruments and those who would oversee motorcycle production. Technology Division General Manager Takai would lead the motorcycle team together with Nemoto-san, Ito-san, Takeuchi-san, Takahata-san and myself.
After much discussion, President Kawakami said, "Prior to starting production, I think we have no alternative but to take the Hercules as an example. But the market is very weak at the moment, so we can't produce something mediocre; our first machine has to be superior enough to push the competition out of the market. Still, we can't afford to fail right from the start, so I don't want you to rush anything. Find talented workers and train them well so that they can manage the business in the future, and put together a solid team of highly motivated people. Ultimately, I want to form a separate company to build motorcycles."
The president had left no doubt in our minds what he wanted done, and the project gradually began to take shape.
But at the Tokyo Motor Show held that May, one of the models on display was another manufacturer's copy of the 150cc Hercules—we were right back to square one.