2010
View an archive of races Yamaha competed in 2010.
Yamaha claims rider, team, and manufacturer titles for the third year in a row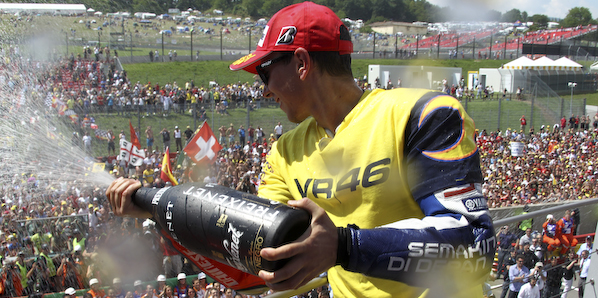 Lorenzo rides the YZR-M1 to his first MotoGP championship title



Valentino Rossi and Jorge Lorenzo of the Fiat Yamaha Team, and Collin Edwards and Ben Spies of the Monster Yamaha Tech 3 team entered the 18-round season, and Yamaha took the triple crown of rider, team, and manufacturer titles for the third year running a first in MotoGP history.

Lorenzo took 2nd in the opening round in Qatar, followed by his first win of the season in Spain. In rounds five to seven in Britain, the Netherlands, and Catalunya, where the three races were held on consecutive weekends, Lorenzo won three straight victories. Lorenzo mounted the podium in all of the first 12 races of the season, seven times as the winner. And in the 15th round in Malaysia, he finished 3rd to clinch the rider's title with three races remaining in the series. In the following race in Australia, Lorenzo and Rossi took 2nd and 3rd places to secure the team title for their Fiat Yamaha Team. In the 17th round in Portugal, Lorenzo took his eighth victory and secured Yamaha's manufacturer's title. Lorenzo took his ninth win in the final race, bringing his total points for the season to a record 383, the most points ever gained by a rider in a single season.

Yamaha gained a total of 404 manufacturer points thanks to the efforts of Lorenzo, Rossi, and Spies, who was awarded the "MotoGP Rookie of the Year." Rossi finished the season ranked 3rd despite missing out on four races early in the season due to an injury.

| Pos. | Cate. | Rider | Constructor | Point |
| --- | --- | --- | --- | --- |
| 1 | MotoGP | J. Lorenzo | Yamaha | 383 |
| 2 | MotoGP | D. Pedrosa | Honda | 245 |
| 3 | MotoGP | V. Rossi | Yamaha | 233 |
| 4 | MotoGP | C. Stoner | Ducati | 225 |
| 5 | MotoGP | A. Dovizioso | Honda | 206 |
| 6 | MotoGP | B. Spies | Yamaha | 176 |
| 11 | MotoGP | C. Edwards | Yamaha | 103 |

| Pos. | Constructor | Point |
| --- | --- | --- |
| 1 | Yamaha | 404 |
| 2 | Honda | 342 |
| 3 | Ducati | 286 |
| 4 | Suzuki | 108 |