2001
View an archive of races Yamaha competed in 2001.
Yamaha enters eight YZR500s for the season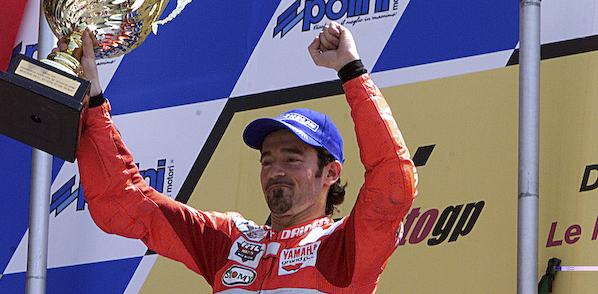 Max Biaggi ranked 2nd in the championship



Yamaha competed in the 16-round 2001 season with four teams fielding eight riders in all. Yamaha's main rivals were Valentino Rossi, Loris Capirossi and Alex Barros, all riding Honda machines. Max Biaggi finished 2nd in the season championship with three wins, and Shinya Nakano, Carlos Checa and Norifumi Abe finished 5th, 6th, and 7th respectively.

Biaggi finished 3rd in the season opener at Suzuka circuit in Japan to start the series strongly. He then finished 8th and 11th respectively in rounds two and three, having struggled to avoid other rider's collisions. In round four in France, he rallied to take his first win of the season. At one point in this race Biaggi went off course and dropped to 3rd position, but he quickly regained control and charged back to his take the win. In the same race his teammate, Checa came 2nd to share the podium. Biaggi was in good form from then on, taking 3rd place in the rain-drenched Italian GP. In round 6 at Catalunya, he staged an astonishing charge from 10th position to finish in 2nd place. He won the race in the Netherlands, then took 2nd in the British GP and another win in Germany. He was consistent through mid-season under varying race conditions. By the end of the ninth round, there was only 10 points between him and Valentino Rossi, who was leading the championship.

From round ten in The Czech Republic, however. Biaggi had a run of bad luck with a crash while running in front and bad weather hampering his tire choices. In round 13, he crashed out and finished with no points. Meanwhile, his rival Valentino Rossi stayed in good form and extended the point gap between them to 67. There were three more races remaining in the series. Winning the title became more unlikely, but Biaggi continued to give his best in every race. In the 14th round in Australia, a top group consisting of nine riders had an exciting battle from which Biaggi came out 2nd behind Rossi by a mere 0.013 seconds. The fans were mesmerized by the close-fought battle. Biaggi ended the season on a high note by finishing 3rd in the final race. In contrast, his teammate Checa had a slow start to his championship challenge due to injuries early on in the season. He showed good performance upon recovery, however, finishing 2nd in rounds four, nine and sixteen.

In this, his first year in the 500cc class, Nakano finished 5th in the opening round. By achieving 4th-place finishes in the following races in South Africa and Spain, Nakano displayed his potential to win podium finishes in the early part of the season. In the 9th round in Germany, riders on the YZR500 dominated the top four positions. Of them, Nakano was able to overtake Abe and grab 3rd place. Although he broke his right hand near the end of the season, he consistently finished good results, missing season points only in The Czech Republic. Jacque, meanwhile, missed out on the early part of the season due to an injury he suffered just before the first race. He had to start his season from round six. He gradually picked up his pace and managed to finish 6th in round nine and 5th in round 12.

Abe finished a 4th-place finish in the opening round. In round two in Spain he took 3rd place, which brought him up to 2nd in the ranking. Abe's ranking position fell in mid-season when he missed out on points several times due to injuries he suffered from crashing in round seven. He came back into form later on and finished 4th in rounds nine, 10 and 13. However, in round 14 in Australia and in the following round in Malaysia, he came 13th due to crashes and overruns. These results dropped his ranking to 7th. His teammate, Jean-Luis Cardoso, had a highest race finish this season of 8th, and he finished 16th in the final ranking with a total of 45 points.

Garry McCoy, who had won three races the year before with the YZR500, finished the opening round in 2nd place. However, he had to withdraw from rounds four to eight due to an injury. Upon recovery he finished 11th in round nine in Germany and climbed to 6th place in round 10 in The Czech Republic. McCoy went on to achieve podium finishes in rounds 11 and 15, but his absence in the first half of the season affected his season ranking. Noriyuki Haga, who switched to GP500 from World Superbike, was able to deliver a fine performance in round eight in the British GP by finishing 4th. Earlier in the season, however, he had several no-pointers. His failure to score points in seven races this season prevented him from ranking higher.


Matsuda ranked 9th for the season on the YZR250
Matsuda, who had switched from the previous year's TZ250 to the YZR250, finished 4th in the opening round and scored points in 14 out of the 16 rounds of the season. His final ranking was 9th. Prominent riders of the season were Daijiro Kato (Honda), who clinched the championship, and Tetsuya Harada (Aprilia), who was ranked 2nd. However, Matsuda raced among these top competitors and proved himself to be a considerable force in the class.
Shahrol Yuzy, who began competing in the GP from the year before, rode the YZR250 this season.
In his second year of GP competition he improved his rank by three places to 15th overall. Yuzy crashed out in the opening race, but as he got accustomed to the machine, he turned in consistent performances and climbed up in the ranking. At one point he made his presence felt by running 5th in the race in Italy. Despite falling back mid-way through the season, he finished with a ranking of 9th, which was the best GP result in his career to that point. In his home race in Malaysia, Yuzy showed good form and appeared to have the potential for podium finishes.




| Pos. | Cate. | Rider | Constructor | Point |
| --- | --- | --- | --- | --- |
| 1 | 500cc | V. Rossi | Honda | 325 |
| 2 | 500cc | M. Biaggi | Yamaha | 219 |
| 3 | 500cc | L. Capirossi | Honda | 210 |
| 4 | 500cc | A. Barros | Honda | 182 |
| 5 | 500cc | S. Nakano | Yamaha | 155 |
| 6 | 500cc | C. Checa | Yamaha | 137 |
| 7 | 500cc | N. Abe | Yamaha | 137 |
| 12 | 500cc | G. McCoy | Yamaha | 88 |
| 14 | 500cc | N. Haga | Yamaha | 59 |
| 15 | 500cc | O. Jacque | Yamaha | 59 |
| 16 | 500cc | J.L. Cardoso | Yamaha | 45 |

| Pos. | Cate. | Rider | Constructor | Point |
| --- | --- | --- | --- | --- |
| 1 | 250cc | D. Katoh | Honda | 322 |
| 2 | 250cc | T. Harada | Aprilia | 273 |
| 3 | 250cc | M. Melandri | Aprilia | 194 |
| 4 | 250cc | R. Rolfo | Aprilia | 177 |
| 5 | 250cc | F. Nieto | Aprilia | 167 |
| 6 | 250cc | J. McWilliams | Aprilia | 141 |
| 9 | 250cc | N. Matsudo | Yamaha | 112 |
| 15 | 250cc | S. Yuzy | Yamaha | 44 |




| Pos. | Constructor | Point |
| --- | --- | --- |
| 1 | Honda | 367 |
| 2 | Yamaha | 295 |
| 3 | Suzuki | 153 |
| 4 | ProtonKR | 65 |
| 5 | SabreV4 | 6 |
| 6 | Pulse | 3 |

| Pos. | Constructor | Point |
| --- | --- | --- |
| 1 | Honda | 361 |
| 2 | Aprilia | 345 |
| 3 | Yamaha | 142 |