1974
View an archive of races Yamaha competed in 1974.
Giacomo Agostini joins the Yamaha team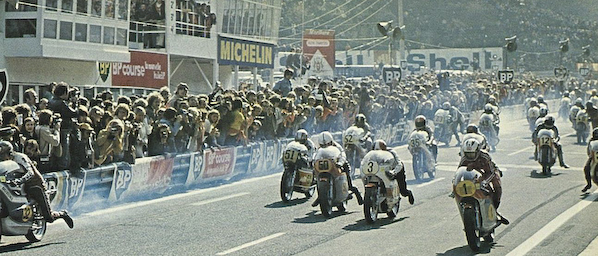 Yamaha takes its first manufacturer's title



Much of the discussion about the GP scene prior to the opening round in 1974 revolved around Giacomo Agostini's move to Yamaha. As a star who rode for MV Agusta for nine years and was hailed as one of Italy's national heroes, Agostini's move was highly controversial. Finland's Teuvo Lasivuori also participated from a Yamaha distributor team. The YZR500 went through some development, with a Monocross suspension added to the liquid-cooled 2-stroke, in-line-4 engine machine that pumped out 80 horsepower at 10,000 rpm. This time, Yamaha's main rival of the season was Phil Read on the MV Agusta.

Yamaha was not off to a good start early in the season, but Agostini took his first win in the third round in Australia. He also took pole position in the following Italian GP and recorded the fastest lap time in the race. He could not convert this strong performance into championship points, however. The Yamaha factory team decided not to participate in the fifth race at the Isle of Man, because the high performance of their machines was a safety concern on the treacherous circuit. Instead, Phil Carpenter won the race on a TZ350 production racer with displacement increased to 354cc. The top eight positions were also dominated by TZ riders.

Agostini took his second win of the season in the sixth round in the Netherlands, and Lasivuori won the eighth round in Sweden. Agostini, who was aiming for the title this season, had a series of misfortunes including a no-pointer at the Swedish GP after being caught up in the fall of another rider. He ended up 4th in the final season ranking. However, the points accumulated from the other YZR500's and TZ's meant that Yamaha was able to take their first-ever manufacturer's title in the class.
In the meantime, Yamaha had introduced their new OW23 machine from round seven, the Belgium GP. Suzuki's introduction of their new 500cc machine was also a talking point of the season.


Yamaha takes the manufacturer's title for second year in a row
Giacomo Agostini, who entered both the 500cc and the 350cc classes, won five races in the 10-round 350cc class series to claim the championship. This was Yamaha's first rider's title in the 350cc class. Yamaha also achieved a second consecutive manufacturer's title this season.

| Pos. | Cate. | Rider | Constructor | Point |
| --- | --- | --- | --- | --- |
| 1 | 500cc | P. Read | MV Agusta | 82(92) |
| 2 | 500cc | G. Bonera | MV Agusta | 69(78) |
| 3 | 500cc | T. Lasivuori | Yamaha | 67 |
| 4 | 500cc | G. Agostini | Yamaha | 47 |
| 5 | 500cc | J. Findlay | Suzuki | 34 |
| 6 | 500cc | B. Sheene | Suzuki | 30 |

| Pos. | Constructor | Point |
| --- | --- | --- |
| 1 | Yamaha | 87(127) |
| 2 | MV Agusta | 87(109) |
| 3 | Suzuki | 52 |
| 4 | Dugdale Maxton Yamaha | 18 |
| 5 | Harley Davidson | 14 |
| 6 | König | 12 |