MotoGP
Introducing the Yamaha teams competing in MotoGP for 2014,[Motorcycle Race]


In the MotoGP class of the Road Racing World Championship in 2014, both the factory team Yamaha Factory Racing and the satellite team Monster Yamaha Tech 3 will use the "YZR-M1" machine in their quest for the championship.
Yamaha Factory Racing will field riders Jorge Lorenzo, who last year achieved eight victories and a season ranking of second place, and Valentino Rossi, who took six podium finishes including one victory for a season ranking of fourth place. The Monster Yamaha Tech 3 team, which took a team ranking of third in 2013, will field Bradley Smith, who ranked 10th for his first full year of MotoGP class competition last year, and Pol Espargaro, the reigning Moto2 World Champion. Please look forward to big performances from our two teams and four riders.

This factory machine was specially developed for participation in MotoGP from 2002. It has won Yamaha a total of six MotoGP rider championships so far. The "M" in its designation expresses the "Mission" to feed back technology born in MotoGP to Yamaha's production vehicles, and the "Mission" to win the championship.

Engine
1,000cc, liquid-cooled, in-line four-cylinder with crossplane crankshaft
Max. output
Over 240 horsepower (176 kW)
Transmission
Six-speed
Chassis
Aluminum Deltabox
Suspension
Front: 3-way adjustable Ohlins upside-down fork
Rear: 3-way adjustable Ohlins shock
Wheels
MFR 16.5" wheels front and rear
Tires
Bridgestone 16.5" tires front and rear
Brakes
Front: Dual 320 mm carbon front discs with 4-piston Brembo calipers
Rear: Single stainless steel disc with 2-piston Brembo caliper
Weight
Minimum of 160 kg in accordance with FIM regulations
Fuel tank capacity
20 L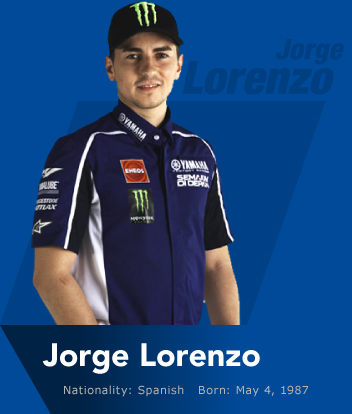 Jorge Lorenzo began full GP125 class competition in 2002. Though he ended the season ranked 21st, he would go on to distinguish himself in the class. Stepping up to the GP250 class in 2005, he won two consecutive championships from 2006. He joined Yamaha in 2008 and began competing in MotoGP full-time, taking his first victory in only his third race and Rookie of the Year honors with a season ranking of fourth place. He has an outstanding record thus far, becoming World Champion in 2010 (with nine victories) and 2012 (with six victories), and coming second in the ranking in 2009 and 2011.
After a promising start to 2013, his season took an abrupt turn for the worse when he broke his collarbone during the first free practice session of the series' seventh round. However, he made a remarkable recovery to place fifth in the race only 36 hours after undergoing surgery, and finished the season with eight victories and second in the ranking. Furthermore, in the 17th round, the Japan GP, he recorded the 200th victory by a Yamaha rider in the premier class. He has taken a total of 52 GP victories to date with 31 in MotoGP, and he is aiming to set new records and win his third MotoGP title in 2014.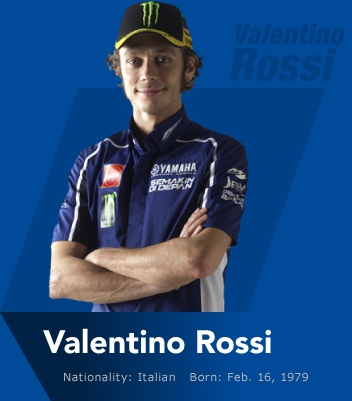 Valentino Rossi is a nine-time world champion and motorcycle racing superstar. He won the GP125 championship in 1997, and the GP250 championship in 1999. He entered the 500cc class in 2000, and took three consecutive titles from 2001. After joining Yamaha in 2004, he won the opening round of the season, and went on to win a total of nine races and the championship. In 2005, he won the championship again with 11 victories, and in 2006 and 2007, while in the title hunt, he finished with season rankings of second and third places respectively.
In 2008, he recaptured the championship with nine victories, and in 2009 reached 100 career Grand Prix victories in total on his way to his ninth championship. In 2010, affected by injury, he finished with a season ranking of third place.
He spent 2011 and 2012 with another manufacturer, but returned to Yamaha in 2013. In the seventh round, he won his first race since 2010, roughly two and half years, and took his 80th MotoGP victory, finishing with a season ranking of fourth place. Valentino Rossi was back. The 2014 season will be his 19th, and we can look forward to even greater results from him.