Interview with the President - Annual Report 2017
President Hidaka's analysis of fiscal 2017 and beyond

Correctly ascertaining changes in social values and pursuing the challenge of creating uniquely Yamaha value to become an even larger and more unique company.
Yoshihiro Hidaka
President, Chief Executive Officer
and Representative Director

On taking office
Increasing the speed of growth with no change to the general direction of becoming "a unique company that continues to achieve dynamic milestones."
My name is Yoshihiro Hidaka and I took office as Yamaha Motor's President and Representative Director this year.
I joined Yamaha Motor in 1987. I enjoyed motorcycles when I was a university student and particularly liked Yamaha motorcycles, which impressed me with their refinement. When I was looking for a job, I remember well how Yamaha employees talked to me in a frank and friendly way as if we were equals, and I was impressed by the Company's flat organization and open-minded atmosphere. After joining the Company, my first position was in procurement, where I was involved in reducing costs, and since then I have gained experience in various operations, including an overseas posting and involvement in numerous projects in Japan and overseas as general manager of the motorcycle business. Through these positions, I learned many things from my seniors, who placed great importance on Yamaha's uniqueness and were brimming with a spirit of challenge. I consider this experience to be my greatest asset. Looking back to 2010 when Hiroyuki Yanagi became President, I believe that our 2017 results show that we have improved our profitability and strengthened our financial position to a significant degree. My aim as President is to increase the speed of growth while maintaining a sense of crisis, by increasing our real strength as a company through exceptional engineering, manufacturing and marketing, and reinforcing our marketing and planning, without changing our general direction of becoming "a unique company that continues to achieve dynamic milestones."

In a time of change
The trend toward electric vehicles will certainly engulf the motorcycle industry as well. We will provide new, uniquely Yamaha products that excite customers.
We are approaching a major turning point. With the adoption of the Paris Agreement in 2015, expectations for companies to address climate change have increased. The move toward electric vehicles in the automobile industry is steadily picking up speed and we need to pay attention to this trend. I expect engines to continue to be used in products built for particular interests like large motorcycle models, marine products, and ROVs, but smaller forms of mobility are certain to adopt electric power. Yamaha Motor released the world's first electrically power-assisted bicycles, and we were an early entrant in the area of electric scooters. By further refining the technologies we have developed in this segment, we are increasing our competitiveness as a leading company in the area of small-sized electric mobility.
In addition to electric power, the world of mobility can also be expected to move toward automated driving through Internet connectivity and the integration of AI. I consider electric power to be a risk on one hand, but see automated driving as an opportunity. To address the risk, we are making the expansion of our electric product lineup a top priority. We are also strengthening our ability to offer solutions in automated driving based on our image recognition and control technologies we have accumulated, and I intend to pursue this as a growth strategy. Yamaha Motor's corporate culture is to pursue new challenges, and by offering new value that did not previously exist, we have pursued the challenge of creating entirely new markets. We will look closely at "what creates value" and "what does society want" based on our principles, as we provide unique, new products that excite customers, and in doing so, revitalize markets and contribute to the achievement of a sustainable society.


Looking back at 2017
Record operating income in 2017 on success of improving profitability and strengthening financial position.
With economies gradually improving in both developed and emerging markets and stable exchange rates, we recorded sales and profit growth in a variety of regions and businesses in 2017, led by the motorcycle business in ASEAN and Brazil, marine products, robotics, and Smart Power Vehicle businesses. Net sales for the fiscal year ended December 31, 2017 rose \167.3 billion, or 11.1%, from the previous year, to \1,670.1 billion, and as a result of efforts to improve profitability including platform development, cost reductions, and pricing, operating income grew \41.2 billion, or 37.9%, to a record \149.8 billion. And at 9.0%, the operating income margin met the target set in the Medium-Term Management Plan. In terms of key performance indicators to comprehensively evaluate our financial position and profitability, Yamaha Motor focuses on return on equity (ROE). The Medium-Term Management Plan targets ROE at the 15% level, and in 2017, ROE showed a significant improvement from the previous year, rising 5.3 percentage points to 17.6%. The three elements of this ROE were a 1.9 percentage point improvement in the ratio of profit attributable to owners of parent to net sales to 6.1%, a 0.08 increase in total asset turnover to 1.22 times, and an \88.6 billion increase in shareholders' equity to \622.8 billion, resulting in an equity ratio of 44.0%, surpassing the target of 42.5%. Free cash flow grew significantly for the second consecutive year, reaching a positive \73.1 billion, with an increase in working capital (inventories, accounts receivable ? trade) from increased sales by holding supply chain management initiatives to an appropriate level and restrained regular investment. As a result, net loans payable were reduced to \197.9 billion, and excluding the \248.7 billion of borrowings related to financing business, our financial position improved to the point of having essentially no borrowings. With regard to the dividend for 2017, we paid a full-year dividend of \88 per share. We will continue to pursue efficiency in working capital while making flexible investments for growth and proactive returns to shareholders.
ROE
(%)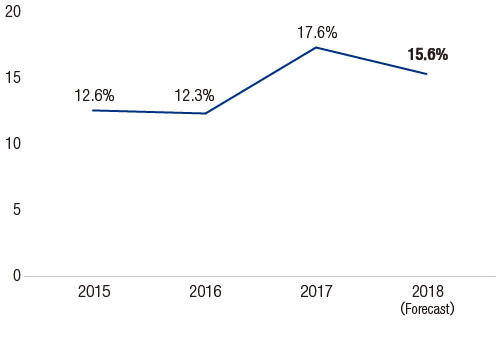 Ratio of profit attributable to owners of parent to net sales
(%)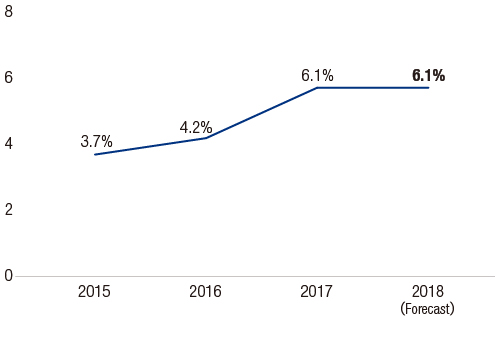 Total asset turnover
(Times)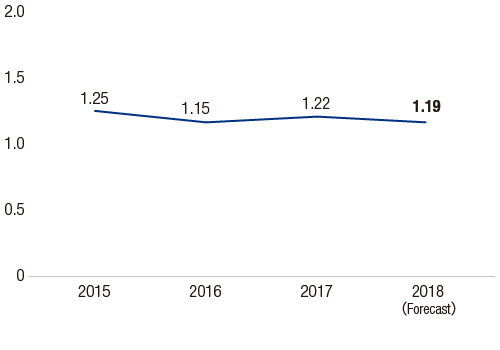 Shareholders'equity/Equity ratio
(Billion \)(%)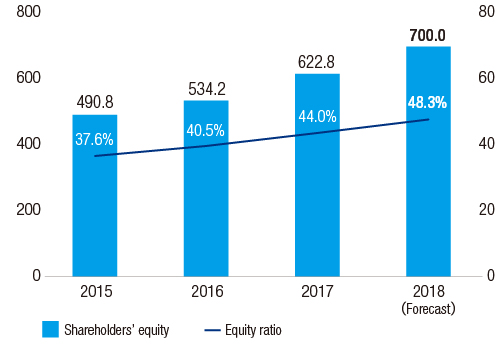 Numerical Targets of the Medium-Term Management Plan
Net Sales

\2

trillion
Operating Income

\180.0

billion
Operating Income Margin

9.0

%
Equity Ratio

42.5

%
ROE (three-year average)

Approx.

15

%
Cost Reductions (for three years)

\60.0

billion
Net sales/Operating income/Operating income margin
(Billion \)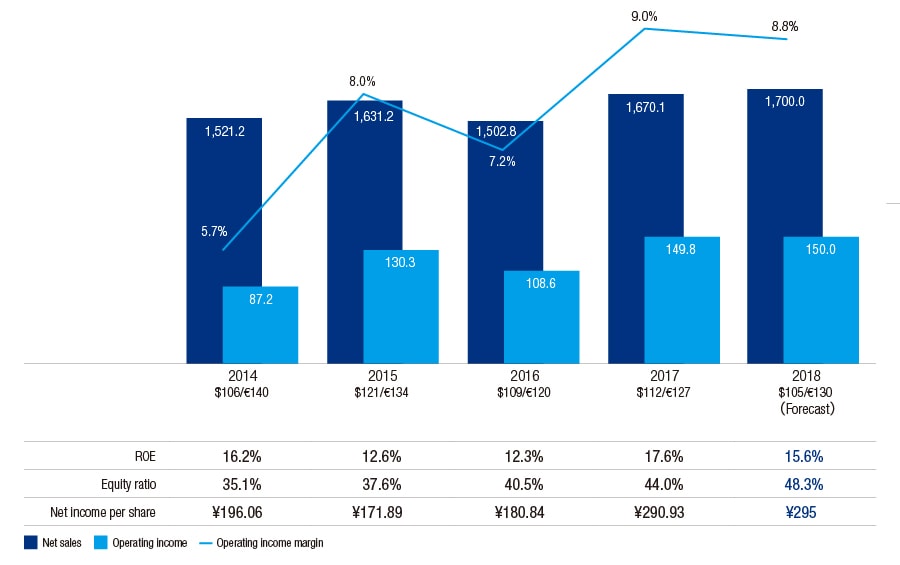 Initiatives in 2018
In 2018, the final year under the Medium-Term Management Plan, we are aiming to meet the targets set in the fiscal year plan and will chart our future direction.
Yamaha Motor aims to become a company that "achieves dynamic milestones" with net sales of \2 trillion within the next few years by accelerating the growth of our existing mobility and marine products businesses. During 2018, we will formulate a new Medium-Term Management Plan that will commence from 2019 and a long-term vision extending to 2030. In terms of business results for 2018, with further progress in the use of platform models, cost reductions, and improvements in supply chain management, we are forecasting net sales of \1,700 billion with \150 billion of operating income. These forecasts take into account the risk of the yen's appreciation against the U.S. dollar and a build-up in expenses for our growth strategies, and specifically we are using exchange rate assumptions of \105 to the U.S. dollar and \130 to the euro. If the dollar-yen rate were to stay at the 2017 level of \110/$, that would boost operating income by \6.5 billion and achieve the medium-term target for profitability. We view increasing shareholder value as an important management issue, and strive to enhance corporate value. With regard to the dividend, we seek to "create a stable financial foundation and increase new growth investment and stock dividends," and have set a benchmark for the dividend payout ratio at 30% of profit attributable to owners of parent. Based on our forecast for 2018 business results, we plan to increase the dividend for the sixth consecutive year in 2018 to a full-year dividend of \90 (\45 interim dividend and \45 year-end dividend).
Profit attributable to owners of parent/Total dividend for the year
(Billion \/\)


Yamaha's potential
Creating new value based on core technical competencies, we will deliver Kando that says, "Yamaha did this."
Yamaha Motor's core technical competencies in powertrains, chassis and hulls, and electronic control combine with manufacturing technology. We have grown by developing new businesses that create new value through the pursuit of the unique style of Yamaha: Innovation, Excitement, Confidence, Emotion, and Ties. For example, over the 25 years since the launch in 1993, our sales of electrically power-assisted bicycles have totaled roughly \30 billion, and sales in the Intelligent Machinery business, which began by selling robots for manufacturing lines to outside companies, have grown to roughly \60 billion. We have also made a number of innovations under the concept of "the growing world of personal mobility," including the introduction of the Leaning Multi-Wheel (LMW)* commuter bike with two front wheels in 2014. This began as a compact commuter vehicle and this year we will release a large LMW motorcycle. Going forward, I want to offer new products that excite customers, so they continue to say, "Yamaha did this."
*LMW refers to a vehicle with three or more wheels that leans like a motorcycle when making turns.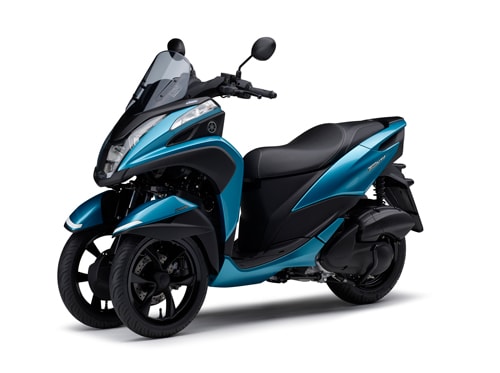 Tricity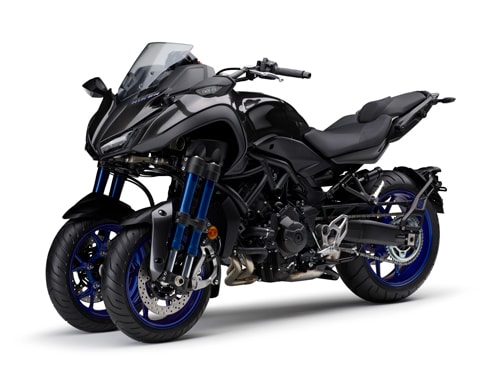 NIKEN


Foundation for creating the future
We are pursuing growth strategies in technology, organization, and human resources, to become a "Yamaha that continues to achieve dynamic milestones."
To become a "Yamaha that continues to achieve dynamic milestones," we are deploying our strengths developed over the years in image recognition technologies, robot technologies, manufacturing technologies, and other areas in addition to the mobility technologies that have driven our growth to date. In 2017, the seeds we have sown are gradually beginning to grow. For example, our proprietary technology in robotics has enabled us to offer solutions in the medical field such as the CELL HANDLERTM, our golf car-based low-speed automated driving system, which is undergoing implementation testing in various locations in Japan, and the E-Vino electric scooter, which is being used in a rental program in Saitama City. In 2018, we exhibited for the first time at CES in Las Vegas, where we demonstrated our unique technologies in robotics, automated driving systems, and drones, and this also gave us an opportunity to interact with more outside companies.
To accelerate the commercialization of the new businesses that were created as a result of the seeds we have sown, we introduced a new organizational structure in January 2018. The newly established Mobility Technology Center will be responsible for the mobility segment, the new Advanced Technology Center will integrate new business planning with digital strategy promotion and the development of advanced technologies, and Solution Business Operations will accelerate our new business strategy by combining our technologies developed in industrial robots with our expertise in unmanned operation. We are also placing a priority on cultivating global human resources and promoting diversity. A total of 132 people have already completed our training program to develop a next generation of global senior management. We have also hired 86 new graduates outside Japan, which corresponds to 10% of our total new hires for general positions. In addition, two of the Company's Executive Officers are non-Japanese. This diversity leads to a corporate culture that creates new value. In addition, women are playing a greater role in the Company's management. In 2018, a woman became president of an overseas Group company and a general manager of a division at headquarters for the first time. We have also increased the number of women posted overseas?including trainees?to 10, which is double the previous year's number, and we will continue to work to create workplaces that make it easy for women to work.
Golf car-based low-speed automated driving system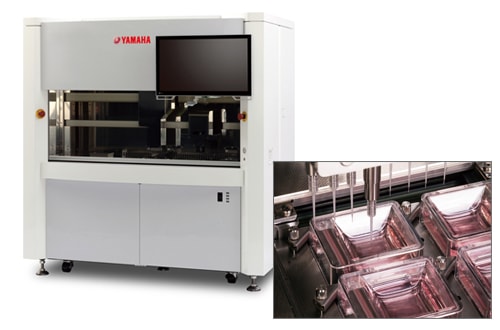 CELL HANDLERTM
Providing medical solutions by applying industrial robot (surface mounter) technologies

To stakeholders
Yamaha Motor will fulfill its social responsibility as a company and grow while sharing Kando with society.
A United Nations summit in September 2015 adopted a set of Sustainable Development Goals (SDGs) as international objectives for the realization of a sustainable world. In addition, with companies increasingly being valued and investment decisions taking into account environmental, social, and governance (ESG) principles, the role that society expects companies to play is changing. Yamaha Motor considers its corporate social responsibility to be to contribute to the resolution of social issues through our business activities. In the area of mobility, we are addressing climate change with electric vehicles, and by promoting robotics we are addressing shortages of workers. We aim to be a company that grows while placing importance on communication with stakeholders and operating in harmony with local communities, society in general, and the global environment. For this reason, we signed the United Nations Global Compact in 2017 to signal our determination internally and externally to pursue business activities that will achieve sustainable growth within international society through meeting fundamental responsibilities in the areas of human rights, labor, the environment and anti-corruption. For example, our marine products business is deeply involved in "water," and we have dispatched a technician to Team KUROSHIO, which is working in the area of marine resource development, and supported Team Tyura Sango, a project that is working to protect the natural environment in the waters around Okinawa. We have also installed water purification systems in Africa, giving villagers access to safe water. We will work to refine "the unique style of Yamaha," and by creating new value we will seek to become a unique company that continues to achieve dynamic milestones, while making every effort to achieve continuous, long-term growth with attention to the supply chain and meeting the expectations of stakeholders. I ask for your continued support and understanding from a medium- to long-term perspective.