Special Feature - Annual Report 2017
This year's special features
SPECIAL FEATURE


Advanced technologies expanding possibilities for mobility and robotics

Personal mobility in which the rider resonates harmoniously with the machine


MOTOROiD is a proof-of-concept experimental electric model that aims for "personal mobility in which the rider resonates harmoniously with the machine." With high-precision balance control that uses an optimal combination of artificial intelligence and autonomous technology, the machine itself senses shifts in its own center of gravity to become upright and maintain that position without falling over, creating a new form of mobility that goes beyond being simply a "tool for movement."
AI and autonomous structure give the rider an exciting riding experience
MOTOROiD was developed as an "Unleashed Prototype" that creates a new sense of excitement based on Yamaha Motor's Jin-Ki Kanno concept. Using AI to recognize faces and hand motions, the vehicle can make itself upright and come to the rider. By simply getting on the bike and gripping the handles, the rider can experience exciting, sporty riding regardless of their skill level or riding ability. MOTOROiD is equipped with AMCES,* an electronic control system for motorcycle chassis that uses proprietary Yamaha technologies to achieve stability. With active control, the chassis always maintains an optimal position, making it possible for the vehicle to make itself upright, remain upright and move forward on its own. By pursuing this challenge, Yamaha Motor hopes to acquire technologies that will create new value.
*AMCES: Active Mass CEnter control System. This technology works to stabilize two-wheeled vehicles by using electronics to actively control the chassis itself and constantly optimize the vehicle's position.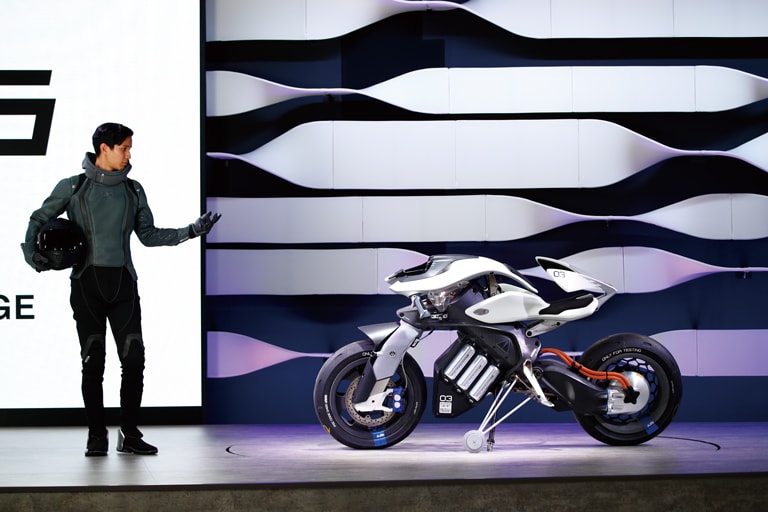 Image Recognition AI: A facial recognition system gives MOTOROiD the ability to respond only to its owner. It is also able to recognize gestures, making it possible for MOTOROiD to respond to hand movements as well, like using a beckoning wave or a raised palm to instruct it to start or stop moving.
Next-generation products co-developed with designers and engineers working together in the same studio
Yamaha Motor's new design base, the Yamaha Motor Innovation Center, was completed in December 2016. Using an unprecedented arrangement, designers and engineers work together in the same studio to develop next-generation products. MOTOROiD is an autonomous motorcycle that was born in a new collaborative endeavor between designers and engineers. Working together across traditional lines of responsibility, at times designers think about the frame and mechanisms, while at other times engineers think about attractiveness, triggering sparks that bring about significant innovation.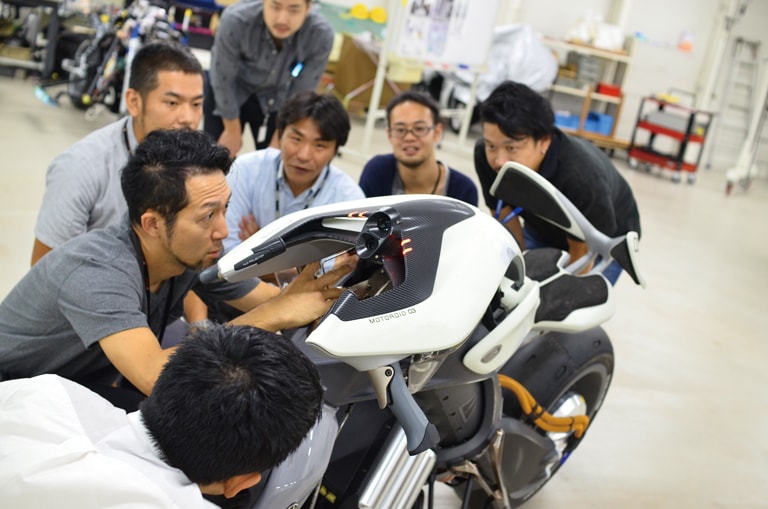 Autonomous motorcycle-riding humanoid robot

MOTOBOT is an autonomous motorcycle-riding robot that is opening new worlds. Unlike the methods being employed in recent efforts in self-driving automobiles, MOTOBOT is unique as it is a humanoid robot that operates an unmodified vehicle in an approach to self-driving from the perspective of vehicle operations. We expect to be able to create new value in areas of mobility like personal watercraft and snowmobiles by applying the advanced technologies and expertise gained by developing the MOTOBOT in those areas.
MOTOBOT technologies
Based on data including vehicle speed, engine rpm, and machine position, MOTOBOT controls six actuators* to operate the vehicle autonomously. Going forward, technology for machine position recognition (high-precision GPS, various sensors, etc.) and machine learning will enable MOTOBOT to make its own decisions regarding the best lines to take around a racetrack and the limits of the motorcycle's performance. By being able to visualize data about human motorcycle operation and deducing the relationship between rider input and machine behavior, we aim to create new value with higher performance and safer mobility.
*For operating the steering, throttle, front brake, rear brake, clutch, and gearshift pedal.
Open innovation
MOTOBOT is an open innovation project, and development is moving forward in collaboration with SRI International, a world-leading research and technological development institute that is ideally positioned to partner in this project.
Autonomous operation at speeds over 200km/h
After introducing Version 1 at the 44th Tokyo Motor Show, held in 2015, we continued to incorporate new autonomous motorcycle riding technologies including upgraded hardware and improved software to develop Version 2. This new version marked a milestone in September 2017, when it achieved a speed in excess of 200 kilometers per hour while operating autonomously.