45Absolute Quality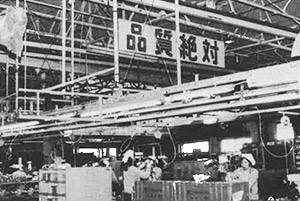 The "Absolute Quality" sign at the main factory
Since Yamaha was a late entry in the field of motorcycle manufacturing, it was nearly impossible for the company to gain an advantage in terms of production volume or cost performance initially. There was a shared resolution at the company: to succeed against the established manufacturers for the time being, our attitude was to prioritize product quality over production numbers and costs. So when it came to product quality, President Kawakami's stance was firm: unrelenting efforts must be made and no compromises will be permitted.
The president's desk was located at the far end and in the center of the cramped barracks-like offices in the remodeled wooden building I mentioned earlier. On most afternoons he would be on the factory floor watching over and directing the workers. In 1957, our management system was reorganized to appoint factory managers and office managers. Appointed as a factory manager, my desk was located next to President Kawakami's. I received a lot of instructions and learned much from him, and today I realize how very fortunate I was for having that invaluable experience.
Adjacent to the president's desk were two large boxes, one red and one blue, both sized 70×50×30 cm. Everyone thought this was kind of strange, but these were for warranty claims he had reviewed and claims yet to be reviewed. When an underperforming part was returned to the factory, a written description of each issue had to be submitted to President Kawakami, with nothing hidden. Of course, stringent review and intense discussion would begin right away to find the cause of each problem and measures to rectify it. Once decisions were made, tasks were divided up and tests were run to devise solutions immediately.
This was how we were handling the various complaints and claims concerning the YD-1, but it soon became clear that some of them were the result of deep-rooted problems in the model that could not be remedied with make-shift measures. In the case of the YD-1, drastic action was needed.
Regarding the roughly 3,000 problematic engines we had sent out before we were able to produce an engine with stable performance, we came up with corrective measures that involved shipping out spare replacement engines to dealers around the country for them to swap into customer bikes. The dealers then sent the original engines to us at the factory where we rebuilt them to the latest specifications. We then returned them back to the dealerships to replace the spare engine.
Of course, this was a massive, hugely expensive and work-intensive undertaking, but it was carried out anyway by President Kawakami's direct order. He continuously pushed his idea of "Absolute Quality," saying "We must never cause trouble for the customers because they made their purchase with their faith in Yamaha. This is truly an excellent opportunity to really win their trust by standing behind the quality of our products."
To facilitate this collection and repair operation, we had planned and built a separate production line at the factory so the work that we initially thought would be difficult to carry out was actually successfully completed in a few months. I suppose you could say that this was an early example of today's recall system that now legally requires such measures.