28"Learn by doing!"
Once an arrow is shot, it cannot return. After creating and selling the first YA-1, we couldn't rest on our laurels because we still had a lot more to build. Keeping bikes coming off the line came with some serious challenges, but we managed to finally complete six more machines by February 13th, 1955. Though our production process had been like a wheel stuck in the mud, it was slowly beginning to gain traction.
However, once full-scale production did start, that in itself became the cause of tremendous self-reflection within the company. We suddenly had the painful realization that in the ten years since the company last produced propellers, our metalworking techniques and technology had fallen far behind the times.
To rectify this problem, Manufacturing Division General Manager Aisa visited Hitachi Seiki's Abiko Factory in Chiba Prefecture, which was said to have the latest machining technology and machinery. Amazed by what he saw there, he called a meeting upon his return about how to address our machining issues.
As a result of this meeting, Nippon Gakki's Metalworks Department Manager Nakatani and myself were charged by the president to learn modern machining methods first-hand and to integrate them into our operations as soon as possible. I was worried about our motorcycle production since it had only just started, but we were ordered to set off for training immediately. So, on February 18th we left for what would be roughly a month of instruction.
In situations like this, the most experienced workers would typically be selected for training, but the president insisted the department managers overseeing the workplace should be the ones to experience these new technologies for themselves.
We went to Abiko in Chiba and rented rooms in an old inn. We began our temporary lives as workers on the factory floor and learned how to operate modern metalworking machine tools. Though we were managers at our own company, we were given no special treatment and we toiled hard and ended our days covered in grime and oil just like all the other workers.
Our first job was using a turret lathe to cut 70–80 mm thick steel. The same task at the Hamana Factory would mean using high-speed steel bits to slowly make the cut, and it was always a laborious process. But here, the tools made by Tungaloy and other brands that used superhard alloys would just generate some smoke as they cut through the steel like a hot knife through butter. We just stared, dumbfounded at how fast they made the job.
Our duties also included cleaning the machines, removing the chips and shavings, sharpening the tool bits and setting up the machines. The scoldings we received whenever we had to ask one of the old timers for help in changing tools was just part of the job.
In what little free time we had at work, we made notes about the various shapes of the tool bits and tool holders, work conditions like workpiece rpm, feed speed, depth of cut and all manner of other information. Then, every evening after returning to our rooms, we would use this data to write reports on our progress in the dim light of a low-wattage bulb and send the report off to our company. Everything we learned during the day was written down that night and sent off immediately.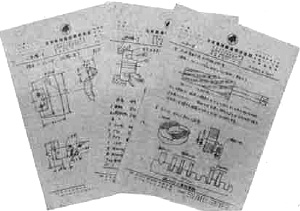 Some of the reports from our time at Hitachi Seiki
We never missed a single day, and I think it was because we felt like pioneers discovering new worlds of technology for our company. Consequently, it wasn't until around midnight that we were able to bathe and cleanse ourselves of the dirt and grime. So when I look at the few surviving reports today, they vividly bring to mind the stench of sweat and cutting oil which permeated our working days.
Based on the data we put into these daily reports to the Hamana Factory, new machining techniques and conditions were tested and those that proved effective were utilized immediately. Sometime during our third week, we were joined in our training by General Manager Takai and Technical Department Manager Nemoto. Watching them work, I saw how effective our own training and the reports we'd been sending back about the new machining technologies and techniques had been.
When we finally returned to our factory, even we were astonished at the dramatic improvement in machining speeds. It was a perfect example of our company's motto pushing employees to be "Quick and astute in action."
In any event, the knowledge we gained during the one month we'd spent learning by doing was of priceless value and I think it made a huge contribution to the operation of our factory. President Kawakami would later send us off for all kinds of other hands-on training. Each time, we returned grateful for all that we learned and thankful for his wise leadership.