55mph - Roots. Vol.03
Rowland Kirishima and Keisuke Kawanishi's grand touring on a Yamaha TRACER9 GT to Kochi for 6days.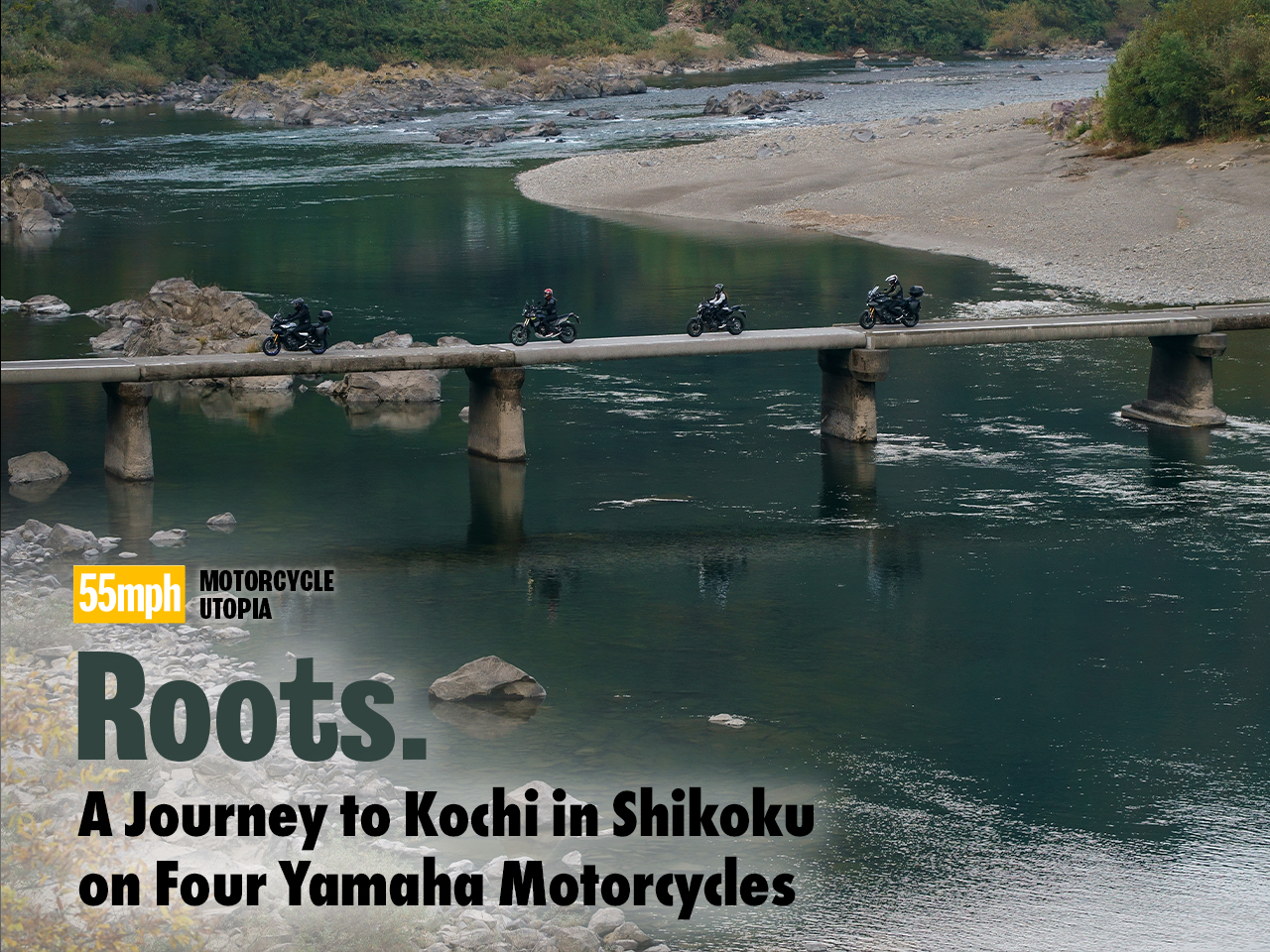 Finding Our Roots and Stunning Scenes in Kochi
The restrictions the COVID-19 threat has placed on us has generated within just about everyone a longing for the freedom to go wherever whenever we want. With a faint light finally beginning to appear at the end of the long proverbial tunnel, here we are looking to go on a motorcycling adventure, a grand tour from Tokyo to Kochi in Shikoku and back. It's also a journey of rediscovering our roots as motorcyclists, something that is on the verge of being lost from day after day of being "garaged" due to the pandemic.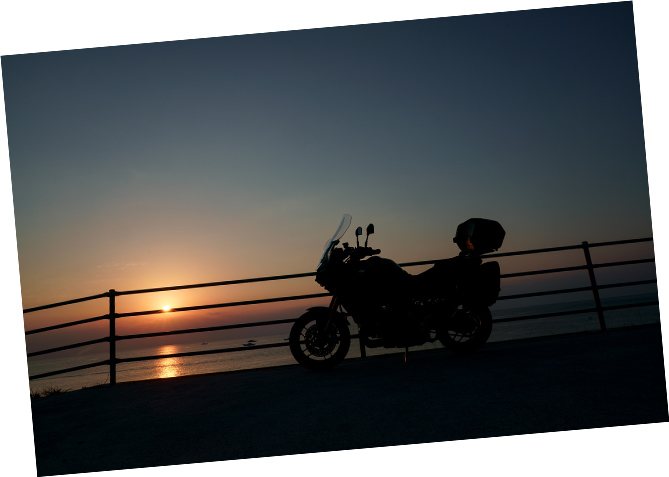 On the second evening of our 2,000 km journey on four bikes from Tokyo to Tosa in Kochi Prefecture and back, we were on the road from Tokushima and headed for Kochi City. The day's route was a roughly 350 km ride from Kyoto down to Tosa and I thought things would be fine if we manage to get to our accommodation by nightfall. But after we crossed Awaji Island and entered Shikoku, our detour to see the udatsu-lined streets in the city of Mima in Tokushima Prefecture was more amazing than we had imagined and we ended up staying for much longer than planned.( ▶Yamaha Journey - Roots. Vol.2)So with the sun falling, we still had close to 150 km to ride before reaching our hotel for the night. We went from expressway to expressway with the singular goal of getting to our destination, going from the Tokushima Expressway to the Kochi Expressway to cross the island, but by then the sun had already gone down and the temperature was falling quickly as well.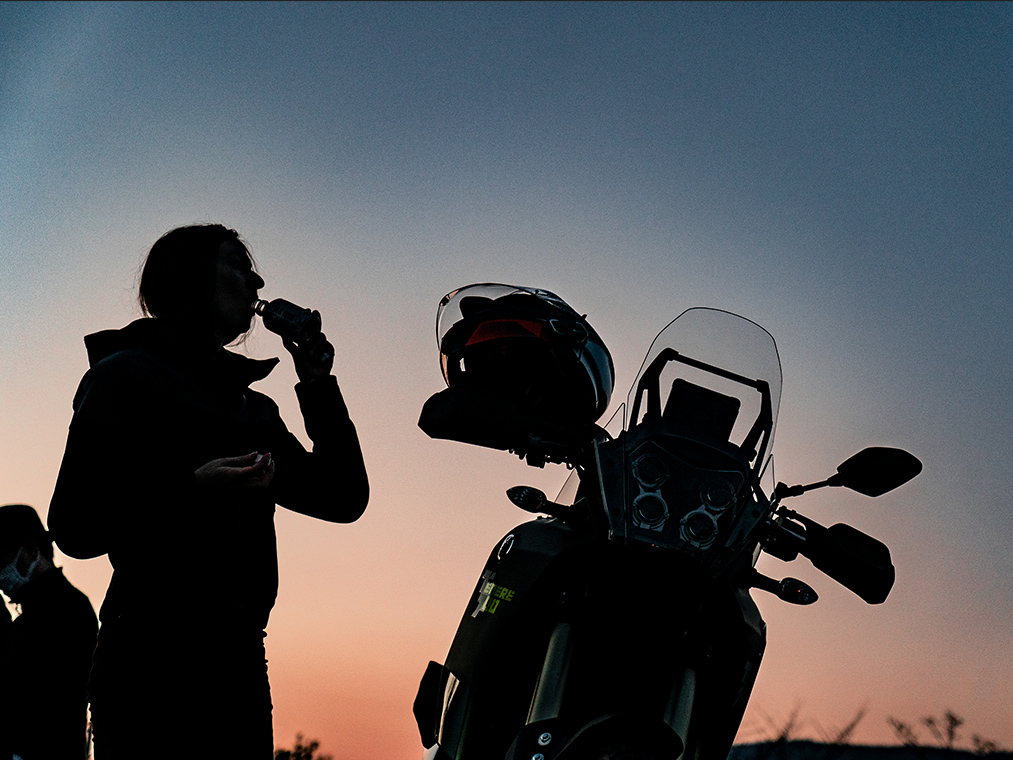 While I've personally been to Shikoku many times, it was actually my first time to visit Kochi Prefecture. That was largely why I didn't have much sense of the distance we had to travel, but as we rode onward, I learned firsthand just how big Shikoku really is. Kochi Prefecture stretches out like the limbs of a bow to cover the southern part of the island and is the largest of the four prefectures on it. As we rode through the night for some two hours, I was thankful for the Tracer 9 GT's standard heated grips and its cornering lights that illuminate the road ahead based on how far the bike is leaned over. We finally arrived at our lodgings for the night right by Tosa Bay.
Not long after we'd arrived, unloaded, and unpacked our bikes, it was time for dinner. Tosa is famous for its bonito (katsuo) and we were excited to see fresh slices of bonito sashimi, bonito tataki (slices of fish seared on the outside but raw inside), shrimp and other seafood dishes waiting for us. Without a doubt, partaking in the flavors and traditional dishes of the area after a long day's ride is a wonderful way to recover. After the meal, we had a relaxing soak in the facility's onsen baths, with the hot water directly sourced from the spring itself. We then planned the next day's tour around Kochi's mountains and coastlines.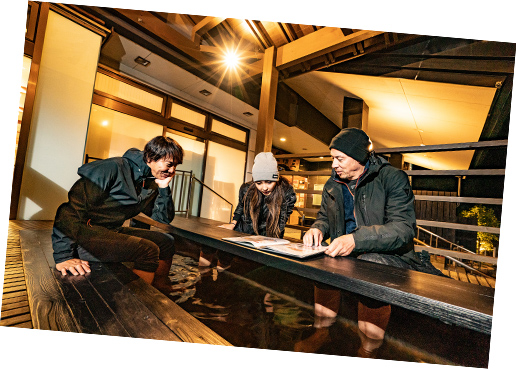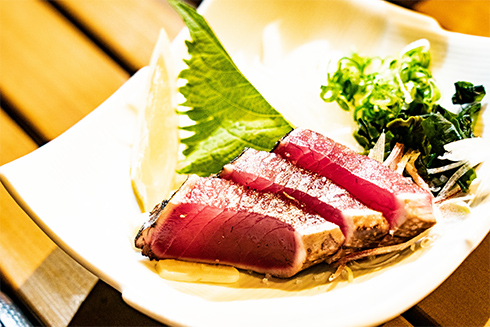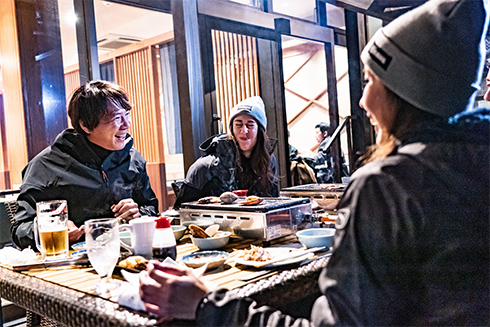 Reconnecting with Roots in Nakamura
We woke up to fine weather again the next morning and from the window of my room, I could see the sea glittering as it reflected the rising sun. On this third day, we would ride about 100 km westward to Nakamura in the western part of Kochi Prefecture. This was the real destination of the trip. Roland 'Rowly' Kirishima had heard that one of his maternal ancestors was a samurai who once lived there, and wanting to visit the area was what sparked the idea for this trip. Now that Rowly and I are in our 50s, the calling within us to reconnect with our roots as well as "visit" the past lives Japanese people once led had grown stronger. Traveling to see and experience where Rowly's roots lie was a large part of the thinking behind this tour to Shikoku.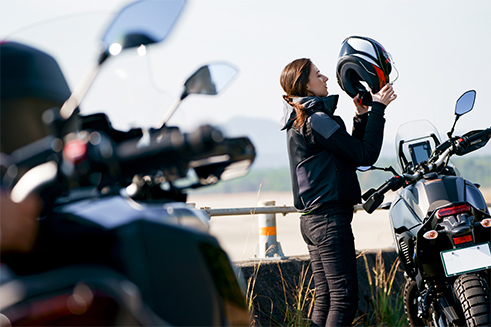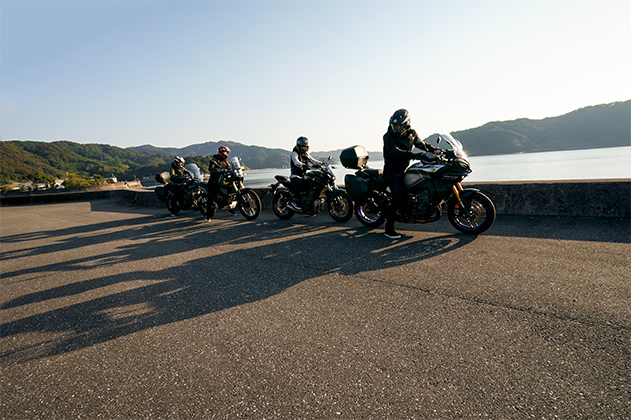 Nakamura grew as a castle town of the Tosa-Ichijo Clan during Japan's Warring States period in the 15th and 16th centuries, and was called the "Little Kyoto of Tosa" because of its grid-like arrangement. Rule over the city later passed to the Chosokabe and Yamauchi clans before it was made part of the feudal Tosa Domain during the Edo period. Since then, it has long prospered as a central hub of western Kochi Prefecture. Rowly's ancestors supposedly lived here for generations and even had a connection to Yataro Iwasaki, the eventual founder of the Mitsubishi conglomerate, who was also born in the Tosa Domain.
The road west from our hotel was littered with small curves meandering along the island's intricate coastal terrain. The 17-inch front and rear wheels on the Tracer 9 GT give it the light feel and handling of a compact sportbike and it easily slices through the turns. This type of riding where you are constantly shifting up and down through the gears makes the bike's quickshifter a welcome feature. A sensor at the gearshift pedal detects the rod's movement and instantly cancels the torque to aid with shifts, so you not only don't need to use the clutch lever but the system also automatically rev matches when downshifting. It's like gaining a higher-level skill set and this helps you better enjoy the ride itself.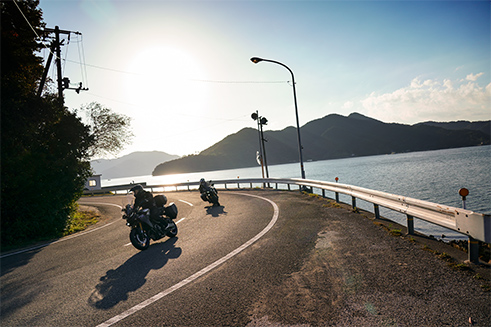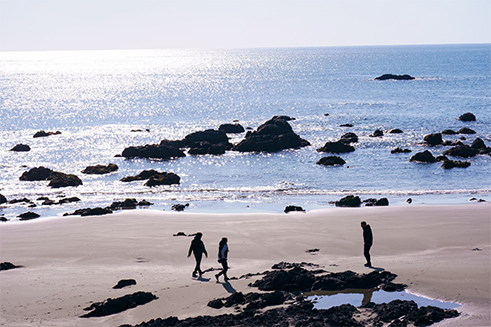 We eventually arrived at Nakamura after riding on a mix of roads and highways for about two hours. The city of Nakamura actually merged with neighboring Nishitosa Village in 2005 to become Shimanto City. As the name suggests, the city is located downstream from the Shimanto River—known as the last crystal-clear river in Japan—and it is said that its first inhabitants settled in the plains formed by sediment carried by the river. On a hill overlooking the cityscape are the ruins of Nakamura Castle, which was built by the area's feudal lord in the Warring States period. The castle stood watch over the area until it was abandoned following the Edo Shogunate's "one castle per province" edict. Currently, a building replicating the castle's main keep serves as the Shimanto Municipal Local History Museum.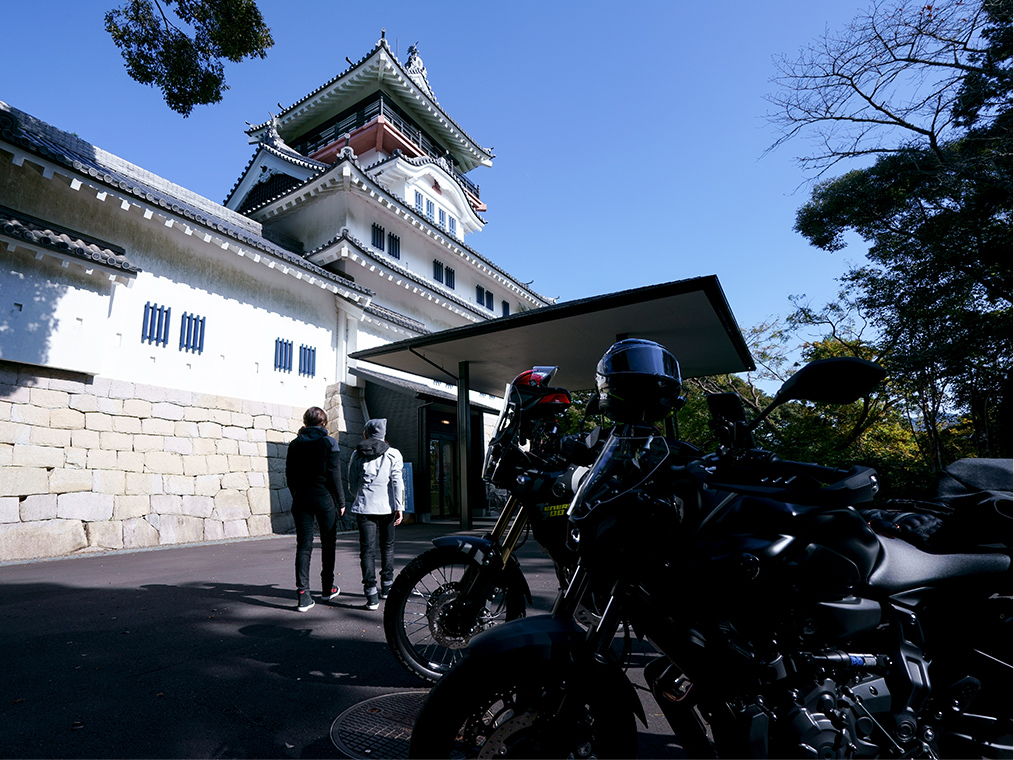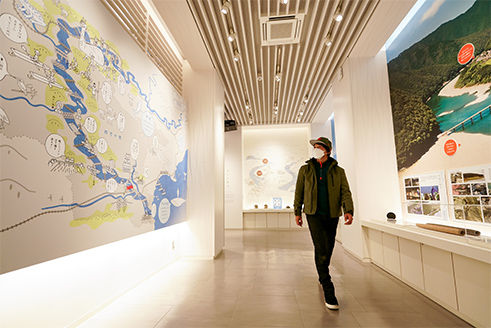 We went up to the museum's observation deck and gazed at the former castle town. You can see the Shimanto River in the west and the Ushiro River—a tributary—in the east, while the city spreads out into the plains between them. People have had lives here for hundreds of years (or perhaps even longer) and Rowly's ancestors lived here as well. Though we all have our lives in faraway Tokyo, I couldn't help but be moved when I saw and felt that Rowly's roots were there in front of us, even if this isn't where my own family history lies. But all of us that accompanied Rowly on this trip each have our own roots to look back on as well, whether it's me, Reina, or Tanya.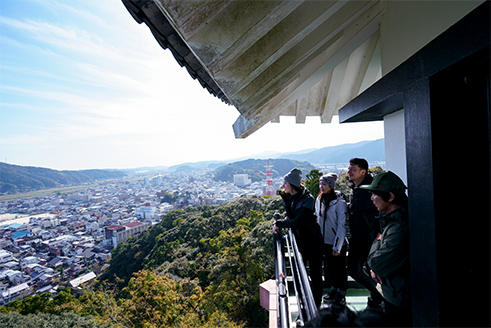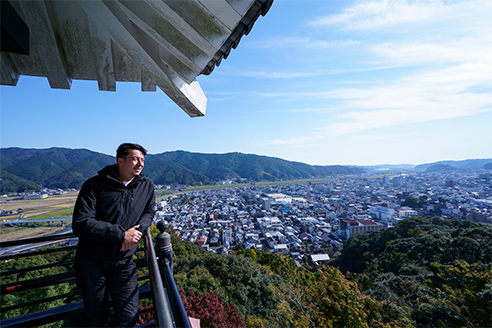 The Shimanto River and Chinkabashi Bridges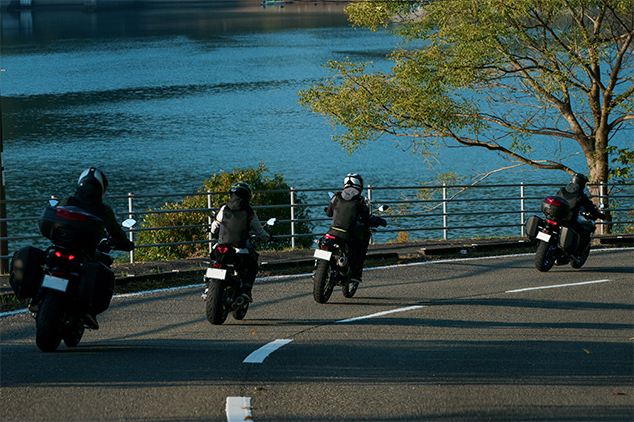 The ocean is strongly associated with Kochi Prefecture since it is situated on the south side of Shikoku and faces the Pacific Ocean, but in reality, mountains comprise about 90% of the region and it is actually the most mountainous area in Japan. This topography formed the Shimanto River and several others, creating the rich natural environment as well as the treasure trove of winding roads that meander through it. This makes Kochi Prefecture a go-to destination for motorcyclists.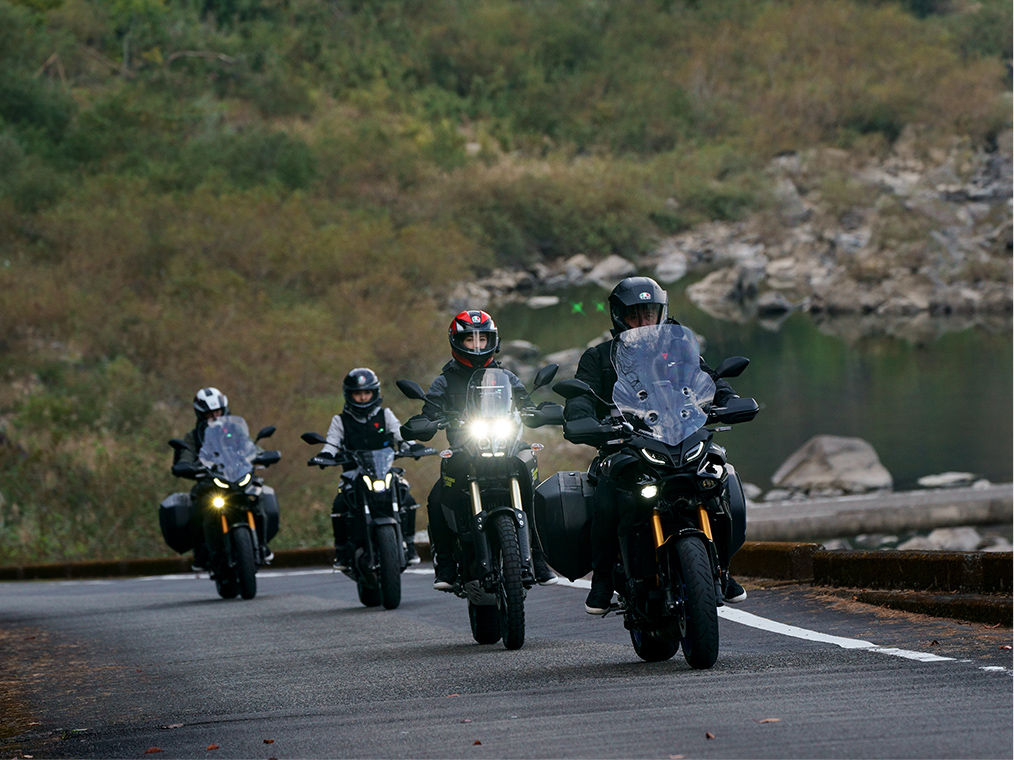 We decided to ride upstream along the Shimanto River. This was something Reina and Tanya had asked to do on this trip to Kochi; they wanted to try crossing some of the region's chinkabashi low-water bridges. These simple bridges are ready-made to be submerged should the river's water level rise and they have no parapets, making it less likely for driftwood, earth, or sand to get caught on the bridge and cause it to collapse or otherwise block the flow of water. When bridge-building technology was less advanced, it was difficult to build a crossing that would not break should a river rise, so engineers instead opted to build a simple bridge at a lower height that was meant to be submerged. As technology advanced, these bridges were gradually replaced by strong modern bridges and have become rarer sights, but around 47 chinkabashi bridges like this remain along the Shimanto River and its tributaries as cultural landscape examples.
The chinkabashi bridges over the Shimanto River still serve as thoroughfares today, but from a tourist's point of view, they give off a real old school vibe and are important structures. In more modern lingo, these are definitely good spots to take pictures "for the 'Gram." Rowly and I, of course, agreed with Reina and Tanya that we should cross a chinkabashi bridge on our bikes and get photos of it if we can.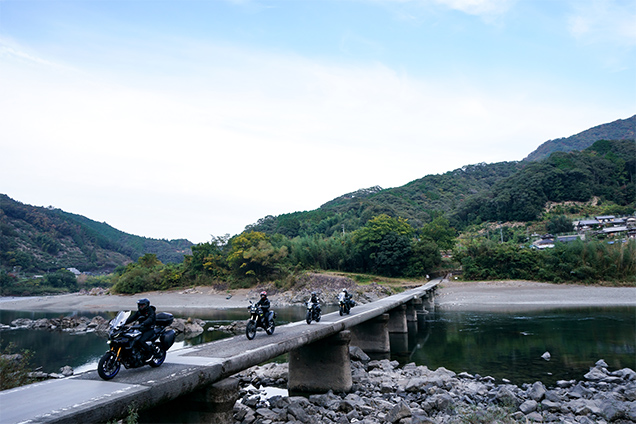 The road that went up along the Shimanto River was a beautiful winding road just as I had imagined. Small villages dot the riverside and we saw other chinkabashi bridges that people still use. I was sorely tempted to ride all the way to the headwaters of the 196 km river, but we unfortunately didn't have enough time for that. Instead, we crossed the 120 m Nagaoi chinkabashi bridge situated midstream, which was erected in 1960. Since it's wide enough for cars to cross it at 2.8 m, I figured it would be quite easy to cross by motorcycle, but riding across a bridge without parapets certainly got the heart pumping. We took the photos we wanted on the bridge and turned around to ride back to Tosa.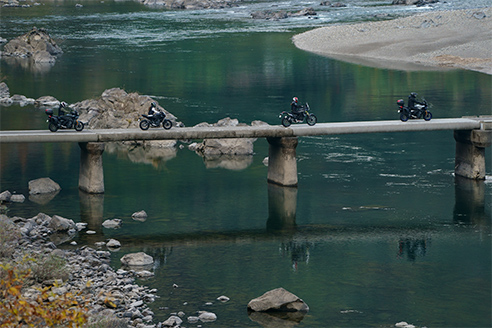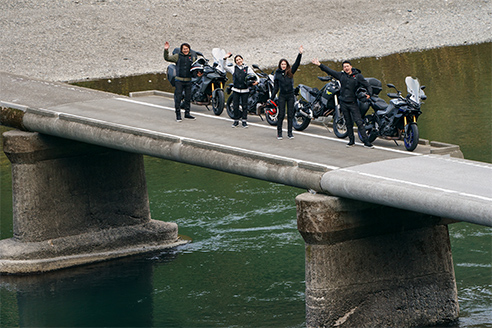 It had already been three days since we set off on this trip. There were still so many places I wanted to go and things I wanted to see in Kochi Prefecture, but we had to start preparing for the ride home soon. On the morning of the fourth day, there was one final place we had to stop by having come all the way to Kochi: the statue of samurai Ryoma Sakamoto at Katsurahama Beach. The four of us then saddled up on our bikes and headed east for Tokyo.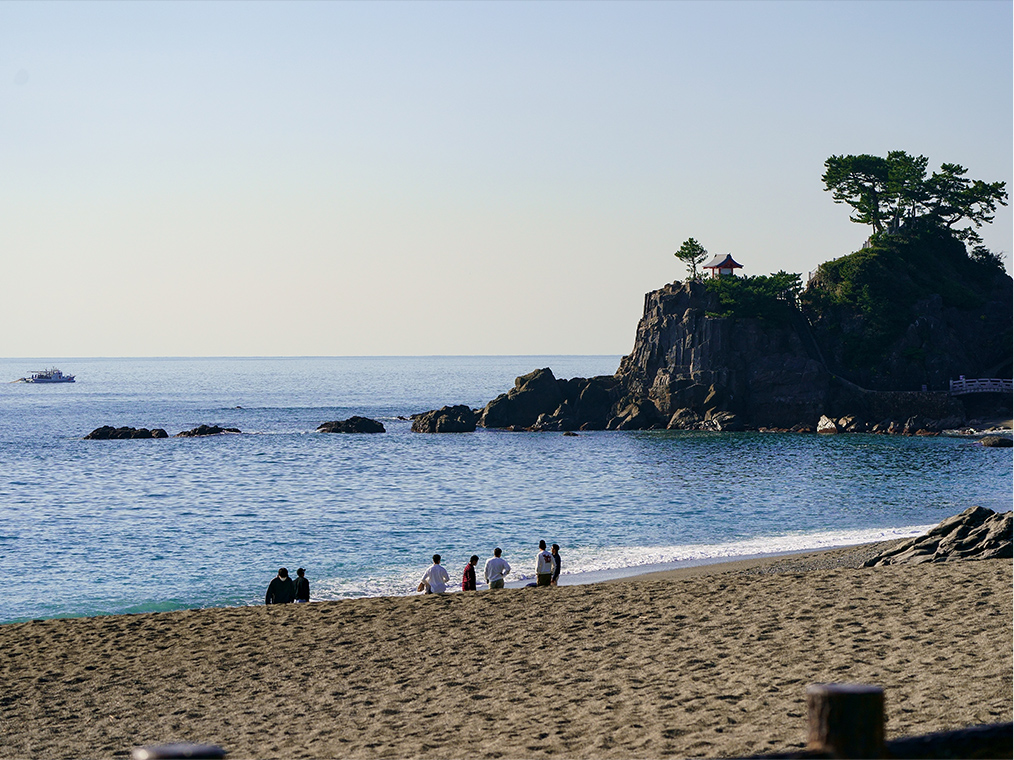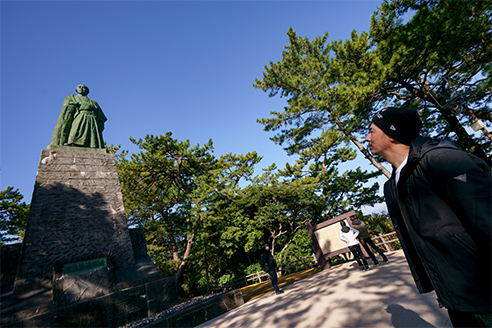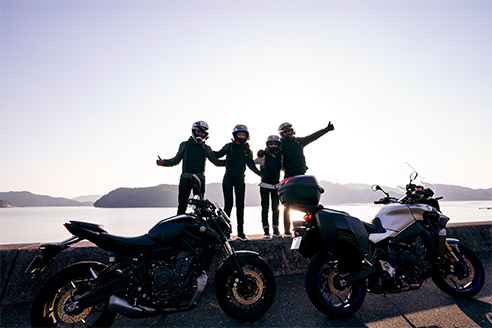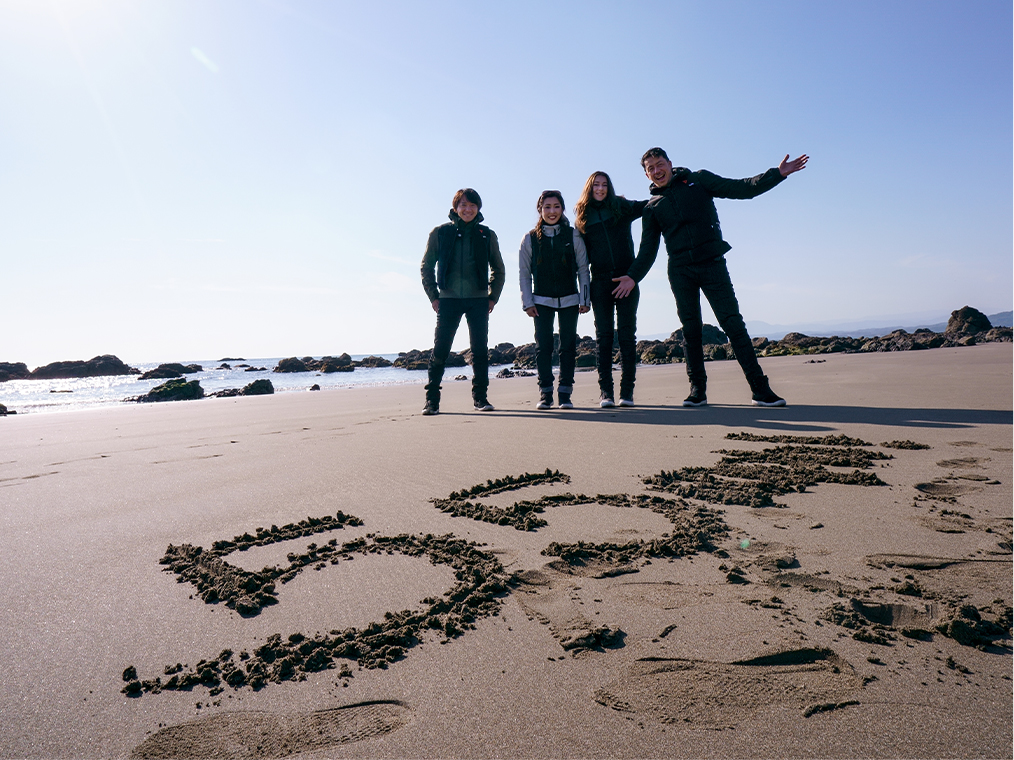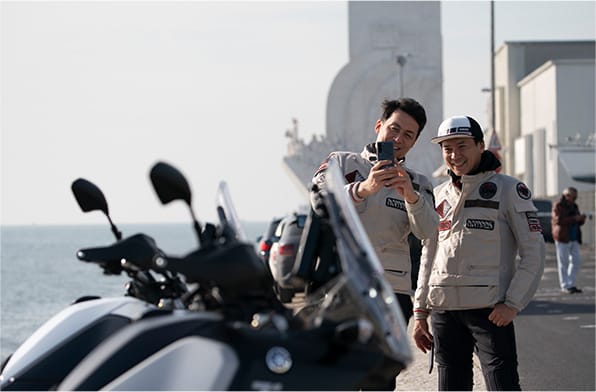 Rowland Kirishima
Born in 1968. Graduated from New York University College of Art - Department of Photography - and became a photographer. He is active mainly in magazines and advertising photography. Currently, he is a technical advisor for CyberHuman Productions. Rowland developed an interest with motorcycles during his school days and participates in races in both on & off-road competition. He also competed in the Dakar Rally in 2007.
Keisuke Kawanishi
Born in 1967. Graduated from Waseda University and become an editor at the NAVI magazine after working for an advertising agency. He started motorcycle magazines "MOTO NAVI" and "NAVI CARS" working as the senior editor.
He currently works as a freelance motor journalist, editor and producer.