55mph - Roots. Vol.01
Rowland Kirishima and Keisuke Kawanishi's grand touring on a Yamaha TRACER9 GT to Kochi for 6days.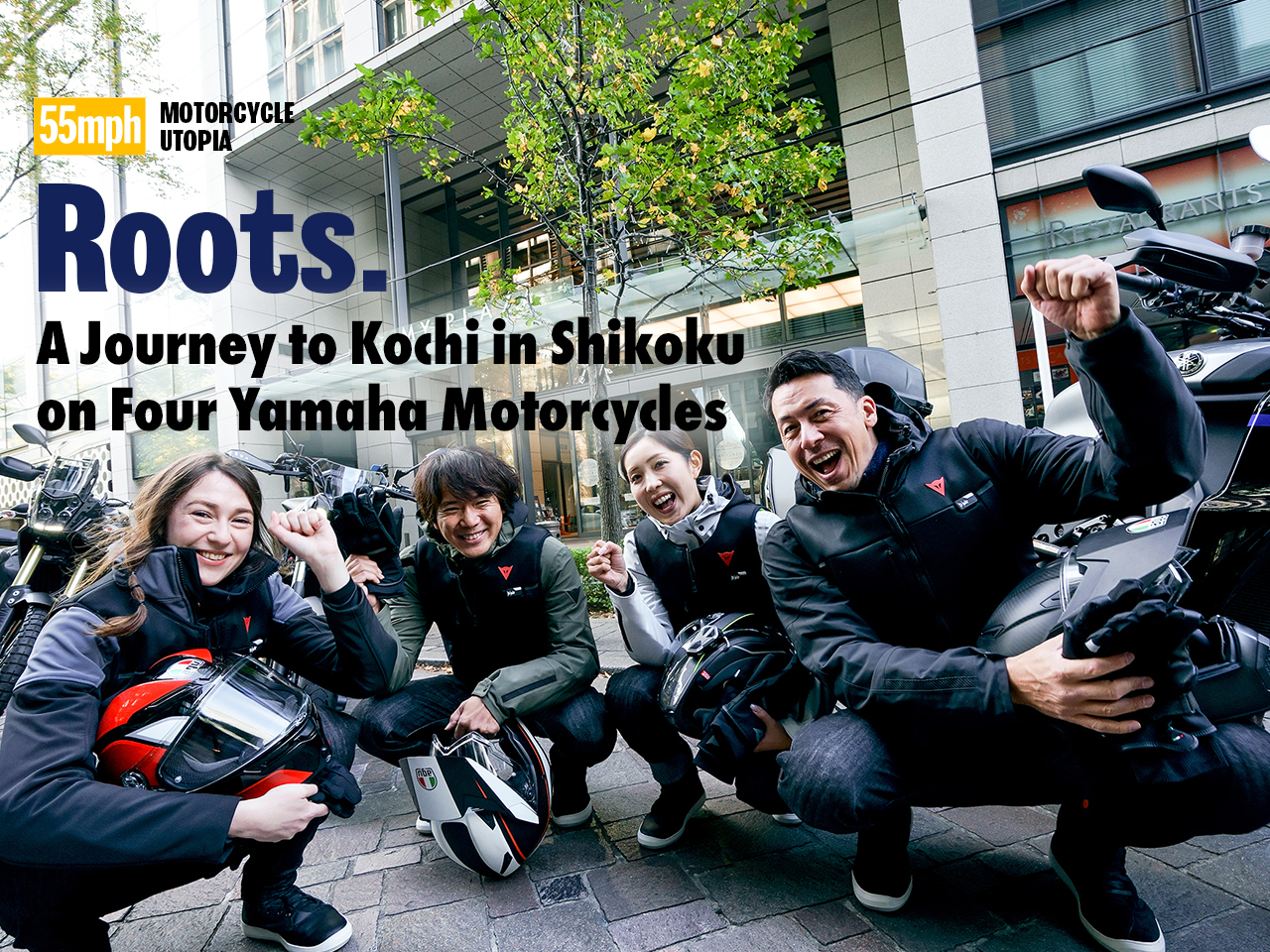 Vol. 1 An Escape from the Dull Day-to-Day
The restrictions the COVID-19 threat has placed on us has generated within just about everyone a longing for the freedom to go wherever whenever we want. With a faint light finally beginning to appear at the end of the long proverbial tunnel, here we are looking to go on a motorcycling adventure, a grand tour from Tokyo to Kochi in Shikoku and back. It's also a journey of rediscovering our roots as motorcyclists, something that is on the verge of being lost from day after day of being "garaged" due to the pandemic.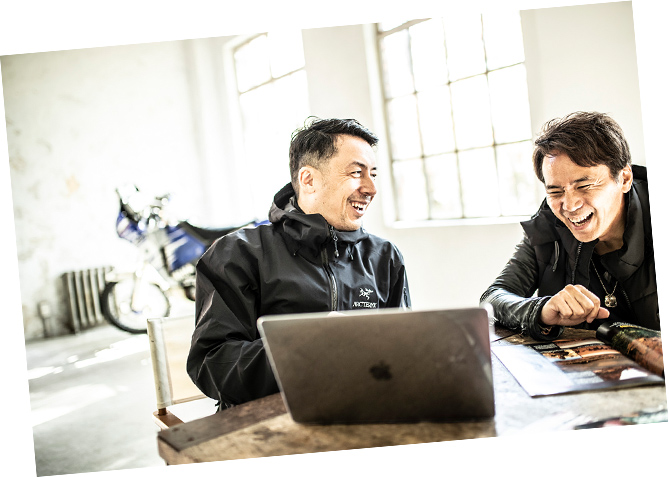 Two years ago, at the end of 2019, photographer Rowland 'Rowly' Kirishima and I set out on a motorcycle trip, starting in Portugal and making our way through Spain to Morocco in Africa. What sparked the idea for this trip was the 55mph series of publications put out by Yamaha Motor in the 1980s. With its "motorcycle utopia" concept, 55mph showcased motorcycle tours in various places around the world, with each issue detailing the thrills and experiences specific to each destination in wonderful travel articles complete with boldly arranged photos from the trips.
Rowly and I both read the articles from 55mph back when we just started riding motorcycles and were greatly influenced by them. Now that we're both in our 50s, we decided that we wanted to go on a motorcycle trip like the ones we read about in 55mph when we were younger. The story of our trip was told in the reborn 55mph on the web and also as a book. ▶55mph - This is Africa! Chapter01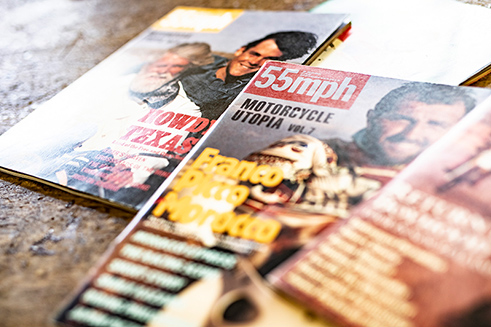 But we didn't have a clue back then that shortly after returning from that trip, the world would be completely changed by the threat of an unknown virus. Travel was restricted worldwide and Japan also put states of emergency in place, strongly advising against going outdoors. Of course, that meant we would not be going out on any new motorcycle adventures either.
Now, almost two years since the first outbreak, we are beginning to see a faint ray of hope at the end of a very long tunnel. The world is beginning to move again as it looks to make up for lost time. One unexpected result of the shackles we were placed in was how it made us long for the individual liberty and freedom to go where we want, and it moved us to rediscover and reaffirm the importance and meaning motorcycles hold as vehicles. Rowly and I once again found a deep desire welling up within us to embark on a motorcycle tour in search of such freedom.
A Ride to Kochi to Return to Our Roots
In November, we decided to go out on tour again. As traveling overseas still remains difficult, we chose to keep this one domestic, thinking it would also be a good opportunity to take a fresh look at Japan. There were several places we wanted to go to, but ended up choosing Tosa in Kochi Prefecture. Rowly was born to a Scottish–American father and a Japanese mother, and he said his maternal ancestors were samurai who once lived in the area. Perhaps being in his 50s, I felt that tracing his roots may have held a special meaning for him. At the same time, Kochi was unexplored territory for me and it was also a place I had always wanted to go to.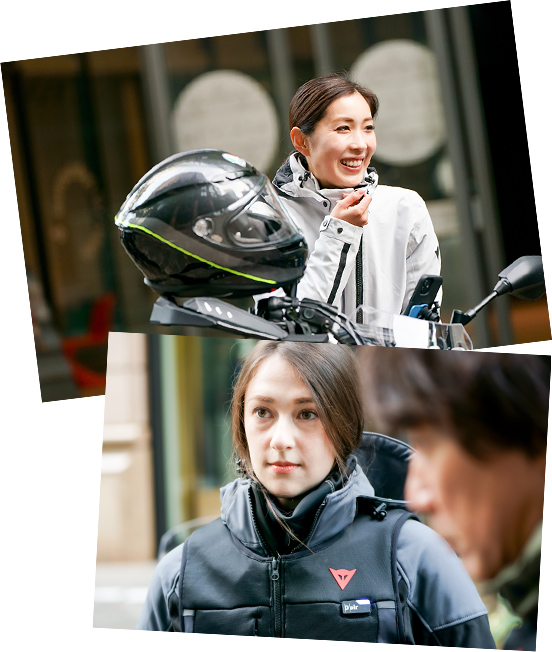 In planning this trip, one thing I wanted to do was share the aura and world of 55mph with some new friends, preferably riders younger than us who don't really know the original from the '80s. So Rowly and I decided to each invite a friend along for this trip and we called on Reina and Tanya to join us.
Reina is a woman of diverse talents and interests. She is quite the athlete and is a former dancing world champion, but she also likes kimono, the ocean, and animals. Tanya is a talented and multilingual young woman who was born in Russia, but has lived in Australia and is now working in Japan. What they both have in common is that they love traveling and motorcycles. Even though their riding careers are not that long, I felt that we could all enjoy this trip together.
4 bikes, 6 days, 2,000 km
We started our six-day tour to Kochi from Tokyo in mid-November. The trip there and back would be around 2,000 km, so simple math dictated that each day's ride would be over 300 km. As we would be riding every day, it would be a hard trip not only for the two women but even for seasoned riders like Rowly and myself. Given that our bodies and senses had surely dulled from staying indoors and practicing self-restraint for so long, the burden placed on ourselves would likely be even greater than usual.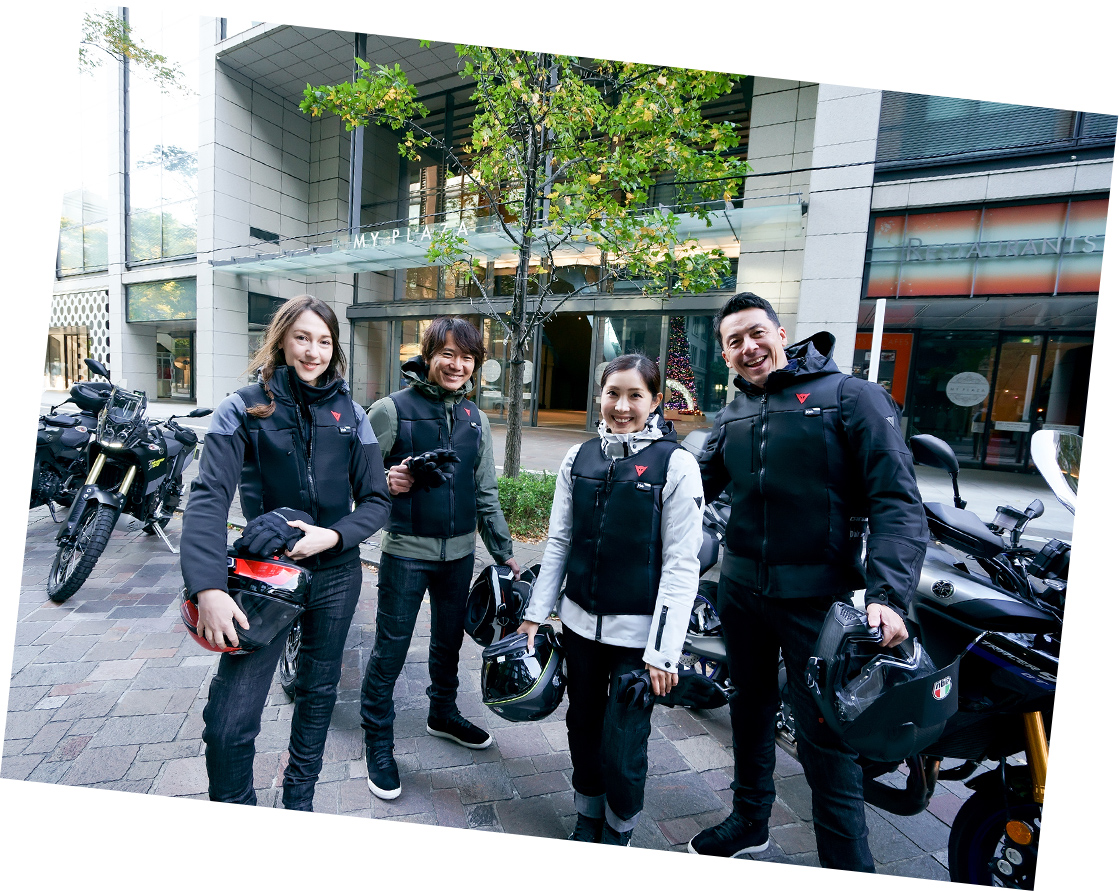 Rowly and I chose Yamaha's Tracer 9 GT to be our partner for the journey. The Tracer 9 GT is based on the MT-09 naked sportbike and its 888cc triple powerplant, but is equipped with fairings and other features for sport-touring duties. The GT version also comes with upgraded front and rear suspension and other onboard niceties for rider comfort, from cruise control and heated grips to full-color TFT displays. It's a great mount for a long tour like this one.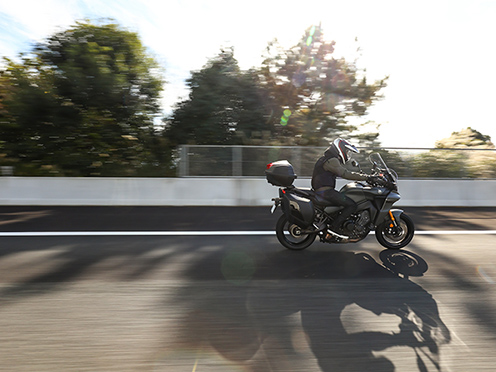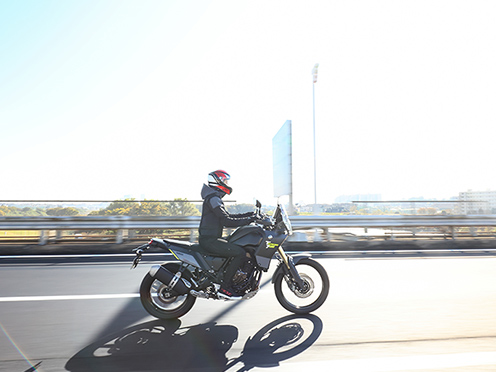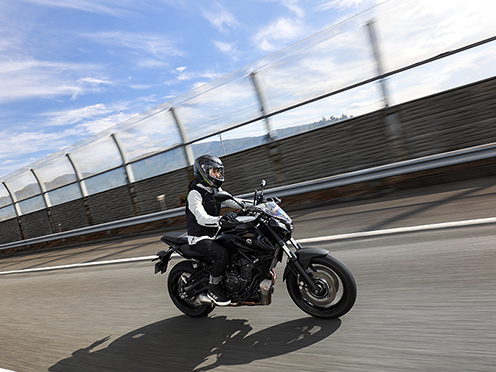 Tanya is taller than most women in Japan at 173 cm and chose the Ténéré 700, the bike that Rowly and I rode on our adventure to Africa two years ago. The Ténéré is highly capable whether on or off road and alleviates the burden and anxiety that often accompanies long-distance riding. The 688cc parallel twin engine revs up with a linear smoothness akin to an electric motor and instantly provides all the power and torque the rider needs. From highways to twisties, it provides the rider with predictable response aligned with their expectations.
Although she has an unrestricted motorcycle license, Reina is the least experienced rider of the group and we thought the MT-07 naked sportbike would be the best fit for her. It shares the Ténéré's 688cc CP2 engine and offers a straightforward, easy-to-handle riding experience. The chassis is also compact and some 20 kg lighter than the Ténéré, making it easy to maneuver as well. It has no fairings, so riding at high speed forces the rider to battle the wind, but even with that in mind, the bike's light weight is a big advantage.
Our four-person journey in search of our respective "roots" was blessed with a sunny early morning departure from Marunouchi in central Tokyo. The goal for the first day was Kyoto, a roughly 450 km ride mainly along the Tomei and Meishin expressways. This distance may not seem that far by car, but for a four-bike group with riders of varying experience levels, it is no walk in the park. But once we got started that day, we were simply full of excitement and reveled in unlocking the restraints life had placed on us all, hopeful to rediscover the natural beauty and stunning sights of Japan by motorcycle.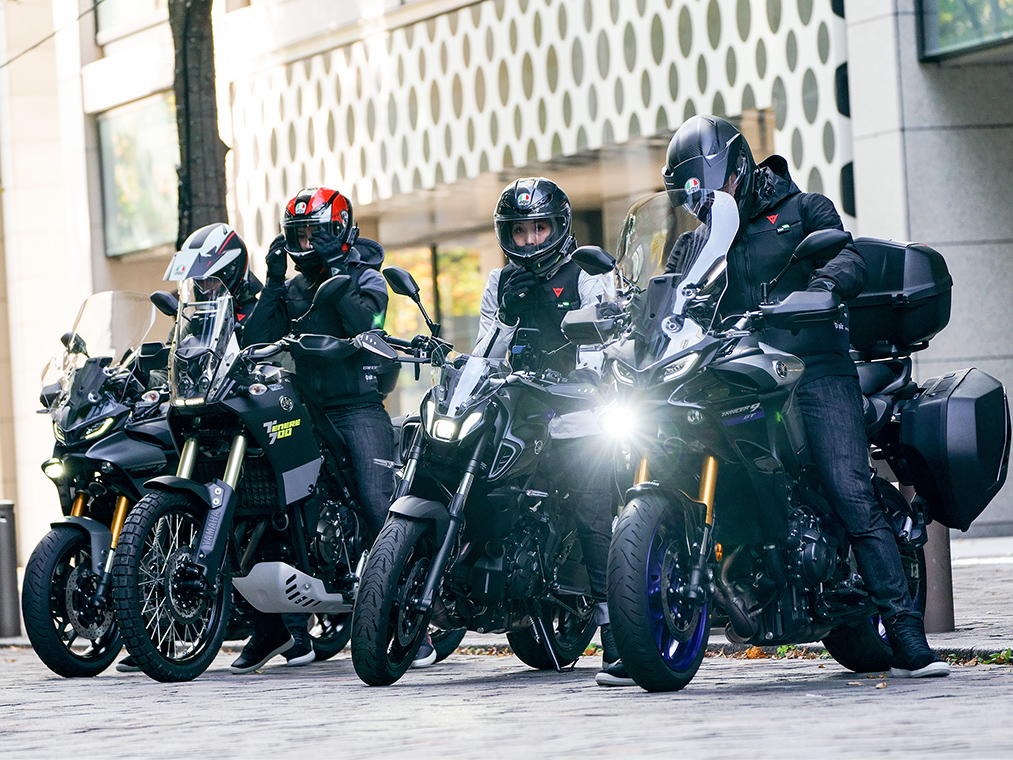 Our grand tour from Tokyo to Kochi and back had begun...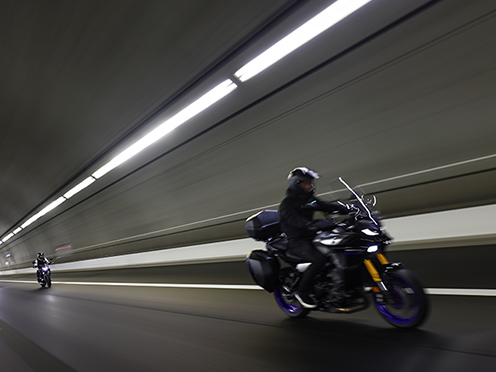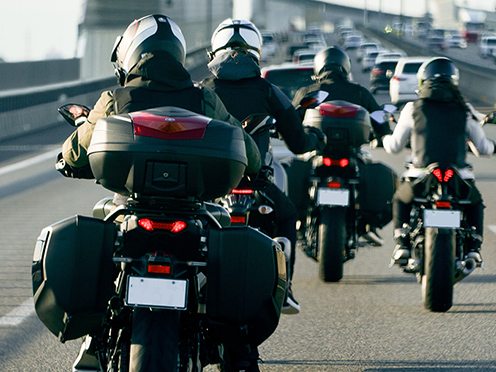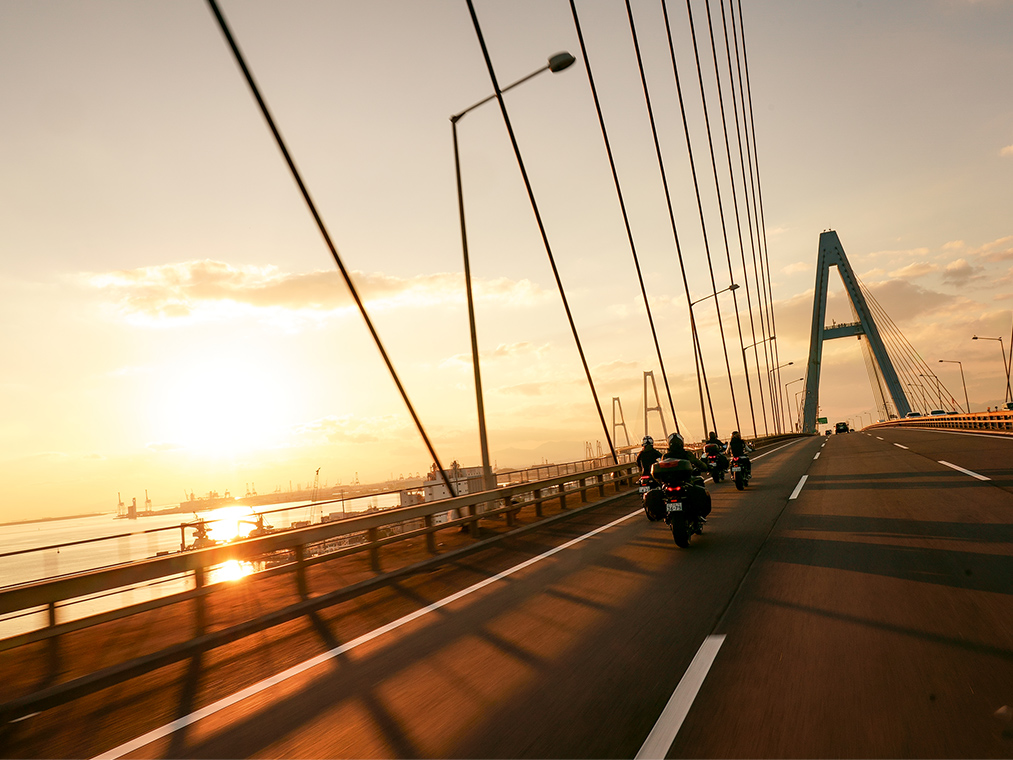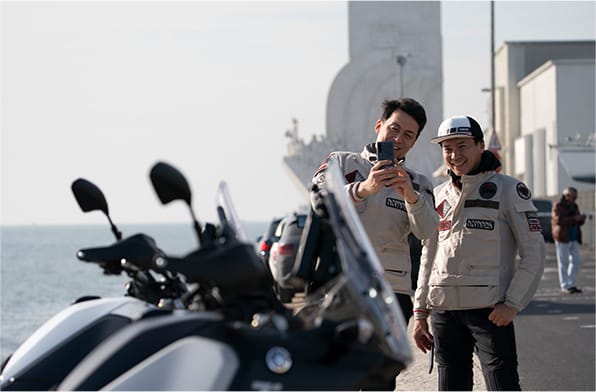 Rowland Kirishima
Born in 1968. Graduated from New York University College of Art - Department of Photography - and became a photographer. He is active mainly in magazines and advertising photography. Currently, he is a technical advisor for CyberHuman Productions. Rowland developed an interest with motorcycles during his school days and participates in races in both on & off-road competition. He also competed in the Dakar Rally in 2007.
Keisuke Kawanishi
Born in 1967. Graduated from Waseda University and become an editor at the NAVI magazine after working for an advertising agency. He started motorcycle magazines "MOTO NAVI" and "NAVI CARS" working as the senior editor.
He currently works as a freelance motor journalist, editor and producer.