47
2014-2015

Yamaha Develops the "Tricity" for Markets Globally as Its First LMW Model

Urban centers in Japan, Europe, greater Asia and other areas around the world face traffic and infrastructural issues such as chronic traffic congestion and a lack of parking spaces. In light of these problems, people in many countries have long depended on scooters and other small motorcycles for personal mobility thanks to their convenience, affordability and maneuverability. At the same time, growing concerns for the cost of ownership and use of personal vehicles, and the impact on environment led to more and more calls for new types of commuter vehicles that are user-friendly and easy to ride, even for people with no scooter/motorcycle riding experience.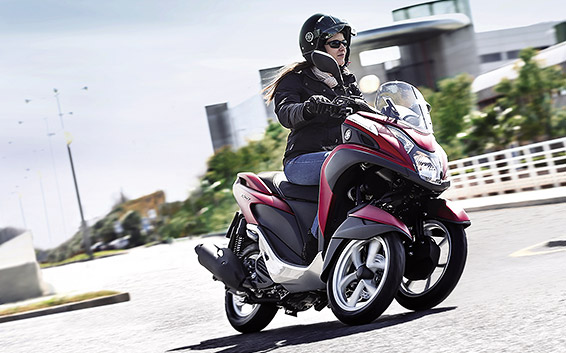 In 2014, Yamaha Motor released the "Tricity" (pronounced like "elec-tricity") 125 cc automatic transmission (AT) commuter vehicle as its first model featuring its Leaning Multi-Wheel (LMW) design enabling the two front wheels to lean in unison with the chassis when cornering. The model's debut represented one answer from Yamaha to the aforementioned traffic issues and calls from the market. The Tricity's product concept was to be a "New Standard City Commuter," and it has been launched for numerous global markets with the aim of pioneering and establishing new demand for urban mobility, not only among existing two-wheeler users but also customers new to scooters/motorcycles.
The biggest feature of the Tricity is its two front wheels that not only provide a new kind of fun, light and sporty handling with a good feeling of stability, but also an appearance that helps give the bike a look of stability and ease of use. In Japan, test-ride events and the like were actively promoted and held nationwide to get as many people as possible to experience the new kind of fun that this model offers.
The Tricity was first unveiled in 2013 at European motor shows and released the following year, first in Thailand where it is manufactured, and then in countries throughout Europe and Asia.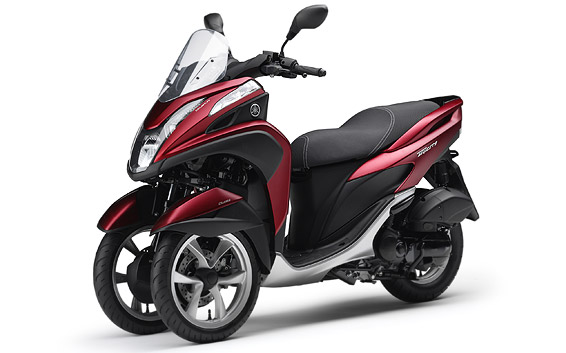 .