1980
View an archive of races Yamaha competed in 1980.
Roberts makes it three in a row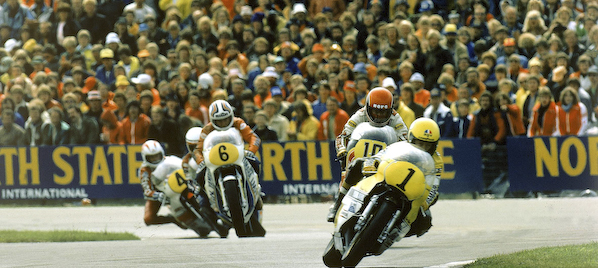 Roberts takes championship for the third year running



The Yamaha riders this year were Johnny Cecotto and Kenny Roberts, who was aiming for his third consecutive championship title. The opening and second rounds had to be cancelled, making the Misano round effectively the season opener. Roberts won here and in the next two races in Spain and France. His rival Randy Mamola (Suzuki) picked up his pace later in the series and won races in Belgium and Great Britain. However, Roberts consistently finished high in the points to maintain the championship lead. With a margin of 15 points he gained his third consecutive championship title. Cecotto finished the season ranked 7th.

Yamaha's YZR500 factory machine underwent further development during this season. The 0W48 spec introduced early in the competition featuried an aluminum frame. From the fourth round in the Netherlands, the 0W48R spec (based on the steel-framed 0W45) was brought in. The "R" in its designation stood for "Rear," because the two outer cylinders of the in-line-4 engine were rear-exhausted. Roberts withdrew from this race due to tire deflation, but he came back to finish 3rd in the following race in Belgium. He was back on the 0W48 for the next two races, finishing 2nd in both. In the final round in Nurburgring, Yamaha brought in the 0W48R, this time with an aluminum frame. Roberts rode it to a 4th-place finish. With this, he managed to secure the title even though the machine had been changed several times over the course of the season.

At the Netherlands GP, privateer Jack Middelburg won the race on a Yamaha TZ500 racer. This was also the year that South African Kork Ballington (Kawasaki), who held the titles in both the 250cc and 350cc classes, moved up to the 500cc class. Honda's 4-stroke machine from the previous year was entered again this year, but it was unable to score any points.

| Pos. | Cate. | Rider | Constructor | Point |
| --- | --- | --- | --- | --- |
| 1 | 500cc | K. Roberts | Yamaha | 87 |
| 2 | 500cc | R. Mamora | Suzuki | 72 |
| 3 | 500cc | M. Lucchinelli | Suzuki | 59 |
| 4 | 500cc | F. Uncini | Suzuki | 50 |
| 5 | 500cc | G. Rossi | Suzuki | 38 |
| 6 | 500cc | W. Hartog | Suzuki | 31 |
| 7 | 500cc | J. Cecotto | Yamaha | 31 |

| Pos. | Constructor | Point |
| --- | --- | --- |
| 1 | Suzuki | 108 |
| 2 | Yamaha | 102 |
| 3 | Kawasaki | 13 |