1972
View an archive of races Yamaha competed in 1972.
Saarinen takes the championship title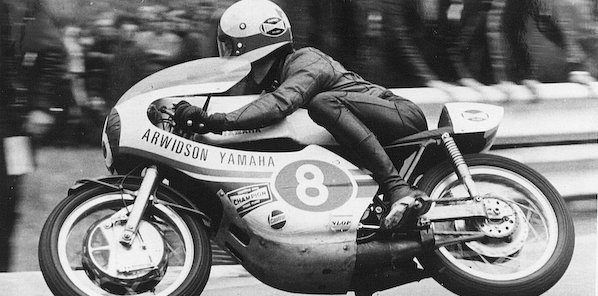 Yamaha wins both the rider and the manufacturer titles for the third year running! Saarinen becomes the rider champion!



The 1972 season was an exciting one that saw the new Yamaha rider Jarno Saarinen winning the rider's title. Hideo Kanaya also took his first-ever Grand Prix win this season, and Yamaha brought in its latest liquid-cooled machine. In the opening round in Nurburgring, East Germany on the 30th of April, Kanaya competed in the Grand Prix using the Yamaha's TD-3 production racer. Kanaya took the win by fending off his rival Dieter Braun (Maico). The following race in France saw defending champion Phil Read ride the TD-3 production racer to victory.

The highlight of the mid season came in the fifth round at the Isle of Man TT. Riders on the Yamaha TD-3 production racer rode superbly to dominate the top positions. The race was won by Read, followed by Gould. Chas Mortimer on Yamaha's liquid-cooled twin-cylinder machine also won the 125cc class. Gould, in the meantime, consistently added to his points tally. After finishing 2nd in rounds four to six, he took his first win of the season in round seven in the Netherlands to come out on top in the championship standings.

Gould and Saarinen's championship battles became the highlight of the races once they were given the new liquid-cooled machine in the second half of the season. Saarinen took the lead in the championship ranking by winning both the eighth and ninth rounds. The battle continued to the last race in Finland, where Saarinen won his home Grand Prix to clinch the championship title. The manufacturer's title was in the hands of Yamaha by the end of round nine.

| Pos. | Cate. | Rider | Constructor | Point |
| --- | --- | --- | --- | --- |
| 1 | 250cc | J. Sarrinen | Yamaha | 94(122) |
| 2 | 250cc | R. Pasolini | Aermacchi | 93(103) |
| 3 | 250cc | R. Gold | Yamaha | 88(101) |
| 4 | 250cc | P. Read | Yamaha | 58 |
| 5 | 250cc | T. Lansivuori | Yamaha | 46(54) |
| 6 | 250cc | J. Dodds | Yamaha | 42 |
| 11 | 250cc | H.Kanaya | Yamaha | 26 |

| Pos. | Constructor | Point |
| --- | --- | --- |
| 1 | Yamaha | 105(183) |
| 2 | Aermacchi | 93(103) |
| 3 | MZ | 36 |
| 4 | Maico | 29 |
| 5 | Derbi | 16 |
| 6 | Dugdale Yamaha | 8 |