1969
View an archive of races Yamaha competed in 1969.
Yamaha begins supplying production machines designed for GP races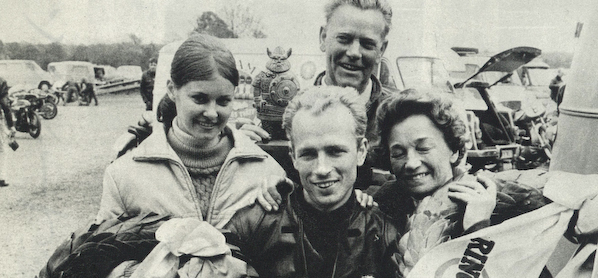 Kent Andersson rides the production racer TD-2 to finish 2nd



In 1969, Yamaha stopped entering the GP with factory machines. Instead it began sales of the production competition motorcycles TD-2 (250cc) and TR-2 (350cc) to cater to a wide range of riders who wanted to compete. Soon talented riders from all over the world were competing in the GP riding the TD-2. The Swedish rider Kent Andersson with his bright white racing suit had great performances throughout the season, with two wins, two second places and three third-place finishes to finish second in the season ranking.

After finishing second in the opening round, Andersson showed his true potential in the next round at Hockenheim in West Germany. MZ riders dashed to the front after the start, followed by Yamaha's Rodney Gould and Kent Andersson. Gould had to retire towards the end of the race, and it became a duel between Andersson and the MZ riders from there. Andersson took the lead with only three laps to go and led the race to the finish line to take his first GP win. Andersson kept adding to his points tally, except in the Isle of Man TT, and he was involved in a fierce battle with the works machines of Benelli and MZ. After taking the lead in lap 12, his pace quickened and he broke the lap record of 2'34 posted by Mike Hailwood in 1966 with a lap time of 2'32.1. This gave him his second victory.

The highlight of the season was in the 11th round in Imola, Italy held on the 7th of September. Read entered the race in the old 2-cylinder factory machine, and fought aggressively with Kel Carruthers on a Benelli with its 4-cylinder engine to take the win. Read also took the production racer TR-2 to race in the 350cc class and held off a rider on a Jawa to achieve a double win on the same race day. The championship title decider for the 250cc class was taken to the final round as Andersson only managed a third place finish.
The final race was held in Yugoslavia on 14th September. A win for Andersson here would have meant the birth of a world champion using a production racer, but he could only finish in third, being unable to match the pace of Carruthers on Benelli's 4-cylinder by six seconds and finishing third. Andersson therefore could not win the title this season.

| Pos. | Cate. | Rider | Constructor | Point |
| --- | --- | --- | --- | --- |
| 1 | 250cc | K. Carruthers | Benelli | 89(103) |
| 2 | 250cc | K. Andersson | Yamaha | 84(108) |
| 3 | 250cc | S. Herrero | Ossa | 83(88) |
| 4 | 250cc | R. Pasolini | Benelli | 45 |
| 5 | 250cc | B. Jansson | Kawasaki/Yamaha | 45 |
| 6 | 250cc | R. Gould | Yamaha | 44 |
| 13 | 250cc | P. Read | Yamaha | 15 |

| Pos. | Constructor | Point |
| --- | --- | --- |
| 1 | Benelli | 102(124) |
| 2 | Yamaha | 93(139) |
| 3 | Ossa | 83(91) |
| 4 | MZ | 58 |
| 5 | Suzuki | 36 |
| 6 | Kawasaki | 28 |