1962
View an archive of races Yamaha competed in 1962.
Focusing on machine development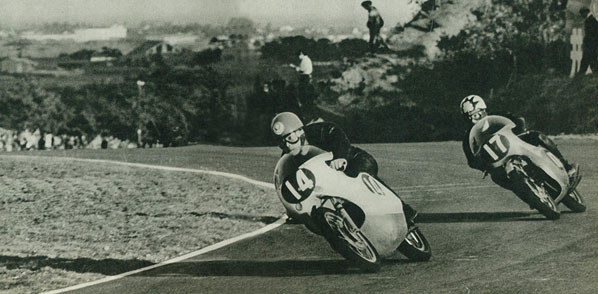 No entry was made in Grand Prix racing in this category for this year.
With the focus placed on competing in the Japanese domestic racing scene, its own machine development, and preparations for the 1963 season, Yamaha decided to skip the 1962 season after its first Grand Prix participation in 1961.

| Pos. | Cate. | Rider | Constructor | Point |
| --- | --- | --- | --- | --- |
| 1 | 250cc | J. Redman | Honda | 48(66) |
| 2 | 250cc | B. Mclntyre | Honda | 32 |
| 3 | 250cc | A. Wheeler | MotoGuzzi | 19 |
| 4 | 250cc | T. Phillis | Honda | 12 |
| 5 | 250cc | T. Provini | Morini | 10 |
| 6 | 250cc | D. Minter | Honda | 8 |
| 6 | 250cc | T. Robb | Honda | 8 |

| Pos. | Constructor | Point |
| --- | --- | --- |
| 1 | Honda | 48(72) |
| 2 | Moto Guzzi | 19 |
| 3 | Morini | 18 |
| 4 | Aermacchi | 9 |
| 5 | Bultaco | 8 |
| 6 | MZ | 6 |