1Introduction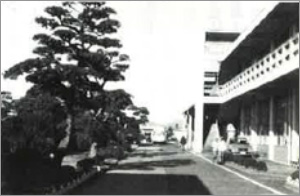 Japanese Bayberry in front of the Hamakita Factory today (as of 1978)
In the fall of 1954, the area around Nippon Gakki's Hamana Factory—the site of Yamaha Motor Company's present Hamakita Factory in Shizuoka Prefecture—was turning into a veritable beehive of activity.
Although the two wooden barracks-like factory buildings were surrounded by long weeds, giving them a rather forlorn appearance, on each side of the buildings were neat rows of ten-odd Japanese Bayberry trees.
Some twenty years later, though the trees had been moved and replanted elsewhere, they were more majestic than ever. Over the intervening years, the trees had been witnesses to Yamaha history and the comings and goings of people, but they can't tell stories of what they've seen. If I may be forgiven for talking about myself, over the past few years, I've been given opportunities to describe my experiences as a Yamaha Motor employee, and many people have asked me to write about the company's early years in the monthly newsletter. I was actually quite surprised at the number of people wanting to read about what things were like.
So, thinking that some might find it interesting, I decided to put down some of the behind-the-scenes stories from the early years of Yamaha Motor Company whenever I could recall them.
I realize that many will dismiss these stories as the idle ramblings of an old man, but as someone who was there from the very beginning, I feel it is my duty—so I tell myself—to put some of those recollections into some possibly biased words.