Our History of Casting Vol. 7 - Strong Personnel and a Strong Company
Manufacturing is the cornerstone of Yamaha's business and we continue to refine our casting technology. This is the story of how these technologies join the present with the future.


Unending Challenges and Continuous Progress
Be it climbing a steep mountain or crossing a deep gorge,
with every challenge met another soon arises.
The journey to create ever better products
is an endless one without time for rest,
and Yamaha's casting engineers march onward
towards a still unknown future on a path strewn with hardships.
But they know it is a journey that sharpens skills and hones talent.
Motorcycles and outboard motors are the two pillars of Yamaha Motor, and both are complex and challenging products to create. Customers expect motorcycles to always provide an ideal balance of the often-conflicting qualities of light weight, high performance and low cost. Moreover, as vehicles unique in their ability to stimulate human senses and sensitivities, their progress is never at a standstill. With outboards on the other hand, users look for higher performance with unwavering reliability in hard use in harsh, seawater environments. In that sense, these products are two "powerful adversaries" and the grindstones on which Yamaha's casting engineers sharpen their skills. Never shirking from seemingly impossible demands, they strive to find solutions which exceed expectations for both quality and performance. This determination to constantly improve and refine their craft―and their ever-present desire to create something new―is part of Yamaha Motor's corporate culture.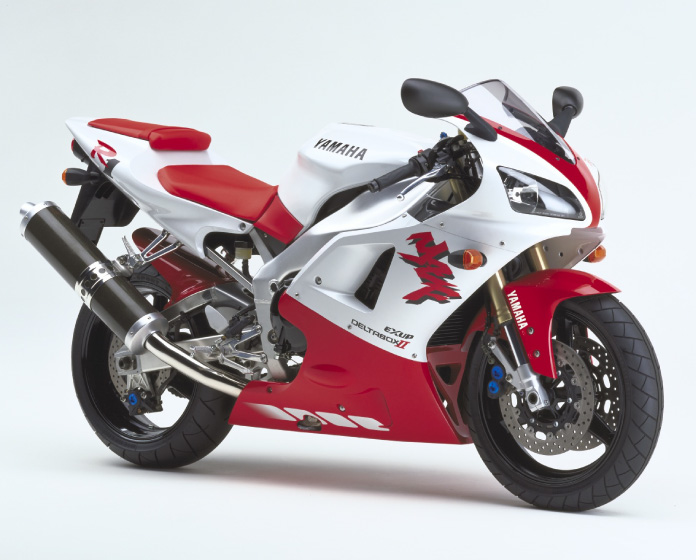 The first YZF-R1's development concept was to be "the fastest bike on twisty roads," and its 1998 debut was the spark that set off the supersport category's performance war. The R1 remains the flagbearer for Yamaha's pursuit of performance today, and it continues to contribute towards raising the standards for our casting technology.
"Cast aluminum for engine parts and steel for chassis parts." Though this maxim is not set in stone, it was widely accepted as the unwritten rule for years at Yamaha Motor. The use of cast aluminum parts in motorcycle engines made a massive leap forward thanks to one flagship model in particular: the first YZF-R1. Debuting in 1998, its combination of a powerful 1,000cc engine mounted in a lightweight chassis took outright motorcycle performance to all-new heights. This supersport bike appeared before the category itself was referred to as "liter-class," triggering a ferocious performance war among rival manufacturers. Yamaha made performance-enhancing updates to the R1 almost every two years. The extensive use of advanced casting methods and technology is what gave the YZF-R1 its incredible performance, from the one-piece cylinder block and crankcase to its plated, sleeveless and closed-deck cylinder design.
The progress made with outboard motors during this period was equally impressive. As the once-dominant 2-stroke outboards were increasingly replaced by 4-strokes, Yamaha set out to create a 4-stroke replacement for its successful 250 hp 2-stroke model, but featuring similar weight and horsepower. Achieving this feat was extremely difficult, but was made possible in part by thermal spraying the cylinder bores to eliminate the need for sleeves.
As the casting techniques for engines diversified, Yamaha moved to put an end to the "Cast aluminum for engine parts and steel for chassis parts" tenet of its own accord. Yamaha Motor had established PT. Yamaha Motor Parts Manufacturing Indonesia (YPMI) in 1996 and built a dedicated casting factory there a year later—right when the Asian financial crisis hit. Although this significantly impacted the industry, Yamaha Motor was luckily in the midst of globalizing its operations to enable local factories in each country to produce parts with the same high level of quality as the "mother factory" in Japan. Dispersing production to Indonesia and other efforts helped minimize the financial impact of the crisis. However, Yamaha could not depend entirely on overseas manufacturing while allowing production volume to fall at the Iwata Main Factory. This provided the impetus to begin producing motorcycle chassis parts out of aluminum.
Aluminum was being used for chassis parts prior to that time, but usually only for comparatively small rolled, wrought or forged materials which were then welded together. Higher cost was always the limiting factor. To significantly reduce the number of parts while also achieving light weight, the only viable choice left was to cast them out of aluminum. In the face of the worldwide recession, Yamaha's casting engineers were determined to produce products that were not only better but also cost less. Going against conventional wisdom, they challenged themselves to cast complex parts using a single casting process.
Greatly facilitating the process was a technique that Yamaha had just perfected for mass-producing large, thin-walled aluminum parts—CF (Controlled Filling) aluminum die-cast technology. Motorcycle frames that had previously consisted of nine separate parts requiring nine meters of welding could now be produced in a single casting and merely bolted together to complete. This technique not only dramatically reduced production costs, but also improved the motorcycle's design appeal, satisfying the unique requirement of a motorcycle's parts to be both functional and aesthetically pleasing to the eye. Beginning first with these frames, Yamaha's chassis components made from casted aluminum gradually grew to include swingarms, wheels and more—all of which enhanced each product's marketability.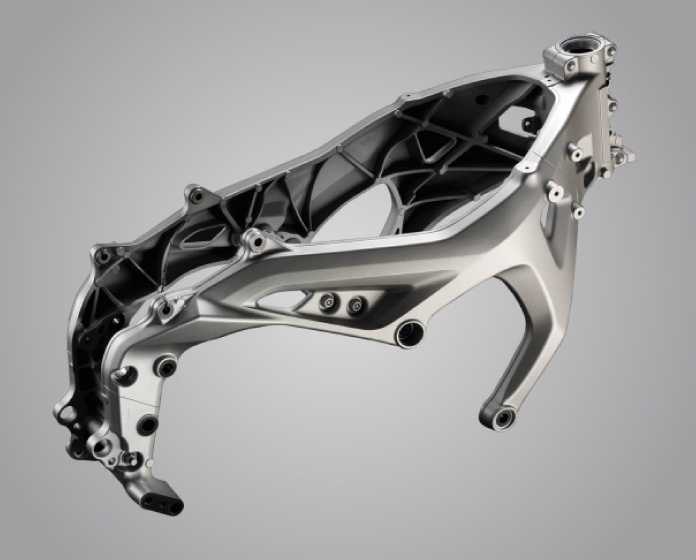 The perfection and subsequent implementation of CF aluminum die-cast technology enabled Yamaha to manufacture large, thin-walled motorcycle frames using very few parts. This resulted in high-performance frames with beautiful exterior quality as well as lower production costs.
The advancements in Yamaha's casting technology and subsequent increase in the number of cast parts were due in large part to the inherent difficulties associated with producing the motorcycles and outboards that form the two key pillars of Yamaha Motor's business. But it's also because our casting engineers never say, "Sorry, that's impossible for us," regardless of how difficult the designers' demands are. "When the designers ask us, 'Can you do it?' the only answer we can give is 'Yes' in Japanese or English!" one engineer says with a laugh. Never to back down from tackling a tough request, they excitedly get started on the new challenge. "How can we do this?" This group of engineers shares a strong never-give-up determination that fuels them to always find solutions for even the most difficult demands. Proof of this can-do attitude can be found in the many high-quality, low-cost products they have produced to date.
With the passage of time, standardization, front loading and automated cast planning and design are now widely used today. On the factory floor, there is a shift underway from the earlier ways of relying on intuition, tricks of the trade and guts to relying on plans, science and data. Advances in analytical techniques have helped make the casting process more visible, giving Yamaha's Monozukuri a more analytical approach. This too is another facet of the challenge to creating something new. This doesn't mean Yamaha's previous ways have been dismissed; they have merely taken on a different form in harmony with the new ones, passing down the technology and skills that remain key to finding ideal solutions. The reason final decisions on the factory floor are made by experienced engineers with the eyes and hands of master craftsmen is precisely because we know the difficulties involved with the complex natural phenomenon that is casting. Even the fullest library of casting techniques and technology is useless without engineers who know how to effectively apply them. And Yamaha has many such people.
Simply being given a blueprint and asked to "make this for us" isn't the work style the Iwata Metalworking Team seeks. What we want is to be given the blueprint and have the bar set higher: "Make it lighter and better, but also make it with lower costs and in less time." We want to brainstorm ideas with the designers to better understand the essential qualities of the part they want to make. We want to put our knowledge to the test and find the best way to make the product, altering the design or materials if need be. It's a process that takes considerable time and is often filled with detours, but experience has shown us that it is the quickest way to solve difficult challenges. Fortunately, the path forward is well lit, illuminated by Yamaha Motor's long-held tradition of valuing the art of metalworking and first-class manufacturing technology.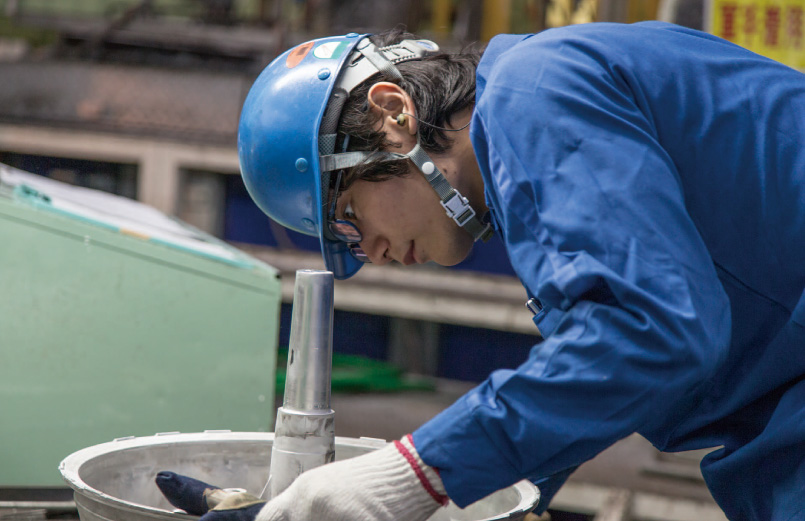 Our Business
Due to current circumstances, we have temporarily stopped accepting enquiries.
We apologize for any inconvenience caused and we are hoping for your kind consideration.