Casting
We are committed to casting parts that give form to ideal designs with excellence in execution.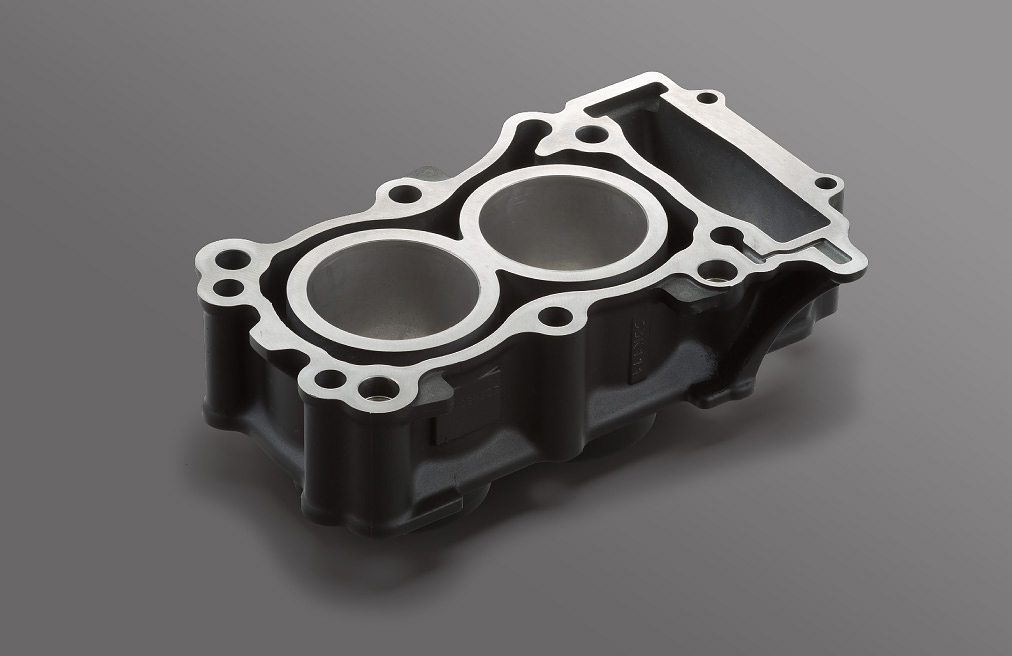 DiASil Cylinder
Product Name: DiASil Cylinder
Use: Motorcycle engines
Main Features
Higher performance
Lighter weight
More compact
Increased abrasion/wear resistance
Increased production efficiency
Good recyclability
Yamaha was the first manufacturer in the world to develop an all-aluminum die-cast cylinder with the DiASil (Die-casting Aluminum–Silicon) Cylinder. Yamaha Motor used its controlled filling (CF) die-casting technology to enable use of an aluminum alloy containing 20% silicon, which had been considered too difficult to do with iron because of the tendency for cavities to occur in the cast. This made it possible to mass-produce all-aluminum cylinders that had excellent sliding characteristics without needing a sleeve. The result was a cylinder with increased resistance to abrasion/wear, greater production efficiency and good recyclability. The simpler manufacturing process also helps keep production costs down.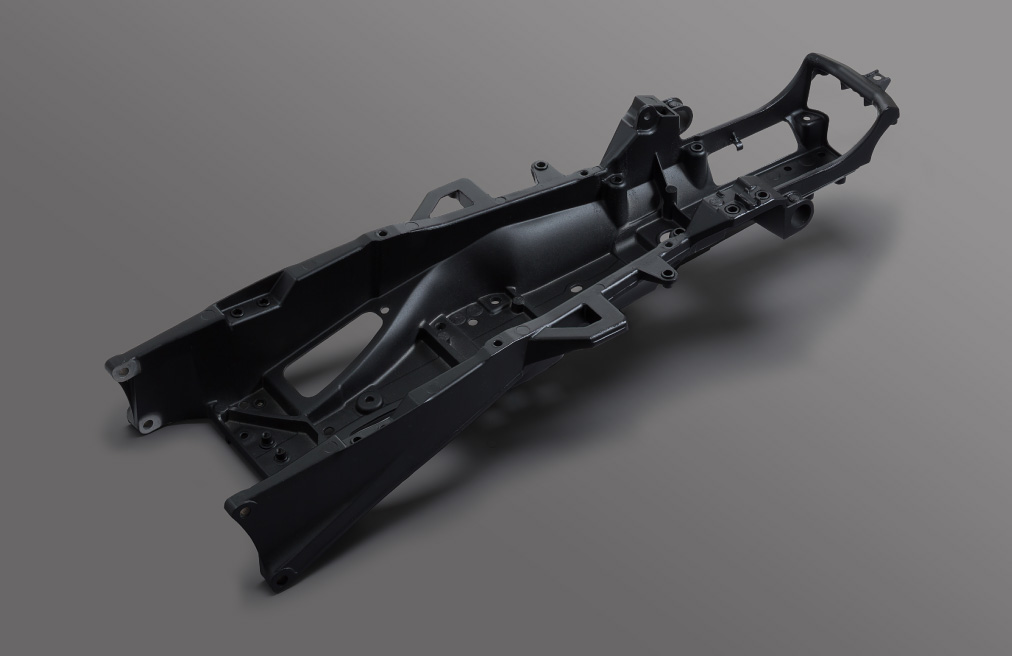 Controlled Filling (CF) Aluminum Die-Casting
Product Name: CF die-cast subframe
Use: Motorcycle chassis
Main Features
Mass-production of large, thin-walled parts
Lighter weight
Fewer components needed
Reduced manufacturing costs
Our Controlled Filling (CF) Die-Casting technology enables mass-production of large die-cast pieces that also have thin-walled sections. Measures to increase the degree of vacuum in the die prior to filling, controlling the temperature of the die itself, increasing the injection speed of the molten aluminum into the die, developing a special release agent and more greatly reduced the formation of air bubbles in the cast aluminum piece. CF Die-Casting brought weight reductions of about 30% and a roughly 80% reduction in the number of components needed for a part, and its use can typically reduce manufacturing costs by about 30%.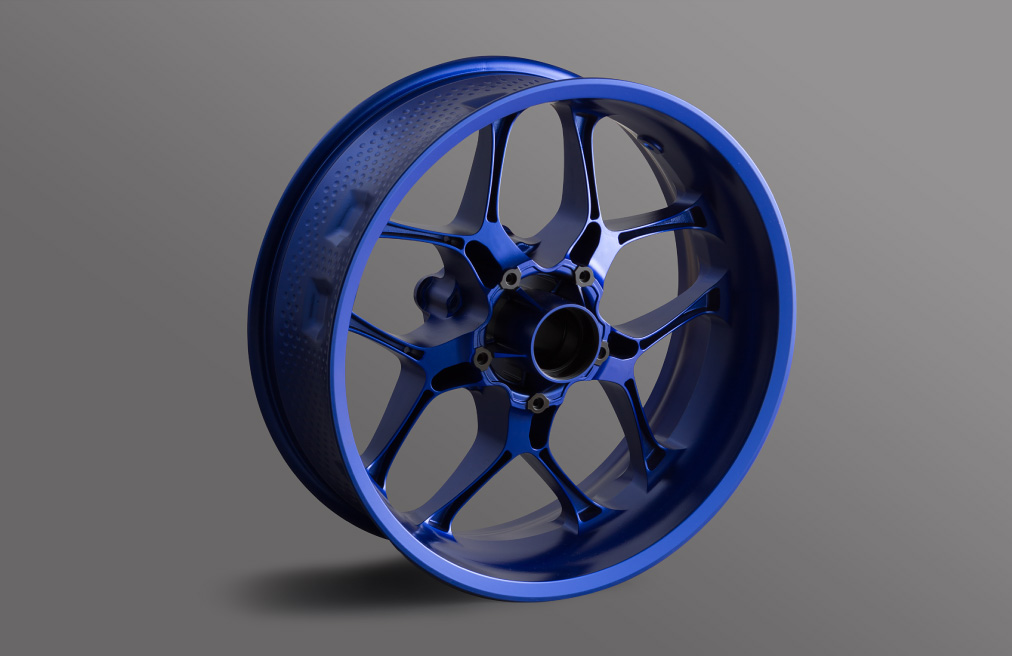 Magnesium Die-Casting
Product name: Magnesium Die-Cast Wheels
Use: Motorcycle chassis
Main Features
Lighter weight
Higher performance
Magnesium is said to be the lightest of the common-use metals. It has both a high strength-to-weight ratio and can contribute to reducing overall part weight. However, it is also a metal that can be difficult to handle, especially due to its high flammability in powder form, etc. For motorcycles in the supersport category where the highest levels of performance are required, the Iwata Metalworking Team has made concerted efforts to employ magnesium parts in these models. Use of magnesium had been limited to smaller parts like covers, but we have succeeded in further reducing machine weight by expanding the use of the material to larger parts like subframes and even wheels. With consideration as well for the excellent recyclability of die-cast magnesium parts, we hope to expand their range of potential uses even more going forward.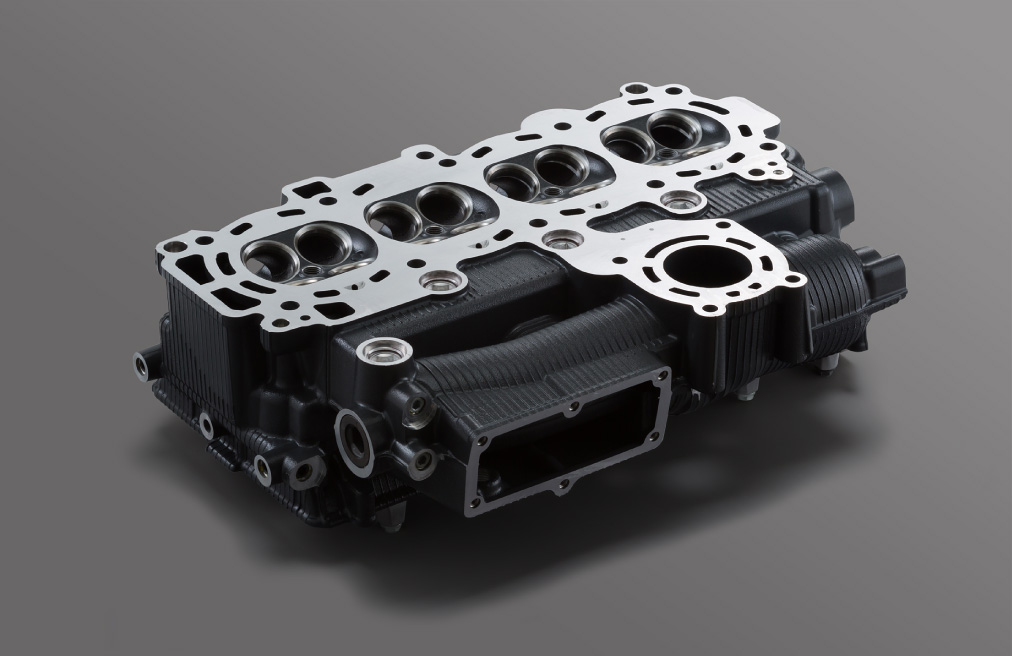 Corrosion-Resistant Aluminum Alloys
Product name: Cylinder head with built-in exhaust manifold
Use: Marine engines
Main Features
Marine engines must have both high performance and excellent reliability despite the harsh use they are subjected to, and often in saltwater. This means highly corrosion-resistant metals are a must. Our experience garnered in manufacturing a wide array of products has also yielded us a great variety of purpose-specific metal alloys. We have at our disposal a full range of aluminum alloys that have cleared our own strict quality standards, and aluminum alloys well-suited for casting and productivity but are also highly resistant to corrosion, which we use in our marine engines. Having a full lineup of materials available that meet numerous requirements is what allows us to always have a suitable choice for casting products and is one of our greatest strengths.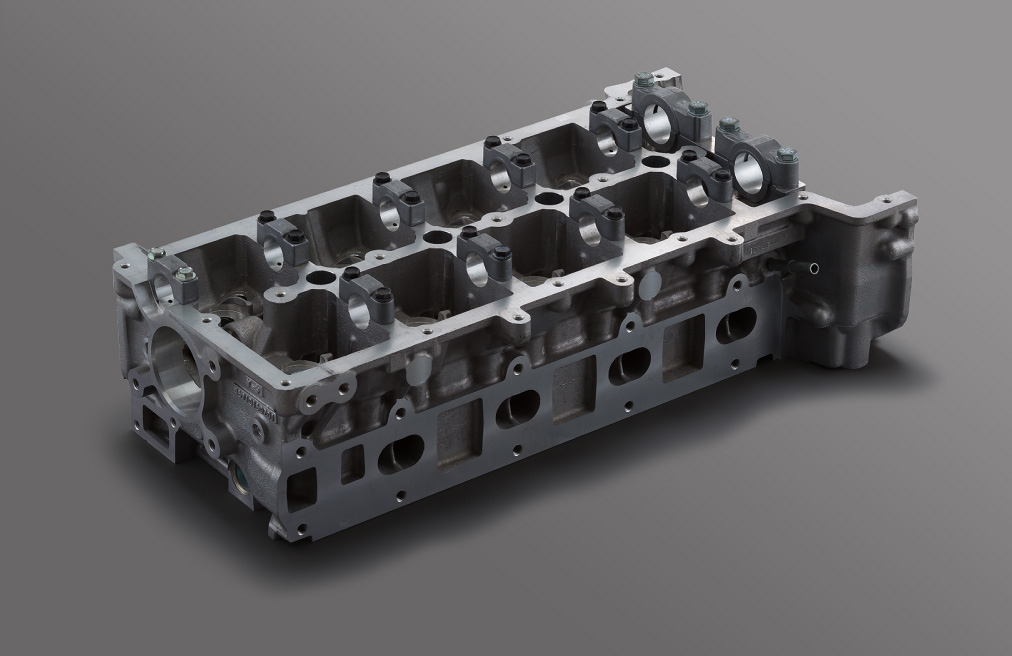 Gravity-Cast Cylinder Heads
Product name: Aluminum cylinder head for diesel engines
Use: Automobile engines
Main Features
Lighter weight
Higher engine performance
For gravity-cast cylinder heads, we use AC4C aluminum alloy (aluminum–silicon–magnesium series). Using water to cool the drag that forms the combustion chamber side of the head creates an intricate microstructure that gives the cast piece a good combination of elongation and strength. Using gravity-cast cylinder heads helps prevent the tendency for cracks to form between the intake and exhaust valves in diesel engines and high-performance gasoline engines. In particular, this method has made it possible to create aluminum cylinder heads for diesel engines, something previously considered difficult to achieve. The reduced weight and more also contribute to increased engine performance.
Our Business
Due to current circumstances, we have temporarily stopped accepting enquiries.
We apologize for any inconvenience caused and we are hoping for your kind consideration.