Global Manufacturing Network
We have casting machines that meet global standards at our bases around the world to manufacture and deliver the same level of high-quality cast parts as those we make in Japan.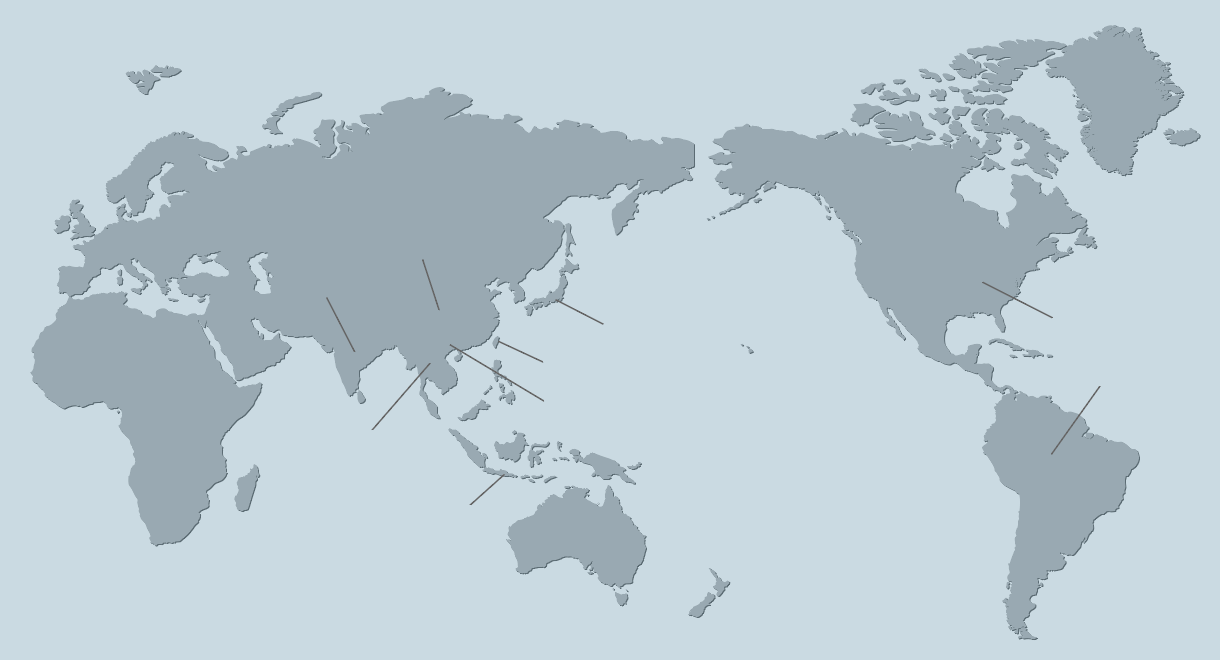 Providing "Made in Japan" Quality Around the World
The Yamaha Motor group has manufacturing bases in locations around the world, primarily in Asia. Each of these factories is set up with flexible production layouts and equipped with casting machines meeting global standards. By using the same molds/dies, production methods and alloys, we can produce cast parts with the exact same levels of high quality at any of these Yamaha factories.
Entire Yamaha Motor group
High-pressure die-casting machines
214
Low-pressure casting machines
86
Gravity casting machines
27
Shipments
Aluminum: 9,196 tons/month /
Iron casting: 970 tons/month
Yamaha Motor Co., Ltd. (Iwata City, Shizuoka Prefecture)
High-pressure die-casting machines
3,500-ton: 1 /
2,500-ton: 6 /
1,650-ton: 7 /
1,250-ton: 1 /
800-ton: 5 /
350-ton: 1
Low-pressure casting machines
28
Gravity casting machines
9
Products
Parts for motorcycles and outboard motors
Shipments
1,500 tons/month
Group Companies and Affiliates
Yamaha Kumamoto Products Co., Ltd. (Yatsushiro City, Kumamoto Prefecture)
High-pressure die-casting machines
1,650-ton: 1 /
1,250-ton: 2 /
1,000-ton: 1 /
800-ton: 5 /
650-ton: 1 /
350-ton: 1
Low-pressure casting machines
2
Products
Outboard motor parts
Shipments
614 tons/month
Alumi-metal Improve Suzuki Corporation (Hamamatsu City, Shizuoka Prefecture)
High-pressure die-casting machines
800-ton: 2 /
650-ton: 2 /
500-ton: 3 /
350-ton: 1
Products
Crankcase covers, oil pan, outboard motor parts and more
Shipments
200 tons/month
ENSHU Limited (Hamamatsu City, Shizuoka Prefecture)

| | |
| --- | --- |
| High-pressure die-casting machines | 800-ton: 1 |
| Low-pressure casting machines | 2 |
| Products | Cylinder bodies, crankcase |
| Shipments | 50 tons/month |
Chongqing Jianshe·Yamaha Motor Co., Ltd. (CJYM)
High-pressure die-casting machines
800-ton: 3 /
650-ton: 1
Low-pressure casting machines
5
Products
Crankcases, cylinder heads
Shipments
160 tons/month
Zhuzhou Jianshe Yamaha Motor Co., Ltd. (ZJYM)
High-pressure die-casting machines
1,250-ton: 2 /
800-ton, etc.: 2
Products
Crankcases
Shipments
100 tons/month
Yamaha Motor Taiwan Co., Ltd. (YMT)
High-pressure die-casting machines
1,250-ton: 1 /
800-ton: 7 /
350-ton: 2
Low-pressure casting machines
3+1 (small type)
Products
Crankcases, cylinder heads
Shipments
147 tons/month
PT. Yamaha Indonesia Motor Manufacturing (YIMM)
High-pressure die-casting machines
800-ton: 18 /
650-ton: 1
Products
Crankcases, DiASil Cylinders, cover crankcases
Shipments
680 tons/month
PT. Yamaha Indonesia Motor Manufacturing (West Java)
High-pressure die-casting machines
1,650-ton: 1 /
800-ton: 15
Products
Crankcases, multi-cylinder crankcases (Big EG)
Shipments
680 tons/month
PT. Yamaha Motor Parts Manufacturing Indonesia (YPMI)
High-pressure die-casting machines
1,250-ton: 4 /
800-ton: 15
Low-pressure casting machines
22
Gravity casting machines
4
Products
Die-cast wheels, cylinder heads, Gravity cast wheel
Shipments
1,300 tons/month
Group Companies and Affiliates
PT. Kyowa Indonesia
High-pressure die-casting machines
800-ton: 4 /
650-ton: 6 /
500-ton: 2 /
350-ton: 15 /
250-ton: 7 /
200-ton: 1 /
135-ton: 1
Products
Crankcase covers and more
Shipments
900 tons/month
Yamaha Motor Parts Manufacturing (Thailand) Co., Ltd. (YPMT)
High-pressure die-casting machines
800-ton: 6 /
650-ton: 2 /
500-ton: 2 /
350-ton: 3 /
250-ton: 1
Low-pressure casting machines
3
Gravity casting machines
10
Iron casting
1 line
Products
Crankcases, cylinder heads, camshafts, Turbocharger parts and more
Shipments
850 tons/month (cast iron comprises 530 tons/month)
Yamaha Motor Vietnam Co., Ltd. (YMVN)

| | |
| --- | --- |
| High-pressure die-casting machines | 800-ton, etc.: 7 |
| Products | Crankcases and more |
| Shipments | 350 tons/month |
Yamaha Motor Parts Manufacturing Vietnam Co., Ltd. (YPMV)

| | |
| --- | --- |
| High-pressure die-casting machines | 800-ton: 6 |
| Low-pressure casting machines | 7 |
| Products | Die-cast wheels, cylinder heads |
| Shipments | 540 tons/month |
Group Companies and Affiliates
A.I.S. Vietnam Co., Ltd. (A.I.S.)
High-pressure die-casting machines
800-ton: 3 /
500-ton: 3 /
350-ton: 2
Products
Crankcase covers, gas meter case and more
Shipments
200 tons/month
ENSHU VIETNAM CO., LTD. (HANOI)

| | |
| --- | --- |
| High-pressure die-casting machines | 800-ton: 2 |
| Products | Cylinder bodies |
| Shipments | 70 tons/month |
India Yamaha Motor Pvt. Ltd. (IYM)

| | |
| --- | --- |
| High-pressure die-casting machines | 800-ton: 5 |
| Low-pressure casting machines | 4 |
| Products | Crankcases, cylinder heads and more |
| Shipments | 400 tons/month |
India Yamaha Motor Chennai (IYMCHE)

| | |
| --- | --- |
| High-pressure die-casting machines | 800-ton: 8 |
| Low-pressure casting machines | 5 |
| Products | Crankcases, cylinder heads and more |
| Shipments | 525 tons/month |
Yamaha Motor Componentes da Amazonia Ltda. (YMCDA)

| | |
| --- | --- |
| High-pressure die-casting machines | 800-ton: 5 |
| Low-pressure casting machines | 4 |
| Products | Crankcases, cylinder heads and more |
| Shipments | 160 tons/month |
Yamaha Marine Precision Propellers Inc. (YPPI)

| | |
| --- | --- |
| Precision casting line | 1 |
| Products | Propellers |
| Shipments | Cast steel: 60 tons/month |
Our Business