Yamaha Journey vol.30
Metabon's touring adventure of Eurasia and Africa on a Yamaha XT660Z Ténéré.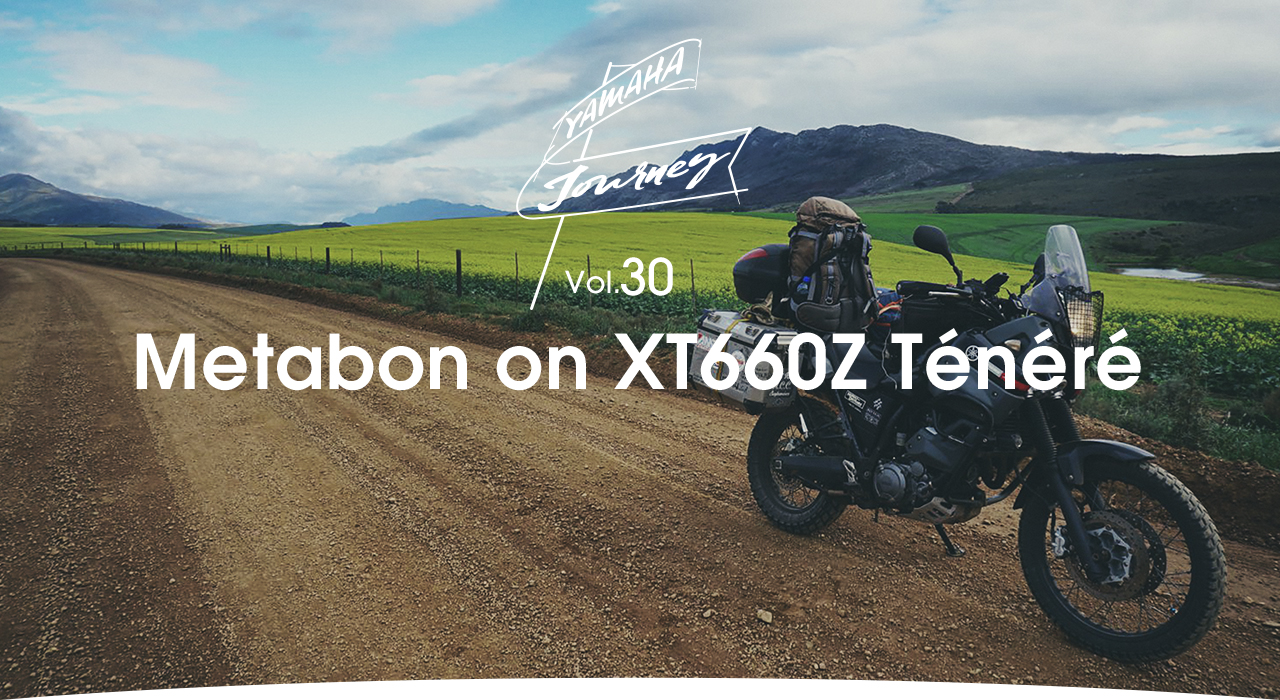 A miracle encounter beyond the horizon.
Metabon
XT660Z Ténéré
#04 Africa: The land of eternity – the people and nature
Africa Part 2 in 2019
Koji Mochizuki (Metabon) was born in Tokyo in the first half of the 1970s into what is often called the lost generation. Metabon had an adventurous streak, which led him to take to the road to make a continuous journey across the Eurasian and African continents. In this concluding installment, Metabon continues his journey of Africa through the vast, magnificent landscapes the continent has to offer, enjoying interactions with the local people and wildlife until reaching his final destination in Cape Town.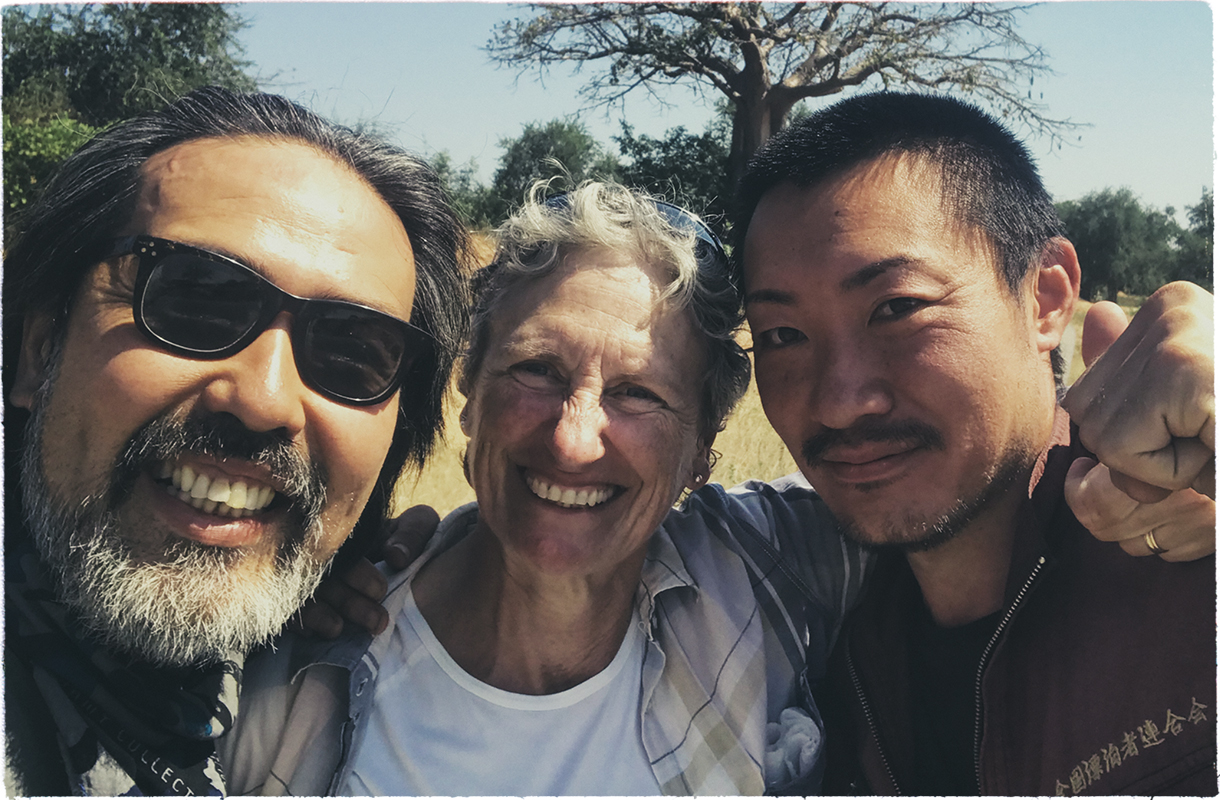 We met a lone cyclist.
We were impressed by her courage to face the rough roads alone that we had ridden through
On the outskirts of Benguela, Angola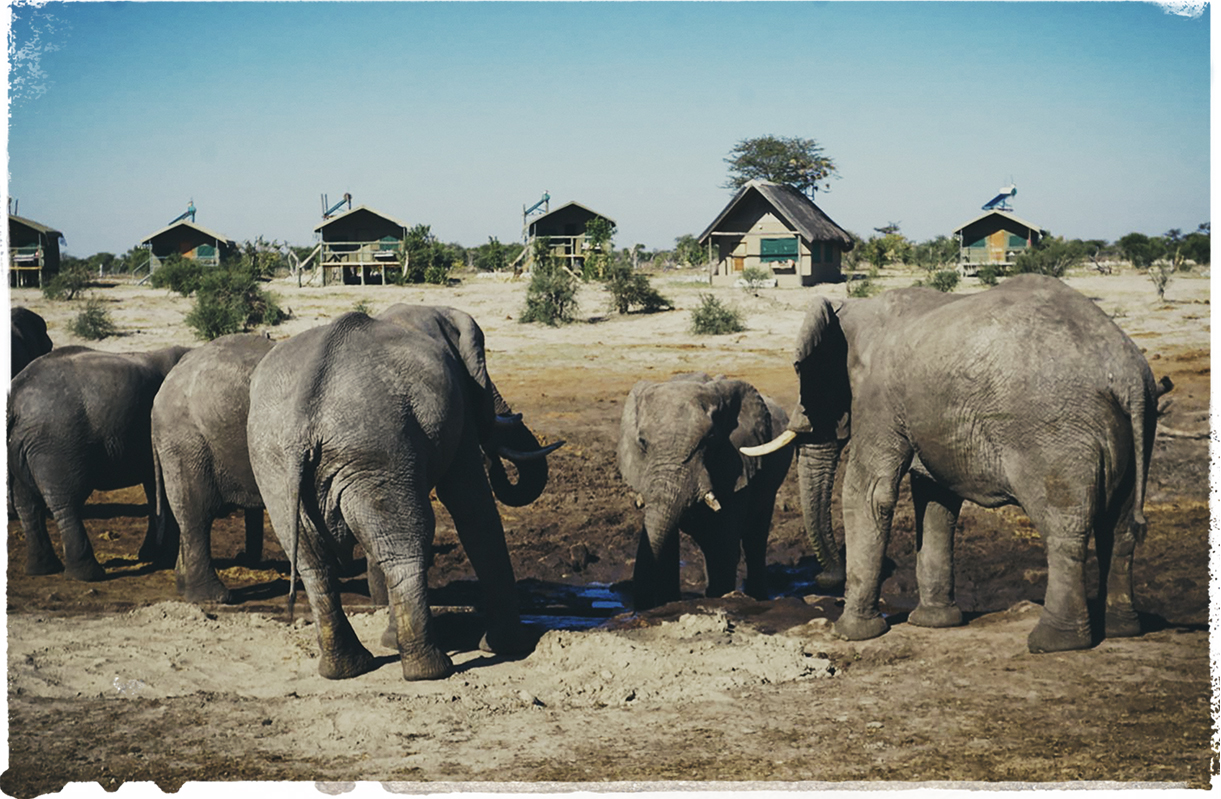 Elephant Sands, where you can see groups of elephants in the wild up close.
The sound the elephants make is so powerful that you can feel the vibration on your skin.
Elephant Sands, Botswana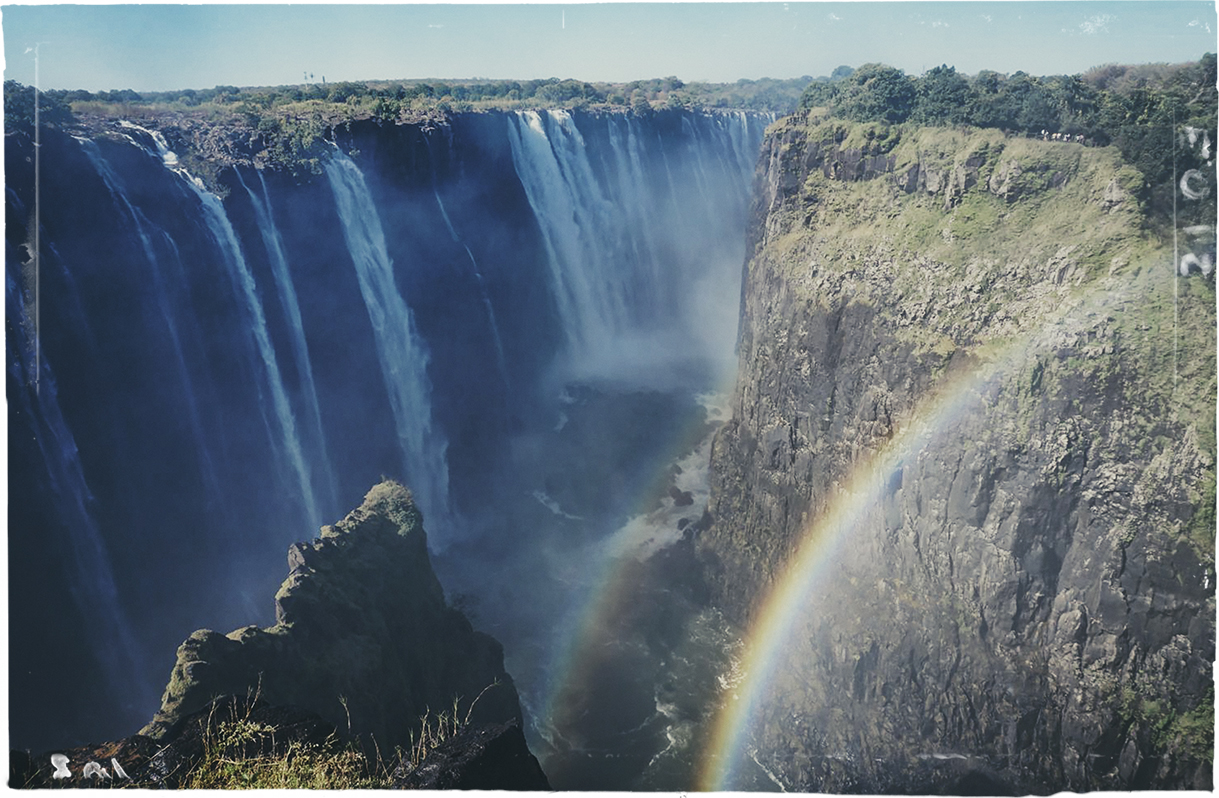 I was soaked to the skin by the spray coming out of the waterfall basin.
I learned here that if you look down on a rainbow from above, it forms a circle.
Victoria Falls, Zimbabwe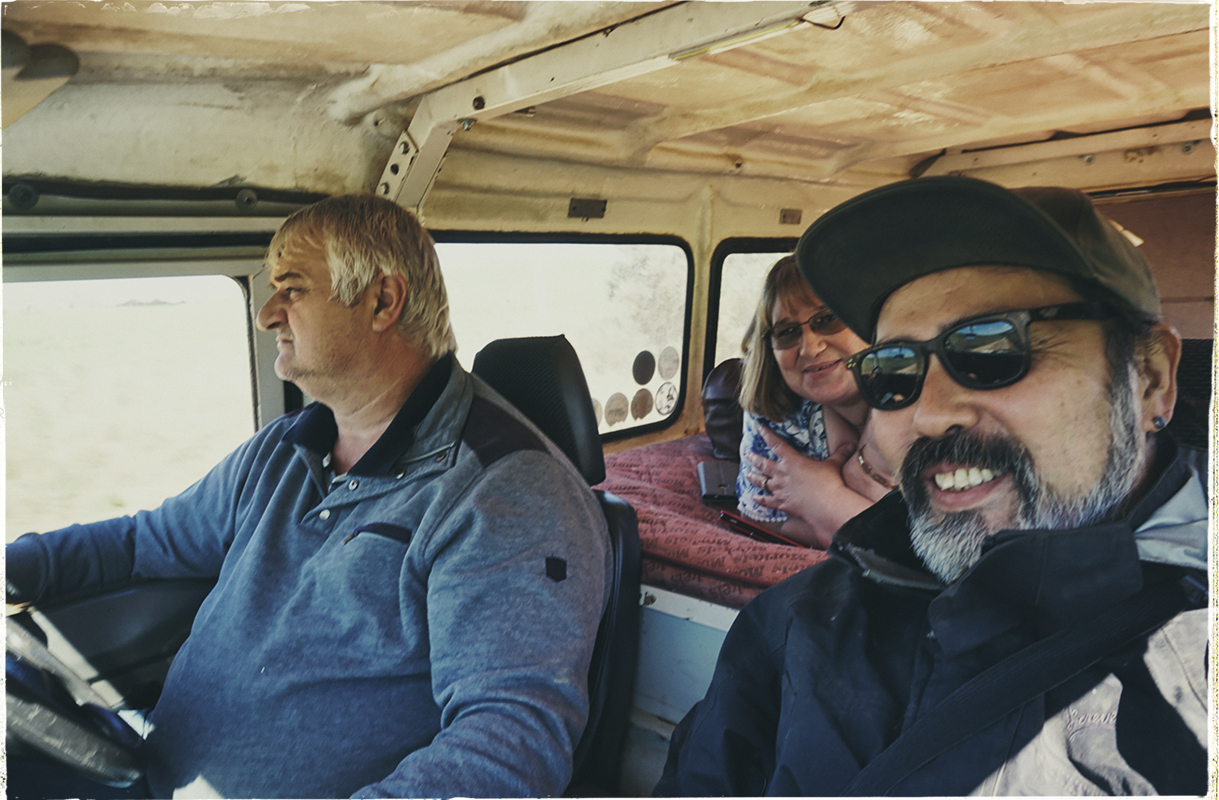 From a casual encounter to a homestay.
Memories with a family I'll never forget. Everything is a lifetime experience.
Glenogle Farm, South Africa

Running alongside the ostriches while heading east through Botswana
After crossing the Namibian border, I rode east through the outskirts of Botswana, taking quick glances at the giraffes and elephants grazing amongst the prowling warthogs. At times I had ostriches running alongside me — even up to 70km/h. To be honest, I was terrified the first time I had an ostrich chase me, but once I got used to them, it was a really enjoyable experience.
Because of the variety of wild animals, Botswana is a popular destination for adventure tourism, and many hotels have adjacent campsites. I stayed in a tent at Elephant Sands, one of the most popular campsites in the country famous for its elephants. The elephants are relaxed enough around humans that they come right up to the waterhole and even the campfire at night. However, I was told to resist the temptation of getting close enough to take a selfie with the elephants because it can be dangerous.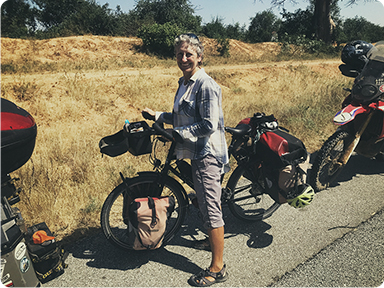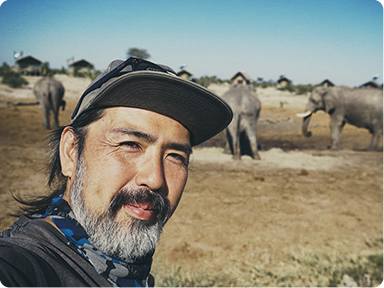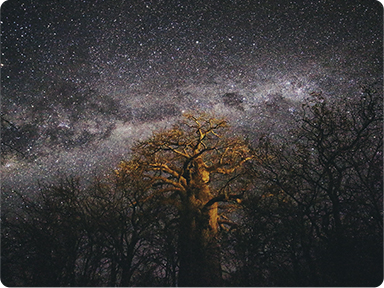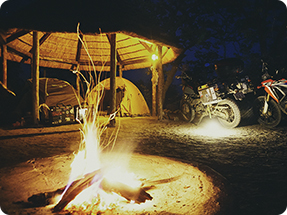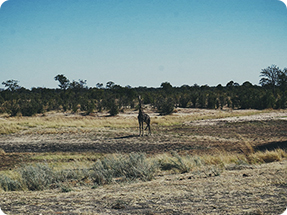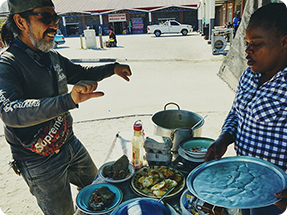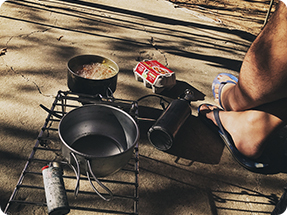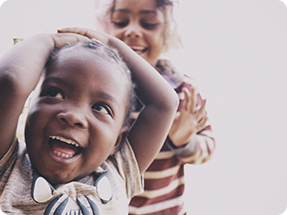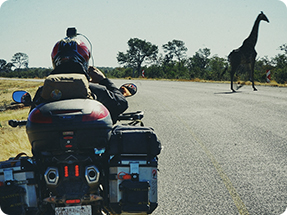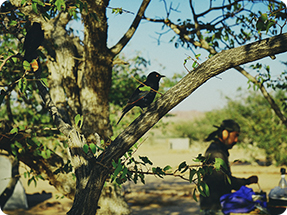 The next day, I went to Planet Baobab in Makgadikgadi National Park, where there are baobabs as far as the eye can see. At night, the baobab trees were lit up. During the day the contrast between the unique color of their bark and the blue sky was a fantastic sight.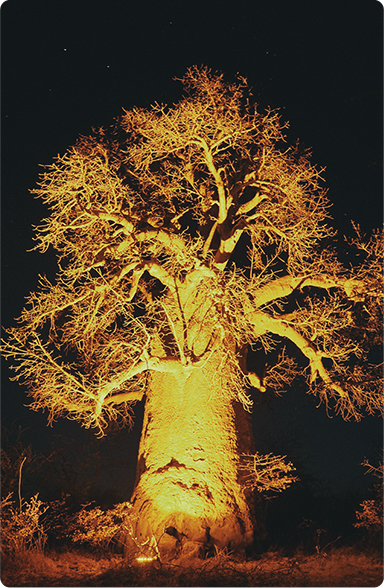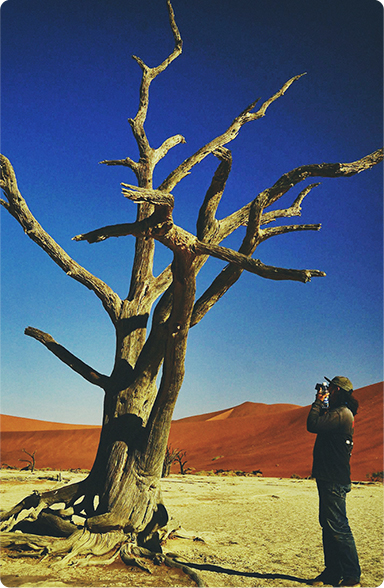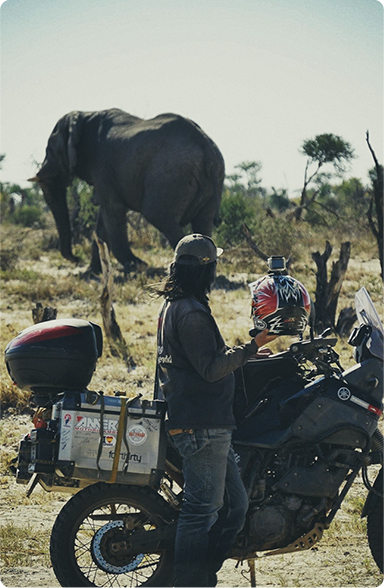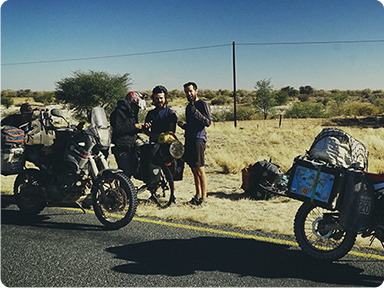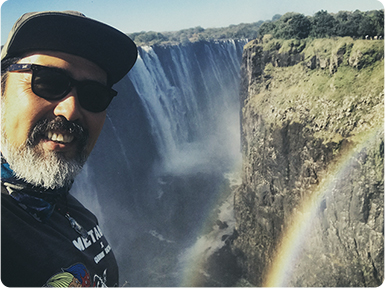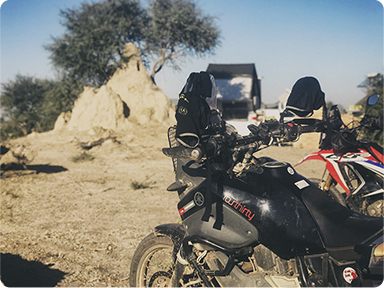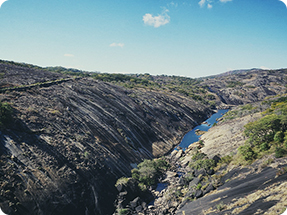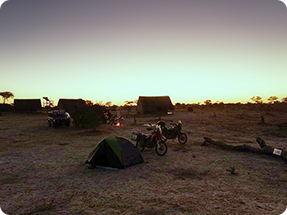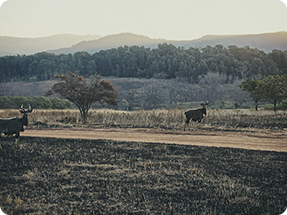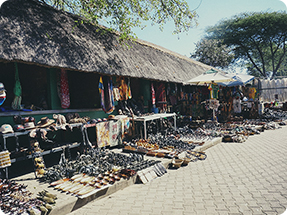 After entering Zimbabwe, I went to Victoria Falls, one of the largest waterfalls in the world. The admission fee was US$30. Many people pay additional money to charter a helicopter to see the falls from the sky. The spectacular combination of the crashing sound of the Zambezi River and the sight of the water gushing down into the waterfall basin — deep enough to look like a crack in the earth — was breathtaking. The beautiful circular rainbow formed by the light catching the splashing water felt so close that I could almost catch it in my hand.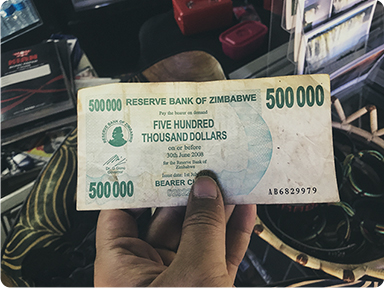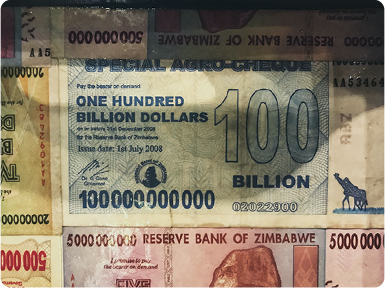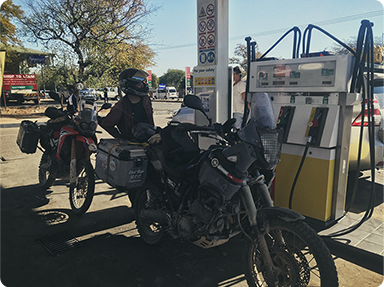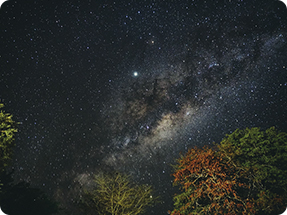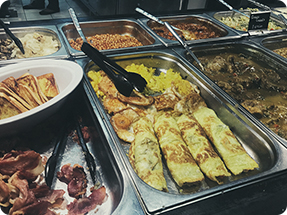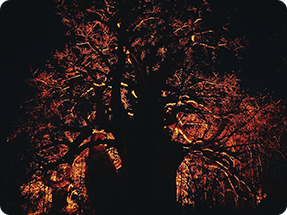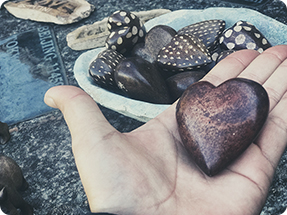 A homestay in South Africa before moving on to Cape Town
Having crossed into South Africa from Zimbabwe, I stopped at a bike shop in Pretoria to replace my worn tires. I was also concerned about a strange noise that was coming from the engine, so I decided to have it overhauled at another motorcycle store I was told about by the staff at a guesthouse in Port Elizabeth. I was relieved to get an email three days later telling me that the necessary parts had arrived, but I didn't hear back from them after that for two weeks. When I went to pick up the bike, I found that the gears were in a bad condition and there was an oil leak. The repair was not going well, and it ended up taking about four weeks in total. When I did a more thorough search later, I found an authorized Yamaha dealer in Port Elizabeth, and I deeply regretted being in such a hurry to find a store to do the repair.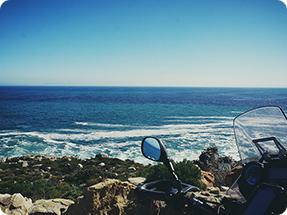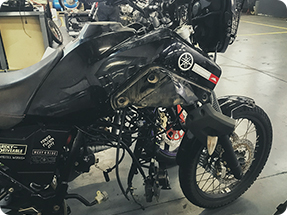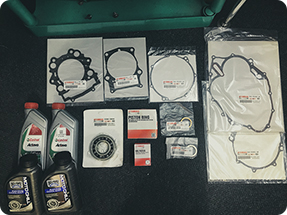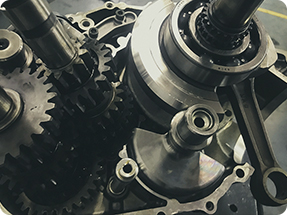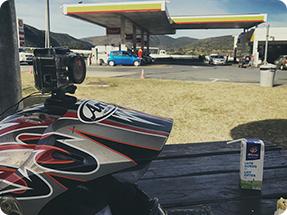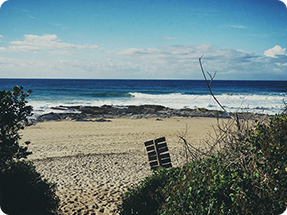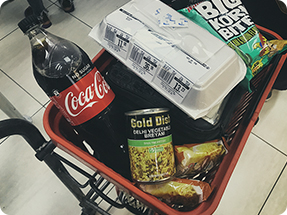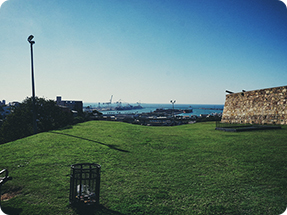 I was casually checking my social media, and I saw a message from someone I didn't instantly recognize. I couldn't figure out who it was at first,but I realized it was Jo Ann, someone I had met at the campsite in Botswana. The message said, "Let us know when you arrive in South Africa, as it would be lovely for you to stop by our place", so I went to visit them. This was in the middle of a long period of heavy rain, and they invited me to stay with them, so I took them up on the offer.
Jo Ann and her husband, Everett, were really kind to me. In South Africa, there is a culture of taking turns to hold a barbeque social gathering, called a braai, at the homes of relatives and neighbors, and I was lucky to be taken along to these almost every day. Afrikaans, a fusion of Dutch and local languages, is the main language in western South Africa, but many people also speak English. I have lots of fond memories of these braais and teaching the kind people at them some Japanese phrases as they taught me some English ones.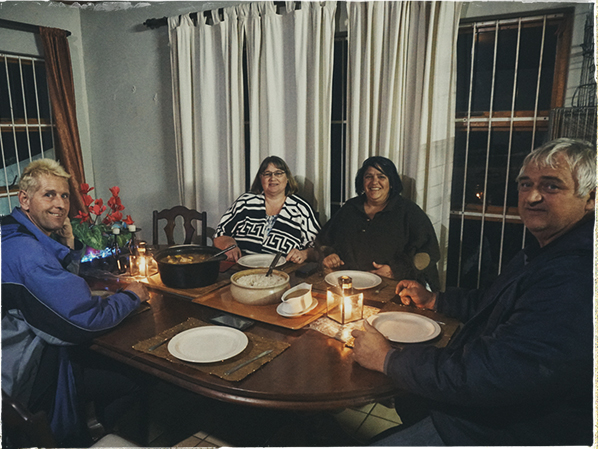 After a week or so, the rain subsided, so I headed to Cape Agulhas, the southernmost town on the African continent, as recommended by Jo Ann and Everett. After a short stay there, I decided to follow the shoreline in the direction of Cape Town. The coastal road from Cape Agulhas to Cape Town is reminiscent of Hawaii, with its beautiful landscapes and the blue ocean. At False Bay, I was lucky enough to see the ocean split into two different colors by the collision of the warm Agulhas Current and the cold Benguela Current. Just a bit further along the coastline, the huge Table Mountain suddenly came into view.
I had arrived at the final destination of my long voyage, the Cape of Good Hope.
While feeling a sense of relief and accomplishment at having traversed the entire African continent. At times it had been often very difficult to know what lay ahead for me, and I felt a huge sense of confidence growing in me that I would be able to ride through anything going forward. While feeling such a sense of elation, I worked through the necessary paperwork and customs formalities with a motorcycle transportation company. Although there were a few issues, the staff at the company helped enormously, and we managed to get the bike all boxed up and ready to be sent back home. I said au revoir to my beloved Ténéré before it was loaded onto a ferry to make the roughly 7-week journey back to Japan.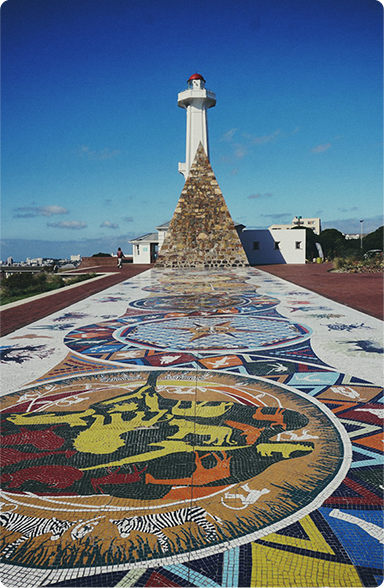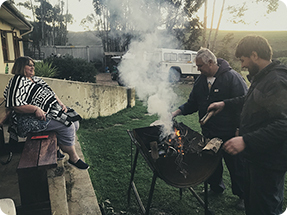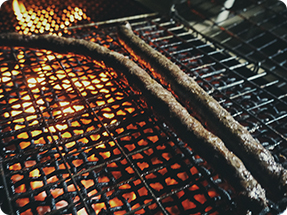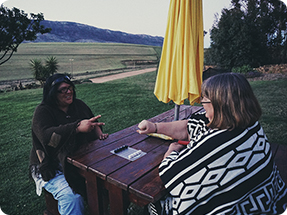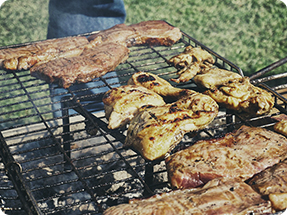 Resting in Thailand — reflecting on a 65,000 km journey
After seeing the Ténéré off, I took a flight from Cape Town International Airport to Bangkok's Suvarnabhumi International Airport, a stopover before heading back home. Thinking back, I remembered that a two-week motorcycle trip in Thailand in 2004 was the trigger that made me decide to embark on this long touring trip. Following that initial spark of an idea, some more seasoned motorcycle travelers had recounted their stories, and that gave me the confidence that I would somehow be able to make it myself.
Initially, I had planned to cross over from Africa to South America, but my money had run out, and due to circumstances back home, I decided to end this journey in South Africa. Another reason that I decided to return to Japan was that I was getting too used to the changes in scenery traveling from country to country, and the goal of the trip started shifting toward getting to destinations rather than enjoying my surroundings and new experiences. I thought that it would be better to go back to Japan — reset — and then start a new journey with a fresh mind so that I could enjoy first-time encounters and unseen landscapes properly again.
Although I had some difficulties on this trip, the memories of the people I met and the times I spent with them have stayed in my mind far more clearly. The good-humored people I met in Russia and the care they had for everything around them. The local flavors I had there had a sense of familiarity on my palate that reminded me that Russia and Asia are neighbors. The people in Europe taught me how to enjoy life and how to be happy just by spending time in parks without spending any money. When I encountered trouble in Mongolia or Africa, often in places where there is nothing as far as the eye can see, the local people would help me out. And I will never forget all the other riders from all over the world who just happened to be in the same place at the same time, spending fleeting moments together, exchanging greetings and stories.
I want to continue traveling around the world by motorcycle for the rest of my life, and if I find somewhere I fall in love with, I might even choose to live there. This is my lifestyle. I would like to leave a lasting impression in the memories of the people I meet on my travels as a kind of legacy of my life. I would be so happy if my videos and blogs documenting my adventures could bring excitement to people I have never met. This is why I want to continue touring.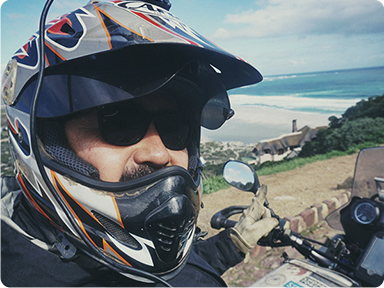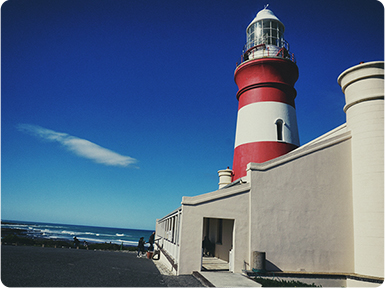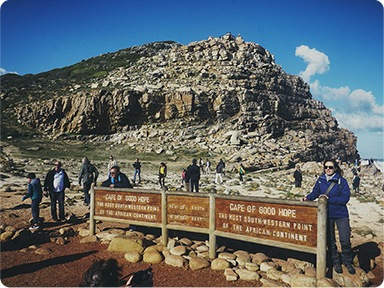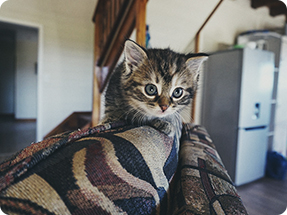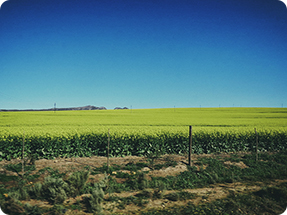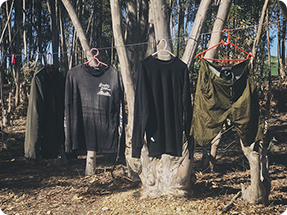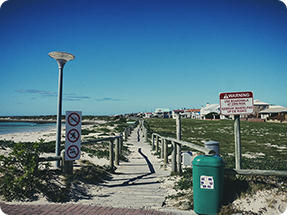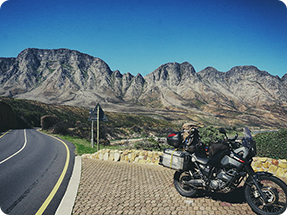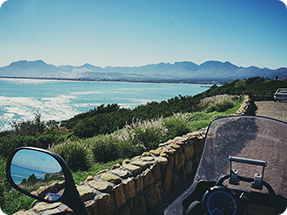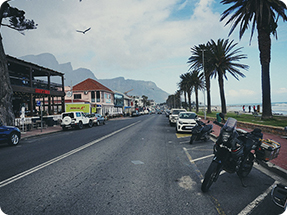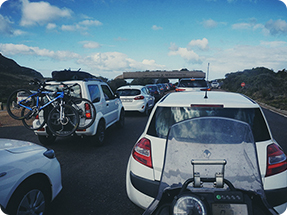 Reunited with my partner, the Ténéré
The Ténéré arrived in Japan three months after leaving Africa. After painstakingly disassembling the wooden crates and unraveling the tightly wrapped packing materials, the motorcycle gradually revealed itself, with the smell of Africa still lingering in the air.
There she was, my beloved set of wheels, looking like a giant locust, with her unique face and the 23-liter big tank. I stood there, reminded that I love everything about this bike; the countless scratches, the chain that had rusted from the long boat ride, the meter that had clocked over 100,000 kilometers. The sweet sound of that engine, a voice that had accompanied me all the way from Vladivostok to the Cape of Good Hope. Maybe it's because I always listen so attentively to what the Ténéré tells me, carefully checking her condition, that I've never been left stranded in the middle of nowhere. It was a true blessing to be able to ride with such a partner, feeling the winds of the world, having my life touched by so many kind people.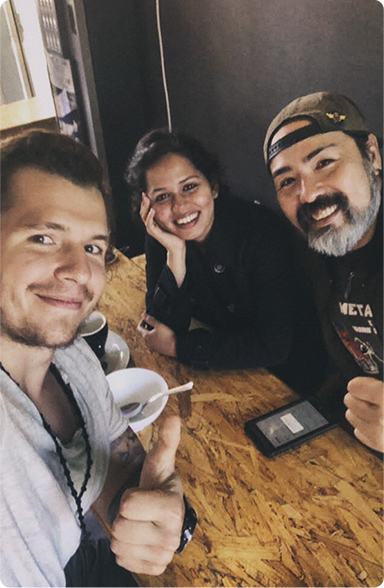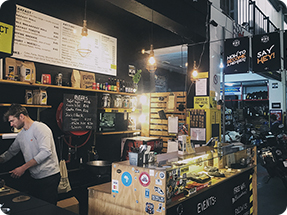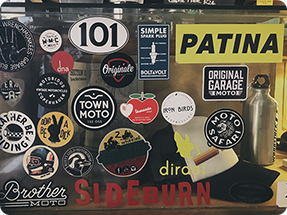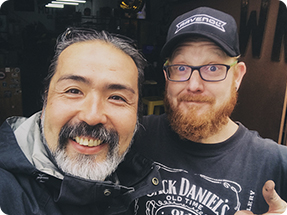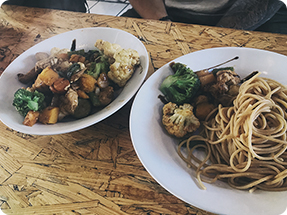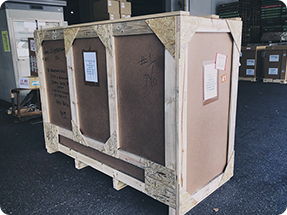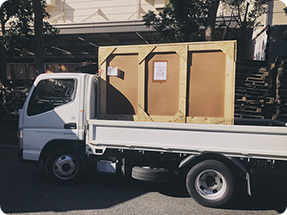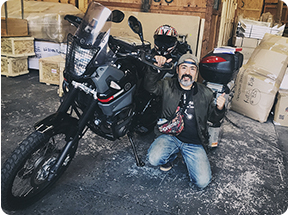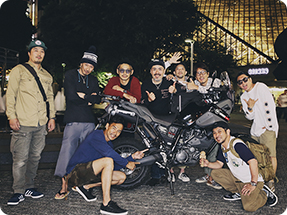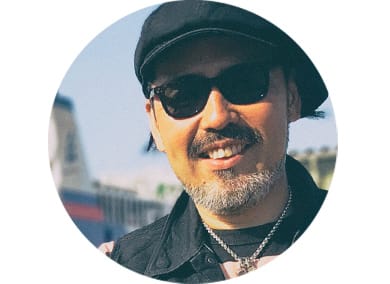 Metabon (Koji Mochizuki)
Born in 1975 in Tokyo, Metabon loves biking, camps, and bonfires. Every day at work, he daydreamed about riding my Ténéré. On his days off, he spent time on his bike, using touring as escapism. Traveling further and further, he started to set his sights on going