Yamaha Journey Vol.27
Metabon's touring adventure of Eurasia and Africa on a Yamaha XT660Z Ténéré.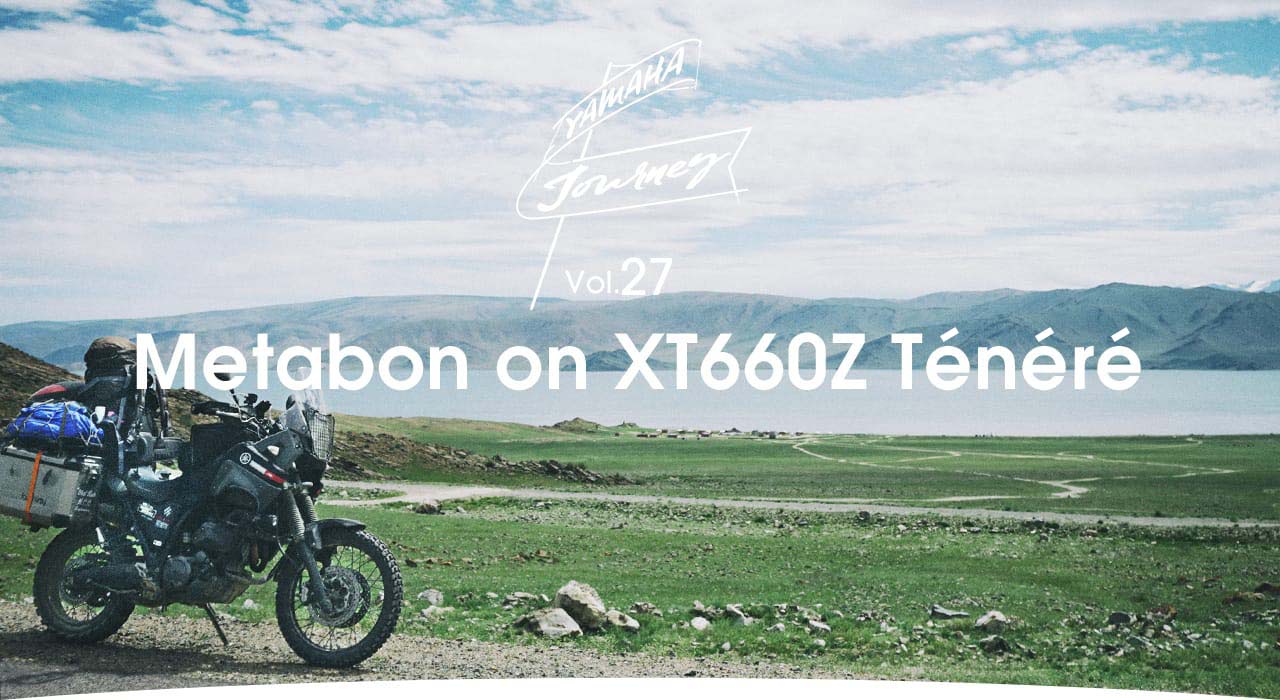 A miracle encounter beyond the horizon.
Metabon
XT660Z Ténéré
#01 The connection between Asia and Europe.
Russia and Mongolia
Metabon (Koji Mochizuki) was born in Tokyo in the first half of the 1970s into what is often called the lost generation. Metabon had an adventurous streak, itching to break out and achieve something more. Finally, through the help of various factors and the support and encouragement of many people, he took to the road to make a continuous journey across the Eurasian and African continents.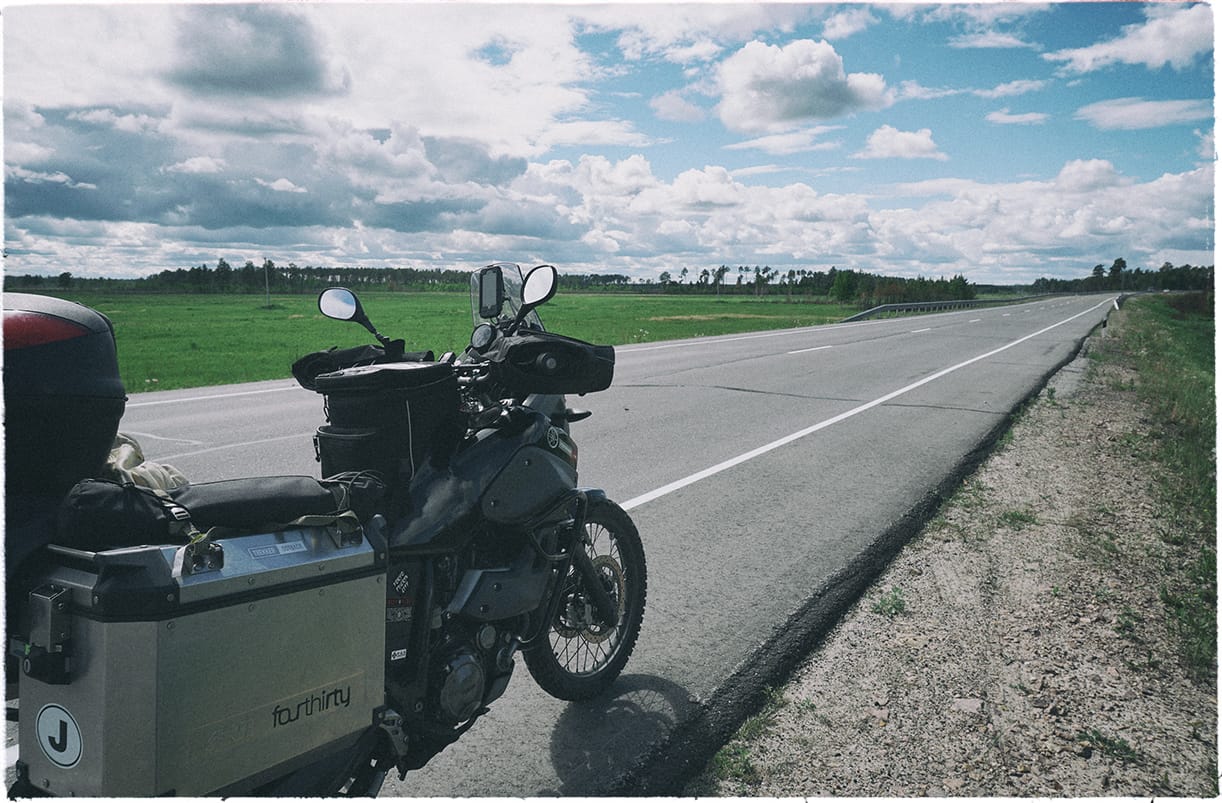 The seemingly endless Siberian Highway. If there were a Zebra in this picture, you'd think it was the African savanna.
Siberian Highway, Russia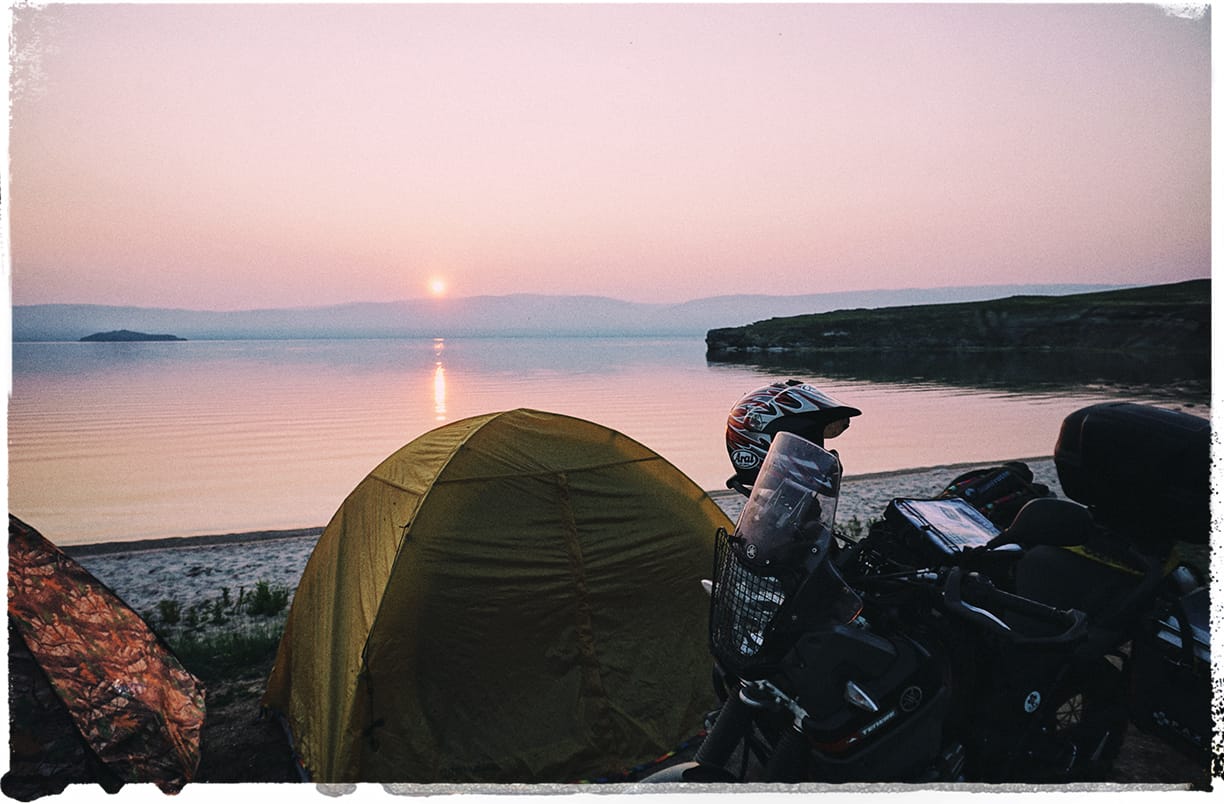 Looking across the surface of a lake sat next to a bonfire with some young people I met on Olkhon Island. A shared moment.
Lake Baikal, Russia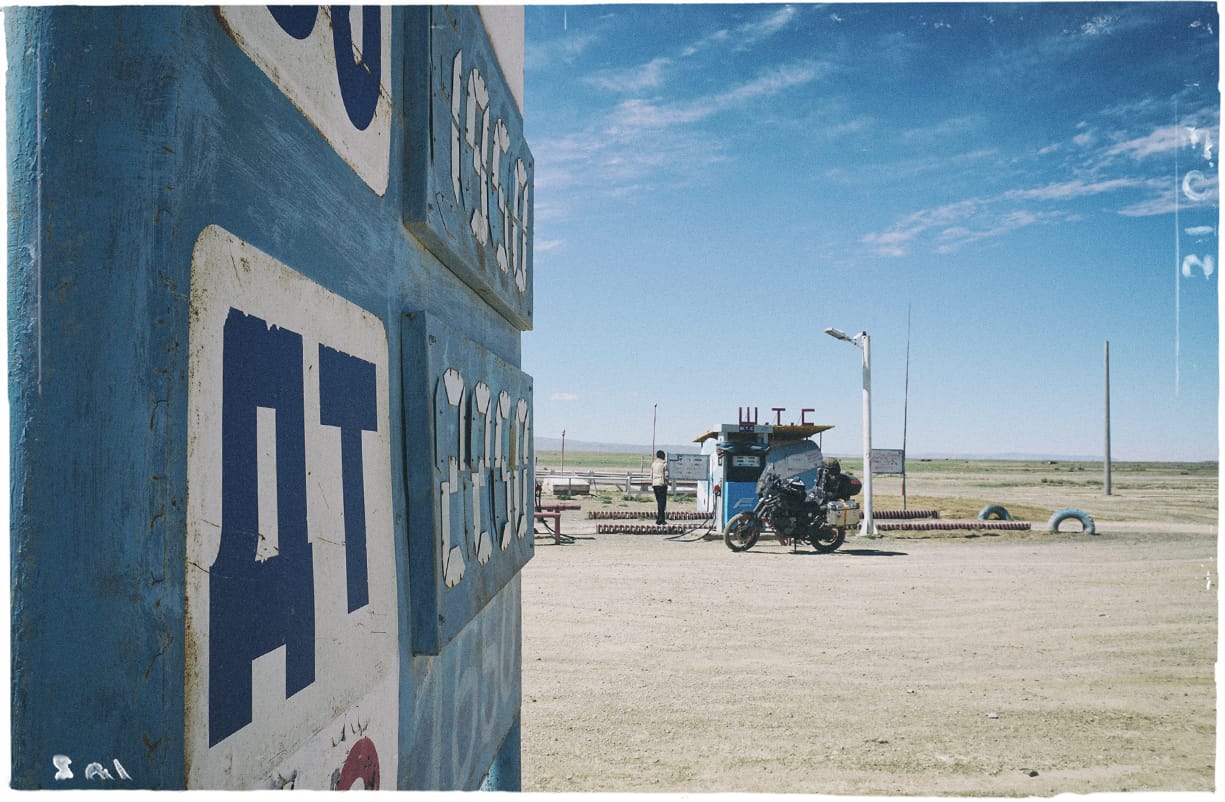 Just before I ran out of gas, I loaded the Ténéré on a truck to get across the vast plains.
I breathed a sigh of relief when I saw asphalt on the ground for the first time in a few days.
I refueled at a gas station here before moving on.
Delger, Mongolia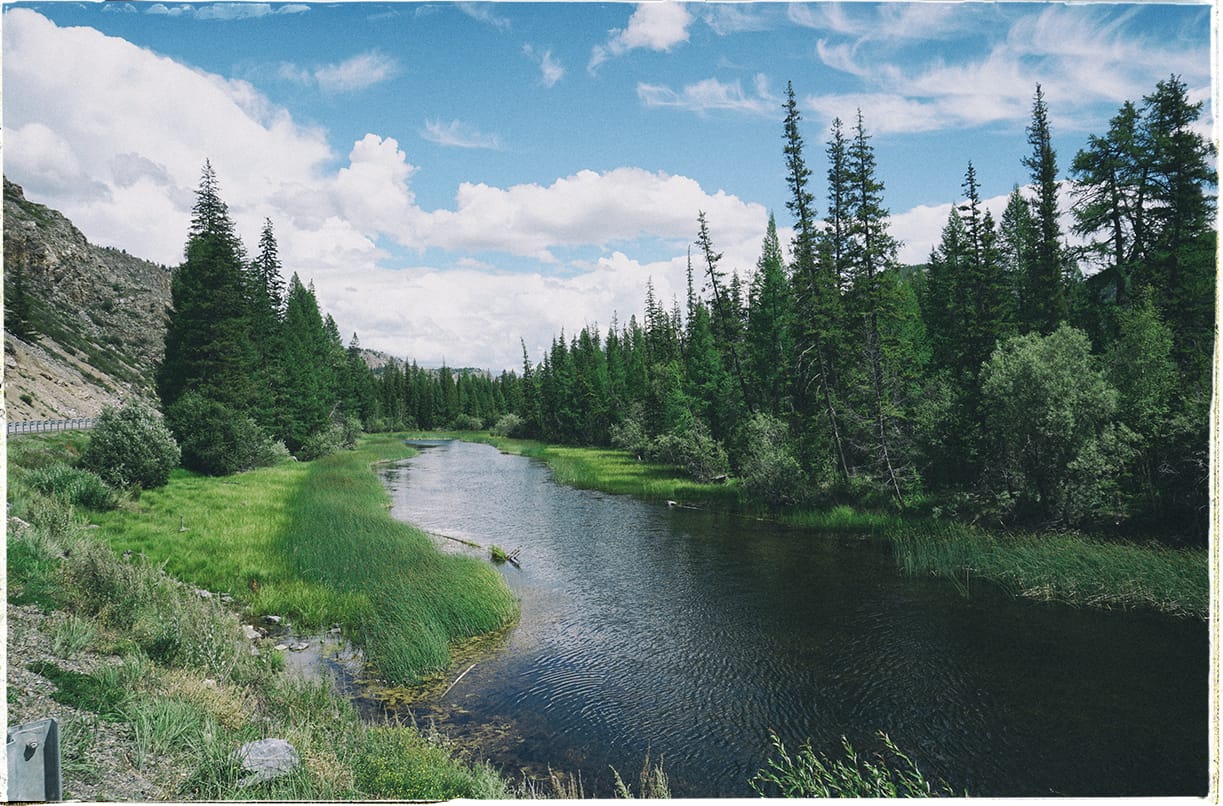 Re-entering Russia across the border from western Mongolia. In stark contrast to the scenery up to now,
I approach a landscape that reminds me of Alaska stretching out before me.
Altai, Russia

The start of what could be thought of as a reckless adventure
The starting point of this journey began as a 2-week trip on a rental motorcycle in Thailand. Even in Japan, I had mostly only ridden around the Kanto region, where Tokyo is located. So, with such little experience, it could certainly be regarded as, to put it lightly, ill-advised to set out on a journey from Vladivostok in Russia to the southernmost tip of the African continent. But I had been inspired by the Ewan McGregor TV documentaries "Long Way Round" and "Long Way Down" and I was determined to do this.
My partner on this trip would be a Yamaha XT660Z Ténéré, mostly known by its nickname, the "Single Ténéré." I like the adventurous feeling of this bike, and that it kind of looks like a grasshopper. The tank capacity is 23 liters, enabling it to travel long distances before refueling, and it has an excellent reputation for being trouble-free, even when carrying large loads. This helped make my decision. But enough of the introduction, let's get started.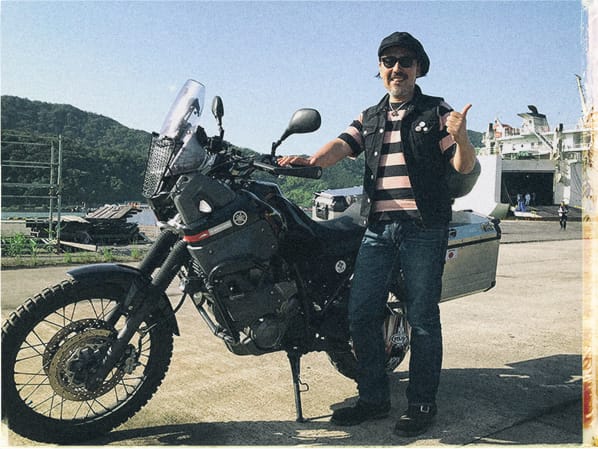 So, I crammed all my luggage into two 48-liter panniers and set off on a DBS cruise ferry in Sakaiminato in Tottori. It cost about $1000 to travel to Vladivostok via Donghae in South Korea, but this included the bike transportation fee and travel insurance, on top of the $300 ticket. On the ferry, I had a chance to meet a lot of bikers, including a Korean man, Hwang, who I later traveled with a few more times. Another Korean man called Kim sat eating his dinner in full protective riding gear; it made you wonder whether he slept in it. After the 43-hour trip on a boat that had everything from baths with a sea view and even a nightclub, (I didn't realize that at the time though) it was time to start the motorcycle journey in Vladivostok, Russia.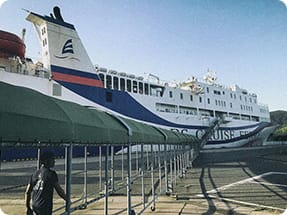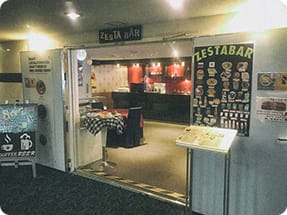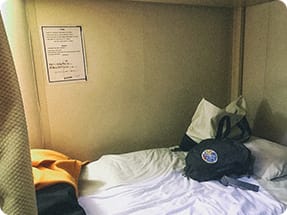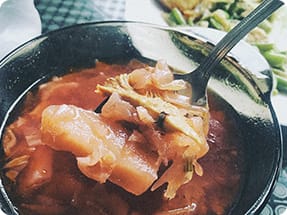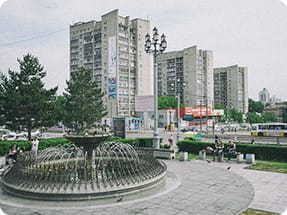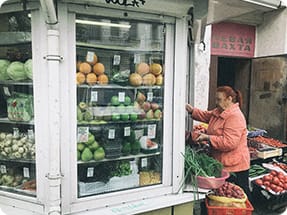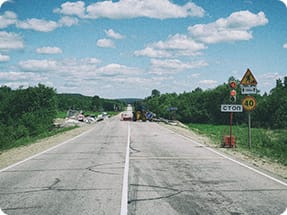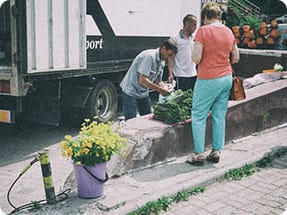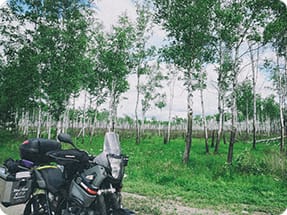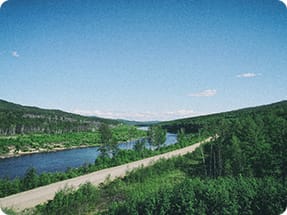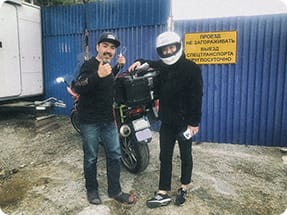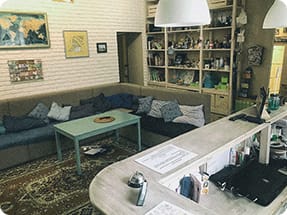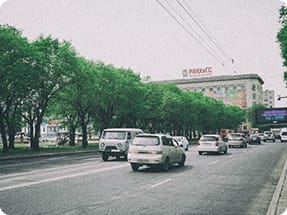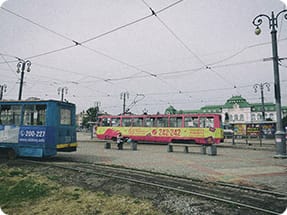 The kind and friendly Russian people
When I collected my motorbike at the gate in Vladivostok, revving the Ténéré, and hearing the familiar engine sound resonate in a foreign country, I finally felt that my journey had begun. I had never in my life felt like this before, a mixture of trembling nervousness and restless excitement of anticipation. But the sound of the engine was enough to relax my muscles a bit, and I was back to myself again.
June in Vladivostok is a bit cold but warm enough not to have to layer-up heavily. For those who can't bear the cold, grip heaters and handlebar covers could be a good idea. Up until this point, my image of Russia was of gloomy and cloudy plains. However, once I started traveling across the country, I realized that the plains are as awe-inspiring as the ones in Africa. There's lots of wildlife here too. Sometimes, you see cows casually crossing the road. A biker friend of mine sent me a photo of a tiger crouching in the bushes beside the road, which sent a shiver down my spine because I had recently camped really near to there.
The people I met were always very cheerful and welcoming. I came across a large Yamaha VMAX bike and stopped to admire it sitting there casually parked up in a grassy agricultural community area. The young owner spotted me and called out proudly telling me if I wanted, I could set up a tent in his garden, a kind invitation. There was also a really nice outgoing woman there who used all the English she knew to talk with me.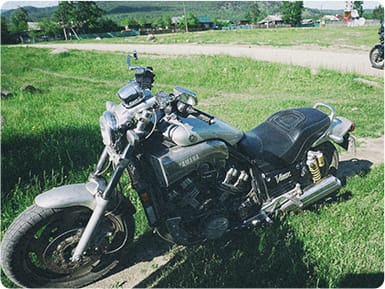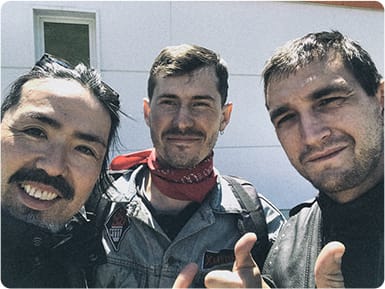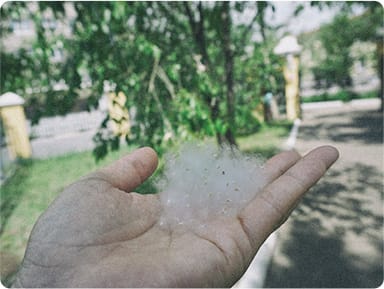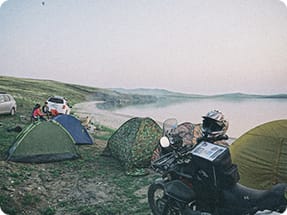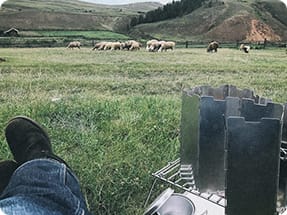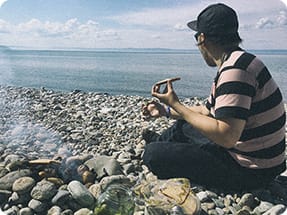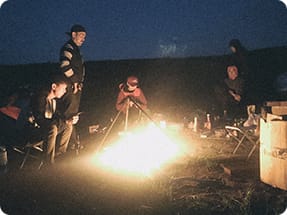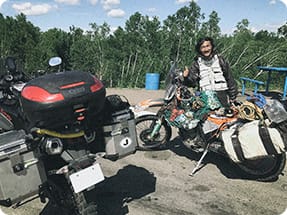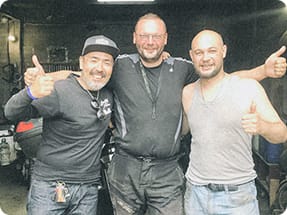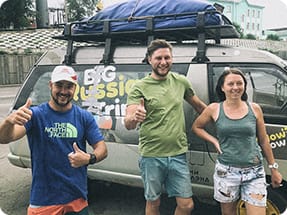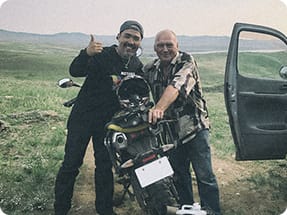 That reminds me, around this time, because of the season, there was lots of white stuff glimmering in the air like dandelion heads, which I thought was a light dusting of snowfall. Actually, it was poplar tree seed fluff. A small amount of it is very beautiful, but depending on the location, there can be so much of it that it blankets the ground. It also carries allergenic pollen, so it can exasperate hay fever symptoms for those with allergies.
There were many gravel roads, and at some parts had so many ruts caused by heavy vehicles. At times, it was like I was riding on an old washing board.
Apparently, the area around the cafes where long-distance truck drivers park up are safe places to stay. If there were no reasonably priced hotels in these areas, I'd very often camp there. All the truck drivers were very considerate, and if I ever had any trouble with my bike, they'd offer to help out, but never in a pushy way. I also had a memorable experience at Lake Baikal; I had fallen off the bike onto the embankment at the roadside, and a small group of people passing by helped me, and we ended up eating together at the edge of the water.

The Mongolian style of hospitality and yurt life
It was the first time for me to cross the border from one foreign country to another on a motorcycle, and in addition to some complicated procedures, there was some trouble in the line, and it ended up taking me 7 hours to get into Mongolia. When riding across the prairie, you have to take care because sometimes wild horses suddenly run out into the road. As this is Mongolia, you often see yurts on the grasslands on either side of the road. The people that live in them sometimes made eye contact with me as I passed by, and the quick flashes of their dazzling pupils always left an image in my mind. I heard later that the people in the yurts are really welcoming and invite you to stay with them, so I wish I could have done that.
After a few days camping, I arrived in Ulaanbaatar, the capital of Mongolia. I stayed in the famous Oasis Café and Guest House, a tourist hotel that's actually a yurt. It's unusual to have a yurt in the middle of the capital, rather on the wind-swept hills of the prairie. However, I felt that the real yurts that the local people live in are a lot bigger and more comfortable. Many people have generators so they can watch TV, use a telephone, and so on.
Everywhere you go in Mongolia, you get treated very hospitably and served the local drink, suutei tsai, which is a tea with milk and Mongolian salt and butter. Of course, I always gratefully accepted it when it was offered. There are lots of different kinds of cheese in Mongolia, and aaruul, a type of local curd cheese is hard and easy to carry on long journeys, traditionally made on horseback. This tasted like cheesecake, so it was really good. Another meal I had that I remember clearly was chanasan makh, mutton boiled in salted water. Much of the food in Mongolia helps people fight the cold weather.
I was invited by a touring companion to stay overnight with him in a Mongolian villa. A lot of people in Mongolia like to drink, and they have unique drinking customs and way of using snuff tobacco. The guy I stayed with showed off his marble handcrafted snuff case, which is a symbol of wealth in Mongolia. Because I was a little prepared before I went, I managed to spend the evening without making a faux pas and enjoyed an evening of drinks and tobacco.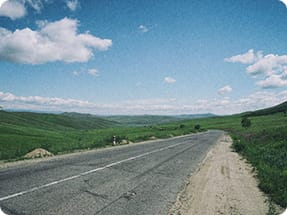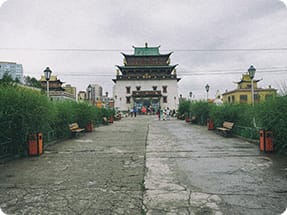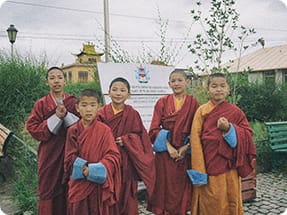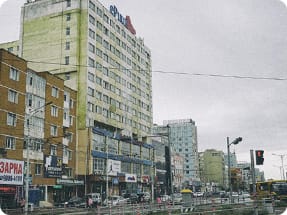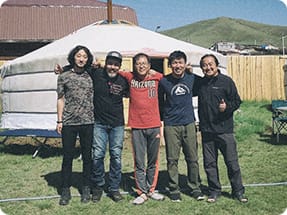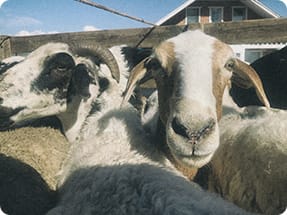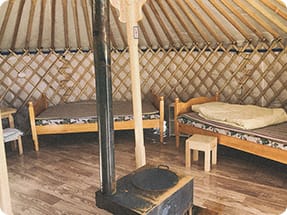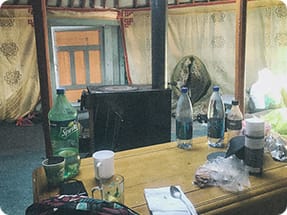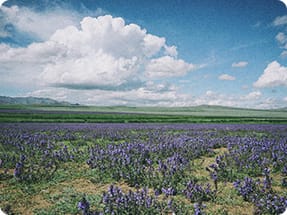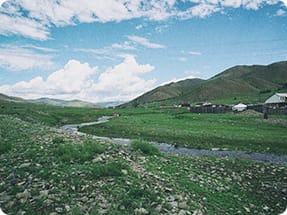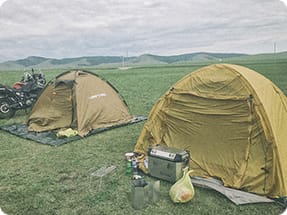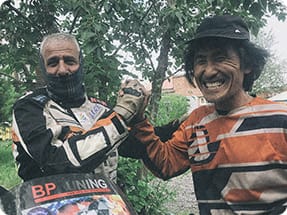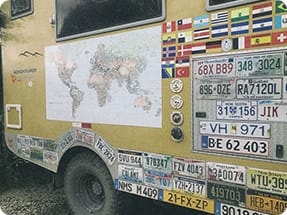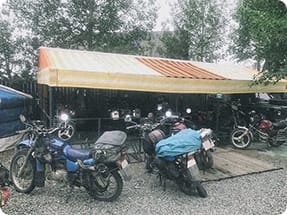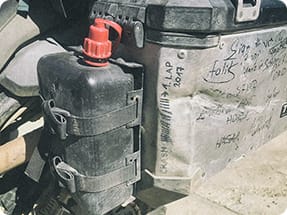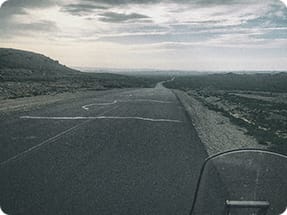 Stormy weather on bad roads... can I get through this?
During my stay, Mongolia was hit with extreme weather. Almost every day, when I woke up in the morning, it was sunny, but suddenly the heavens would open, and there would be very heavy rain, and without warning, the prairie became almost a lake. On one day, I saw a car being washed away due to the heavy flooding.
I had heard that the rough roads were only up until the Russian border, but around the Altaj area, there were a lot of dirt tracks, and it was often difficult to move my front tire smoothly in the deep sandy soil. Here there were no people or livestock, and as far as I could see, there was nothing but dry land. At this point, I remembered the information that a 170cm tall person can see as far as 4.65km.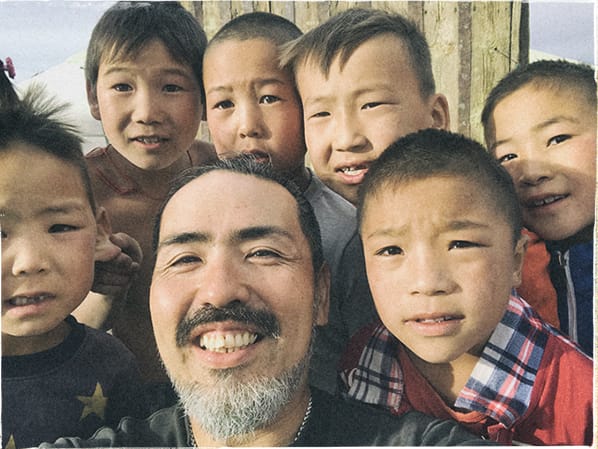 When you are speeding across the wilderness, you get very suspicious of dark clouds, especially the ones that appear to be following you. Suddenly, because I was trying to outrun the rain, my front tire got totally stuck in the deep sandy soil. Luckily, the drivers of five-vehicle convoy noticed me and called out to ask if I needed help. When I told them where I was going, they were a bit worried about me and told me that because of the squalls, it would be difficult to cross the river, as the water levels would be higher than usual. The road turned to thick mud, and it was far harder than I ever imagined to keep going with heavy luggage weighing me down further. I felt I could trust them, so I asked them to take my pannier case and kept pushing on. I followed in the tire marks of the convoy, which made it easier for me to ride. With the help of the convoy, I was able to reach a village of yurts. I thought I could refuel here, and I was just about to run out of gas, but I found out that the nearest gas station was 130km away. I couldn't go back, so I decided to pay some of the local people to take my bike and I to the gas station in the city in one of their trucks. The driver seemed to navigate using just the mountains and the stars in the sky and made me feel relaxed by singing traditional songs that reminded me of Japanese enka (a genre of folk-classic) music. The driver told me that we could get there in a day, and with some peace of mind, I thought to myself that this is actually a good experience, but the driver unexpectedly stopped and pulled into a hotel before we had reached the city. Maybe he's made a wrong turn, maybe miscalculated the distance, or maybe given up, I pondered. But anyway, I ended up paying for the two of us to stay a night there.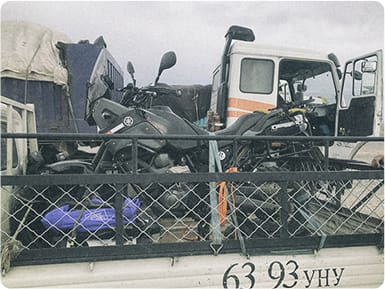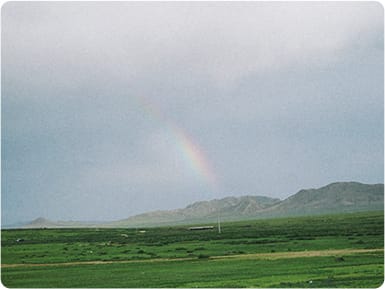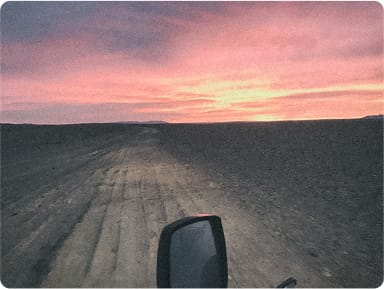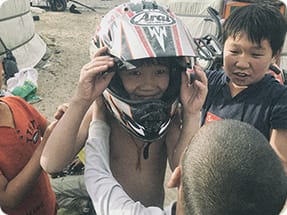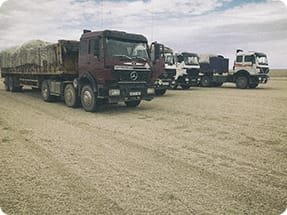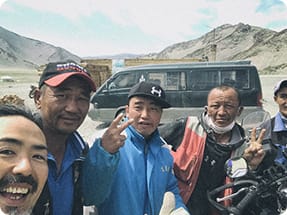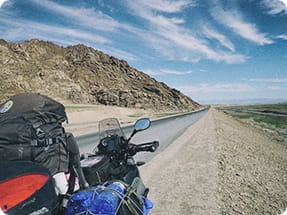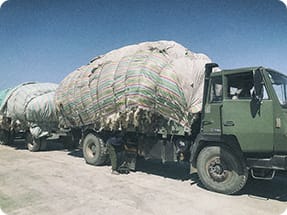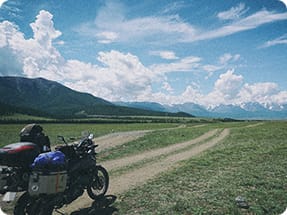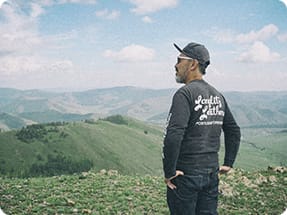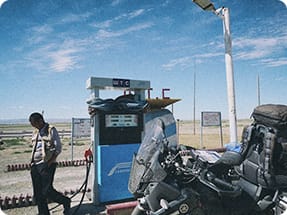 As you move west, the color of Europe gets darker
After crossing the border and entering Russia again, there was a beautiful landscape of rocky mountains and clear streams. Even the sun showers felt refreshing in this new setting.
The white birch trees of Mongolia were now conifers, and the cars passing me were now European brands rather than Japanese. As I kept driving, the more riders from different countries I saw, the more I innately appreciated that Asia and Europe are adjoined. The road was also paved here, making it a lot easier to ride westward at a comfortable pace.
There are a lot of campsites here because the landscape is so beautiful, and I even saw some people going downstream in an inflatable dingy. I pitched my tent by the side of a river, and a Russian camper offered me a drink, and we ended up having a barbeque together.
While I was in Russia, I had an experience that really made me feel the power of social media. While I was having a rest in a shopping mall in the country, a woman I had never met made eye contact with me. She came over, holding her smartphone screen up and asked me, "Is this you?". It turned out she was following me on social media and so approached me when she recognized me. I could understand if it were in Japan, but in Russia, it was really astonishing. We took a photo together, and I got a taste of what it would be like to be a celebrity.
On the way to the border with Georgia, a Polish guy riding with me got a puncture in his rear tire, so I stopped to help him. A shard of a car windscreen wiper had pierced the rubber, and although we tried to patch it up, it was no good. Thankfully, an acquaintance of his passed by as we were stopped and was able to replace the tube with a spare that he had. However, it was already getting dark, and there was nowhere to stay around there. With a pensive look on their faces, they told me that there was a biker club gathering taking place nearby. I was grateful for the invitation to stay the night and enjoyed a hearty cultural exchange with the local people. Through such a chance meeting, I got to experience true open kindness and enjoyed one of the fondest memories of my journey. Near the border, the political situation is not so stable in Pyatigorsk, and there was armed military personnel everywhere. Trying not to be phased by the charged atmosphere, I headed forward towards Georgia.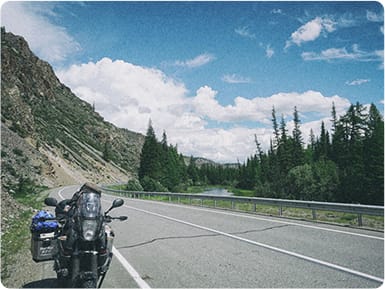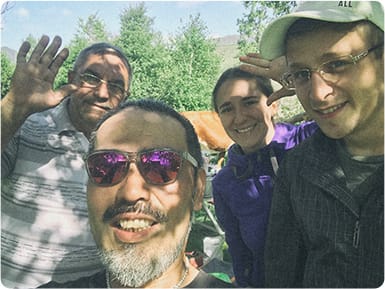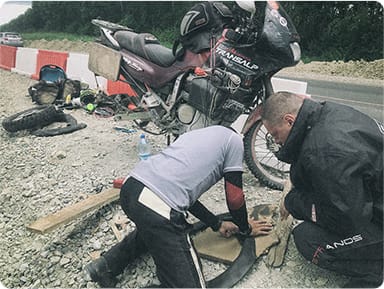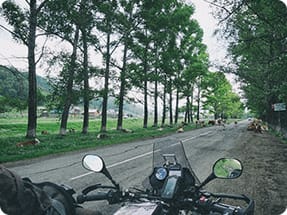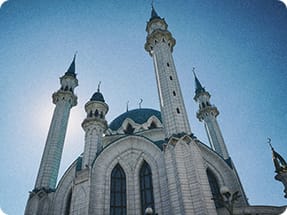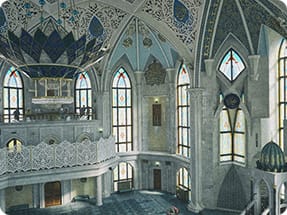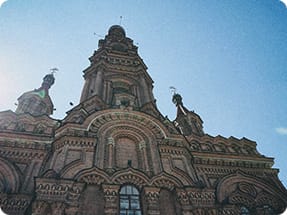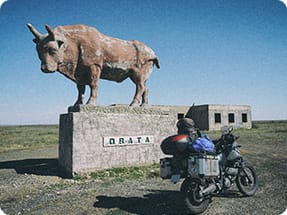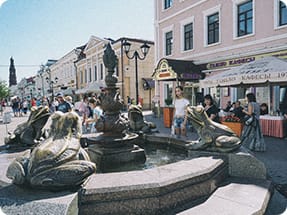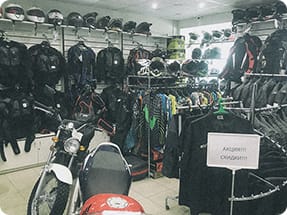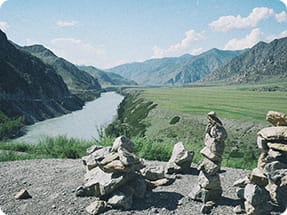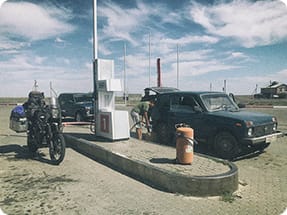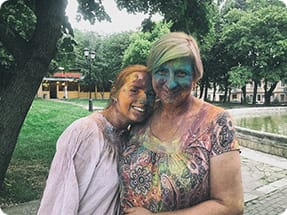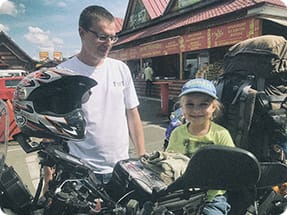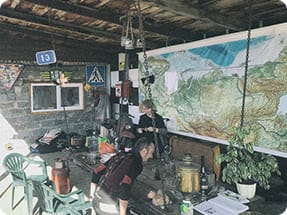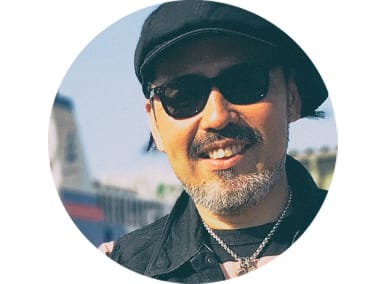 Metabon (Koji Mochizuki)
Born in 1975 in Tokyo, Metabon loves biking, camps, and bonfires. Every day at work, he daydreamed about riding my Ténéré. On his days off, he spent time on his bike, using touring as escapism. Traveling further and further, he started to set his sights on going