Yamaha Journey Vol.08
This is the story about Craig McCarthy's motorcycle travel on Yamaha FZ1 FAZER around Japan.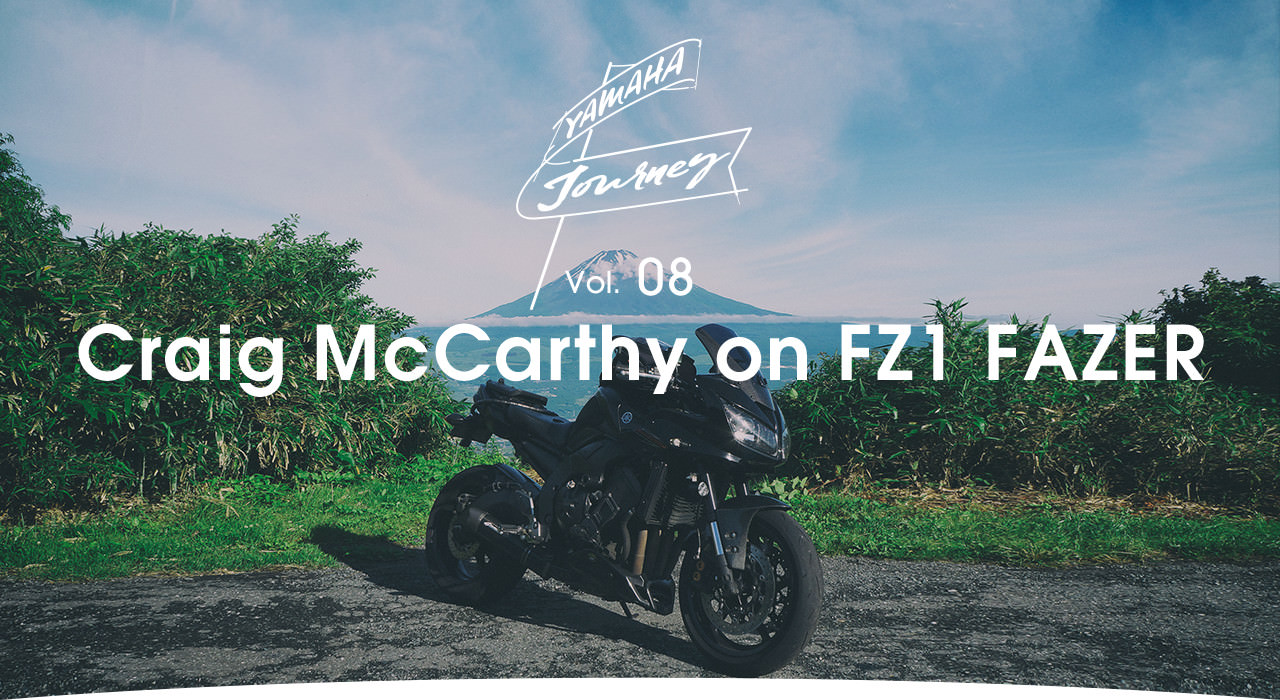 The Compelling Roads of Japan
Craig McCarthy
FZ1 FAZER
#03 Japan: Spellbound by the majesty of Mt Fuji
Fuji – Izu
"The one place I just have to ride." Japan through the eyes of Craig McCarthy. After moving here from Australia, Craig has devoted himself to touring through Japan, and discusses his three favorite routes here.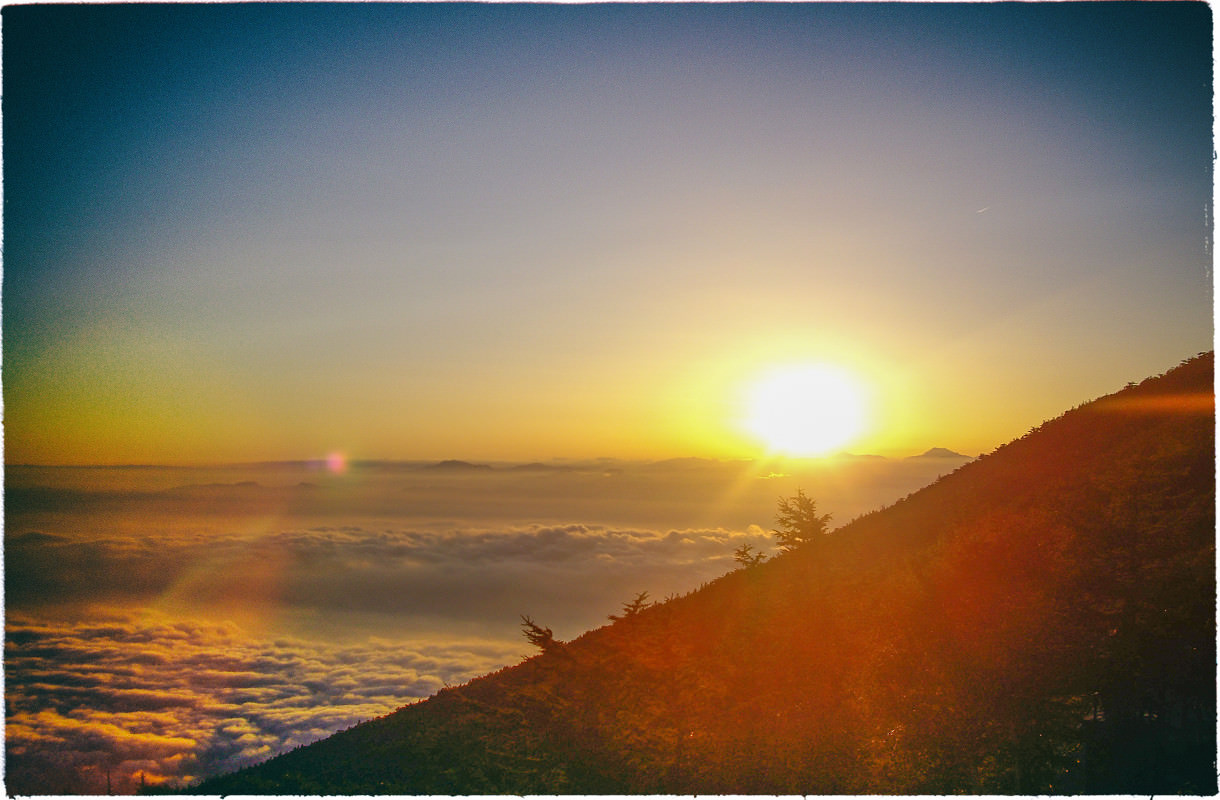 A carpet of cloud, as far as the eye can see.
Mount Fuji 5th Station, Shizuoka, Japan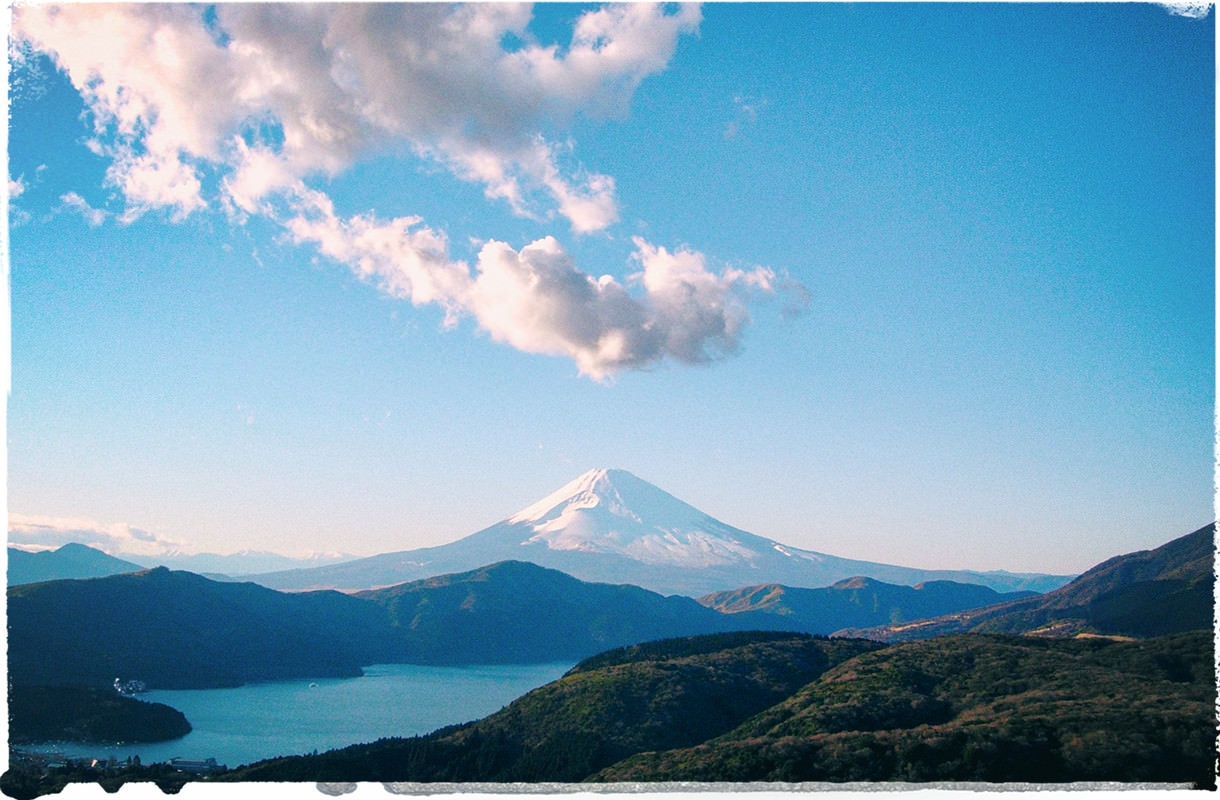 Superb scenery greeted me at the end of a long journey.
Hakone Turnpike, Kanagawa, Japan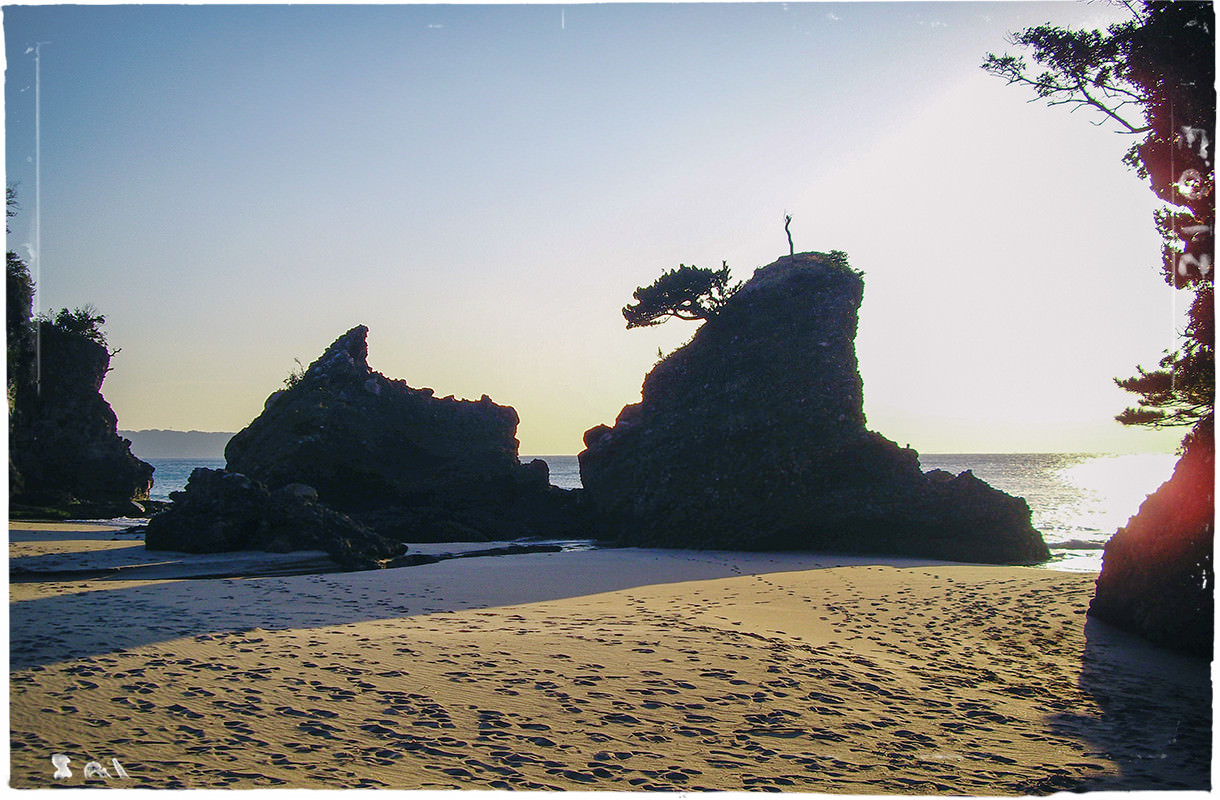 The tang of salt in the air and the sound of the waves – that's all I need.
Shimoda - Toji, Shizuoka, Japan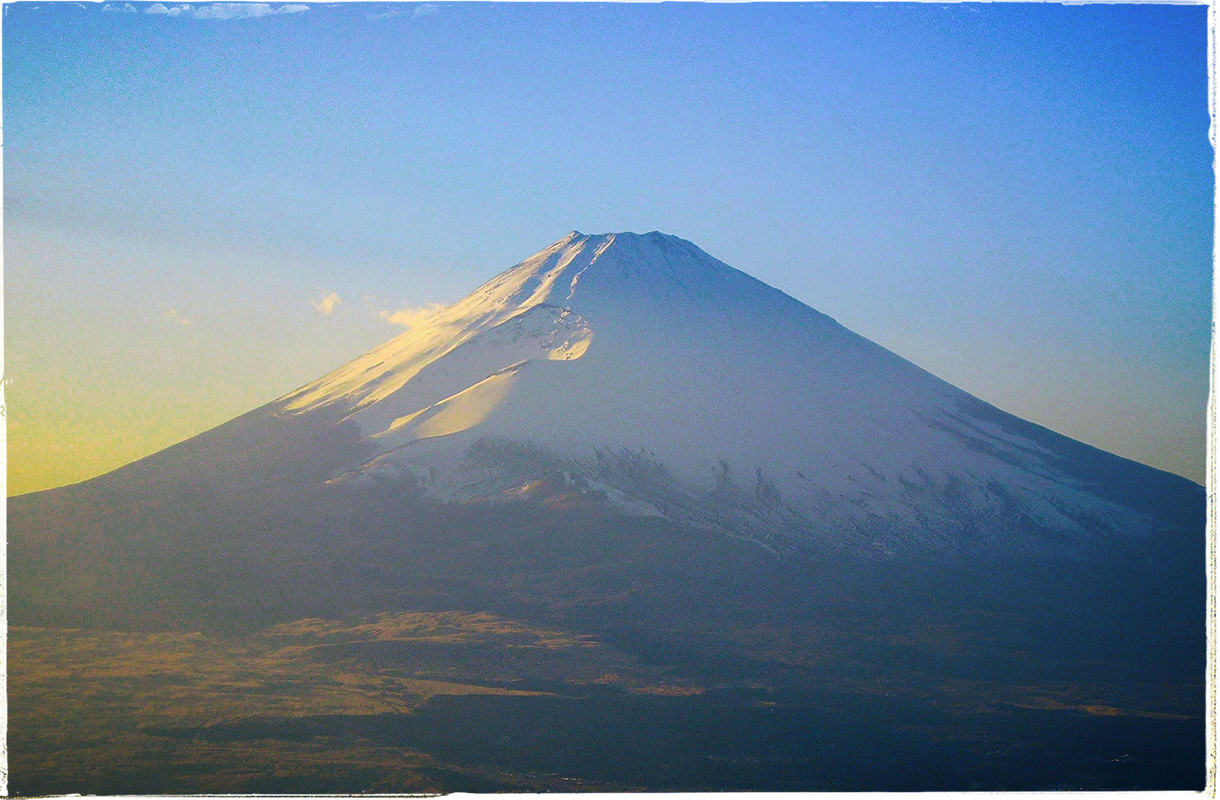 Gazing at Mt. Fuji brought me a sense of peace.
Mikuni Pass, Shizuoka, Japan

Heading for the beautiful Mt. Fuji, now a World Heritage Site
Lets take a tour around Yamanashi Prefecture and the Izu Peninsula with their endless vistas of Mt Fuji.As a city dweller, this is a great way for me to relax and stretch my legs. There are many things that attract riders to this area, but the World Heritage registered Mt Fuji is definitely the omnipresent attraction. Best viewed from a manifold of places and angles, Mt Fuji projects an overwhelming presence. I was naturally taken aback by the overwhelming size, symmetry and sheer presence of Mt Fuji when it first came into view, and with time am still surprised by the different faces it presents when playing with the light or from different angles.
When heading to Mt Fuji, a good starting point is Ebina Service Area replete with riders in mind. From there, after some entertaining twisting and winding north, you come upon the "Doshi Road". Threading your way along the valley west, you are blessed with a myriad of peeks at the mountain, making this road very popular with riders. Here and there along the road, you'll often see motorcycles parked with their riders presumably nearby taking in a view of Mt Fuji. I initially thought this but soon realized that some of them needed a stop! There are numerous restaurants along the road, as well as produce stalls and a "Michi no Eki" road station, a popular gathering area with riders. While making your way along the route, it is great fun to sample local specialties and see the range of original goods produced from this region rich in natural beauty.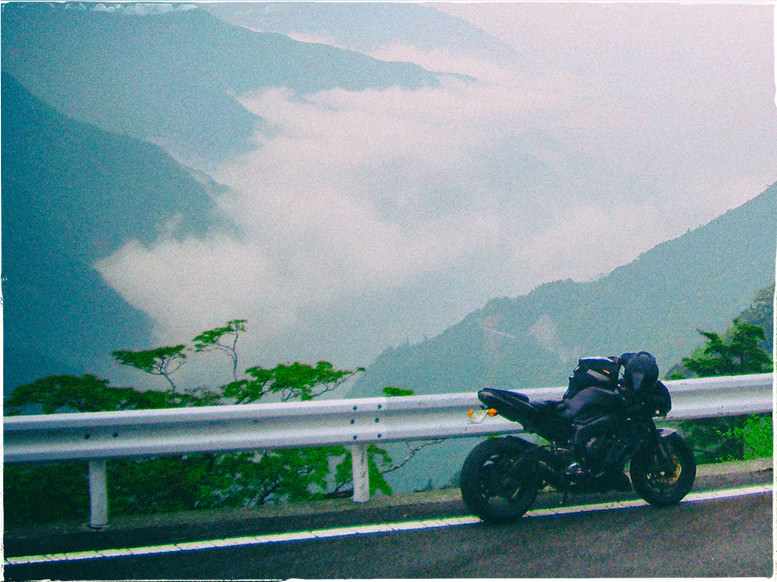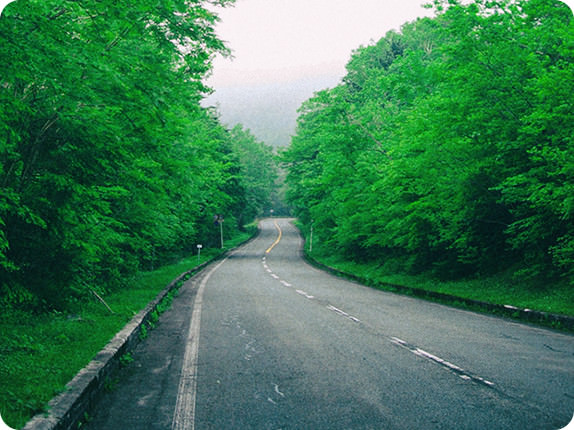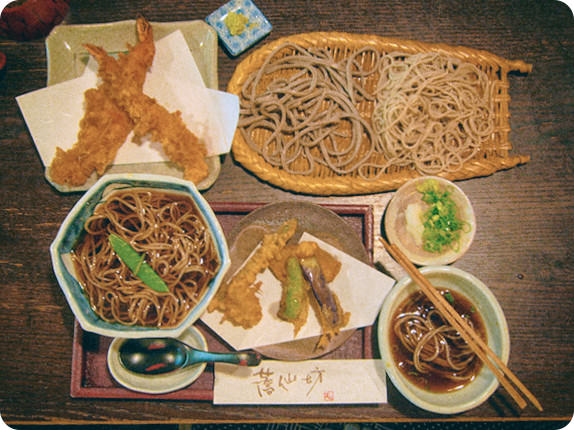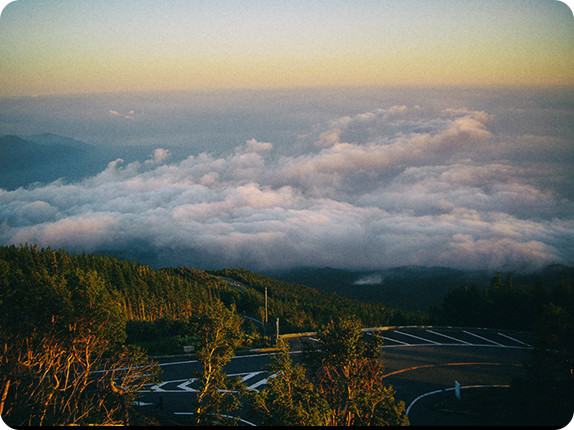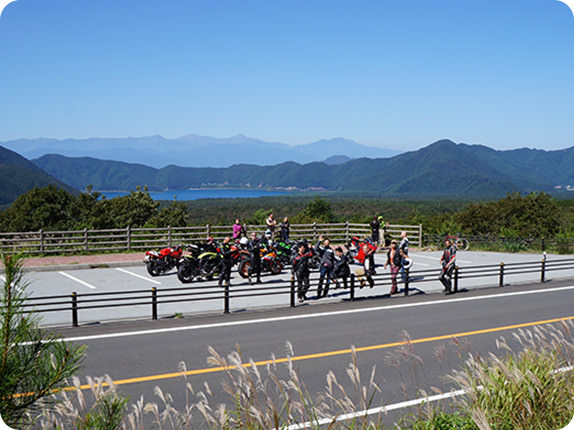 Fuji shows you a different face each time you round a corner
Another favorite road of mine is the Hakone Turnpike, located to the south of Mt Fuji. This road is so well known for capturing the hearts of even seasoned riders and drivers alike that it is regularly used for public road tests and events. There is an excellent cafe at the top of the route where motorists and motorcyclists gather to take in the vista of Mt Fuji rising up beyond Lake Ashi and the surrounding caldera. This cafe is famous among motorcycle enthusiasts the world over, and I think it's an idyllic gathering place for riders from all over.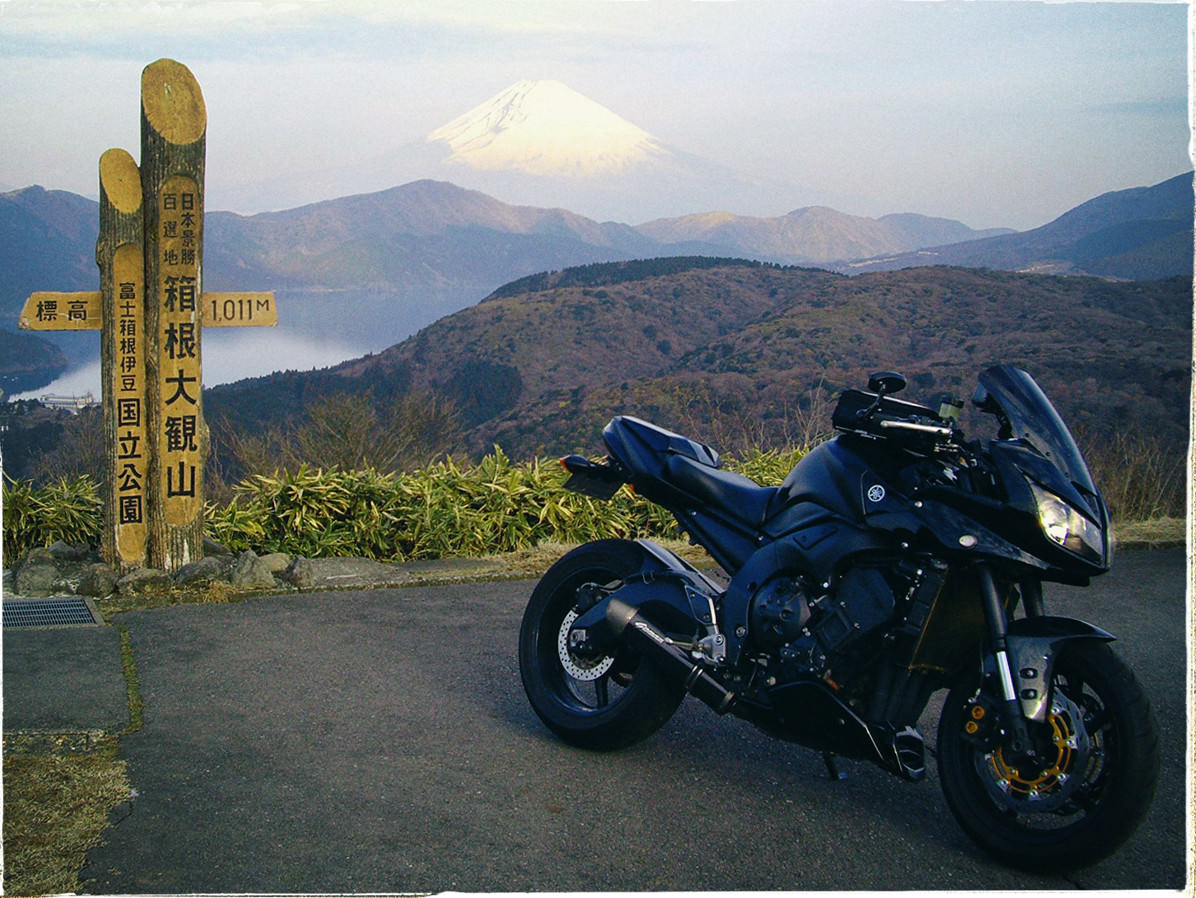 From here, it's on to the Izu Skyline. A very well-known road, both domestically and around the world. As you wind your way along its 36 km of twisting soaring roadway and varying elevations with the Pacific Ocean and Mt Fuji offering glimpses of rich scenery. Amongst the many charms that the Skyline area offers heading south, is a 150-year-old Gassho-style folk house restaurant where one can satisfy a road warrior's hunger. The range of unique dishes to partake in here include local wild game such as deer, boar, rabbit and badger. Every one of them is superb, although I'm still too fond of badger to see it cooked. The restaurant, smoked in centuries of history, has a traditional earthen floor encrusted in ash from the iron stove in the center of the room said to stave off insects and bacteria. A unique atmosphere where once, among an odd gathering of diners sitting around a huge slab of a table cut from a massive tree, hearty conversation just flowed like another special dish to savor.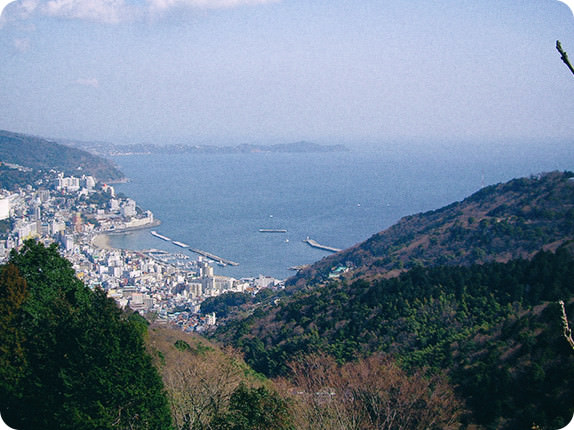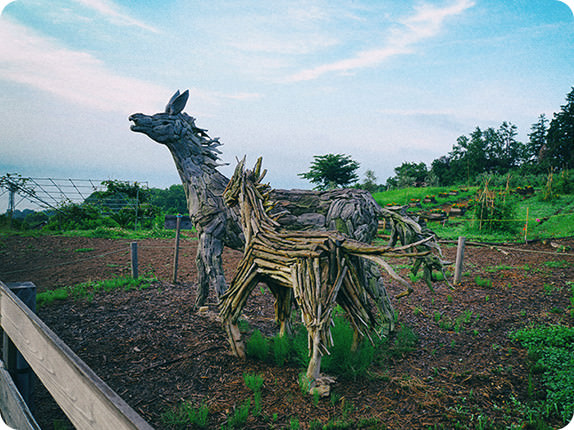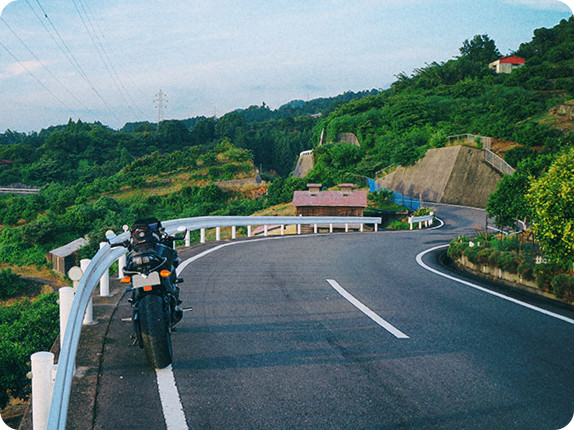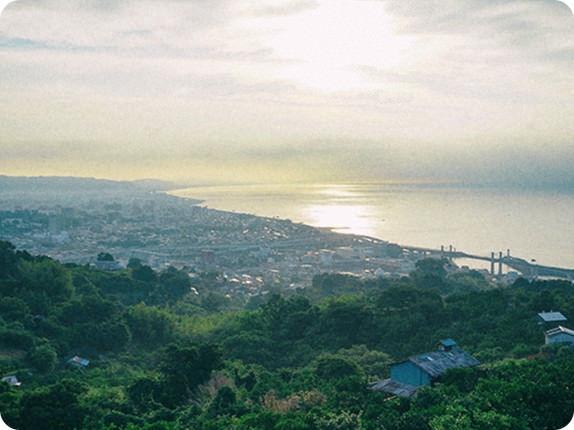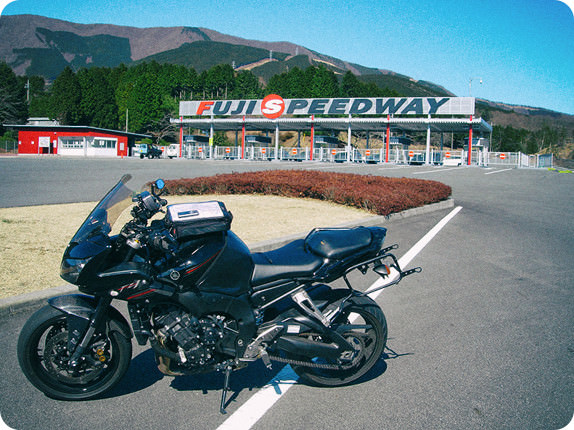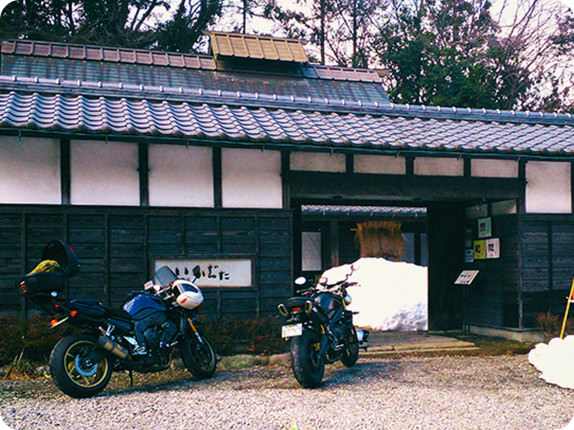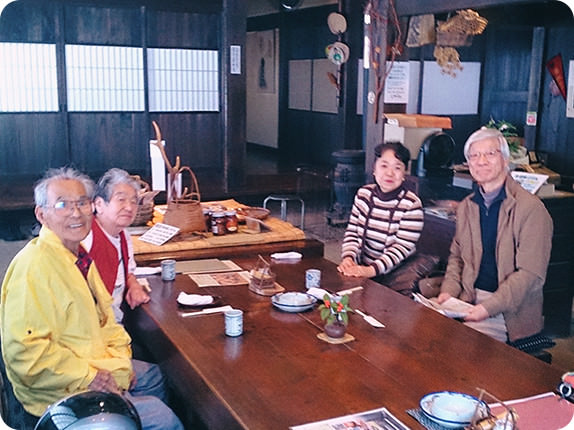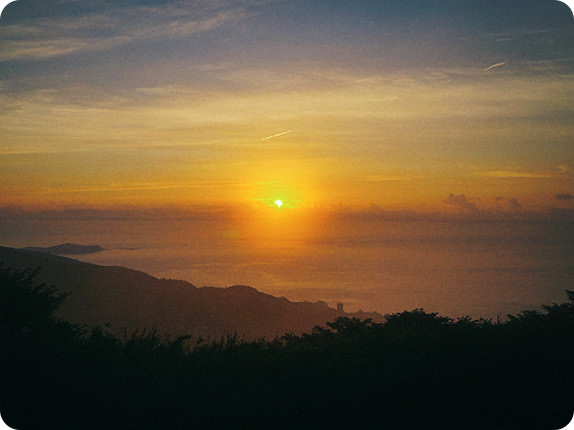 Let the weariness of the day melt away in an open-air bath
Heading further southward on the Izu Skyline followed by a turn inland, you will come upon the Odaru Onsen (hot springs) just beyond the Amagi Pass. The hot spring inns in this neighborhood include places where you can bathe without staying at the inns. This is a boon for weary riders. There are a variety of hot springs on offer at the inns, even one where you can enjoy bathing in a cave! Although there are indoor baths as well, the majority of them are of the open-air type and at one with the deep valley nature at the heart of Izu. The myriad of hot springs dotting this vast valley certainly makes a lasting impression. Riding through this area, it is interesting to see so many wasabi fields. I can imagine the beautifully clean water of the inland Izu region producing wasabi of the finest quality. The spicy bite that climbs right up through your nose is a characteristic of Japanese wasabi that distinguishes it from Western horseradish. Although Japanese wasabi has become well known around the world, there are still few places where one can experience real fresh wasabi. It was quite an eye-opener for someone so foreign to it like myself to learn that wasabi is cultivated in spring water trickling from the rocks. I hadn't even really considered what kind of plant wasabi was.
There is yet another conundrum to enjoy right beside the Odaru Onsen area. A loop bridge called the Nanadarukouka bridge. A massive feat of human engineering springing out of the lush green forest. One would expect a bridge like this on a coastal highway or a Tokyo Expressway, but not here coiled up on a mountainside in the forest. If left to think about it for a while, it makes perfect sense that a structure like this is here given the varying elevations of the area. But when I first saw it, I was amazed by its alien contrast with the surrounding landscape.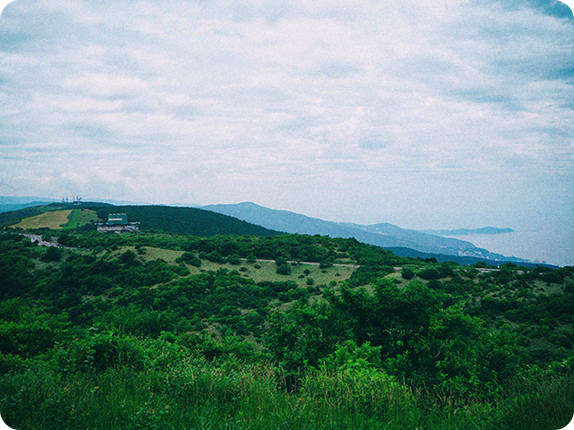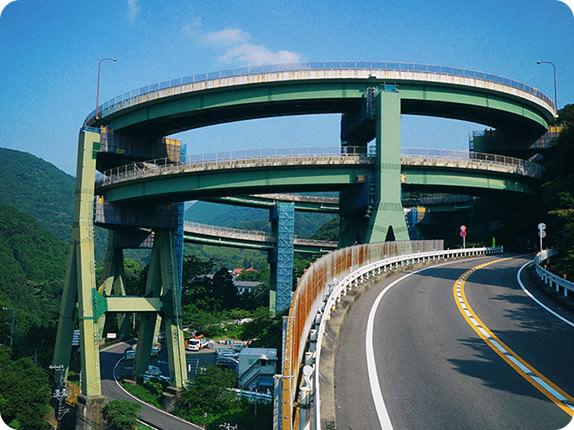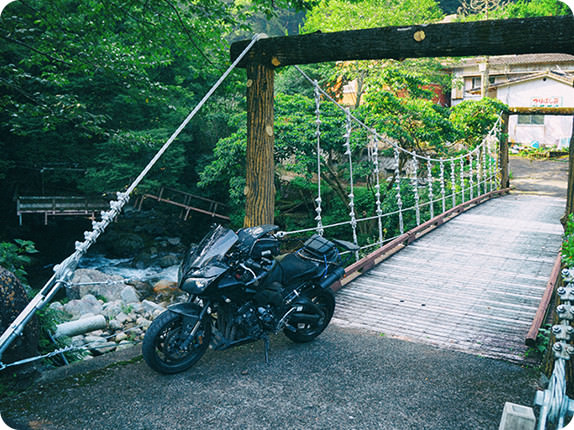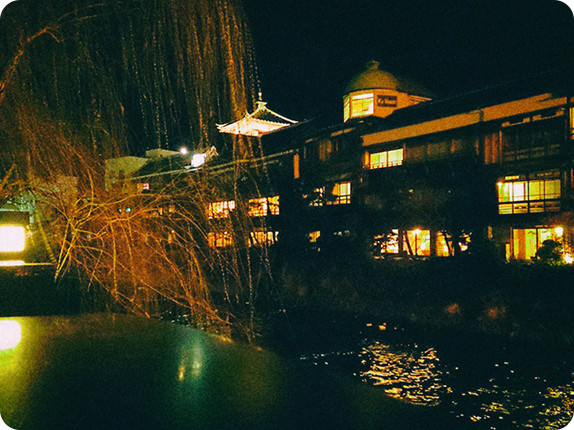 The sea and the mountains - Izu is the place if you hunger for both
Traveling directly south, you will soon arrive by the sea in Shimoda. To me, this is the best beach coastline in the Kanto region. Here you can enjoy surfing, the beautiful beaches, clear blue waters, rocky hills plunging into the sea and on top of all that, the seafood is excellent. You can also ride through the famous summer sunflower fields of Minami Izu. In comparison to the first time I visited here, Shimoda has developed into a tourist destination, in a good way. The locals are at home with foreigners like myself, and I think travelers will feel even more comfortable here than before.
From Shimoda we travel up the western side of Izu. I love this route that winds north towards Mt Fuji with mountains to the right and ocean to the left and climbs and downhills along twisting roads between lots of small towns along the way. Mainly locals live here and as I ride happily, far from the cityscape of fastfood chains, department stores and disappearing greenery, it gives me a sense of the lives of the people rooted to this land. I just love seeing this kind of place. Finally, it is back to skirting the caldera above Hakone along the twin roller-coaster roads of Ashinoko and Hakone Skylines with vistas of Mt. Fuji around each corner to fittingly draw this tour to an end.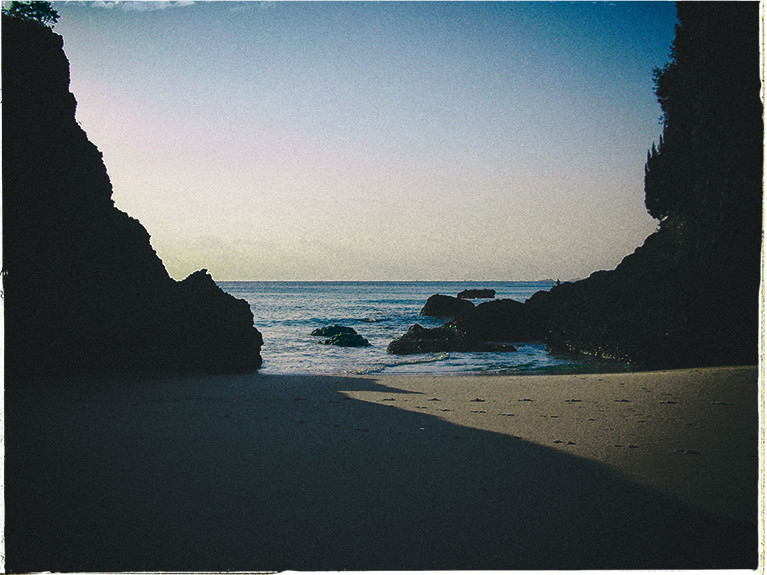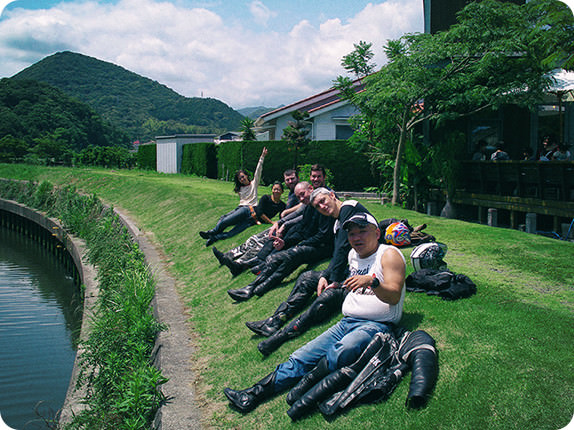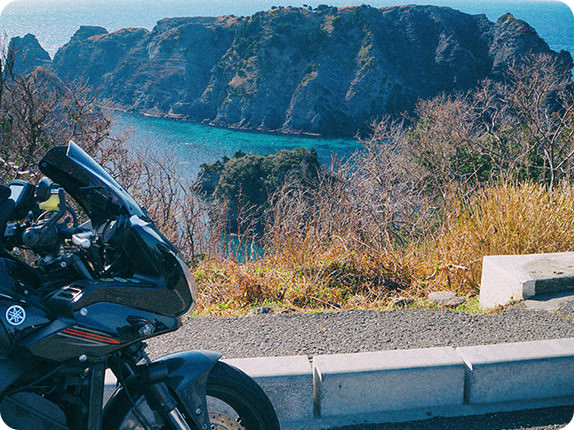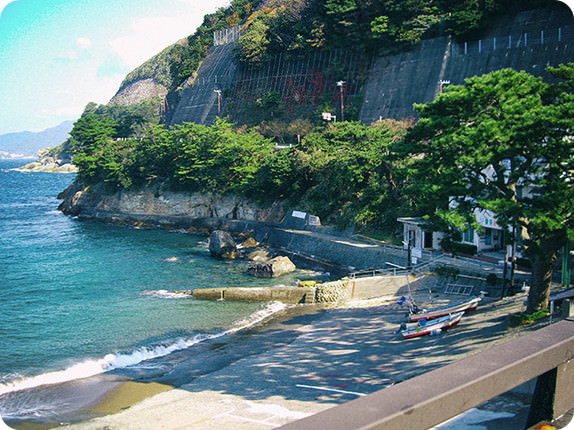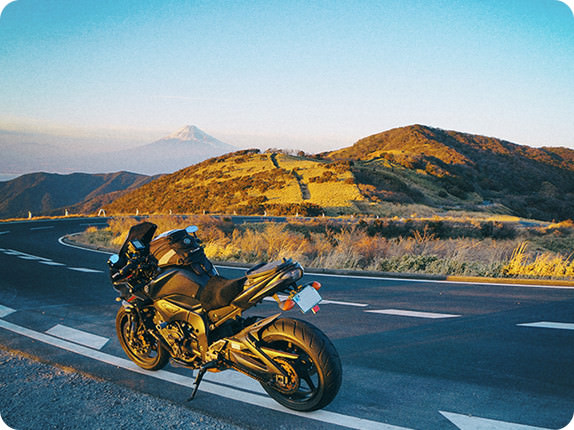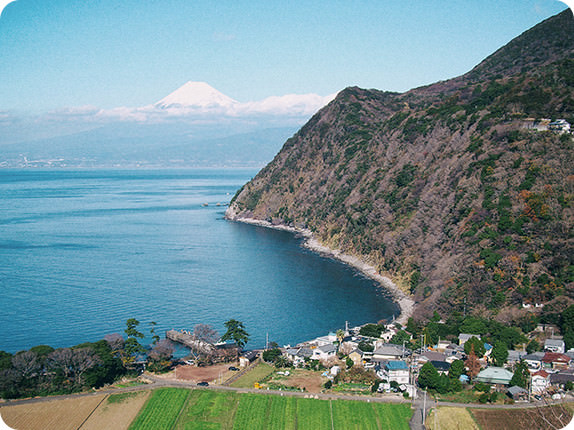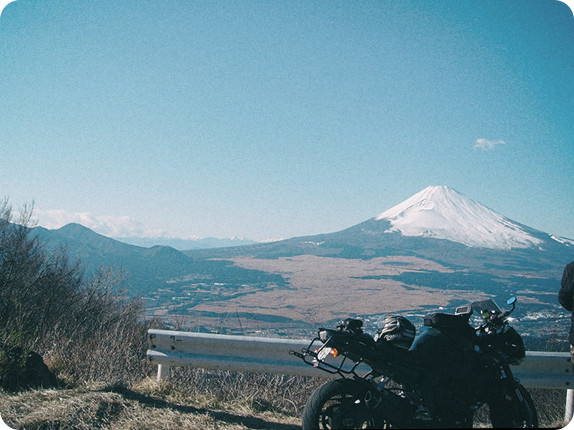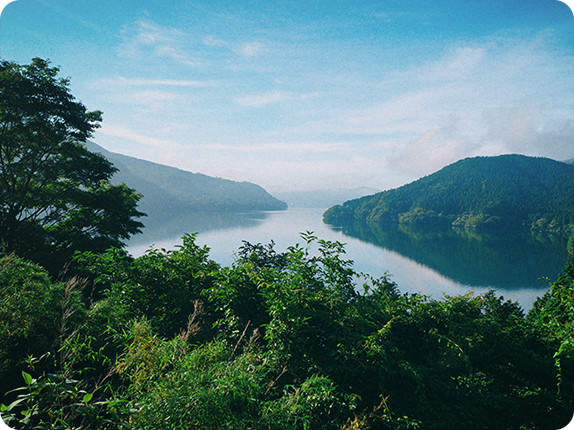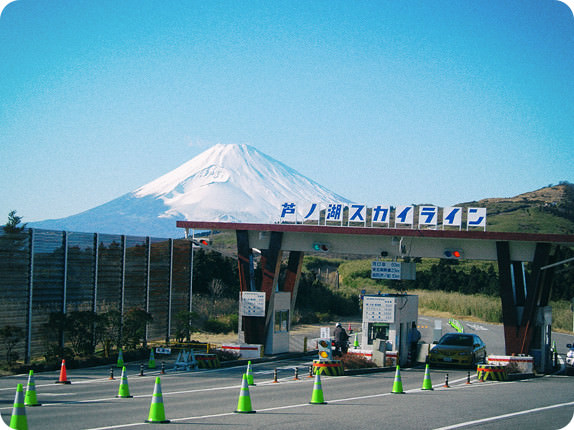 A once in a lifetime experience, on my motorcycle
I just love traveling by motorcycle. It's probably the same for anyone who does long distance riding, but after a few days on the road touring, being on my motor cycle is like being home. In fact, every morning it feels like a place that I have come home to. Taking it a step further, I feel that if a car is a "moving room" and a bicycle is a "riding tool", for me my motorcycle is a trusty "steed". It won't be ridden unless fed with fuel and given essential care like oil changes. But if you look after it, it will be a trusted companion that will take you to all sorts of places.
When staying at a camping ground, you generally need to park a car far away, but a motorcycle can be right there with you, resting as you are, together. This leads to a remarkable attachment to your bike, similar to how you would feel having your horse nearby. The same feeling is there when riding in testing conditions like wet weather – my bike is not simply something I'm riding, but a trusted horse who is weathering the rain with me. To me, my motorcycle has an irreplaceable presence and the more I ride it the more I grow to love it. It feels like the travels we've been on together have been an experience for my motorcycle as well. I guess this feeling is probably something unique to riders... and.. It is something that is very important to me.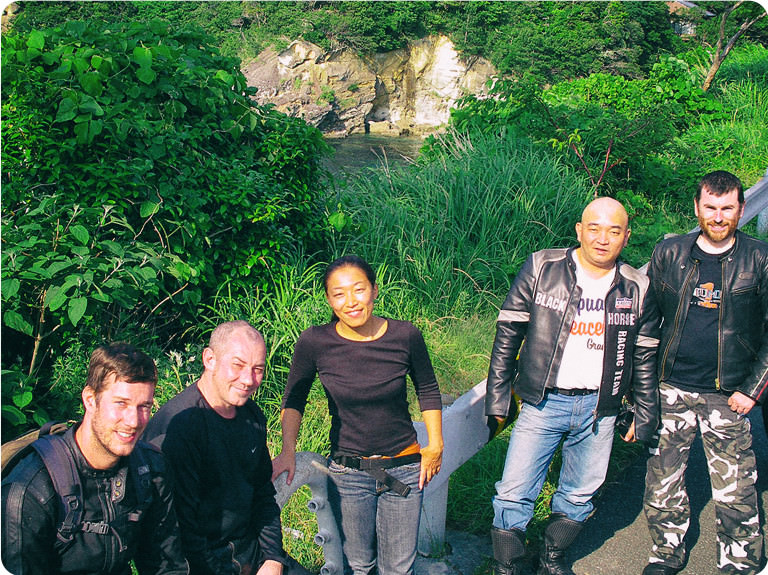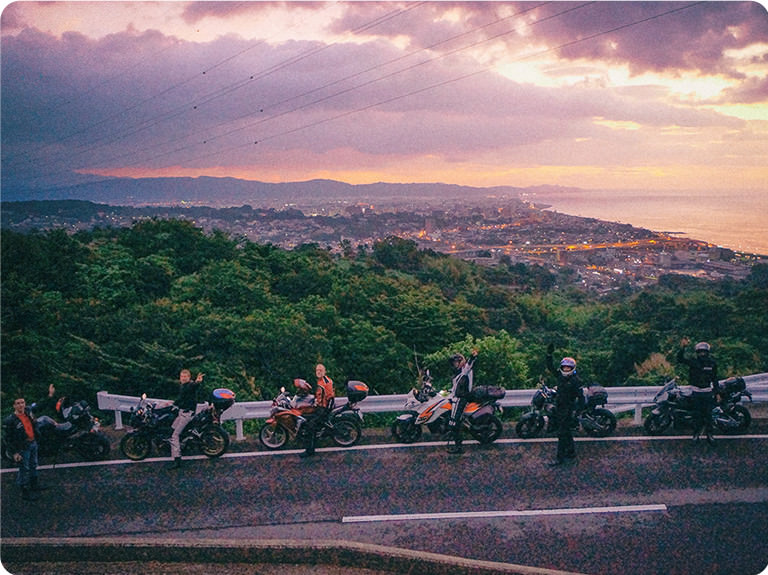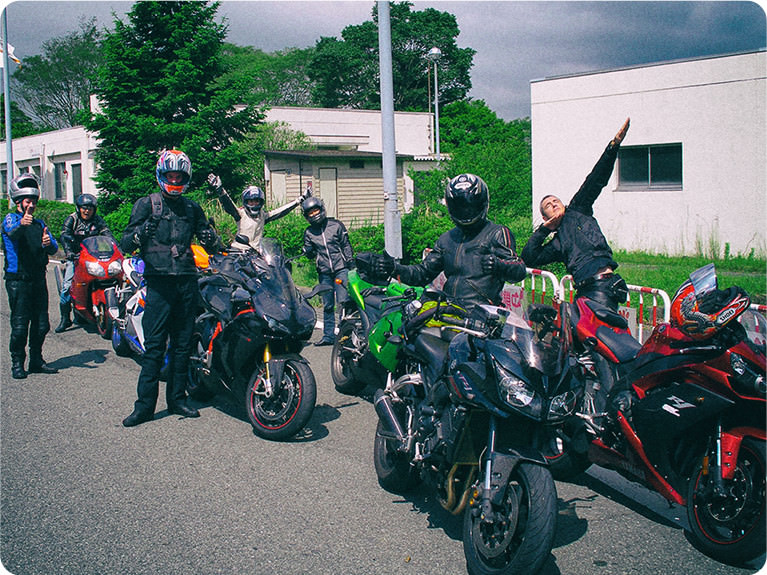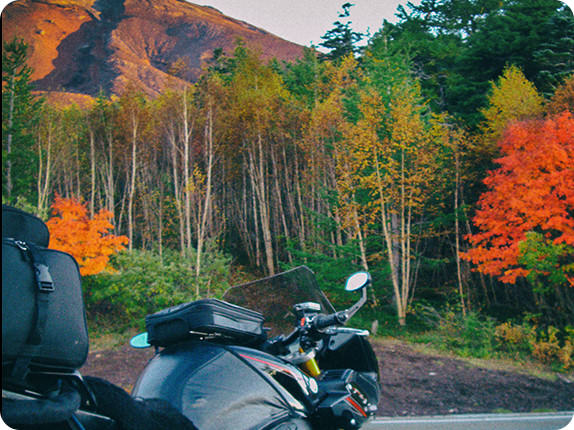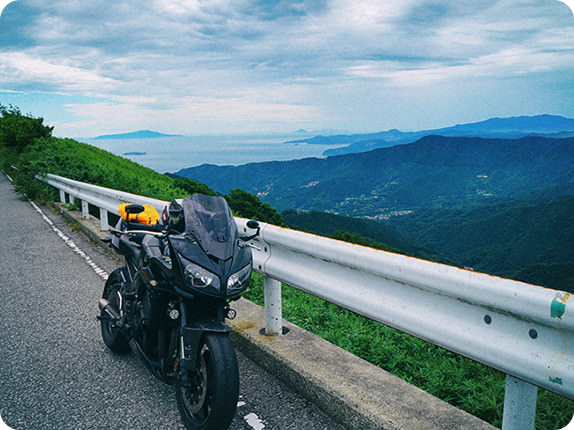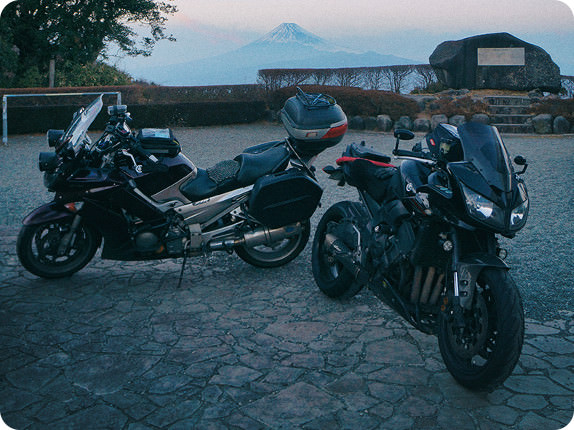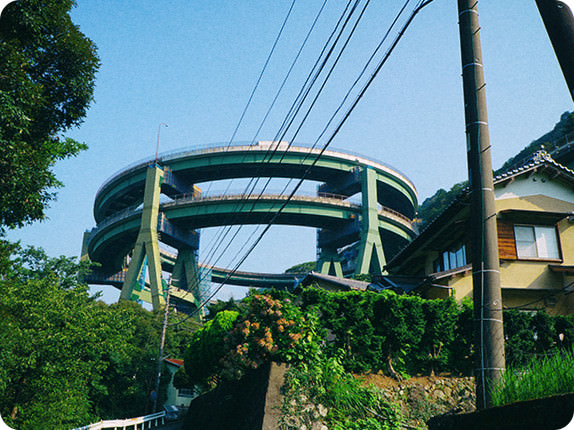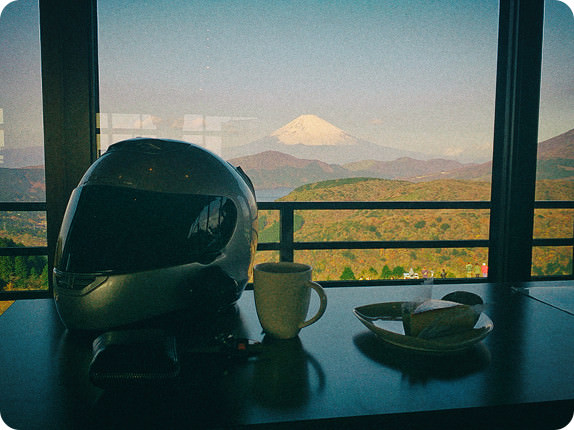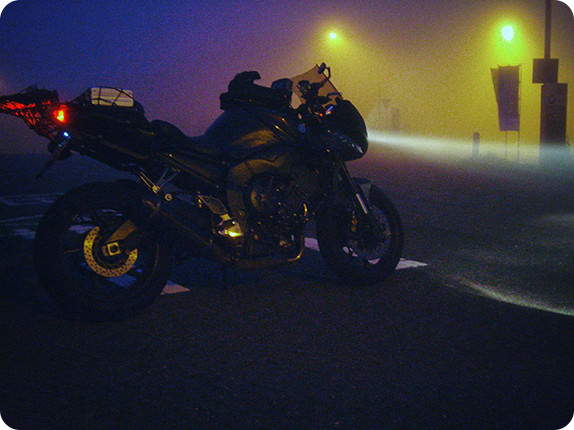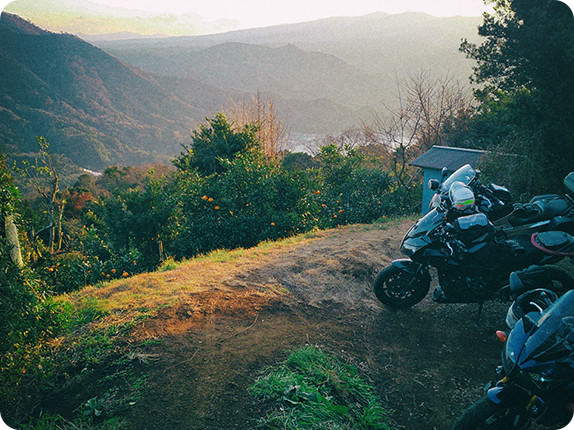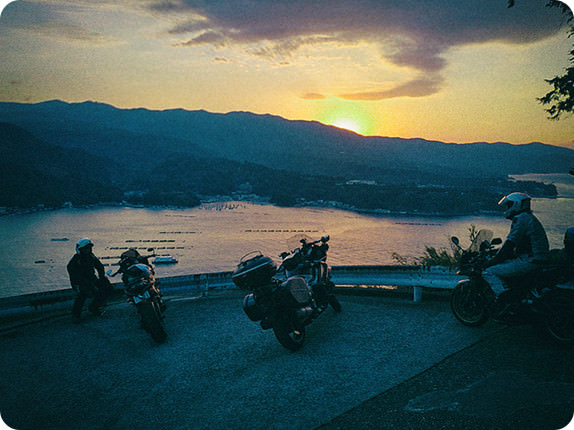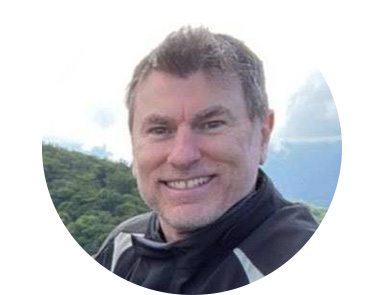 Craig McCarthy
Coming from Australia, the endless winding mountain roads, sights and biking atmosphere of Japan struck me as something unique. I've been riding in Japan for 11 years and toured 46 of Japan's 47 prefectures. 2 times a year, I embark on a 'big ride' and several times a year go for multi-day rides and I enjoy riding all year round!
My Yamaha FZ1 FAZER has been with me since 2007 and seen the 4 corners of Honshu Island and been all through Hokkaido, Shikoku and Kyushu. We've been circuit riding, drag racing, ridden through typhoons, over snow and found endless great roads in the homeland of Yamaha.
I log my adventures at Touge Express and am the organizer of the annual Coast to Coast Twistybutt, Route-Master for the Tokyo Toy Run and occasional tour leader.