55mph - This is Africa ! Chapter 01
Rowland Kirishima and Keisuke Kawanishi's grand touring on a Yamaha Ténéré 700 from Europe to Morocco.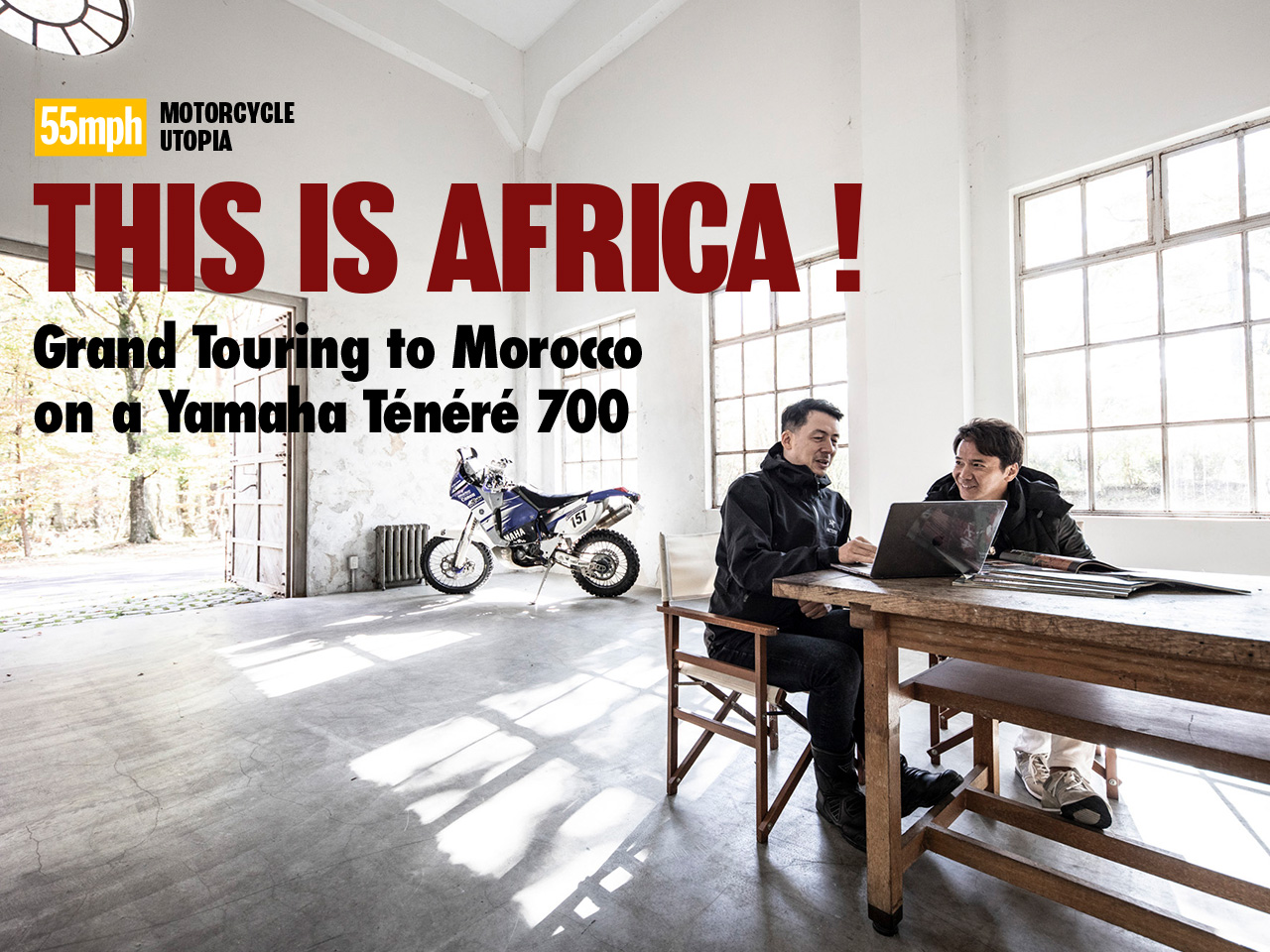 Why We Journeyed to Morocco?
Ténéré is a name synonymous with Yamaha Motor's adventure models. While the release of its latest model has been greatly anticipated in Japan, two great pals typifying male riders in their 50s headed out on a grand tour of Europe and Africa, riding Ténéré 700's.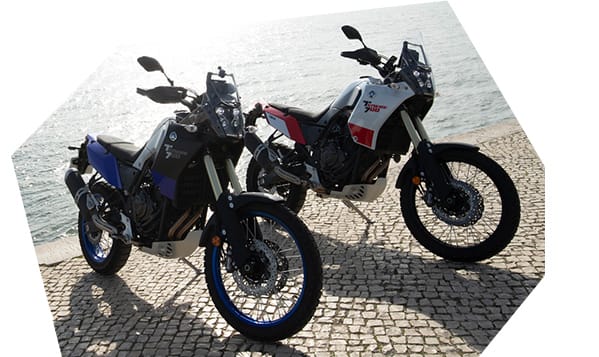 As a great way to finish 2019, photographer Rowland Kirishima and myself, Keisuke Kawanishi set out on a bike tour from Europe to Morocco, Africa. As Morocco is located on the northern tip of the African continent, it is an exotic country with a mix of African, Arabic and European cultures.
Why Morocco? Simply put, Morocco was in the book "55mph (55 miles)" published by Yamaha in the 80's. This book, with its MOTORCYCLE UTOPIA concept, showcased various places around the world that were visited by motorcycle. Wonderful travel articles were a feature in the book with bold, stand-out photographs, and details of thrills and experiences specific to each destination well elaborated within each section.
Now that we're in our 50s, both Rowly (Rowland Kirishima) and myself, remember reading "55mph" in our younger days - always with the dream of "wanting to ride in amazing places like these someday." So, with a "longing" for the good old days - and some 30 years later - we decided to start turning those dreams of yesteryear into a reality.
We therefore arranged a get-together at his garage in Gotemba and began making our plans for the trip. As Rowly has much more experience in life, travel, and touring all over the world than me, I asked him, "Where do you want to go?", and his immediate response was "Let's go to Morocco in Africa."
One of the reasons for this answer of course, was in 55mph - Issue 7, published in 1985. It featured a trip to Morocco by Italian rider Franco Picco, who was well-known at the time in the Paris-Dakar Rally.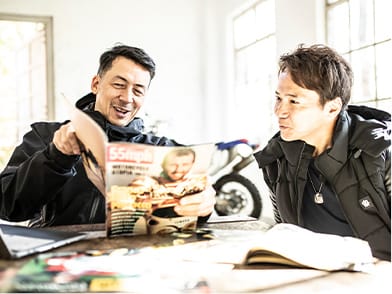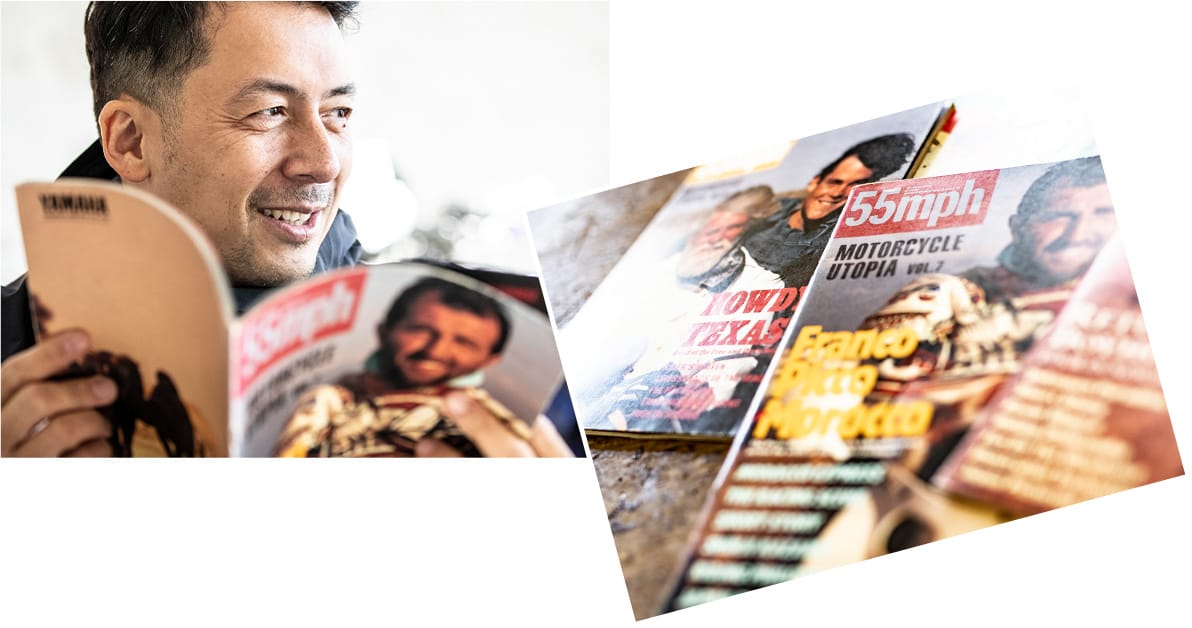 A tribute to the Dakar Rally
The route Rowly was thinking about was to start in Lisbon, the capital of Portugal, cross the Strait of Gibraltar via Spain, and then onto Morocco in the African continent.
In fact, this route contained another one of Rowly's "beloved memoirs." He actually competed in the Dakar Rally in 2007, finishing the race in superb fashion. The starting point was Lisbon at the time, a course that crossed Gibraltar to Morocco and then onto Senegal's capital, Dakar.
Rowly's idea was to follow the same route riding the new Ténéré 700 that was sold in Europe before being available in Japan.
From Europe, across the sea to Africa - It was a fascinating concept, and above all, it would feel like being part of the Dakar Rally (although the real route takes a slightly different course), so it seemed like a perfect "Motorcycle Utopia" experience to me.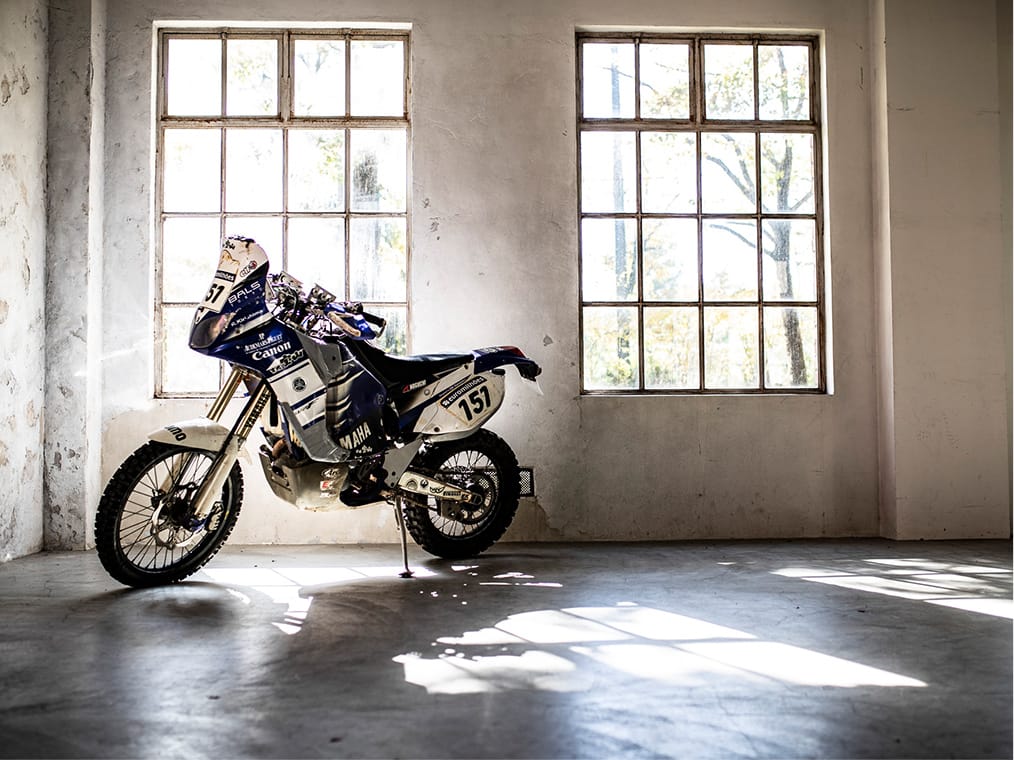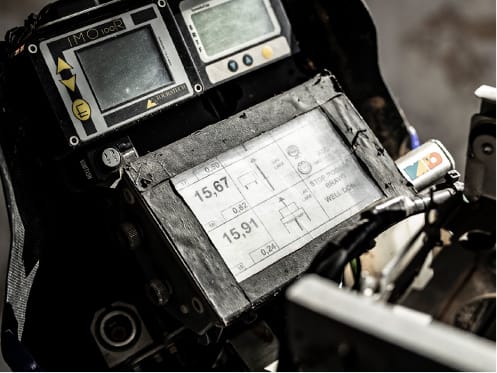 The bike that Rowly rode when he completed the Dakar Rally in 2007. Kept as it was after crossing the finish line - and now sits nicely on display at his garage.
Doing this trip on the Ténéré 700 had an even deeper meaning. The original Ténéré - which means "Desert - vast plain" in the African language - made its debut at a show in Paris in the fall of 1982. Based on the off-road model XT550, and equipped with a 30L large tank, this was Yamaha's first off-road model with front disc brakes, and Monocross-suspension; the XT600 Ténéré was created as the perfect bike to run in the Paris-Dakar.
Since then, the name Ténéré has become synonymous with Yamaha's adventure models and has continued to be part of the line-up. For the latest model Ténéré 700, inheriting this name is essentially epitomizing its African 'roots.' But also, for us, where the name Ténéré equals the Paris to Dakar, it has its own deep-rooted significance, which gives an even greater meaning to our experience.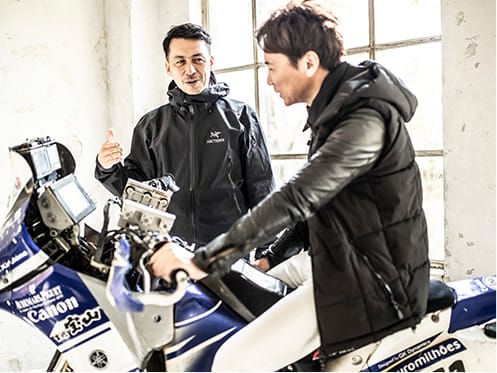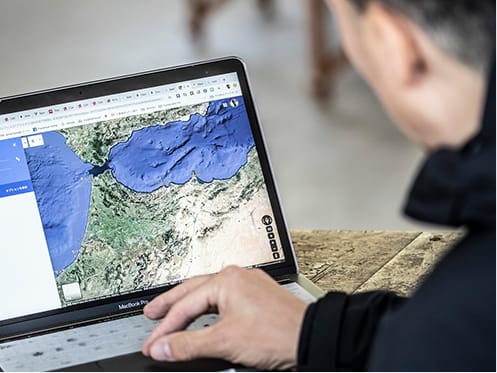 Departing from Lisbon, Portugal
After reviewing the schedule, access, and travel routes, etc., we planned to start after picking up the Ténéré 700's at the Yamaha Motor Europe (YME) office in Lisbon and then head to Spain. We would take the ferry from the port city of Tarifa across the Mediterranean Sea to Morocco. There, we planned to spend three days riding around Morocco, and then return by boat to Spain, finishing at Lisbon again. Including dirt road riding, this was to be six days of hard ground motorbike riding with a distance of around 2,200km.
In early December, Rowly and I landed at Lisbon Airport aboard a British Air 504. This is where our Ténéré 700 adventure in Portugal, Spain and Morocco began.
For us, coming from Tokyo in midwinter, southern Europe felt very warm. On a sunny day, daytime temperatures can rise to nearly 20°C. However, in Europe where the air is dry, the temperature difference during the day can be quite significant. Forecasts showed that the temperature can drop below 10°C in the mornings and evenings.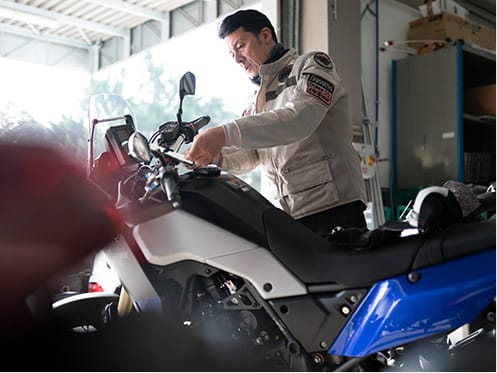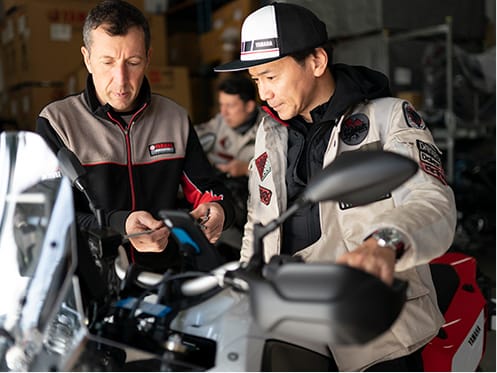 The Ténéré 700s with their fearless look were waiting for us in the YME garage close to the city center of Lisbon. One was in vivid blue -which is its image color. The other was in two-tone white/red, which was a little unfamiliar to us, but had a fresh look to it. When straddling the Ténéré 700, its width is slim compared to the overall size of the body, so you feel more in control with your feet-to-ground positioning. It goes without saying for Rowly - who is over 180cm tall. But even for me at the average Japanese height of around 173cm, I had no issues with stability - although lowered seats are recommended for those under 170cm.
Immediately after starting out, I could feel the confidence gained from the bikes very easy-to-ride style. The 689cc parallel twin exerts a stable torque under its low rpm range, but also performs with pure precision when the accelerator is opened, and the engine fires up into its higher ranges. Nevertheless, the Ténéré 700 cannot be called "inorganic" in any way, in fact it brings an invigorating feel that only a big twin like this can.
After having the YME staff check and adjust various parts around the bikes, we finally set out on our Grand Tour adventure for Morocco.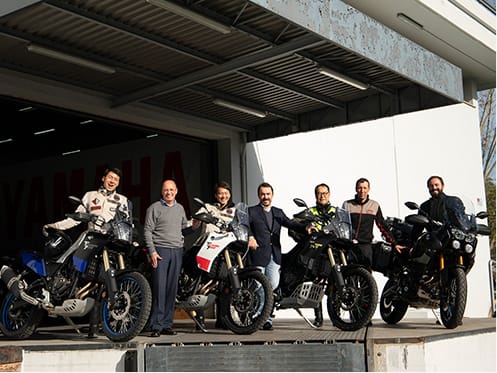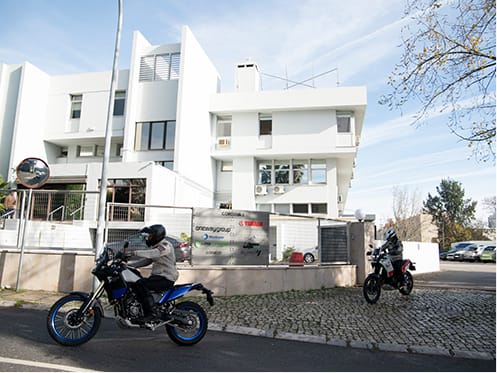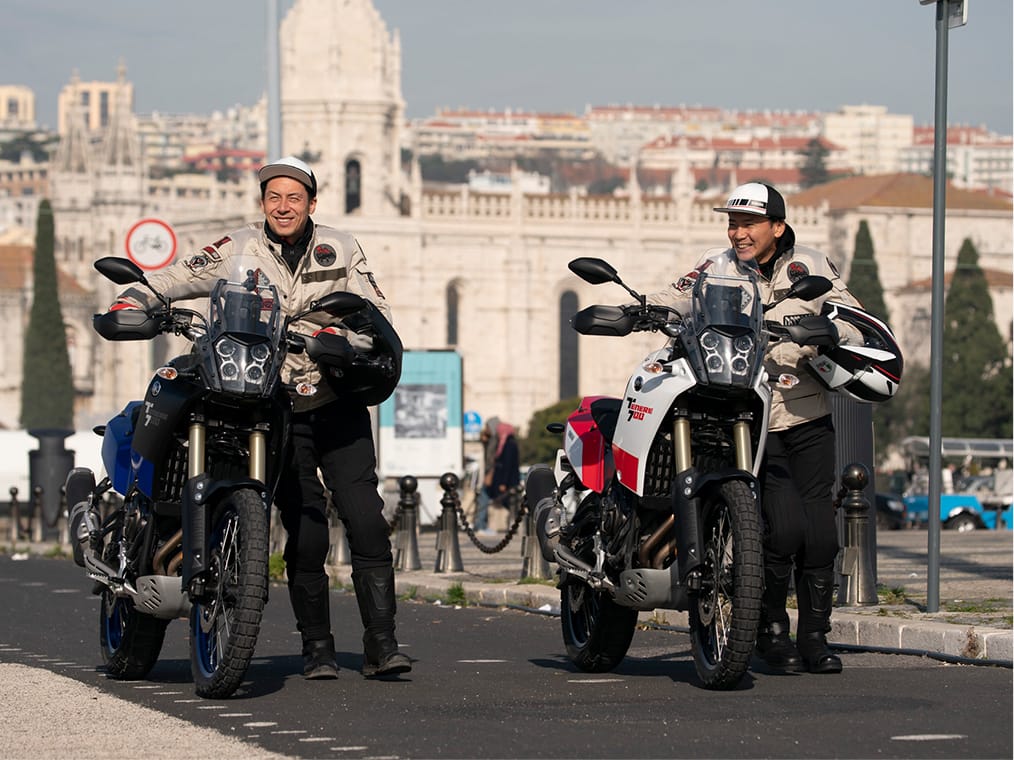 The Padrão dos Descobrimentos (Monument to Discoveries) celebrates the Portuguese Age of Discovery on the shores of the Tagus River in western Lisbon. The concrete monument resembling the bow of a ship is 52 meters high. This represented the real beginning of our journey at an emotional level.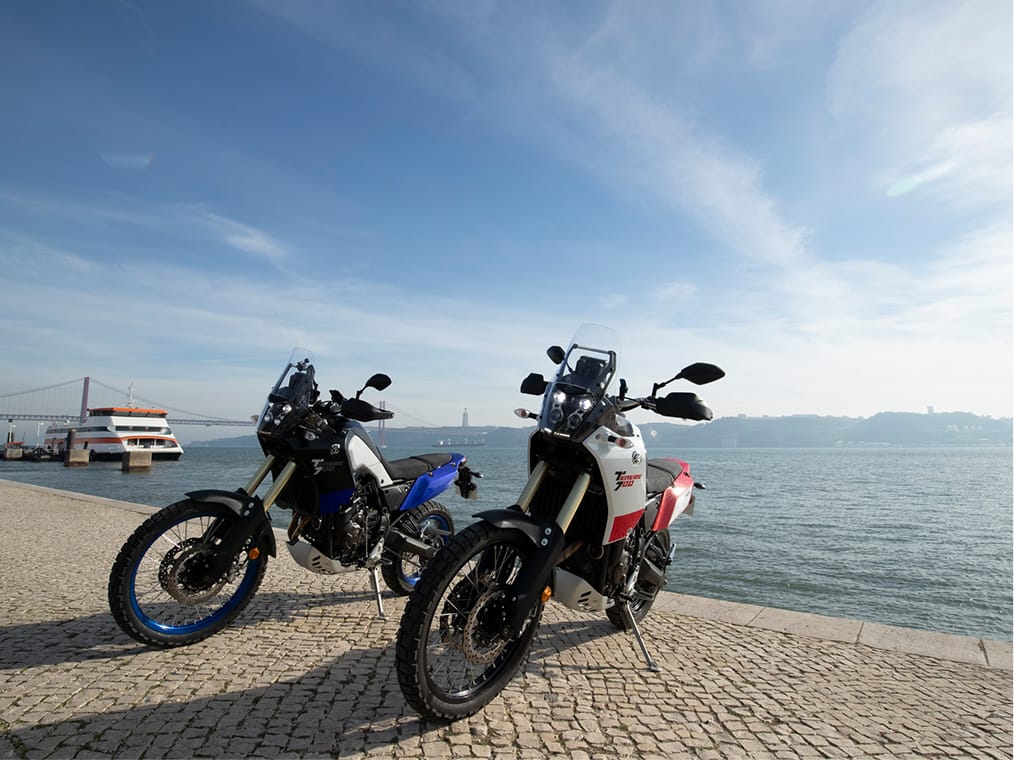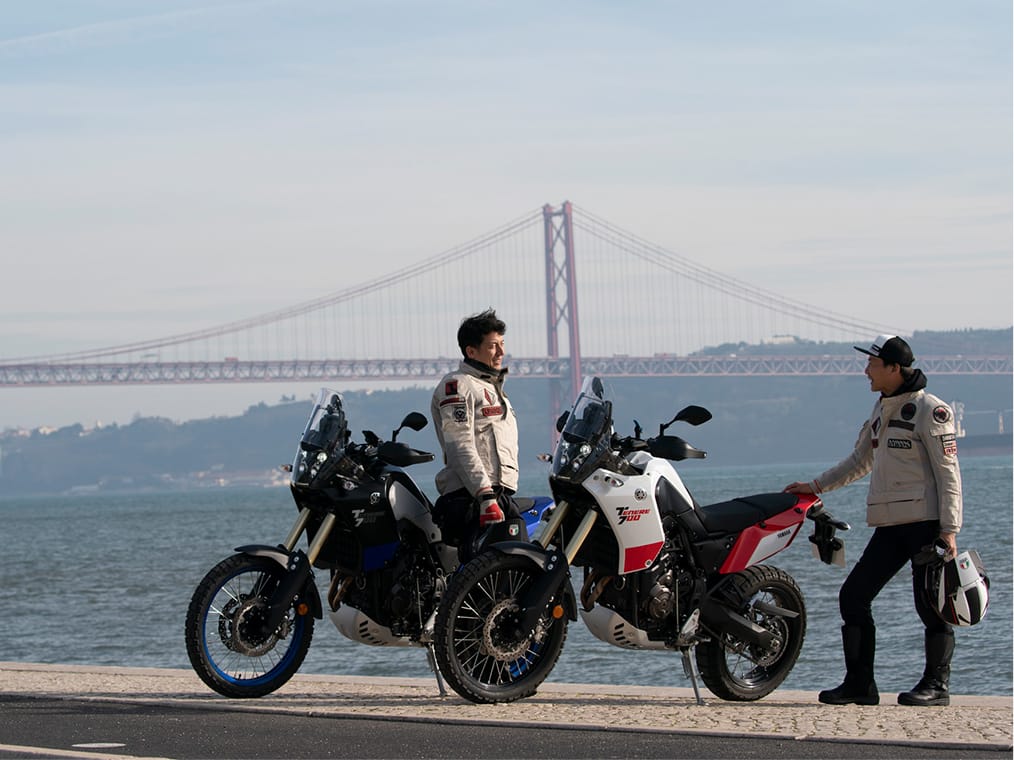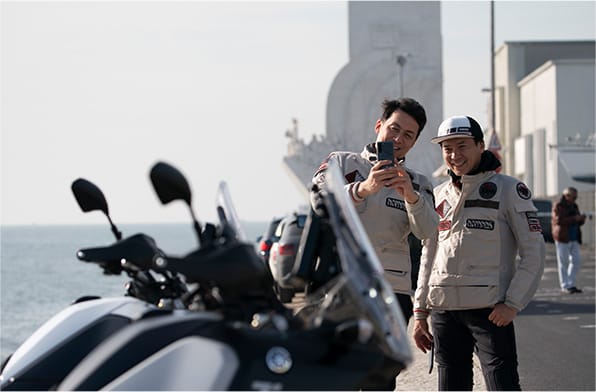 Rowland Kirishima
Born in 1968. Graduated from New York University College of Art - Department of Photography - and became a photographer. He is active mainly in magazines and advertising photography. Currently, he is a technical advisor for CyberHuman Productions. Rowland developed an interest with motorcycles during his school days and participates in races in both on & off-road competition. He also competed in the Dakar Rally in 2007.
Keisuke Kawanishi
Born in 1967. Graduated from Waseda University and become an editor at the NAVI magazine after working for an advertising agency. He started motorcycle magazines "MOTO NAVI" and "NAVI CARS" working as the senior editor.
He currently works as a freelance motor journalist, editor and producer.