Vol. 4 Spreading the word about the "mentality and skills" of safety
Brazil - June 28, 2013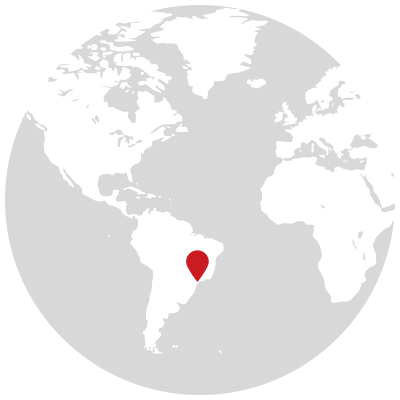 Brazil
The Yamaha Riding Academy is one of Yamaha's global promotional activities, designed to raise safety awareness and teach people how to use their Yamaha products properly. Its Chief Instructor travels all over the world, always taking his favorite helmet along - a "missionary" for new motorcycling experiences.
Today, Brazil is busy preparing venues and plans to host two grand-scale international events: the 2014 FIFA World Cup and the 2016 Summer Olympic and Paralympic Games in Rio de Janeiro. In addition to infrastructure such as the event stadiums and the surrounding roads and lodging facilities, another vital component of the preparations are the hard-working and capable police officers tasked with the job of making sure the events run smoothly and safely.
The police officers you will see diligently applying themselves to riding training in this movie are from Sao Paulo's Police Station No. 2. Although they are expert motorcycle riders whose usual assignments include escorting dignitaries, patrolling the streets of the city and providing security at events, their job as protectors of the peace is still one that requires regular training. Serving as the riding trainer for these professionals is veteran Yamaha Riding Academy (YRA) instructor Hidenobu Toh.
The YRA is a global promotional program that Yamaha Motor considers part of its corporate social responsibility as a manufacturer of transportation vehicles and an important link in fulfilling our corporate mission to be a "Kando* Creating Company." In order to teach people to use Yamaha motorcycles, ATVs, snowmobiles, personal watercraft, etc. properly and safely as well as helping them get more enjoyment and beneficial utility from the vehicles, the YRA program offers a wide range of curriculums for all kinds of users. These of course include safety courses for general customers, but also training courses for local YRA instructors in each country as well as experiential courses for families and children. As a global program, more than 1,000 courses are held annually and every year, over 60,000 people receive YRA training in the skills and knowledge for proper, safe, enjoyable and practical riding.
A star motocross competitor in his youth, Mr. Toh became an instructor 20 years ago, dedicating himself to teaching others the proper use of motorcycles and sharing what a motorcycle can bring to their lives. Since then, he has traveled the world teaching riding skills and spreading his message of the joys of riding with a passion that makes him truly a "missionary of motorcycling." When the chief of the motorcycle brigade at Police Station No. 2 in Sao Paulo smiled and said, "This training our officers have received from Mr. Toh today is something they will surely be able to apply in the field tomorrow," he spoke with authority - because he is also an officer who was trained by Mr. Toh in the past.
Yamaha Riding Academy (YRA)
The YRA is a global promotional program for users of Yamaha motorcycles, ATVs, snowmobiles, personal watercraft, etc. aimed at fulfilling Yamaha Motor's corporate mission of being a "Kando* Creating Company." It is a program that conducts riding safety courses and more around the world for the purpose of helping people use Yamaha products properly and safely, and with enjoyment and practicality. *Kando is a Japanese word for the simultaneous feelings of deep satisfaction and intense excitement that we experience when we encounter something of exceptional value.