Lifestyle Exhibit: Spending Time in the Garage
2016 Exhibitions - Vol. 7

Spending Time in the Garage: Customizing Your Faithful Steed
Lifestyle Exhibit: Motorcycles
Exhibition Period: October 2016 to March 2017
The Lifestyle Display Area on the 1st floor features displays of various Yamaha products set in attractive or familiar scenes symbolic of our desire to deliver Kando and a more fulfilling lifestyle to people everywhere.
The theme for the Lifestyle Display Area from October is "spending time in the garage." Motorcycle enthusiasts enjoy a variety of activities beyond riding their bikes, like customization, adding dress-up accessories and restoring classic models.
Spending your time off free from interruptions and surrounded by parts, tools, a work bench, various oils and together with your beloved motorcycle is an image that elevates a garage from a place for storage to a wonderful haven for many motorcyclists.
Leave the difference that may exist between our "ideal" and "reality" aside for a bit and come take a look at the kind of "hideout" many riders dream of having.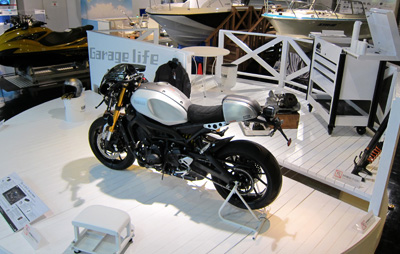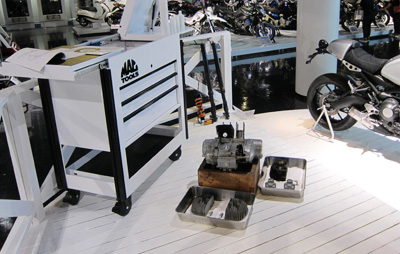 The theme of the display is an owner's garage housing the XSR900, a model combining a nostalgic, traditionally styled exterior with high performance from the latest technologies.