Exhibitions
Information about exhibition duration and content.

Try Out the Scooter that Fits You Best
Lifestyle Exhibit: Scooters
Exhibition Period: March 2017 to June 2017
The Lifestyle Display Area on the 1st floor features displays of various Yamaha products set in attractive or familiar scenes symbolic of our desire to deliver Kando and a more fulfilling lifestyle to people everywhere.
The theme for the Lifestyle Display Area from March is "a fun life with a commuter bike that fits your style." Do you prefer a scooter for short trips around your neighborhood or do you prefer a do-it-all scooter that can also hit the highway? Maybe you prefer one with cute, fashionable exterior or maybe you prefer a sportier, urban design. Does a smaller, more agile model that is convenient and easy-to-use strike your fancy, or do you look for comfort that doesn't compromise on a fun ride or practical features? Though they are both "commuter bikes," the Vino and TMAX differ greatly in their character, size and typical uses, and we've set up this lifestyle exhibit with backgrounds that match each model's image.
This lifestyle display allows you to step onto the stage. Feel free to get a closer look, touch and take pictures as you decide which model suits your style best.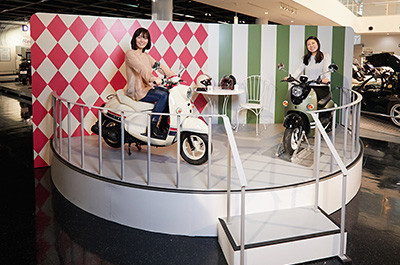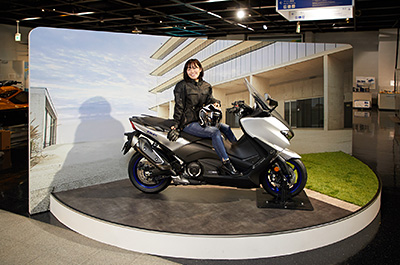 Motorcycle Design – Colors Complete the Design
First Series of 2017: Design Exhibit
Exhibition Period: January to June 2017
In our Monozukuri, Yamaha captivates users and helps create vibrant lifestyles through unparalleled beauty and dynamism under our "Refined Dynamism" Design Philosophy. At the Design Zone on the 1st floor, we highlight a variety of Yamaha Motor products and reveal specific details and the key points of Yamaha Motor Design.
For our third exhibit about motorcycle design, we focus on the localization of a model's colors and graphics. We are surrounded by countless colors, tones and patterns, but we are also naturally drawn to colors and patterns rooted in the culture, customs and history of our birth country or region.
Including such factors into the design and adjusting them accordingly is how the colors and graphics of one model are altered to best-fit each country it is marketed in. As an example, we introduce the methods used with the GDR155 sport scooter marketed in ASEAN countries and the color schemes available in five countries, and have also put its clay model up for display.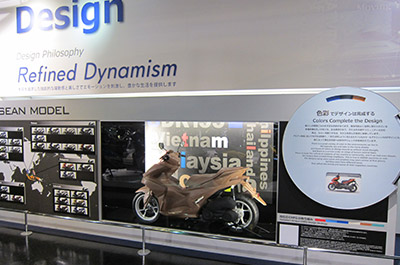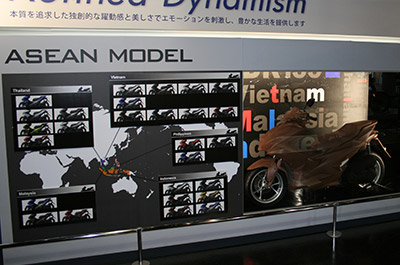 Handling is in the Details -3-
Third Series of 2016: Technology Exhibit
Exhibition Period: December 2016 to June 2017
At the Communication Plaza, we aim to be a place where you can always find fresh new forms of the special excitement and fulfillment we call Kando by creating displays with a variety of current themes and exhibiting the latest Yamaha products. Our "Art of Engineering" exhibit shows the technology and art of Yamaha Monozukuri and it's one you won't want to miss.
For this third edition, we go beyond the actual steering mechanisms and look at the finer details of the technology and methodologies that influence a vehicle's handling, some of which might surprise you with the amount of time and effort dedicated to them. We introduce aspects of the engine, vehicle testing during development, engine oil and PWC hull components along with the items related to them.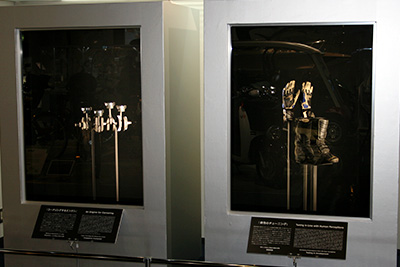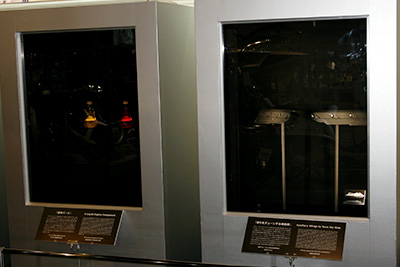 (From left)
- Crossplane crankshaft delivering "purer" engine torque
- Testing during development to polish performance in tune with rider perceptions
- Genuine Yamaha oil developed at the same time as the engine as a "liquid engine component"
- The sponsons that fine-tune the cornering performance of a PWC hull