Technology Exhibit: Handling is in the Details -2-
2016 Exhibitions - Vol. 5

Exhibition Period: July to December 2016
At the Communication Plaza, we aim to be a place where you can always find fresh new forms of the special excitement and fulfillment we call Kando by creating displays with a variety of themes and exhibiting the latest Yamaha products. Our "Art of Engineering" exhibit shows the technology and art of Yamaha Monozukuri and it's one you won't want to miss.
From July, we had new displays in the Technology Zone showing the technology behind the Yamaha Handling achieved in our vehicles. Taking our motorcycles, outboard motors and snowmobiles as examples, we introduced four of the uniquely Yamaha technologies that give these products functions and performance that make them easier to use and give them handling that is more in tune with human perceptions.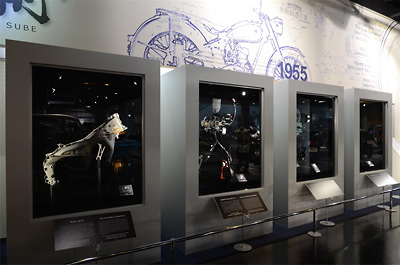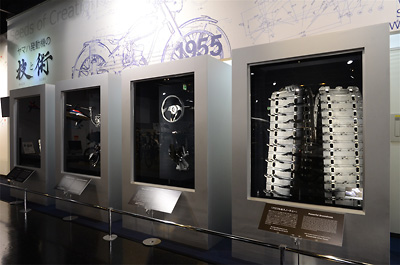 - Frames cast with Yamaha's exclusive "Controlled Filling (CF) Aluminum Die Casting" technology can achieve the fine balance of firmness and flexibility like we see in a stalk of bamboo.
- Electronic control systems can provide performance so in tune with human perceptions that the effect is "there, but barely noticeable."
- The Power Tilt & Trim mechanism on an outboard motor adjusts the angle of the propeller to maximize boat speed.
- Like powerful snowshoes, the drive track of a snowmobile gives the machine floatation and traction on the snow.