Lifestyle Exhibit: Personal Watercraft
2016 Exhibitions - Vol. 4

Exhibition Period: July to October 2016
The Lifestyle Display Area on the 1st floor features displays of various Yamaha products set in attractive or familiar scenes symbolic of our desire to deliver Kando and a more fulfilling lifestyle to people everywhere.
From July 2016, the display was changed to fit the summer season and focused on marine leisure. The product highlighted was one of our WaveRunner personal watercraft, the perfect partner for fun-filled marine recreation on the weekends or the long-awaited summer vacation season.
Picture taking a break after a ride under the shade at a pier or waterside café, enjoying some wakeboarding or just zipping across the open water. At times, you can head offshore and maybe stop on the water for a swim, or treat yourself to a cruise to spots along the shore.
Visitors could take a look at the world of leisure a WaveRunner personal watercraft can offer your family, children and friends.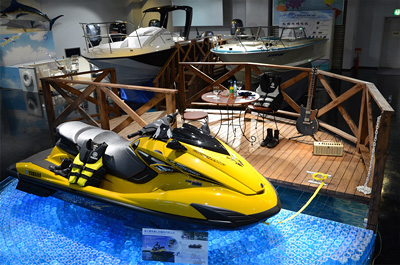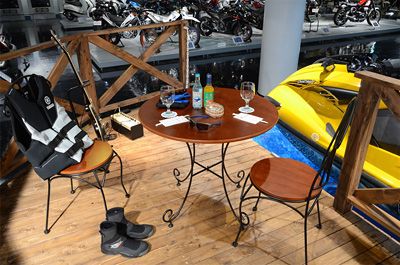 Many Yamaha WaveRunners can carry up to three people, and they make great partners for almost any kind of marine recreation you can imagine. One of our representative high-performance models, the FZS SVHO, was on display.