The Bonds of Goodwill Project: A WaveRunner that Returned to Japan
2016 Exhibitions - Vol. 3

Exhibition Period: March to June 2016
A Yamaha WaveBlaster (Japanese market name: MJ-700TZ) personal watercraft was washed offshore from the town of Okuma in Fukushima Prefecture by the tsunami that struck Japan's eastern coastline on March 11, 2011. It drifted across the Pacific Ocean for some 5,000 km and was discovered three years later on May 2014 washed ashore on Johnston Atoll. It was restored to its original condition and was put on special display on the 2nd floor of the Communication Plaza.
After being found and transported to Honolulu, Hawaii by a United States Fish and Wildlife Service survey ship, the WaveBlaster was eventually returned to Japan thanks to the goodwill and cooperation of many people. They included members of the Japan Environmental Action Network (JEAN), an NPO involved in issues related to floatage originating from the Great East Japan Earthquake and Tsunami, and the Fukushima Maru training vessel of Fukushima Prefectural Iwaki Kaisei High School. Finally, it was returned to its owner, Mr. Tomomune Matsunaga, who lives in the city of Iwaki in Fukushima Prefecture.
When Mr. Matsunaga was told that his WaveBlaster had been found, he was so moved to learn that it had survived years adrift without sinking to wash ashore on a remote island far off in the Pacific Ocean. The news prompted him to contact Yamaha Motor and offer it in hopes that it would be of some use in research and development. Hearing that, Yamaha chose to pass forward the goodwill of the people involved in returning it to Japan. Yamaha decided to restore the PWC back to working condition and return it to its owner so it could be ridden again in the hopes that the act would encourage people in the tsunami-ravaged area on their long road to recovery. That marked the start of what would come to be called "The Bonds of Goodwill Project."
On December 20th, 2015, a ceremony was held at Lake Hamana in Shizuoka Prefecture to return the fully refurbished WaveBlaster to Mr. Matsunaga, and to show its proud form to the many people who had worked to bring it back to Japan and restore it.
Exhibition Contents
This display was made possible thanks to the kind wishes of Mr. Matsunaga. It consisted of the fully restored WaveBlaster, the corroded engine and jet pump as they were when the PWC was discovered, and a display board with photos and the details of the story behind the WaveBlaster's return and restoration.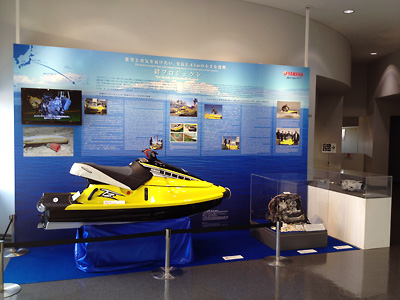 The WaveBlaster was brought back to life thanks to the hard work and good wishes of many people for the victims of the tsunami-stricken areas.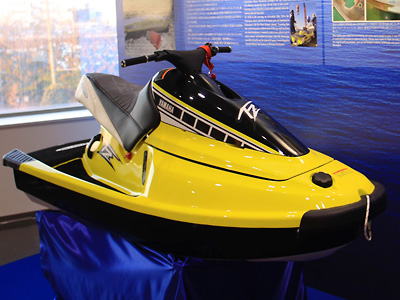 Mr. Matsunaga's restored WaveBlaster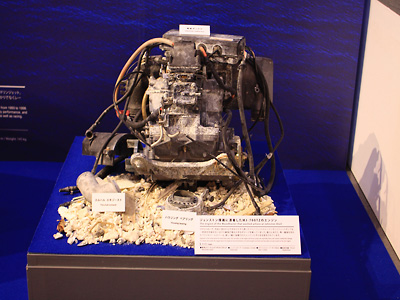 The engine was badly corroded, but the flywheel cover was taken out and reused on the new engine.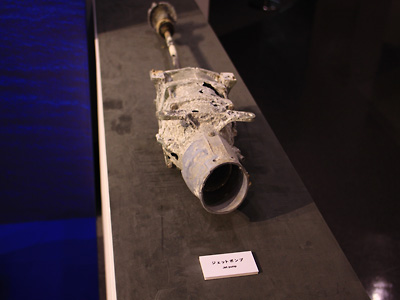 The jet pump was also mostly rebuilt with used parts.