Bringing Greater Fulfillment to Society and Our Daily Lives (PAS, YPJ-R, NMAX)
2016 Exhibitions - Vol. 2

Exhibition Period: April to June 2016
The Lifestyle Display Area on the 1st floor presents symbolic and familiar scenes that show visitors how various Yamaha products can bring Kando and a more fulfilling life to customers.
From April 2016, we have changed the theme of this display area to a brisk, early summer day, where you might head out on the weekend for a long walk under a warm sun and a cool breeze, or go out a little farther for a picnic. The perfect partners for your outings could be Yamaha commuter vehicles like the 125cc NMAX scooter, or the PAS-brand or YPJ-R electrically power-assisted bicycle highlighted in this exhibit.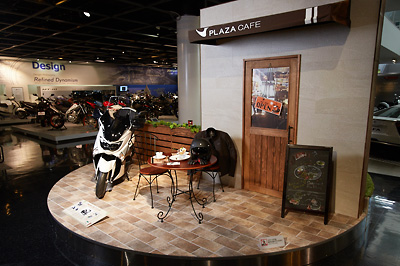 NMAX: "Accept the Invite of Spring and Ride to Some Cafés"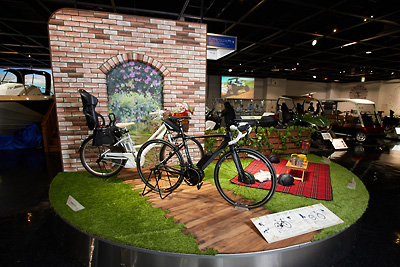 Electrically power-assisted bicycles: "A Short Bike Trip Becomes a First Family Adventure"
Exhibition Period: Permanent exhibit
As a permanent Plaza exhibit on the 1st floor, we have newly installed a demonstrator of our industrial robots that are at work in numerous factories around the world.
The demonstrator is a "mini-factory" consisting of several types of robots working together in succession to assemble and disassemble a speedometer unit for a PAS Brace electrically power-assisted bicycle.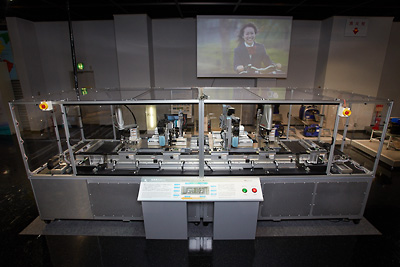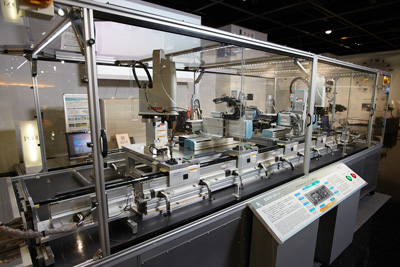 Industrial robot demonstrator: Yamaha PAS speedometer assembly/disassembly