The Bikers' Classics 2008
Circuit de Spa-Francorchamps, Belgium


Taichi Ito, Communication Plaza Curator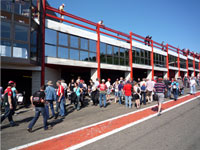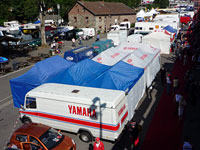 The activity and excitement at the paddock and in the pits was like that of a real GP race
Have you heard of the classic race events that have become so popular in Europe in recent years? It's commonly known that Europe is the birthplace of Grand Prix racing, and the continent continues to be the center of GP competition today. There are many former GP riders, GP team members and classic race machine collectors in countries all over Europe who enjoy restoring old racers that have created history in the sport and gathering with fellow enthusiasts for riding events. In 1998, an event called the Centennial Classic TT held in Assen in the Netherlands brought together these classic racer enthusiasts from all over Europe to stage demo runs and mock races on their historical race machines. This event inspired similar events that sprung up in countries and circuits around Europe and have been held often in the years since.
One of the driving forces behind this phenomenon is Mr. Ferry Brouwer, founder and owner of the Yamaha Classic Racing Team (YCRT), a group of people that share the hobby of restoring historical Yamaha race machines. Mr. Brouwer is a former Yamaha factory racing team mechanic who later went into business selling racing accessories and is widely known in the world of motorcycle racing. His influence brings the participation of many famous former riders and related figures, and is one of the major reasons for these events' popularity.
Meanwhile, we at the Yamaha Motor Communication Plaza in Japan have a large collection of products built by the company over its long history. Especially in the case of historical motorcycles, we make efforts to carefully restore each of the models in the collection, and keep them in the best running condition possible. Of course there are quite rare factory racing machines in this collection and we try our best to respond to the expectations of European Yamaha fans by participating in these classic race events as part of our program of Plaza activities.
This year (2008), we visited the Circuit de Spa-Francorchamps in Belgium in early July for the Bikers' Classics event. Because Yamaha Motor Europe N.V. (the Yamaha Motor group base for all of Europe) has signed an official cooperative agreement with YCRT, we participated in the Bikers' Classics event as members of the team. We brought a 1975 YZR500 (0W23) and 1978 YZR750 (0W31) from the Plaza's collection in Japan. They were ridden in demonstration runs by Giacomo Agostini and Steve Baker respectively, and both riders delighted the fans with fantastic riding reminiscent of their glory-day prowess.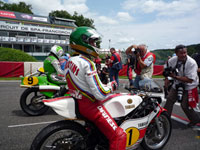 Giacomo Agostini (front) with Kork Ballington (behind) riding the green Kawasaki KR500
In 1974, Giacomo Agostini made a big career shift by leaving MV Agusta to join the Yamaha factory team. In his second season with Yamaha in 1975, he rode the YZR500 (0W23) factory machine to bring Yamaha its first 500cc class World Championship title. He would go on to make history by setting the record for the most individual GP wins at 122. After riding his memorable championship-winning machine again for the first time in over 30 years, he yells "Fantastic!" ecstatically, having clearly enjoyed the nostalgic feel of his old racer.
Steve Baker joined the Yamaha factory team in 1977. He had a brilliant riding career, winning the Daytona 200 and the Formula 750 World Championship while ranking 2nd in the GP500 championship, all in the same year. Admitting that it had been a long time since he last rode a racer, he was cautious on the machine at first. But as he got used to it, the sharpness came back and certainly showed us why he's a former champion.
Besides using more than 20 vintage racers and production models owned by YCRT for display and demo rides, a star-studded cast of former Yamaha racing greats including Christian Sarron, Carlos Lavado, Rodney Gould, Dieter Braun, Kel Carruthers, Alan Carter and Chas Mortimer were joined by former team members at the event. Also appearing with machines from other makers such as MV Agusta, Honda, Suzuki and Kawasaki and adding more excitement to the track and paddock were former stars like Luigi Taveri, John Surtees, Freddie Spencer, Kork Ballington and Graeme Crosby.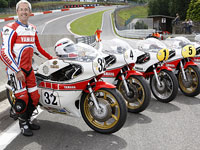 Steve Baker rode to victory on the 1977 YZR750 (0W31), a model one year older than the one he stands with here
This event was held over three days, and we are told that some 40,000 people came. One thing that stands out in these European classic race events is the large number of families and parent-and-child visitors. And when the fathers talk excitedly about "this machine" or "that rider," their families listen with enthusiasm and are eager to get a closer look. Such scenes make us realize anew just how deeply motorcycle culture is rooted in European life.
In Europe, motorcycles and the sport of motorcycle racing are not seen as something unusual, and the people and communities accept them naturally. It's a place where classic races are not simply events fed by nostalgia, but ones where they can find opportunities to deepen their understanding of the motorcycles and racing that are a part of their daily lives, and find enjoyment in "discovering something new by learning from the past."
The Communication Plaza organizes a "Historic Model Demo Ride Event" at Yamaha's Fukuroi Test Course (Shizuoka Prefecture) once every year, and it's also not just an event for hardened classic model enthusiasts. Our hope is that it will become a place for a wide range of communication where people of all ages and generations can get closer to motorcycles.
If the opportunity arises, I hope you'll come to our event together with your family and friends and take the opportunity to talk to the other participants. Beyond these old, nostalgic motorcycle models, you may find a glimpse of something new for the future.
Published October 2008