Events Guide
Information on events to be held at the Communication Plaza.
"Green Leaves" Mini-Concert by the

Akatombo

Brass Ensemble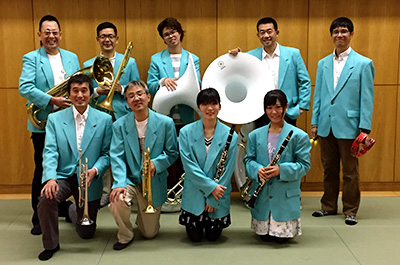 The Akatombo Brass Ensemble, a group made up primarily of members of Yamaha Motor's employee brass band, has performed for many years at both company and outside events and will be holding a small concert featuring a trumpet, clarinet, French horn and three other brass instruments. The group will play light and upbeat songs from a wide variety of genres perfect for welcoming the green leaves of spring. Admission is free.
| | |
| --- | --- |
| Time | May 13 (Sat.) from 11:00 and 13:30 (about 30–40 min.) |
| Content | Concert featuring a trumpet, clarinet, French horn, euphonium, trombone and tuba |
| Performers | Akatombo Brass Ensemble |
| Venue | 1st Floor, Atrium |
Get Up Close and Personal with Yamaha's Grand Prix Racebikes!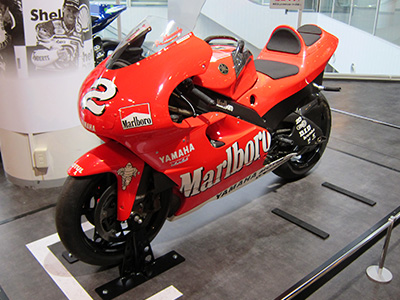 The 2-seater YZR500 is great for photos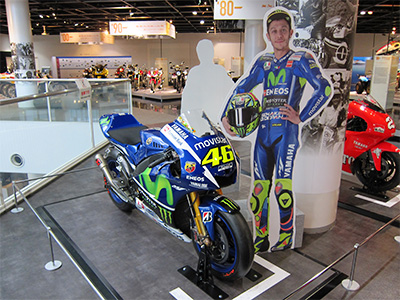 Get a picture with a "real" Movistar Yamaha rider alongside the YZR-M1
On the 2nd floor of the Communication Plaza where we introduce the history of Yamaha's racing activities that date back to the company's earliest days, we have set up a new mini-exhibit featuring both a modern and classic Yamaha machine from road racing's premier class that you can touch and sit on for a hands-on experience (only available on the 2nd and 4th Saturdays and the following Sunday of each month).
With the start of the MotoGP season approaching, one of the bikes on display is a YZR-M1 from the 2015 season. Alongside it are life-size cardboard cutouts of Valentino Rossi and Maverick Viñales. On display together with the YZR-M1 is a YZR500 from 2001 that has been modified with a rear seat to allow two people to sit on it. The YZR500 is a line of machines that raced in the Road Racing World Championship for 30 years since its introduction.
In addition, we have prepared cardboard cutouts of Valentino Rossi and Maverick Viñales with their faces removed (head cutouts) that are on display every day. Feel free to take a souvenir photo on your visit to the Plaza!
| | |
| --- | --- |
| Location | 2nd Floor, Racing History Zone |
| Machines | YZR-M1, YZR500 (2-seater) |
| Days | 2nd and 4th Saturdays and the following Sunday of each month |
Note
On days other than the ones specified above, the machines are only for display and cannot be touched or sat on.
Please do not touch any machines other than the two specified.
Please follow the directions of the staff present.
Two Yamaha OX99-11 Supercars on Display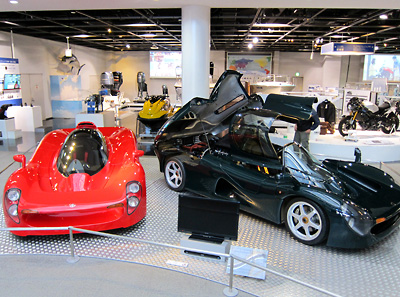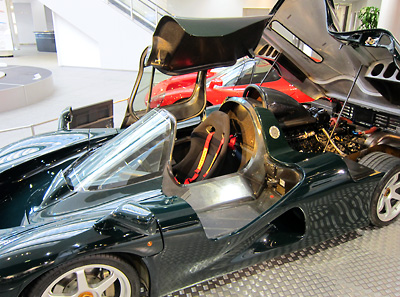 In November 2016, the Plaza held the Historic Model Exhibition and Demo Run at Yamaha Motor's Fukuroi Test Course in Shizuoka Prefecture. One of the highlights was the exciting demo run of three Yamaha OX99-11 supercars powered by V12 F1 engines with their exhilarating exhaust notes echoing throughout the venue.
The car is back on display at the Plaza, but in addition to the red model often referenced, we have the green model on display for the first time! Both cars will be on display in the 1st floor Symbol Zone until the end of June 2017. During this period, the Toyota 2000GT and Lexus LFA will be absent while undergoing checks and maintenance, and we ask for your understanding and patience.
To view photos and a post-event report (in Japanese only) of the Historic Model Exhibition and Demo Run that featured demo runs of 39 motorcycle and car models, please click here.