Events Guide
Information on events to be held at the Communication Plaza.
Trombone Concert to Beckon an Early Spring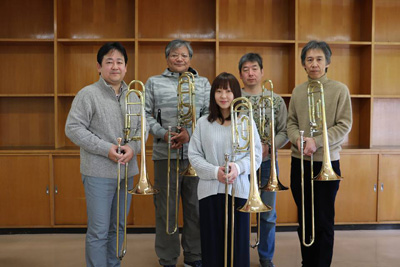 Five trombonists active in citizen brass bands and jazz bands in western Shizuoka Prefecture came together to form the M&O Trombone Quintet last year. The quintet will perform at the Plaza for a mini-concert where attendees can enjoy the deep tones the instrument creates as the players perform songs from popular anime to movies. At this time of the year when the chilly days slowly begin to show hints of the coming of spring, we hope this concert will provide a soothing respite from the cold. Admission is free.
| | |
| --- | --- |
| Time | Feb. 25 (Sun.) from 11:00 and 14:00 (approx. 30 min.) |
| Content | Trombone ensemble |
| Performers | M&O Trombone Quintet |
| Venue | 1st Floor, Atrium |
Plaza Shop Gets Refreshed Interior and Attractive Line of Souvenirs and Mementos
We have a wealth of attractive souvenirs and mementos on display!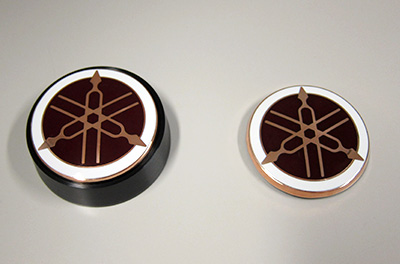 Left: YA-1 emblem (with paperweight)
13,000 JPY (incl. tax)
Right: YA-1 emblem
10,000 JPY (incl. tax)
The Plaza Shop on the 1st floor sells souvenirs and items perfect for commemorating your visit to the Plaza, and was given a full renovation this summer.
The new white interior has blue accents reminiscent of Yamaha racing colors, and the shop's fixtures, lighting and item displays have all been revised to create a neat and more organized appearance. Also, the layout was revamped to make it easier to enter and view the items on sale.
What's more, the shop's line of items has been revised as well with a fuller array of original products that can only be purchased at the Plaza, items adorned with the Yamaha logo or modeled after various Yamaha products, race-related apparel and trinkets, and miniature product models.
Of particular note is the new YA-1 emblem we have prepared. This beautiful piece is a faithful reproduction of the original emblem and uses the same cloisonné finish the YA-1 did. It can even be attached to a YA-1's fuel tank (some fitment work required). However, only a limited number are available, so please be sure to stop by the Plaza Shop before you leave!