Events Guide
Information on events to be held at the Communication Plaza.
A Big Tree for a Very Merry Christmas!
We've set up a big 7-meter tree on the 1st floor of the Plaza to get in the Christmas spirit! On December 8 (Sat.), the Plaza will be hosting a live broadcast of the popular Wonder'69 program from Shizuoka's K-mix radio station in front of the tree. The first 500 visitors to the Plaza will also receive free Christmas cookies, so invite your friends and family and we hope to see you there!
The Akatombo Brass Ensemble, a group made up primarily of members of Yamaha Motor's employee brass band, has performed for many years at both company and outside events and will be holding a small concert. The ensemble features a trumpet, trombone, horn, tuba, clarinet and percussion instruments, and will play a program of uplifting pieces that are sure to delight listeners. Some Christmas songs will also be played. Admission is free.
Also, please be aware that the morning session is scheduled to be broadcast live on FM radio for about 10 minutes and will have an undecided starting time within the time block specified below.
Time
December 8 (Sat.)
11:00 to 12:55 (approx. 10 min. within this time block for radio broadcast)
13:30 to 14:00
Content
Merry numbers performed with six different instruments
Performer
Akatombo Brass Ensemble
Venue
1st Floor, Atrium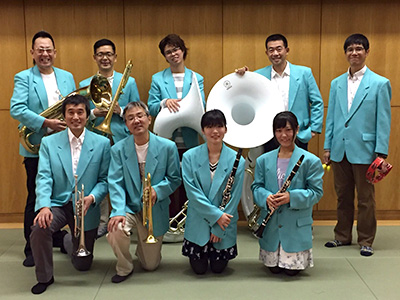 Late Autumn Atrium Concert
OTOTOMO-EN, a group formed by several music enthusiasts living in the Hamamatsu area, will hold a small concert at the Plaza. Five pianists, three saxophonists and one vocalist will group up into a variety of ensembles to play a dynamic mix of tunes from different music genres, ranging from Japanese and Western songs to pop hits and film music and jazz. The group's name is a combination of the Japanese words for "sound" (oto) and "friend" (tomo) in the hope that their performances will bring their audiences closer to music. Admission is free.
| | |
| --- | --- |
| Time | November 24 (Sat.) from 11:00 and 13:30 (45 min. each) |
| Content | Songs from a variety of music genres performed with saxophones and pianos with vocal accompaniment |
| Performers | OTOTOMO-EN |
| Venue | 1st Floor, Atrium (grand piano area) |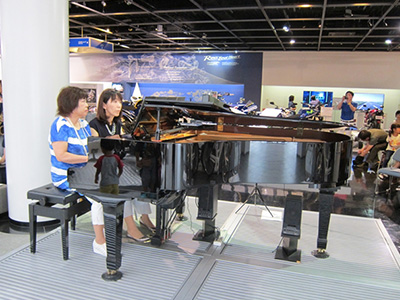 The New Plaza Lounge Opens as a Space for Visitors to Relax in Comfort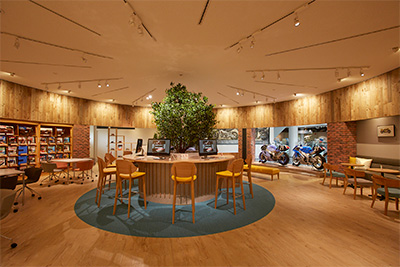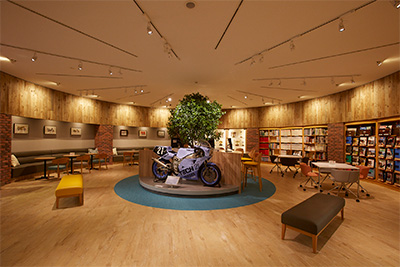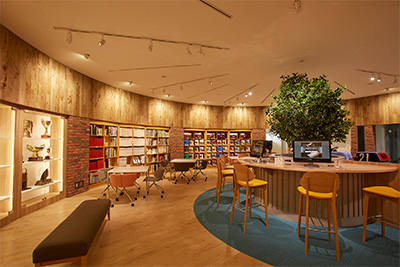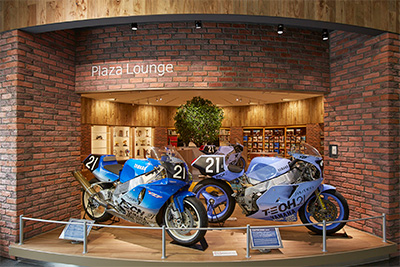 The Plaza's 2nd floor Library, housing a full collection of Yamaha Motor publications as well as historical film footage, an archive of digital contents, product-related books, magazines and more, has undergone renovations and re-furnishing and now reopens as a more comfortable "Plaza Lounge" for visitors to relax in and enjoy the library collection.
The interior and exterior walls adopt the same classic brick and wood style of the Corporate History Zone and a large show window has been added on the entrance wall that opens onto the central atrium to let in abundant natural light and give the lounge a more open and relaxing atmosphere. In the center of the lounge space stands a Japanese bayberry tree (imitation) that is a symbol of the company's history, and comfortable sofas and convenient tables fill out the furnishings. Besides the use of the library collection, visitors can bring beverages into the lounge and relax there as they please. We hope you will enjoy use of this lounge when you visit the Plaza.