Events Guide
Information on events to be held at the Communication Plaza.
In Support of Yamaha Motor Jubilo for the 2021 Season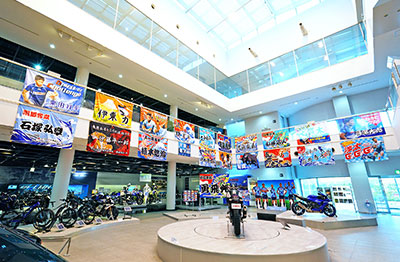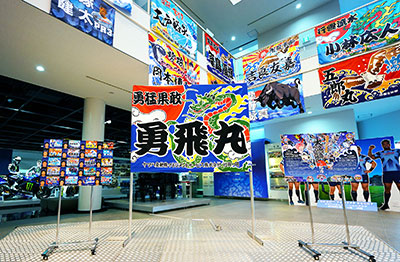 From Nov. 6 (Fri.) to Dec. 18 (Fri.), the Plaza will exhibit the tairyo-bata traditional Japanese fishermen flags used to cheer on the Yamaha Motor Jubilo rugby team that competes in Japan's premier Top League. The flags are prepared by volunteer employees in the various offices and workplaces the athletes themselves are assigned to, and the display will include videos and explanatory panels describing how these flags came to be used for supporting the team, points of interest in the flag designs, etc. This background knowledge of the flags is certain to add to your enjoyment of the 2021 season set to begin in January, so be sure to visit the Plaza! During the display period, the players' flags will be displayed twice and in two groups as described below.
*COVID-19 measures will be in effect at the Plaza, so please follow staff instructions.
*Admission may be restricted to limit congestion.
*The display may be canceled as circumstances require.
Period

November 6 (Fri.)–December 18 (Fri.), 2020 (planned)

Flags on display

November 6–18 and December 1–December 10
Awata, Eguchi, Goromaru, Ishizuka, C. Ito, H. Ito, Kagoshima, Kira, Kiyohara, Kobayashi, Kuwano, Odo, Okamoto, Otsuka, Shikao, Shirai, Tahitua, Takabe, Tanaka, Ueki

November 19–30 and December 11–18
Funahashi, Helu, Hino, Hirakawa, Hirokawa, Matsumoto, Mimura, Naka, Nakai, Nishimura, H. Nishiuchi, Y. Nishiuchi, Tanoue, Tsuchiyama, Wada, Yamamoto, Yamamura, H. Yatomi, Y. Yatomi, Yoshizawa

Venue

1st floor, Symbol Zone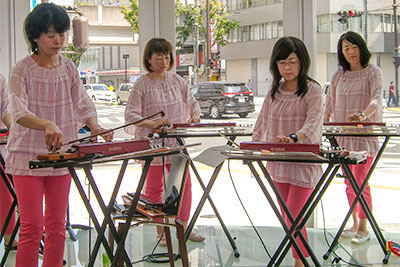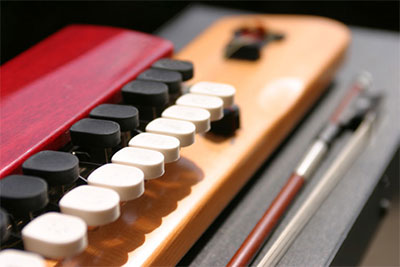 The Violyre is an original and multifaceted string instrument from Yamaha Corporation derived from the traditional taishogoto harp, and can produce a diverse range of sound and musical expressions depending on how it is played, such as with a bow, pick or the fingers. The Violyre will be complemented by a combination of an electric piano, an ocarina and other instruments to play timeless pieces loved by all with the unique melody it creates. Admission is free.
*COVID-19 measures will be in effect at the Plaza, so please follow staff instructions.
*The concert may be cancelled as circumstances require.
| | |
| --- | --- |
| Time | November 28 (Sat.) from 13:30 (approx. 60 min.) |
| Content | J-pop and Disney music numbers performed with the Violyre and various other musical instruments |
| Performers | Belle Ange |
| Capacity | 30 people |
| Venue | 1st floor, Presentation room |
Plaza Measures Against COVID-19
To stem the spread of COVID-19, the Communication Plaza is implementing the following measures and we ask for your kind cooperation.
■ Physical Condition
Please refrain from visiting the Plaza if you have a fever of 37.5° or higher, feel fatigued or otherwise unwell.
Upon arriving at the Plaza, if our thermography detects a fever and your temperature is reconfirmed as being 37.5° or higher, you will not be allowed to enter the facility.
■ Visitor Limitations and Plaza Entry Measures
Please fill out the visitor card (name and contact information) upon arrival.
*Your personal information will be kept private and protected.
To maintain an appropriate number of people in the building, we may refuse entry to visitors.
Group reservations (11 people or more) are not being taken for the time being.
Please refrain from visiting the Plaza by bus.
Children of elementary school age or younger must be accompanied by a guardian.
■ While at the Plaza
Please disinfect your hands with alcohol and wash your hands in the bathrooms.
Please wear a mask (for visitors 3 years of age or older).
Please maintain social distancing (approx. 2 meters) and refrain from calling to others or speaking loudly.
Only drink beverages in the designated areas. Eating is currently not allowed anywhere in the Plaza.
■ Suspension of Some Services and Activities
Coloring pages, commemorative stamps and visitor surveys have been removed.
Simulators and the headphones at display signs are unavailable for use.
The 3rd floor Plaza Café is closed.