Events Guide
Information on events to be held at the Communication Plaza.
Mini 4WD Car Trackday on September 27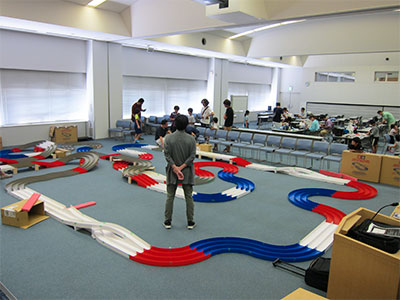 A grand-scale model car racetrack will be set up on the 3rd floor of the Plaza on July 12 so that kids and adults alike can enjoy running to their hearts' content the ever-popular Mini 4WD electric cars. The event will have an open track session welcoming all regardless of experience, a junior class race open to schoolchildren up to grade 9, and an open class race where cars of any category can compete. Registration will be held at the event and no prior reservations are necessary. Bring your family and friends to enjoy the fun!
*We will be implementing COVID-19 measures at the event, so please follow staff instructions.
*Admission may be restricted to limit congestion.
*The event may be canceled as circumstances require.
Time

September 27 (Sun.)
Open track session: 10:00–
Junior class race: 12:00–13:00
Open class race: 13:30–15:00 (limited to torque-tuned motors and single-shaft type motors)

Participants

Limited to residents of Shizuoka Prefecture

Admission

Adults (including when only accompanying a child): ¥200 per person (full day pass)
Children (up to grade 9): ¥100 per person (full day pass)
*Admission fees used toward track repairs and event insurance.

Car types

Please bring your own Mini 4WD car.
*Mini 4WD cars for beginners will be available for rent, but in limited number.
*Race run according to Tamiya-approved competition regulation, 2019 special regulation.

Registration

Register at the event venue (no prior reservations are needed, but the number of participant spots available is limited so try to arrive early)

Venue

3rd Floor, Large hall
Plaza Measures Against COVID-19
To stem the spread of COVID-19, the Communication Plaza is implementing the following measures and we ask for your kind cooperation.
■ Physical Condition
Please refrain from visiting the Plaza if you have a fever of 37.5° or higher, feel fatigued or otherwise unwell.
Upon arriving at the Plaza, if our thermography detects a fever and your temperature is reconfirmed as being 37.5° or higher, you will not be allowed to enter the facility.
■ Visitor Limitations and Plaza Entry Measures
Please fill out the visitor card (name and contact information) upon arrival.
*Your personal information will be kept private and protected.
To maintain an appropriate number of people in the building, we may refuse entry to visitors.
Group reservations (11 people or more) are not being taken for the time being.
Please refrain from visiting the Plaza by bus.
Children of elementary school age or younger must be accompanied by a guardian.
■ While at the Plaza
Please disinfect your hands with alcohol and wash your hands in the bathrooms.
Please wear a mask (for visitors 3 years of age or older).
Please maintain social distancing (approx. 2 meters) and refrain from calling to others or speaking loudly.
Only drink beverages in the designated areas. Eating is currently not allowed anywhere in the Plaza.
■ Suspension of Some Services and Activities
Coloring pages, commemorative stamps and visitor surveys have been removed.
Simulators and the headphones at display signs are unavailable for use.
The 3rd floor Plaza Café is closed.