Events Guide
Information on events to be held at the Communication Plaza.
A Weekend with Music: Two Small Concerts from Japan's Youths
The bright rays of early summer sunshine and the rains that add luster to trees and greenery can both be sources of energy and relaxation in our lives. We will be hosting a weekend of concerts in June to bring you music played by bright and enthusiastic youths, a perfect fit for this time of year. Admission is free for both events.
♬ June 22nd (Sat.) Blending Song and Sound
Yoshin Junior High School located in Hamamatsu, Shizuoka Prefecture is known for its music program, and the school's Brass Band and Choir will hold a concert at the Plaza. The school's brass band has won numerous accolades in national competitions, and with added focus on its choir, the school is now winning recognition as one of Hamamatsu's top schools in both genres of music. With their daily regimen of practice, the students in the band and choir will no doubt produce a beautifully harmonious and vibrant combination of music and vocals.
| | |
| --- | --- |
| Time | June 22 (Sat.) from 11:30 (about 30 min.) |
| Content | Brass band and choir performance of various pieces |
| Performers | Yoshin Junior High School Brass Band and Choir |
| Venue | 1st Floor, Presentation Room |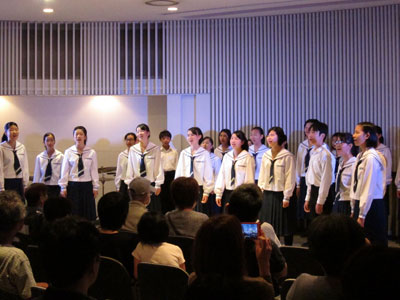 ♬ June 23rd (Sun.) Classical Music Concert
Music has the power to open up new worlds to us. Formed in December 2015 in Fukuroi City, Shizuoka, the Fukuroi Tsukuminosato Junior Orchestra encourages the healthy growth of children through music. Ranging in age from elementary kids to middle schoolers, the orchestra started out with many of the children trying the violin for the first time. Trained by professional musicians, these children of varying ages and music experience have steadily polished their skills on the violin, viola, cello and piano, and will be playing a number famous classics that are sure to please the ear.
| | |
| --- | --- |
| Time | June 23 (Sun.) from 14:00 (about 45 min.) |
| Content | Famous classics performed by a string orchestra with piano accompaniment |
| Performers | Fukuroi Tsukuminosato Junior Orchestra |
| Venue | 1st Floor, Presentation Room |