Dieter Braun
View rider profiles for past races Yamaha has competed in.
Dieter Braun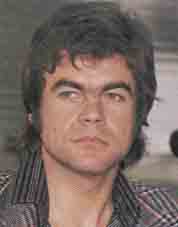 German
Born: 1-Feb-43
Born February 1943. His first race was in 1965, when he achieved a debut win in the Junior Cup on a 250cc Yamaha. Two years later, Braun rode in his first World GP on an Aermacchi (16th in the 350cc class), and from the following year, rode in the 125cc, 250cc and 350cc classes on MZ, Suzuki and Maico machines. In 1970, won the 125cc title (Suzuki).
Subsequently switched to Yamaha TD-3/TR-3 production racers. While racing wholly as a privateer, gave factory and support teams of various makers a close run. In 1973, when the Yamaha Factory Team resumed racing after a hiatus of five years (the same year that saw the death of Jarno Saarinen and Yamaha's withdrawal from the Grand Prix season from the 4th round), Braun notched up four victories in the 250cc class and took his second title. He remained Yamaha's top privateer for some time, topping off his earlier achievements with number two rankings in both the 250cc and 350cc classes in 1974, but crashed in the Australian GP in 1977 (350cc class). With the injuries he sustained, he was forced to withdraw from racing.

Year
Class
Result & Pole position
Machine
1971
250cc
5th
PP: 0
1st: 1
2nd: 0
3rd: 4
TD-3
1973
250cc
Champion
PP: 0
1st: 4
2nd: 1
3rd: 0
TD-3
1974
350cc
2nd
PP: 0
1st: 0
2nd: 2
3rd: 3
TZ350
1974
250cc
2nd
PP: 0
1st: 0
2nd: 1
3rd: 4
TZ250
1975
350cc
4th
PP: 0
1st: 1
2nd: 1
3rd: 0
TZ350
1975
250cc
3rd
PP: 0
1st: 1
2nd: 0
3rd: 2
TZ250
*Results for years with a Yamaha factory team, riding a Yamaha factory machine or ranked 5th or higher riding a Yamaha production racer (World GP, World F750)