Detail
Yamaha press releases on our motor sports racing activities
Toshiki Tomita Wins Yamaha's First IA1 Premier Class Title Since 2011
October 31, 2022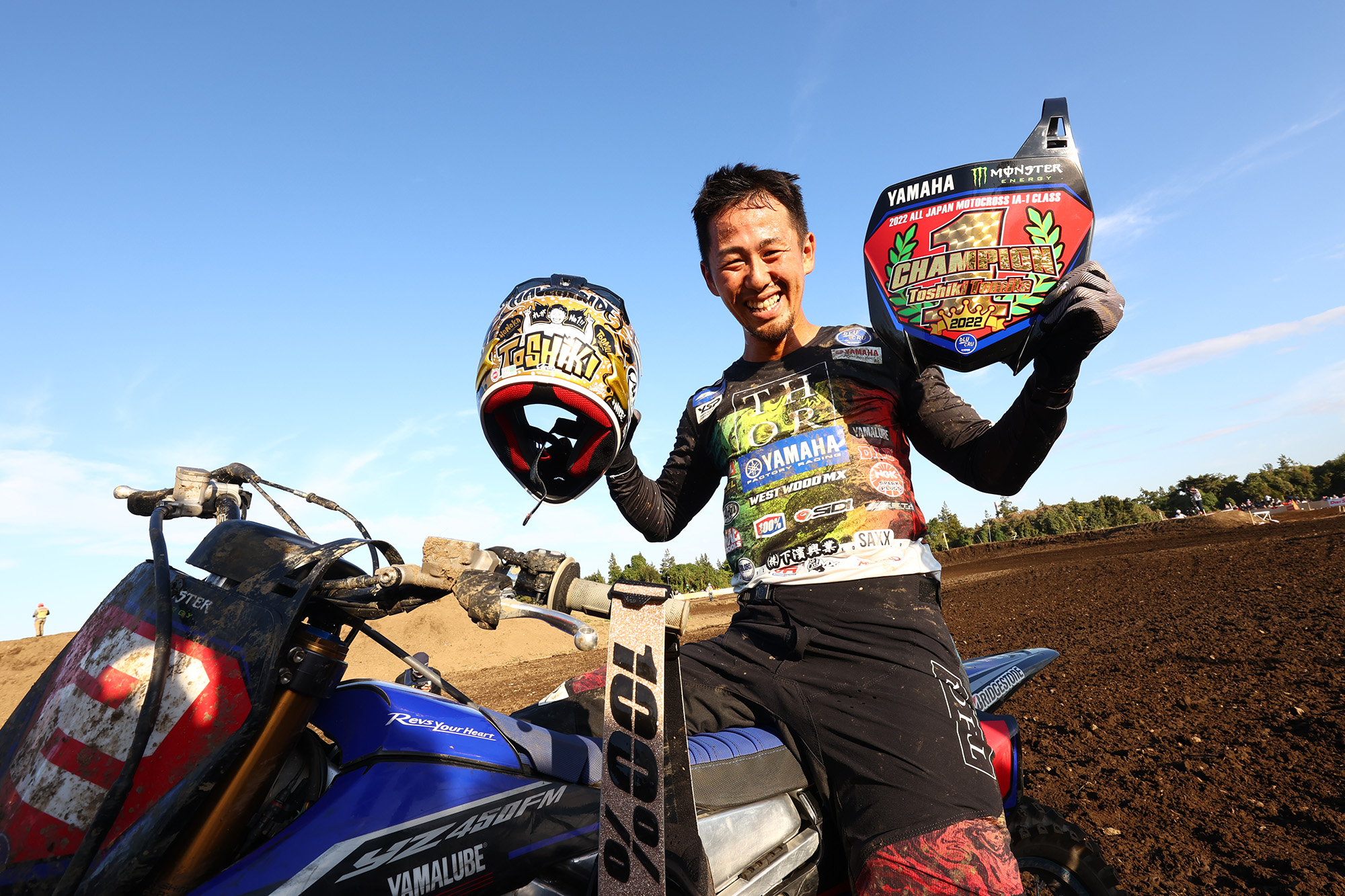 October 31, 2022—At Round 6 of the All Japan Motocross Championship held on Sunday, October 30, 2022 at Offroad Village in Saitama Prefecture, Japan, the Yamaha Factory Racing Team's Toshiki Tomita finished 3rd in Moto 1 and 2nd in Moto 2 in the IA1 class aboard the YZ450FM to win the 2022 championship title. This is the first time Yamaha has lifted the IA1 crown in 11 years, since 2011, and Tomita's first ever championship win in the premier class.

In addition, teammate Jay Wilson won the IA2 championship at Round 5 in Kyushu, earning Yamaha two titles in the International A classes. Not only this, but YZ250F rider Soshi Nishioka also won the title in the IB Open class, where International B class riders compete, making it a triple crown for the YZ series in All-Japan motocross competition this season.

From 2016 onward Tomita competed in the AMA Motocross Championship in the United States, and in 2020 returned to Japan, where he joined the Yamaha Factory Racing Team to compete in IA1, finishing 2nd overall for two consecutive years.

For 2022, he is riding the YZ450FM equipped with Electric Power Steering (EPS). In the opening round in Kyushu, he started his season in the best way possible by winning both motos. At Round 2, which featured three motos of 15 minutes plus one lap, he crashed in Moto 1 before finishing 5th, but took his third win in Moto 2, then a 2nd in Moto 3 to maintain first place in the title hunt.

In the following rounds 3 and 4, he stood on the podium in all four motos to extend his lead, then completed a clean sweep to win all three motos at Round 5 in Kyushu, giving himself a 77-point lead over his rivals heading into Round 6.

At Round 6, a crash hampered Tomita's qualifying on Saturday resulting in an 11th place start, which led to a difficult run off the line in Moto 1 where he was 7th after the first lap. He was able to catch up and finish 3rd, but with his championship rival finishing 2nd, clinching the title would have to wait until at least Moto 2. In Moto 2, teammate Yusuke Watanabe got ahead of him, but Tomita was able to move into 2nd place where he ended up finishing. As a result, from 14 motos over 6 events, Tomita took 7 wins, 4 second places, 2 third places, and a total of 13 podium finishes to make him champion with the final round still to come.


Toshiki Tomita
"This is my third year with Yamaha, and thanks to the team, the YZ has improved and I've adapted myself to the bike. I also had a trainer to help me with the mental side, and I think that preparing for a variety of riding situations is what led to my consistent performance this year. Right at the moment I clinched the title, I was more relieved than anything because I wanted to take the pressure off and be able to ease my mind as soon as possible. This was Yamaha's first championship in the top class in 11 years, so everybody was really happy. It was great to see everyone's smiling faces, and it was nice to know that I could play a big part in making that happen. After returning from the U.S., a lot of people assumed I'd be able to win right away, but I've had a tough time trying to fight for a title. I have to thank Yamaha and the whole team for their continued support, as well as our sponsors and all the fans. We still have one round left, but now that there's no pressure, I'd love to finish the season with another win."
Tomoyoshi Masuda – Team Manager
"Tomita was actually feeling sick before this round and had some bad luck in qualifying as well. I know he's a strong rider, but these were some tough races so I was feeling a bit nervous. I knew he'd been working really hard toward winning the championship so I knew he would do well, and that's exactly what he did. He got on the podium with a 3rd and a 2nd and won the title. I think he's a rider that we should really respect. One major thing that I feel led to this title was every single staff member's efforts to create an environment where the riders could demonstrate 100% of their potential. Also, this year we were competing while also developing the EPS (Electric Power Steering) system, which was challenging in terms of development timing, but we were able to do it. As we did our riders, the team, and the machine became stronger, and this season we've all grown a lot. We were finally able to deliver a championship title win to the fans and sponsors, whose support has always made it possible for our team and riders to shine. We still have the final round to come, and I want to thank everyone for their support as we look forward to finishing out the last round of the year in a strong way."
Toshiki Tomita's 2022 Season Results

| Date | Round | Moto 1 | Moto 2 | Moto 3 | Result |
| --- | --- | --- | --- | --- | --- |
| April 9-10 | Round 1 Kyushu (Kumamoto Pref.) | 1st | 1st | - | 1st |
| May 14-15 | Round 2 Kanto (Saitama Pref.) | 5th | 1st | 2nd | 2nd |
| July 16-17 | Round 3 SUGO (Miyagi Pref.) | 1st | 3rd | - | 2nd |
| September 10-11 | Round 4 Kinki (Nara Pref.) | 2nd | 2nd | - | 2nd |
| October 8-9 | Round 5 Kyushu (Kumamoto Pref.) | 1st | 1st | 1st | 1st |
| October 29-30 | Round 6 Kanto (Saitama Pref.) | 3rd | 2nd | - | 2nd |
| November 12-13 | Round 7 MFJGP (Miyagi Pref.) | - | - | - | - |