Detail
Yamaha press releases on our motor sports racing activities
| | |
| --- | --- |
| Yamaha head back to Europe after successful Qatar test | Feb. 15, 2007 |

The final day of MotoGP testing in Qatar today saw the times tumble yet again, as several riders opted to try qualifying tyres and three of them, Yamaha rider V. Rossi included, dipped under the 1'55 mark. As usual on the final day of a test, both Rossi and team-mate C. Edwards tried their 800cc Yamaha's on a long-run, enabling them to gather crucial information about tyre performance and fuel consumption ahead of the first race here in three week's time. Edwards' was in fact forced to do two extended sessions after his initial long-run, started towards the end of the morning, was red-flagged when Suzuki rider J. Hopkins crashed, breaking a bone in his foot.

After topping the time sheets for the last two days, the Yamaha pair slipped down the order a little today, Rossi coming in third behind D. Pedrosa (Honda, 1'55.471) and Hopkins (1'55.825) with a time of 1'55.954, set in the morning session using a Michelin qualifying tyre. After running into a few small problems with the qualifying tyre, Edwards was unable to better his time from yesterday and finished the day fifth with a best lap of 1'56.371.

The Yamaha Factory Racing Team will now head to European shores for the first time since December for the Official MotoGP Test on 23rd, 24th and 25th February, at Jerez de la Frontera in southern Spain. This will be the final pre-season test before the Grand Prix paddock reconvenes in Qatar for the first race of the season on 10th March.


V. Rossi (3rd, 1'55.954, 62 Laps)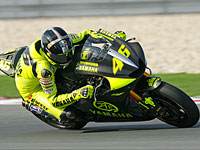 "It's been a good test overall, despite running into a few problems. Like I said yesterday, it's better to find the problems now so we have the chance to fix them! As I expected, the other riders have improved a lot over these three days and Colin and I weren't able to stay at the top today. Still, we're quite fast and our bike is quite good, so we're happy. The long run was okay, the situation with the rear tyre wasn't perfect but we knew it wasn't going to be and nothing happened that we didn't expect. Anyway, we're not worried about it and we know how to go from here. I was still able to do 1'56.5, so I think if the race was tomorrow then we would be in a position to fight for the victory, as would Colin."

"We still have one more test in Jerez so we've got the chance to do some more good work and try to make our bike perfect for the first race. We're still working on the suspension and stability, we've talked a lot with our engineers and we've got some good ideas to try next week. We've been sharing a lot of information in our garage between Colin and I; he's tried my settings and I've tried his which has been very helpful. Now I'm looking forward to seeing how the bike will go in Jerez next week."

C. Edwards (5th, 1'56.371, 61 Laps)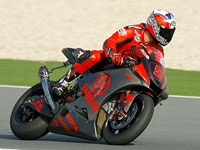 "We were a little bit unlucky today; we wanted to finish up early so we started our long-run in the morning and it was all going well when the red flags came out after about 14 laps. I was doing pretty good times in that and was happy with how things were going, so it was pity I had to stop. Anyway, our engineers needed me to have another go this afternoon as we really needed to get some information about the fuel consumption."

"Unfortunately we couldn't have the same tyre again and we had to use something a bit older, so the second long run wasn't so great, but we got all the information we needed. We tried a qualifier this morning and actually we had a tiny bit of movement with that which was a surprise after how fantastic it was in Sepang. I couldn't quite better my time from yesterday, when I was on race tyres. Valentino had a go later and I think he fixed the issue, so we're not panicking about that. It's been a really good test and I think we've got a lot of options with this bike. Now it's on to something different again in Jerez so we'll see how things go there, hopefully we can continue the good work."

D. Brivio - Team Director
"It's been a very interesting and important test for us and both riders have shown that they're in a position to fight at the top. We've got a few areas which we need to work on, but overall we're happy. It's nice to see both riders being consistently fast and having fun riding the bike and it's great to see such good teamwork, with both crews working closely together and sharing all their information. This really helps us in the task of developing the bike. Now we go to Jerez for the final test and it's going to be another very important three days for us all; our rivals are strong and we need to be in the best possible shape when we come back here for the first race."
Unofficial Lap Times:
| | | | |
| --- | --- | --- | --- |
| Pos. | Rider | Machine | Time |
| 1 | D. Pedrosa | Honda | 1'55.471 |
| 2 | J. Hopkins | Suzuki | 1'55.825 |
| 3 | V. Rossi | Yamaha | 1'55.954 |
| 4 | A. Hofmann | Ducati | 1'56.315 |
| 5 | C. Edwards | Yamaha | 1'56.371 |
| 6 | R. de Puniet | Kawasaki | 1'56.753 |
| 7 | L. Capirossi | Ducati | 1'56.807 |
| 8 | C. Stoner | Ducati | 1'56.834 |
| 9 | A. Barros | Ducati | 1'56.950 |
| 10 | M. Melandri | Honda | 1'56.980 |
| 11 | S. Nakano | Honda | 1'56.980 |
| 12 | M. Tamada | Yamaha | 1'57.232 |
| 13 | T. Elias | Honda | 1'57.246 |
| 14 | N. Hayden | Honda | 1'57.269 |
| 15 | C. Vermeulen | Suzuki | 1'57.365 |
| 16 | K. Roberts | Team KR | 1'57.408 |
| 17 | C. Checa | Honda | 1'57.497 |
| 18 | S. Guintoli | Yamaha | 1'58.379 |
| 19 | S. Ito | Bridgestone Test | 1'58.974 |
| 20 | A. Pitt | Ilmor | 2'00.455 |
| 21 | O. Jacque | Kawasaki | 2'02.081 |
| 22 | J. McWilliams | Ilmor | 2'02.612 |
Qatar Lap Record (990cc); V. Rossi (Yamaha) 2006 - 1'57.305
Qatar Best Lap (990cc); C. Stoner (Honda) 2006 - 1'55.683