Detail
Yamaha press releases on our motor sports racing activities
| | |
| --- | --- |
| Yamaha Factory Racing out in front in Qatar | Feb. 13, 2007 |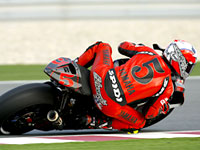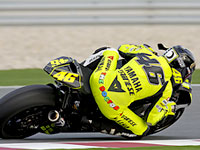 Yamaha Factory Racing commenced the latest stage of their pre-season testing schedule today, joining the rest of their MotoGP counterparts on track at the Losail International Circuit in Qatar. This third test of the season is arguably the most important so far, as Losail will play host to the first race of the season in just over three week's time. After two successive tests in Malaysia, the change of venue offers V. Rossi and C. Edwards the chance to gauge the performance of their 800cc Yamahas in different conditions, as well as to measure themselves alongside a full line-up of their rivals. Once again the new 800cc bikes were proven to be just as fast as their 990 predecessors, with five riders lapping under the current lap record, set by Rossi on route to victory here last year. Edwards and Rossi were out in front of the field, with the American posting the fastest lap of the day in a time of 1'56 774. Rossi was just over a tenth of a second behind him with a best time of 1'56.891, followed by Casey Stoner (Ducati) with a time of 1'56.960.


C. Edwards (1st; 1'56.774; 67 laps)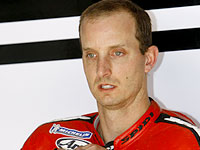 "We're coming here off the back of a fantastic test in Sepang and we've started on pretty good form again today. Things aren't totally perfect; the first-choice front tyre that we found in Malaysia and which I was super-happy with isn't available here at the moment and I felt I was lacking a bit of feeling in the morning, but we changed a few things on the setting and at the end of the day everything made sense."

"Despite the good time we've definitely got room for improvement, which we hope will come with a couple of different tyres tomorrow and some new things we want to try on the setting. Anyway, the really encouraging thing is that we've come to a new track and the bike has worked well straight out of the box; let's hope that's the case everywhere this year! We did a lot of work on the braking in Sepang and we don't have any problems with that here, so it looks like we fixed those problems. It's been a very productive first day in every aspect."

V. Rossi (2nd; 1'56.891; 59 laps)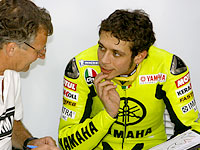 "This is a very important test because the first race is here in just a few weeks, so we're working really hard in order to have the bike ready for that! Today was quite good and I am happy with the work we've done as a team; we were fast straight away and it's good to see that our bike works well at a different track. We continued to develop some things with the setting and we also worked on tyres with Michelin."

"This is a hard track for them so it's important we are ready with the tyres for the first race. The bike felt very good from the start and you can ride it well; we don't have any chatter, or any particular problems at all, so we're in a better position than last year. I am also happy because Colin is fast; in fact, he's a little bit faster than me! This is a good sign though, because it shows how good our bike is. Of course we still have areas to improve and so we will continue to work hard for the next two days."

D. Brivio - Team Director
"It was a good start to the test for us, because both riders are fast and the bike seems to work well here. For sure everybody else will also improve in the coming days, so we can't afford to be complacent, but we will continue to work as hard as we can and hopefully we can keep going like this."
Unofficial Lap Times:
| | | | |
| --- | --- | --- | --- |
| Pos. | Rider | Machine | Time |
| 1 | C. Edwards | Yamaha | 1'56.774 |
| 2 | V. Rossi | Yamaha | 1'56.891 |
| 3 | C. Stoner | Ducati | 1'56.960 |
| 4 | K. Roberts | Team KR | 1'57.064 |
| 5 | N. Hayden | Honda | 1'57.070 |
| 6 | J. Hopkins | Suzuki | 1'57.350 |
| 7 | L. Capirossi | Ducati | 1'57.360 |
| 8 | C. Checa | Honda | 1'57.370 |
| 9 | A. Barros | Ducati | 1'57.690 |
| 10 | D. Pedrosa | Honda | 1'57.700 |
| 11 | R. de Puniet | Kawasaki | 1'57.730 |
| 12 | M. Melandri | Honda | 1'57.760 |
| 13 | A. Hoffman | Ducati | 1'57.800 |
| 14 | S. Nakano | Honda | 1'57.850 |
| 15 | C. Vermeulen | Suzuki | 1'57.900 |
| 16 | M. Tamada | Yamaha | 1'58.408 |
| 17 | O. Jacque | Kawasaki | 1'58.740 |
| 18 | T. Elias | Honda | 1'59.400 |
| 19 | S. Guintoli | Yamaha | 1'59.700 |
| 20 | S. Ito | Bridgestone Test | 1'59.966 |
| 21 | A. Pitt | Ilmor | 2'01.667 |
| 22 | J. McWilliams | Ilmor | 2'10.341 |
Qatar Lap Record (990cc); V. Rossi (Yamaha) 2006 - 1?57.305
Qatar Best Lap (990cc); C. Stoner (Honda) 2006 - 1?55.683