Detail
Yamaha press releases on our motor sports racing activities
| | |
| --- | --- |
| World Superbike - Phillip Island test | Jan. 15, 2007 |

Yamaha makes steady progress with the new YZF-R1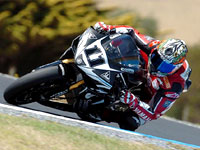 The all-new YZF-R1 was given its first 2007 testing shakedown by Yamaha Motor Italia riders T.Corser and N.Haga, at the final official Pirelli tests of the close season. Corser took the equal fourth best time of the three days, with a lap of 1'32.2, set on day two - some 0.2 seconds under the current race lap record pace. Haga also had to rely on a day two best to set his fastest mark of the sessions, a 1'32.8, in what was another largely closely contested outing for the five Superbike teams in attendance.

For this second outing with the new R1, the team had limited preparation time. Meaning that not all of the usual adjustments in chassis/ swingarm combination were available to the riders, and thus the ultimate best times were limited. Corser, despite this temporary handicap, was still a force on his home circuit while Haga found a good race set-up on the final day. Both riders managed to gather important information for the final test in Qatar next February. Fastest rider at the test was T.Bayliss (Ducati), who scored a new Superbike track best of 1'30.7, with his team-mate L.Lanzi (Ducati) half a second behind.


T.Corser (Yamaha Motor Italia)
"The top speed and the engine feel is not bad, but we are struggling a bit with rear grip coming out of corners. We are a bit too sideways. So the lap times are not coming for us at the moment. I'm pretty happy with the bike and the team is working well, but we just need a bit more testing, and this is only the third day of riding a Yamaha at Phillip Island. We need to adjust the swingarm angle. We could use a hard tyre and get the same grip and push as a qualifier. But it's not that disheartening because despite having some troubles we are not that far away on lap time. I know where I'm losing time and how much time I'm losing, and I'm confident we can fix it."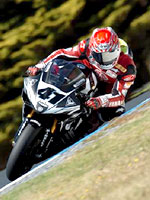 N.Haga (Yamaha Motor Italia)
"Finally I found a good setting and good acceleration, but I still had problems with a few things, same as Troy. Today I made 20 laps in a long run, which went very good, but after eight laps the rear problem started and the tyre started grooving. We need more testing with the new parts.?

M.Meregalli (Team Coordinator - Yamaha Motor Italia)
"We did not experience a rear grip problem in Qatar during the last test, so this was an important test. Now we can make the necessary changes to the specs to become fully competitive with our new R1. In discussion with the riders and chief mechanics, we know what the solution is for the set-up and we will test the parts here during race weekend. It is not a big thing, but we simply did not have time to bring these parts here now. Noriyuki made a good race simulation today."
Unofficial Lap Times:
| | | | |
| --- | --- | --- | --- |
| Pos. | Rider | Machine | Time |
| 1 | T.Bayliss | Ducati | 1'30.7 |
| 2 | L.Lanzi | Ducati | 1'31.2 |
| 3 | J.Toseland | Honda | 1'31.7 |
| 4 | T.Corser | Yamaha | 1'32.2 |
| 5 | R.Laconi | Kawasaki | 1'32.2 |
| 6 | Y.Kagayama | Suzuki | 1'32.3 |
| 7 | F.Nieto | Kawasaki | 1'32.3 |
| 8 | M.Biaggi | Suzuki | 1'32.4 |
| 9 | N.Haga | Yamaha | 1'32.8 |
| 10 | R.Rolfo | Honda | 1'33.2 |
Circuit: Phillip Island
Circuit Length: 4.445km
Race Lap Record: 1'32.402 (T.Bayliss, 2006)
Fastest Lap Ever: 1' 30.7 (T.Bayliss, 2007, at this test)
Temp: 25°C