WMX MX1 Season Review
Introducing the MX1 Class 2011 season.
[ Click the buttons above to read reviews in other categories ]


Frossard races to 2nd in season ranking!
Yamaha also 2nd in Manufacturers ranking
The 2011 MX1 season for the Monster Energy Yamaha Team was one bumpy ride as its ace rider and former world champion David Philippaerts was hampered by injuries and dropped to 9th in the season ranking. Rising to fill the gap was the team's MX1 rookie rider Steven Frossard who performed brilliantly to rank 2nd for the season, while another team rookie, Gautier Paulin, surprised everyone by winning his debut race in round 15! Their performances helped Yamaha take 2nd place in the Manufacturers ranking and clearly prove the great competitive potential of the YZ450FM machine.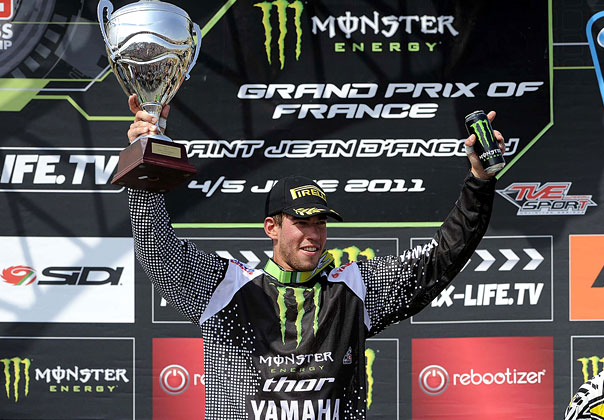 Rookie Frossard emerges 2nd in the ranking, contributes to Yamaha's 2nd in the Manufacturers ranking!
Stunning performances by rookie Frossard
Disappointment for team ace Philippaerts
This season, the Monster Energy Yamaha Team fielded three riders in the pinnacle MX1 class, aiming to reclaim the title. Riding the team's YZ450FM machines were 2008 MX1 champion David Philippaerts, Anthony Boissiere in his second season since moving up to MX1 and last year's 2nd ranked MX2 star, Steven Frossard.
In the season's opening round in Bulgaria, things started on a bright note for the Yamaha team as rookie Frossard won pole position in his first MX1 qualifying round and then went on to a stunning victory in the first heat. He was also leading in the early stages of heat two, but eventually finished 2nd. These combined results placed him 2nd overall with the same point total as the winner in his debut MX1 round. Propelled by that momentum, Frossard performed well in the second round in the Netherlands as well, finishing 4th overall and taking the lead in the season ranking. In round three in the U.S.A. however, a tough initiation awaited Frossard. He took falls in both heats and only managed to finish 18th overall, which dropped him to 4th place in the season standings.
A challenge faced the rookie. Could he recoup at this point or would it be the start of a slow downward slide? Frossard was clearly at a turning point and he was ready to prove his doubters wrong. After finishing a solid 4th overall at the fourth round in Brazil, he returned to Europe for round five in his native France where he won the first heat and finished 2nd in heat two to take his first MX1 overall victory in front of a cheering crowd of 32,000. This win in round five moved him up to 3rd in the rankings, just behind Clement Desalle (Suzuki) and Antonio Cairolli (KTM).
Meanwhile, as the team delighted in the surprising performances of Frossard, something was happening with their ace rider, Philippaerts. Despite a podium finish with 3rd overall in round two in the Netherlands, and a great victory at round four in Brazil where he won pole position in the qualifying and then out-battled the likes of Cairolli and Desalle to win both heats, things were not going well for the former MX1 champion.
Looking just at these two races, it seemed as if he was performing on par with Frossard, but in fact Philippaerts had taken a fall in heat two and finished 10th in the season opener, in addition to bad starts in both heats of round three in the U.S.A. He could only manage 6th overall. Then in the France GP, he fell in heat two and ended up 9th overall. Things only got worse when he fell and injured himself in round six in Portugal. With no points added, he dropped to 7th in the season standings. At this point, he was about 90 points behind the ranking leader and almost off the radar in terms of the title race.
Things failed to improve for Philippaerts in the middle stages of the series. After mounting the podium in 2nd place at round seven in Spain, he suffered an unlucky streak of machine trouble and accidents that kept him from doing well in both heats of the races that followed. The result was a continuing dry spell with no podium finishes, but an even worse accident was waiting for Philippaerts. While training for round 12, he took a fall and broke his wrist. With this, Philippaerts had to drop out of the last four rounds of the season, including round 12. His 2011 season ended with three podium finishes (a 1st, a 2nd and a 3rd) and a season ranking of 9th.
Continued MX1 progress for Frossard
It is always hard to consistently perform well throughout a season. This fact was evident in the 2011 season for experienced former champion Philippaerts. But Frossard would continue to deliver top-level performances through the second half of the season as well. His riding was competitive, in class with that of the reigning two-time MX1 champion Cairoli and top riders like Desalle.
After his first MX1 overall win at his home GP in France in round six, Frossard would mount the podium four times in the next eight rounds until the 14th, which he was forced to withdraw from due to injury. Notably, he scored his second overall win of the season at round eight in Sweden by winning both heats. The way he did it was also noteworthy. In heat one, he hung in behind the leading Evgeny Bobryshev (Honda) waiting for the right moment to make his move, passing him with two laps remaining to take the win. In heat two, he held the lead from start to finish without ever giving it up and keeping a safe margin of lead over Cairoli in 2nd place.
Besides this victory, Frossard finished 2nd overall at round eight in Latvia and round 13 in the U.K., proving that he had gained the consistency to race at the front in both heats of a race. In the end, the championship title went to Cairoli again, with the difference between the two riders being Cairoli's ability to be competitive in every race of the season and push to get points at every opportunity.
After his perfect win in Sweden at round eight, Frossard was just 22 points behind Cairoli in the standings. From there, Frossard was naturally set on carrying through with the momentum he had and closing the gap further. In the next critical race at round nine in Germany, he managed to finish 3rd in the first heat, but accidentally hit the starting gate in heat two, causing his engine to stall, and relegating him to 15th place in that heat and 8th overall. He also failed to get podium finishes in rounds 11 and 12. In contrast, Cairoli finished 2nd overall in round nine and then won overall in rounds 10 and 11 to pull away with a commanding lead in the title race and went on to take his third consecutive championship title.
Nonetheless, for Frossard to race with the best riders in the world in his rookie MX1 season and take 2nd place in the ranking was an amazing feat and worthy of a new Yamaha ace.
Attention also focused this season on the competitive potential of the YZ450FM machine. As a MX1 rookie, Frossard had certainly proven that potential, but he was not the only one. Anthony Boissiere also continued to put in personal best MX1 performances, taking 3rd place in heat two of the GP of Europe (round 14) and finishing the season ranked 13th. Furthermore, Carlos Campano, who came in to replace the injured Philippaerts from round 13 managed to place 10th overall in his debut MX1 race. Finally, another great YZ450FM performance came in the last round of the season in Italy when Gautier Paulin, who had been competing in MX2 for the Monster Energy Yamaha Team moved up to MX1 to replace the injured Frossard. He surprised the MX scene by repeating Frossard's debut performance, winning the round in his first MX1 race.
Although Yamaha wasn't able to win back the MX1 championship title this season, Frossard showed amazing growth and progress in taking over and carrying the Yamaha banner in the face of Philippaerts' misfortunes. Furthermore, in its second year, the newly developed YZ450FM matured further to power numerous riders to great performances. But Yamaha is never content with 2nd place, and you can be sure that the team and the Yamaha riders will be back stronger than ever in 2012 looking to win the title.