| | |
| --- | --- |
| | October 24, 2001 |







| | |
| --- | --- |
| | "Incubator" |
The Yamaha world of sound and pulse is introduced in the form of a unique exhibition piece. And, sound simulators are used here to give the visitors an experience of the fruits of Yamaha's research into the development of stimulating sound and pulse for the rider. Visitors can enjoy sound-simulation models of the YZR500, YZF-R1, Roadstar Warrior and the XJR1300.
| | |
| --- | --- |
| | 2002 Feature Models |
On display here are the newest export models like the Road Star Warrior that debuted in the US this summer, the new YZF-R1 unveiled at the Milan Show in September and the TDM900 that made its debut shortly after at the Paris Show.
| | |
| --- | --- |
| | New Domestic Models for 2002 |
Exciting new versions of popular Japanese market models with stimulating refinements join exhibition models of the soon-to-be-released "TW225" and the new "Majesty."
| | |
| --- | --- |
| | Presentation Models |
Yamaha presents its proposal for a new model named the "Tricker" designed to bring the exciting world of "X-Games" to motorcycling. This model seeks to realize the enjoyment of new 3-dimensional sensations like "standing still, springing and floating."
| | |
| --- | --- |
| | Fun Vehicles |
Here you will see Yamaha vehicles that are fun to ride and fun to pedal. On display are the new electric "Passol" and three new-concept PAS models.
| | |
| --- | --- |
| | Racing Machines |
The new 4-stroke factory machine YZR-M1 developed for the 2002 MotoGP is on exhibition for the first time in Japan. Other racing machines on display include the 2001 models YZR500, YZR250, the Suzuka 8-hour spec YZF-R7 and the YZ250M.
| | |
| --- | --- |
| | Man-Machine Excitement Gallery |
Introduced here as actual parts or displayed on panels are some of Yamaha's unique, advanced technologies that embody our development ideal of "Man-Machine Excitement." Here you can see the types of things that consume Yamaha engineers in their search for new Kando.





Special exhibition models

Units

Export

YZF-R1

3 *

TDM900

2

Road Star Warrior

3 *

FZS1000 FAZER

2

FJR1300

2

YZF-R6

1

Domestic

TMAX

1

XJR1300

1

XJR400R

1

XVS1100A DragStar Classic 11

1

XVS400 DragStar

1

SR400

1

SEROW 225WE

1

TW225

1

Majesty

1

Majesty ABS

1

Majesty C

1

Prototypes

Tricker

1

Passol

1

Majesty coloring (Y's Gear)

1

TMAX aero-version (Y's Gear)

1

XVS 1100 DragStar 1100
US custom (Y's Gear)

1

Special Import

Road Star Warrior
US Special

1

Special exhibition (Competition models)

Commemorative models

YZR-M1

1

YZR500

2 *

YZR250

1

YZF-R7

1

YZ250M

1

Special exhibition (PAS)

Prototypes

Racer 01

1

SP-01

1

Folding PAS

1

Production models

TMAX

1

XJR1300

2 *

XJR400R

1

XVS1100A DragStar Classic 11

1

XVS400 DragStar

1

XVS250 DragStar 250

1

SR400

1

SEROW225WE

1

TW200

1

Grand Axis 100

1

Cygnus 125SV

1

Vino

1

Remote Control JOG

1

JOG ZR

1

YB-1F

1

RZ50

1

TZ250

1

YZ250F

1

TTR125LW

1

TTR90

1

PW50

1

* = Sound simulator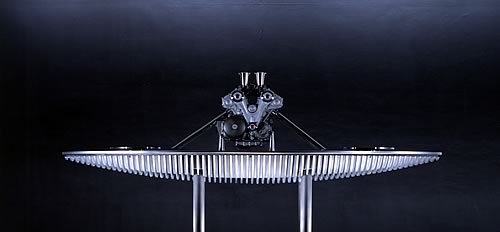 A motorcycle is more than just the sum of its specifications. Intangible elements like the joy of riding it, its sound and pulse, its styling; these are all-important aspects of the motorcycle's appeal as well.

At Yamaha we call this important realm of motorcycle design that can only be measured by the human senses, "Man-Machine Excitement." As a symbol expressing what we mean by "Man-Machine Excitement," we display a creative sculpture of a V4 engine in our booth named "OTODAMA."

Our ancient lore contains stories that tell about the mysterious power people's words can have on the things around them, the word "Kotodama" has been used to discribe this phenomenon. Using the characters for sound and spirit, we created a word that is read "OTODAMA" as the name for this sculpture to express the mysterious power in the pulsing sound of a motor.

This sculpture is mounted on a strikingly impressive aluminum stage and inside is a device that creates a strong pulsing energy like that of the earth itself. This is wrapped from above in a curtain creating an acoustic "incubator" to create an impression of the birth of new life. All this is done by means of an "Octaphonic" 3-dimensional sound system and sound simulators that combine to offer up a new world of motorcycle experience.