President's Message
Management group message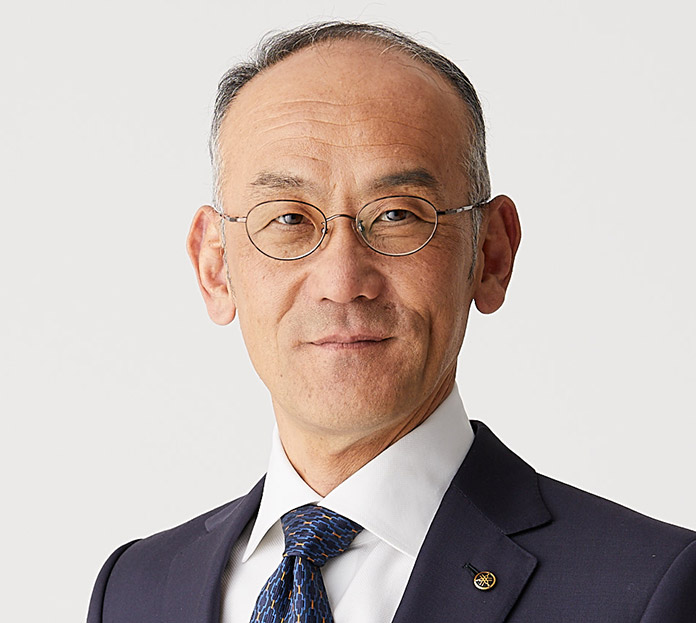 February 2022
In a business environment on the cusp of a major paradigm shift, we will create new Kando by exhaustively refining the unique style of Yamaha.
Yamaha Motor has grown by creating new value under our corporate mission to be a "Kando * Creating Company". As we move toward 2030, the Company will direct its efforts to three focus areas: Advancing Robotics (Leverage and evolve intelligent technologies and robotics as a foundation), Rethinking Solutions (Propose uniquely Yamaha solutions), and Transforming Mobility (Promote innovations in mobility). By expanding human possibilities, we are aiming to achieve sustainable growth as well as create a better society and more fulfilling lives.
In 2021, demand in each segment recovered sharply in step with countries lifting lockdowns and putting measures in place for living alongside COVID-19. At the same time, we ran into headwinds such as the ongoing congestion of the global supply chain and shortages of semiconductors and other components. However, we introduced our break-even-point management style and agile management approaches to each of our subsidiaries, and in the face of domestic and international movement restrictions, we incorporated digital technologies into our operations to enable remote work, virtual participation, and the like, thereby greatly improving our cost efficiency. As a result, the consolidated management accounts for the year were net sales of 1,812.5 billion yen (a year-on-year increase of 23.2%) and an operating income of 182.3 billion yen (a year-on-year increase of 123.3%). As a result, we were able to post our highest-ever profits and achieve an operating income margin of over 10%. In the current fiscal year, we continue to expect the robust demand from people's needs for personal mobility, the boom in outdoor and family recreation, increased semiconductor production, and investments in labor-saving pursuits. We will make efforts to deliver our products as soon as possible to our customers.
This year also marks the start of our new Medium-Term Management Plan. We will align its general direction with our Long-Term Vision of ART for Human Possibilities and further build upon the two chief themes of the previous mid-term plan—growth strategies and reinforcing our management platforms—while introducing a third: Sustainability. While continuing to work in harmony with society and the environment, Yamaha Motor will strive to deliver joy, surprise and delight as well as prosperity and happiness to people around the world through its products and services.
I ask for your continued guidance and support as we move forward together.
President, Chief Executive Officer and
Representative Director
Yamaha Motor Co., Ltd.
Yoshihiro Hidaka
* Kando is a Japanese word for the simultaneous feeling of deep satisfaction and intense excitement that people experience when they encounter something of exceptional value.
---