President's Message
Management group message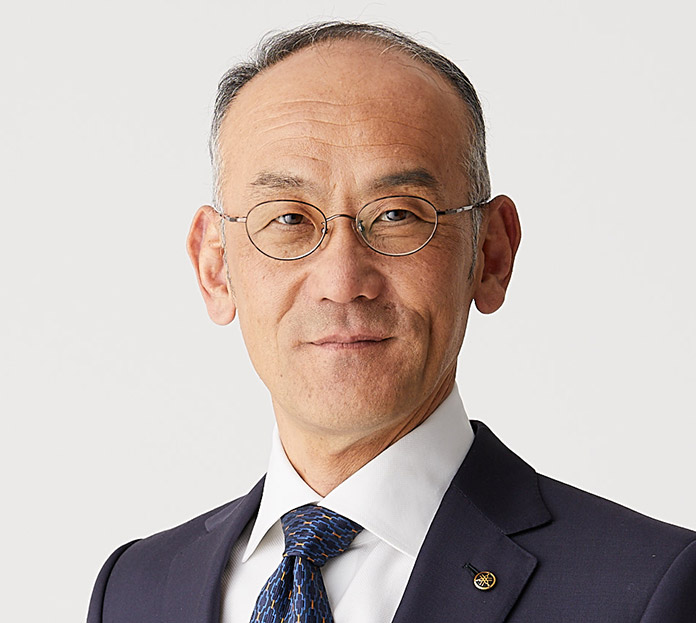 February, 2021
In a business environment on the cusp of a major paradigm shift, we will create new

Kando

by exhaustively refining the unique style of Yamaha.
Yamaha Motor has grown by creating new value under our corporate mission to be a "Kando * Creating Company". As we move toward 2030, the Company will direct its efforts to three focus areas: Advancing Robotics (Leverage and evolve intelligent technologies and robotics as a foundation), Rethinking Solutions (Propose uniquely Yamaha solutions), and Transforming Mobility (Promote innovations in mobility). By expanding human possibilities, we are aiming to achieve sustainable growth as well as create a better society and more fulfilling lives.
In 2020, the business environment changed completely due to the unexpected adversities brought by the COVID-19 pandemic. We engaged in management that prioritized preventing the spread of the pandemic, ensuring the health and safety of our stakeholders and responding appropriately to the laws and regulations in each country. As a result, the consolidated management accounts for the year were net sales of 1,471.3 billion yen (a year-on-year decrease of 11.6%) and an operating income of 81.7 billion yen (a decrease of 29.2%), which demonstrated how we managed to minimize the impacts COVID-19 had on world markets.
Making use of the lessons learned from the 2008 global financial crisis, we switched to "crisis mode" and suspended factory operations. For developed markets, the rapid recovery in demand for outdoor recreation and personal mobility products after lockdowns were lifted became a tailwind, and these trends are likely to continue. For motorcycles in emerging markets, we expect to see a sure and steady recovery in demand. For the robotics business, in addition to strong demand in China, developed markets are also moving toward a gradual recovery.
The values of people and society have drastically changed due to COVID-19. Our business is trending toward a major paradigm shift due to the electrification of mobility, the rapid development of digital technologies, the accompanying changes in various social frameworks, and other factors. While continuing to work in harmony with society and the environment, Yamaha Motor will strive to deliver joy, surprise and delight as well as prosperity and happiness to people around the world through its products and services.
I ask for your continued guidance and support as we move forward together.
President, Chief Executive Officer and
Representative Director
Yamaha Motor Co., Ltd.
Yoshihiro Hidaka
* Kando is a Japanese word for the simultaneous feeling of deep satisfaction and intense excitement that people experience when they encounter something of exceptional value.
---