President's Message
Management group message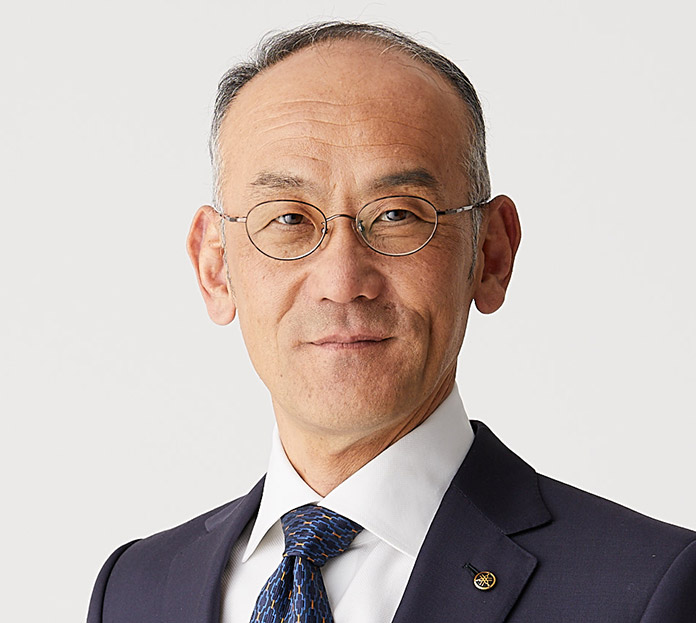 February 2023
Yamaha Motor will practice diligent portfolio management with a focus on growth areas and our strengths to create new value contributing to a more sustainable world.
Yamaha Motor has grown by creating new value under our corporate mission to be a "Kando * Creating Company". As we move toward 2030, the Company will direct its efforts to three focus areas: Advancing Robotics (Leverage and evolve intelligent technologies and robotics as a foundation), Rethinking Solutions (Propose uniquely Yamaha solutions), and Transforming Mobility (Promote innovations in mobility). By expanding human possibilities, we are aiming to achieve sustainable growth as well as create a better society and more fulfilling lives. Moreover, we added bolstering sustainability initiatives as a new guiding theme of the new Medium-Term Management Plan, which covers fiscal 2022 to fiscal 2024. This will complement ongoing themes from the previous Medium-Term Management Plan, including the creation of new businesses and the reinforcement of management foundations for improving profitability. Guided by the new plan, we will seek to strengthen the earnings power of our core businesses while investing in new businesses and growth businesses that contribute to the realization of a more sustainable world. We will also look to accelerate growth through digital transformation and co-creation initiatives.
In 2022, demand from outdoor recreation continued to remain strong, but we have fallen short on product supply due to shortages of semiconductors and other parts and components, supply chain disruptions, and other factors. On top of that, expenses have risen to levels we have never seen before. On the other hand, the weaker yen was a very welcome tailwind for us. Amid this business environment, we did our utmost to minimize the impacts of part procurement shortages and kept our break-even-point management style. The consolidated management accounts were net sales of 2,248.5 billion yen (an increase of 24.1%) and an operating income of 224.9 billion yen (an increase of 23.3%), once again resetting the record for our highest net sales and operating income figures ever. This is also the first time Yamaha Motor has ever surpassed 2,000 billion yen in net sales and 200 billion yen in operating and ordinary income. In 2023, we expect demand to remain particularly high for large outboard motor models and motorcycles in emerging markets, so we aim to optimize our market inventory for products in short supply. Furthermore, we will move forward with core structural reforms and measures to reinforce our foundations, such as lowering costs and raising productivity. At the same time, the marketing and technology departments will come together to work on upping the pace of such reforms, proceed with new value creation and growth strategies for adapting to changes in our business environment, and make headway with initiatives for sustainable growth.
We are firmly committed to achieving the targets in the new Medium-Term Management Plan and will make headway toward realizing our Long-Term Vision for 2030.
I ask for your continued guidance and support as we move forward together.
President, Chief Executive Officer and
Representative Director
Yamaha Motor Co., Ltd.
Yoshihiro Hidaka
* Kando is a Japanese word for the simultaneous feeling of deep satisfaction and intense excitement that people experience when they encounter something of exceptional value.
---