Integrated Report 2021
Integrated Report 2021 provides details on the medium- to long-term strategies and measures being implemented to facilitate the realization of the Long-Term Vision for 2030 of ART for Human Possibilities.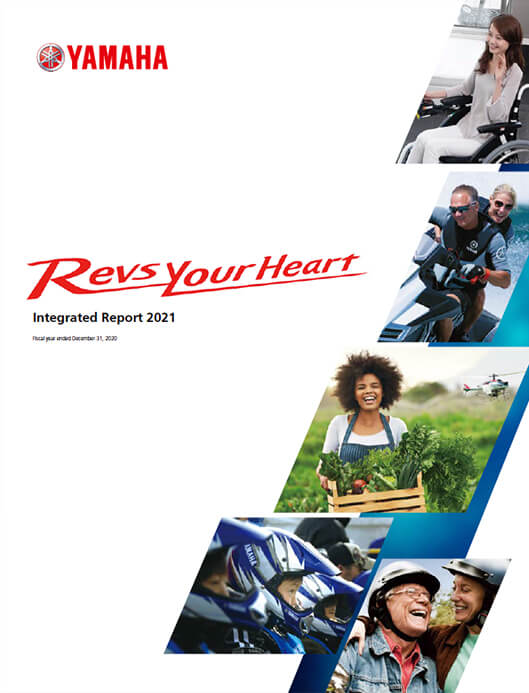 Yamaha Motor's Global Business
The powertrain, chassis and hull, electronic control, and manufacturing technologies and expertise we have accumulated since our founding serve as our core competencies, and as we continue refining them, we offer a myriad of products around the world that create Kando by leveraging our technologies and keen sensibilities based on the Company's unique Jin-Ki Kanno development ideal.
Fiscal 2020 Consolidated Financial Results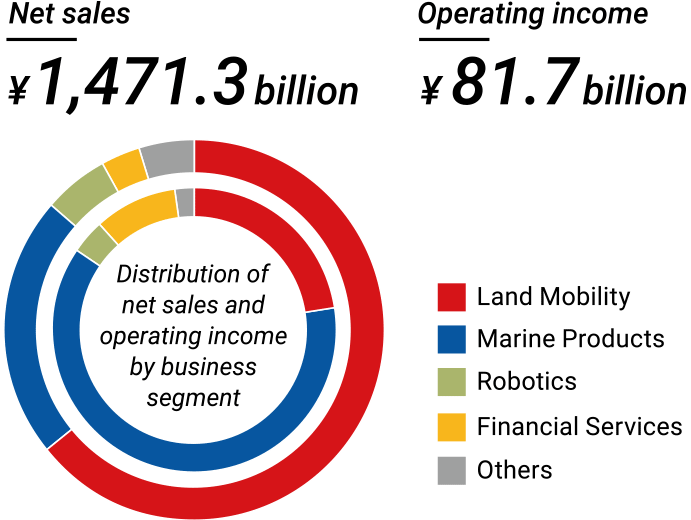 For more details
Introduction
PDF
2.31 MB
A History of Creating

Kando

through Technology
Yamaha Motor's Global Business
Maximizing Our Environmental and Social Value
Financial and Non-Financial Highlights
Toward Sustainable Growth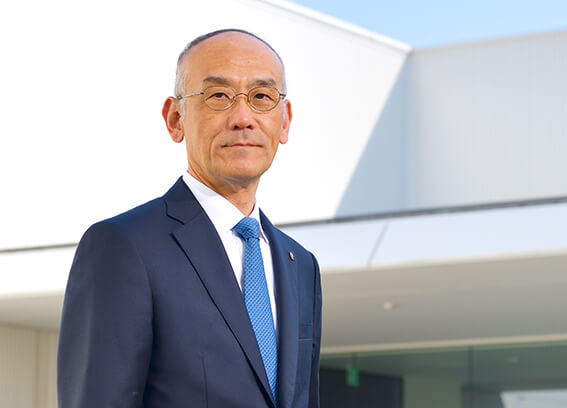 Without fearing change, we will aim to create new value expanding human possibilities by continuing to boldly take on uniquely Yamaha challenges.
President, Chief Executive Officer
and Representative Director
Yoshihiro Hidaka
Yamaha Motor's System of Strategic Policies
Yamaha Motor has identified important societal issues (materiality issues) to address in light of significant changes in the business environment as well as in terms of risks and opportunities. In order to resolve these societal issues, the Company formulated our Long-Term Vision for 2030 to indicate the directions we will take. For details on the Company's important societal issues, the Long-Term Vision, and our various measures, please see the relevant pages.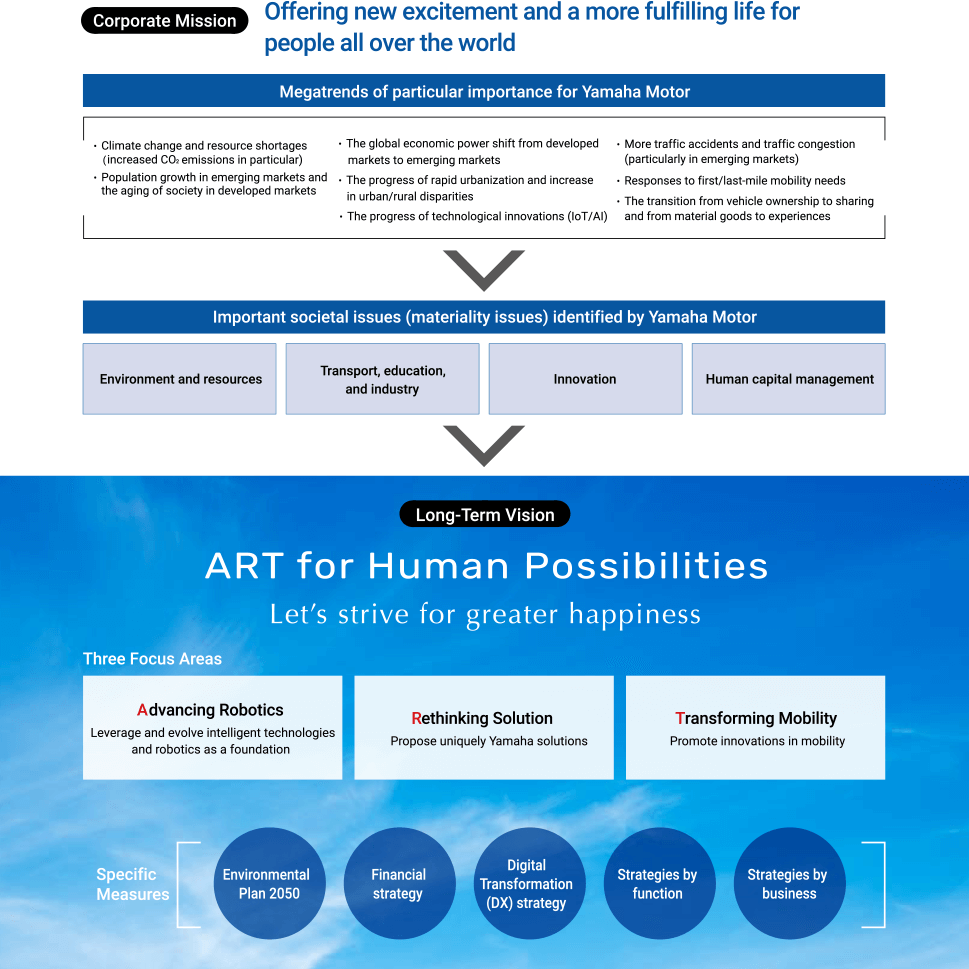 Uniquely Yamaha Carbon Neutrality Strategies
Toward achieving a carbon-neutral society by 2050, Yamaha Motor will continue to create new value not only with its motorcycles but also with new, uniquely Yamaha proposals for personal mobility.
Reduction CO2 Emissions through Optimal Streamlining

Utilization of Smaller Forms of Mobility
Note: BEV = Battery electric vehicle, a vehicle that uses the electricity stored in an onboard rechargeable battery to power its electric motor; HEV = Hybrid electric vehicle, a vehicle that uses both an engine and an electric motor for propulsion; and FCV = Fuel cell vehicle, a vehicle propelled by an electric motor using power generated by a fuel cell
For more details
Toward Sustainable Growth
PDF
1.2 MB
From the President
Yamaha Motor's System of Strategic Policies
Important Societal Issues (Materiality Issues)
Resolving Societal Issues through ART
Climate Change Initiatives (Disclosure Based on TCFD Recommendations)
From the Director in Charge of Corporate Planning and Finance Affairs
Digital Transformation
Foundations for Creating Competitiveness
Incorporating the unique style of Yamaha into all processes and levels of our corporate and business activities is how we enhance the qualities that make us unique.We believe that doing so is the way to meet customer expectations and the fuel to further raise our competitiveness.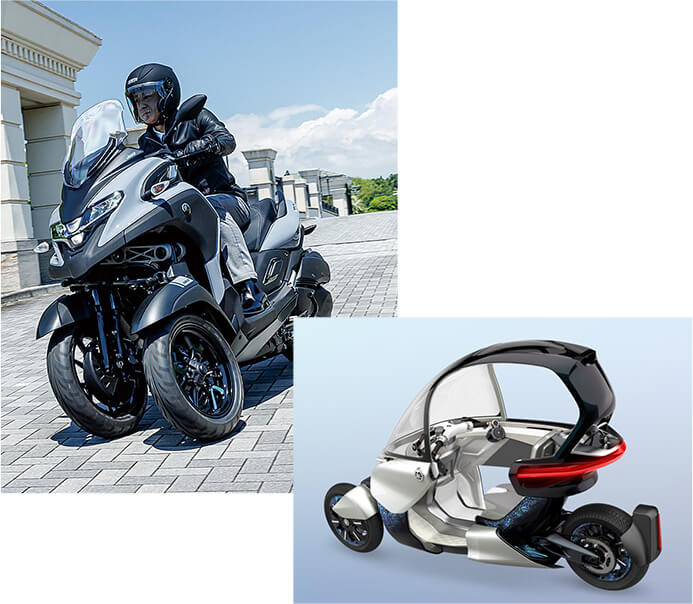 For more details
Foundations for Creating Competitiveness
PDF
2.7 MB
Creative Branding & Design
Research and Development
Intellectual Properties
Procurement
Manufacturing and Production (

Monozukuri

)
Sales (Marketing)
Human Resource Development
Topics: Yamaha Motor' s Sporting Activities
Corporate Governance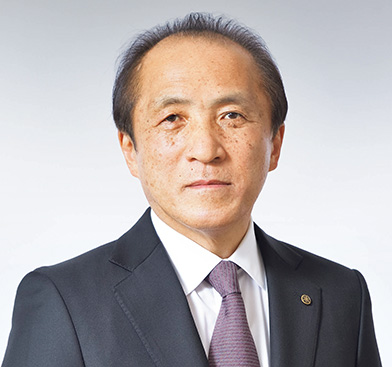 Yamaha Motor aims to further enhance its
corporate governance while prizing its corporate
culture of taking on challenges to create Kando.
Chairman and Director
Hiroyuki Yanagi
For more details
Corporate Governance
PDF
301.6 KB
From the Chairman of the Board of Directors
Dialogue between Outside Officers
Directors and Audit & Supervisory Board Members
Corporate Governance
Risk Management
Business Strategy
Land Mobility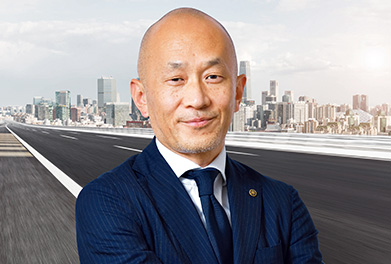 We will redefine the value of mobility and strive to create
Kando that goes beyond the boundaries of mobility.
Senior Executive Officer,
Chief General Manager of Land Mobility Business Operations,
and Executive General Manager of Motorcycle Business Unit,
Land Mobility Business Operations
Takuya Kinoshita
Strengths

Diverse and global product lineup combining both high performance and quality through our cultivated core technologies
Established global brand position for motorcycles
Pedigree of constantly pioneering new markets by creating new forms of mobility

Opportunities

Expansion of middle-income markets in ASEAN and other emerging economies
Global rollout of models compliant with emissions regulations
Evolution of marketing through digital technologies

Risks

Tighter emissions regulations in each country
Structural shift in the industry from new technologies and competitors
Shift away from mobility and vehicle ownership among younger generations in Japan
Marine Products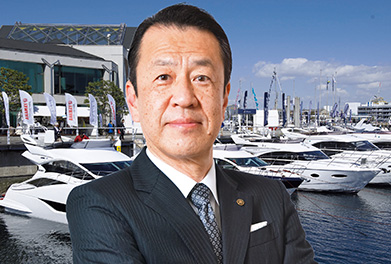 Seeing dramatic market changes as opportunities, we will seek to offer experiences with higher added value.
Senior Executive Officer,
Chief General Manager of Marine Business Operations
Hirofumi Usui
Strengths

Unquestioned product reliability centered on integrated control technologies
Overall business strength supported by wide-ranging business domains and an expansive product lineup
Sales and service capabilities spanning the global market

Opportunities

Growing demand for large outboard motors centered on developed markets
Expansion of peripheral equipment business due to advances with integrated control technologies
Changing sense of value pertaining to marine recreation spurred by staycation demand

Risks

Dramatic market changes against the backdrop of climate change, rapid technological innovation, etc.
Making flexibility adjustments to manufacturing and sales structures in response to recent demand fluctuations due to the COVID-19 pandemic, etc.
Creating a business structure resilient against changes in exchange rates and regulations
Robotics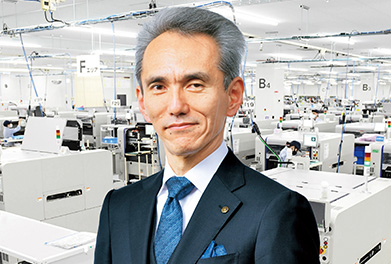 We aim to expand business synergies while offering customers optimal solutions.
Senior Executive Officer,
Chief General Manager of Solution Business Operations
Hiroyuki Ota
Strengths

Technological and production capabilities delivering high-quality, low-cost, and timely supply
A mixture of technologies via business integration with YRH and provision of complete solutions for clients
Co-creative capacities founded on strong relationships with business partners

Opportunities

Growing need for automation due to labor shortages in Japan and rising labor costs in emerging markets
Progression of more advanced automation in line with the development of new fields such as IoT and "connected, autonomous, shared, and electric" (CASE) vehicles

Risks

Deterioration of demand due to changes in world affairs
Intensifying competition resulting from new players entering the market
Fact Data
Fact Data
PDF
785.1 KB
Eleven-Year Summary
Environmental and Social Data
Management's Discussion and Analysis of Fiscal 2020 Business Results
Global Group Network
Corporate Information / Stock Information
Editorial Policy
Structure for Information Disclosure
Financial information
Non-financial information
Integrated Report 2021
This report was prepared and edited to give shareholders, investors, and other stakeholders a multifaceted understanding of Yamaha Motor's sustainable growth.
Financial, sustainability-related, product, and other information not contained in this report is available on Yamaha Motor's official website. Please note that the "2021" in the title refers to the year this report was published.
Scope
This report covers Yamaha Motor Co., Ltd., its 142 subsidiaries, and its 29 affiliates (as of December 31, 2020). Notification is given when the scope used in calculating the data provided in this report differs from this.
Reporting Period
This report covers the period from January 1 to December 31, 2020. Information on some activities taking place after January 1, 2021 is also provided.
Notice Regarding Forward-Looking Statements
The statements in this report, except for historical facts, are forward-looking statements about the future performance of the Company and its Group companies. These statements are based on management's assumptions and beliefs in light of the information currently available and involve risks and uncertainties. Please be advised that actual results may differ significantly from those discussed in the forward-looking statements.
Potential risks and uncertainties include, but are not limited to, general economic conditions in Yamaha Motor's major markets, changing consumer preferences, and currency exchange rate fluctuations.