iF Design Award
We introduce a winning product of the iF Design Award.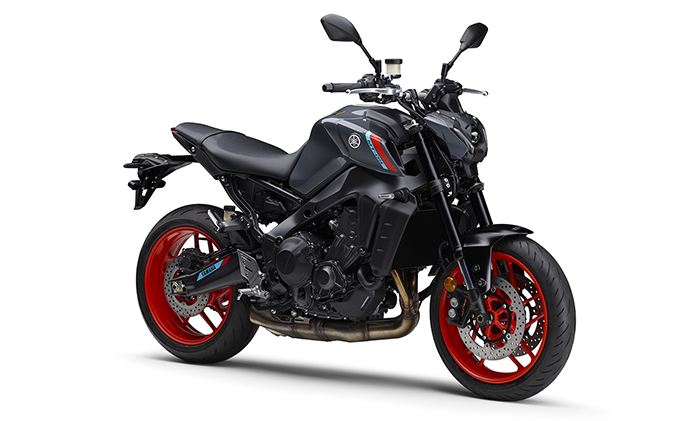 Based on the MT Series' "Torquey & Agile" concept, the new MT-09 was developed with an emphasis on "feel," weight reduction, and higher power, and to be a model usable across a wide range of scenarios, from commuting to weekend rides. The styling strips the bike down to the bare essentials and seeks stand out by highlighting the functional beauty of the parts themselves. The MT-09 is packed with new features and innovative technology, including a newly designed 889cc CP3 3-cylinder engine, lightweight chassis, SpinForged aluminum wheels, and YZF-R1-derived onboard electronics.
---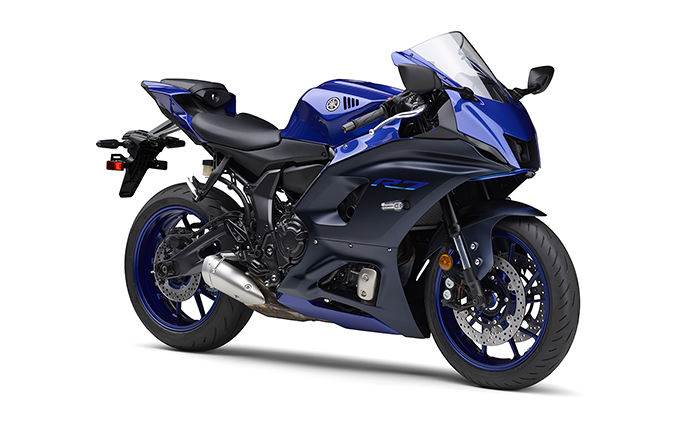 The latest addition to Yamaha's R-Series of supersport models, the R7 offers not only the excitement of riding a faired sportbike but also the joys unique to owning an R-Series machine to a wider range of motorcycle enthusiasts around the world. Calling on the excellent base performance of its powerplant and chassis platform, this new model delivers real riding fun and top-end quality and feel but at an affordable price.
Commuter vehicle
TRICITY300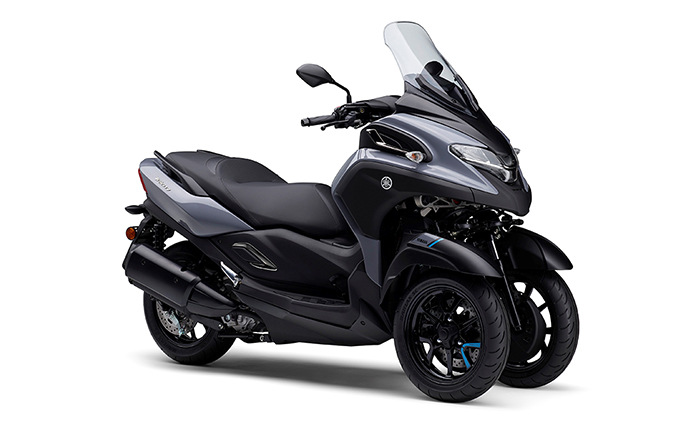 This three-wheeled 300cc commuter model for global markets employs Yamaha's proprietary LMW design and was developed to be the "Smartest Way to Commute" under a design concept of "Your Right-Hand" (for supporting your work/business), featuring front-end confidence, reliability, maneuverability and a high-quality ride to make trips between the suburbs and downtown more convenient and comfortable.
---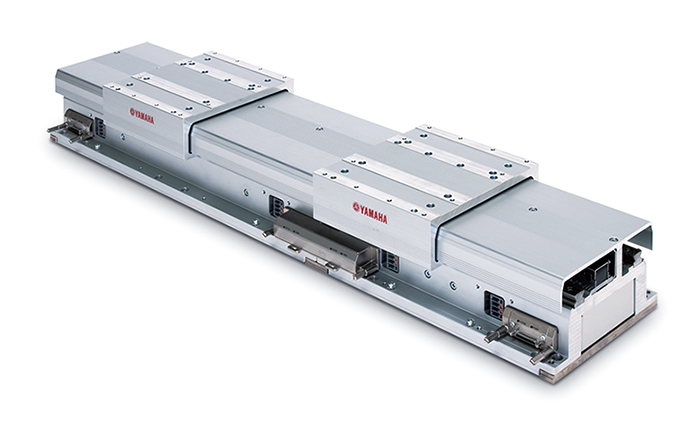 The LCMR200 employs a linear motor for fast, precise movement and a space-saving modular construction for conducting transfer operations at factories. As product lifecycles shorten, the need for multi-product and variable-volume production is growing and the LCMR200 brings greater flexibility for line layout, quicker response to production changes, and easy storage and reusability.
Also, instead of flashy colours, the anodized aluminium body beautifully blends in with and complements peripheral factory equipment.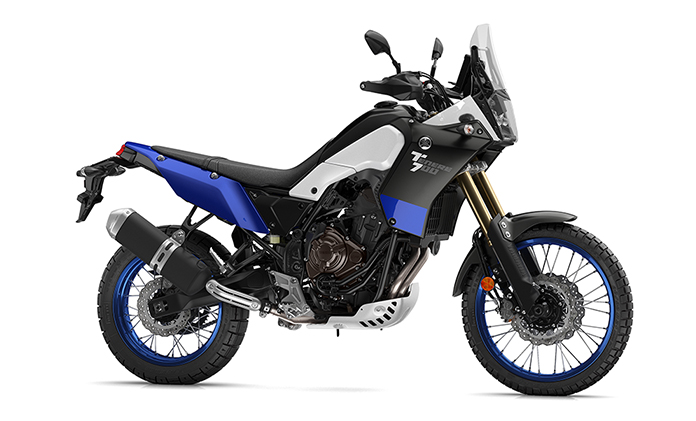 The Ténéré 700 is an adventure tourer in the best traditions of the Ténéré brand, drawing on its brilliant history of success in one of the world's toughest rallies - the Dakar - in the 1980s-90s. The Ténéré 700 features a 689cm³ water-cooled in-line 2-cylinder 270° crank engine mounted on a lightweight body. With a high degree of freedom in riding posture, high durability and ease of maintenance, along with high adaptability under load, this new model balances off-road, adventure, and touring performance to a high level. With the design concept of "Exciting Adventure Ténéré," this model has a high-positioned face that incorporates a three-piece shield on a distinctive headlight and tank, creating a design which expresses a spirit of adventure.
---
Low-speed mobility vehicle (Concept model)
YNF-01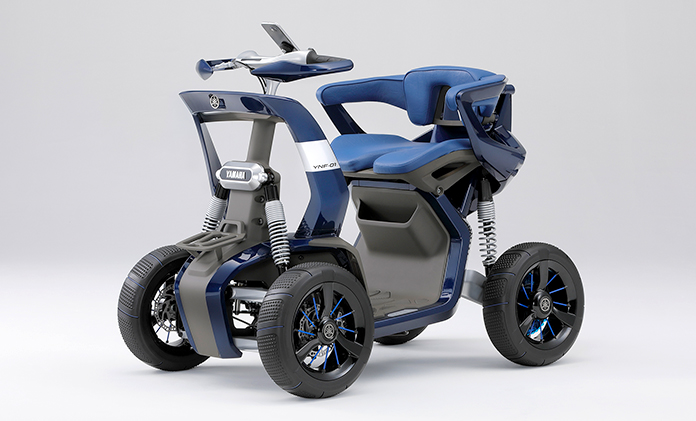 The YNF(Yamaha Next Field)-01 is a low-speed mobility vehicle featuring outdoor-influenced styling, such as large-diameter tires and 4-wheel independent suspension, which enable travel across a variety of road surfaces. The compact form belying its sturdy undercarriage and the frame design elegantly enveloping the rider provide a sense of both being securely held and freedom. The design inspires users to impulsively head outdoors through high-quality packaging and styling which evokes a feeling of adventure.
Motorcycle (Concept model)
MOTOROiD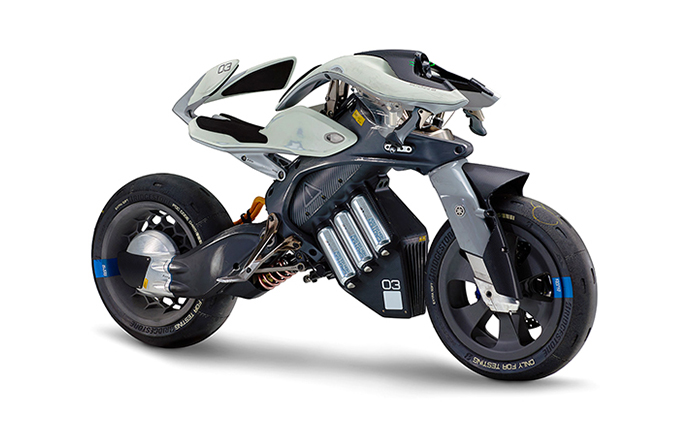 The MOTOROiD concept model aims to demonstrate personal mobility in which the rider resonates harmoniously with the machine. Equipped with high-precision balance control via artificial intelligence and autonomous technology, the MOTOROiD can sense its own state and adjust its center of gravity accordingly to stand up off its kickstand and remain upright unassisted. It can also recognize its owner and move forward to meet him/her, as well as react based on its rider's actions thanks to its human-machine interface (HMI). These, among several other functions, allow MOTOROiD to behave like a true partner of its owner. MOTOROiD inspires a vision of future mobility that takes vehicles beyond simple "tools for movement."
---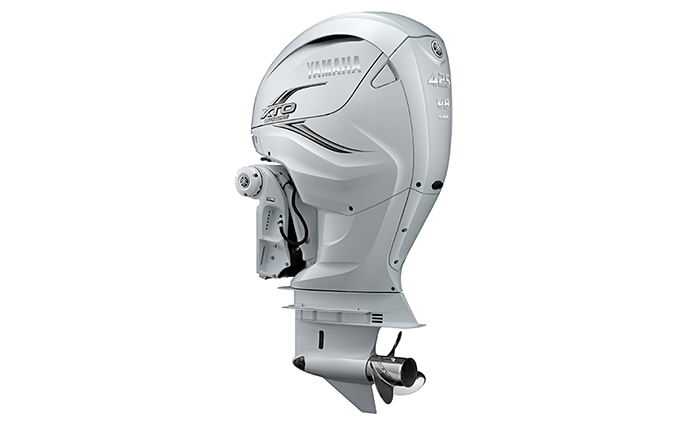 Pumping out 425 horsepower, the F425A is the most powerful model in Yamaha's 4-stroke outboard lineup. We sought a design that would maximize the advantages of that power, focusing on the smallest details for everything from the top cowl to the propeller. Also, as an exterior design "accent" for the boat it's mounted on, we aimed to create an elegant yet dynamic styling worthy of the ultimate outboard and Yamaha's flagship model.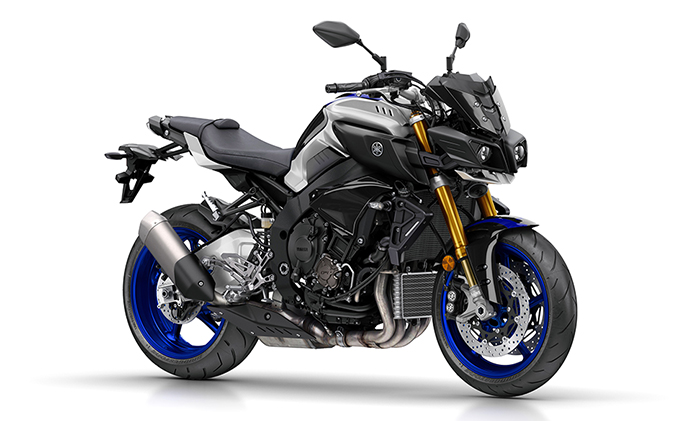 The MT-10 SP represents the pinnacle of the MT series. Designed for global roll out, this series delivers both "powerful, unique engine characteristics and agile performance" along with a "creative style." Fully kitted out as a top-class model, the MT-10SP features equipment such as ÖHLINS electronically-controlled suspension and full-color TFT liquid crystal instruments. The coloring is exclusively designed for the SP, evoking Yamaha Motor's super sports flagship model, the YZF-R1M.
---
Sport Commuter
TMAX530 DX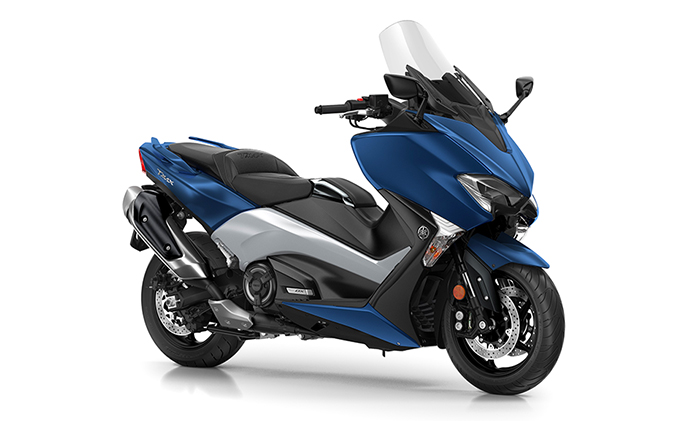 The TMAX530 DX brings the ultimate fusion and balance of two sometimes-conflicting styles in one package, with its sports performance enabling "dynamic acceleration, deceleration, and handling as the rider intends" that is equivalent to that found in traditional sports bikes, as well as a comfortable ride - a commuter motorcycle's key feature - realized through its range of equipment and functions.
---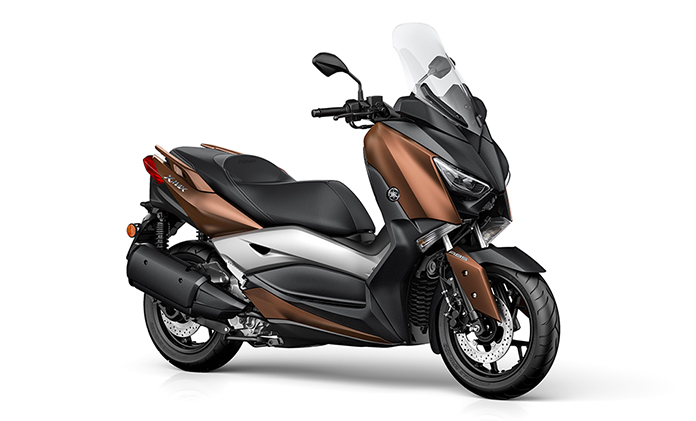 The XMAX 300 is the successor to the XMAX 250 which has enjoyed great reviews and popularity in Europe for many years thanks to its fun ride and sporty styling, along with its combination of comfort and practical functionality for city travel and commuting. The model offers further improvements in comfort and practical functionality, while delivering high-quality styling and agile - yet comfortable - performance that work to satisfy the pride of ownership demands of today.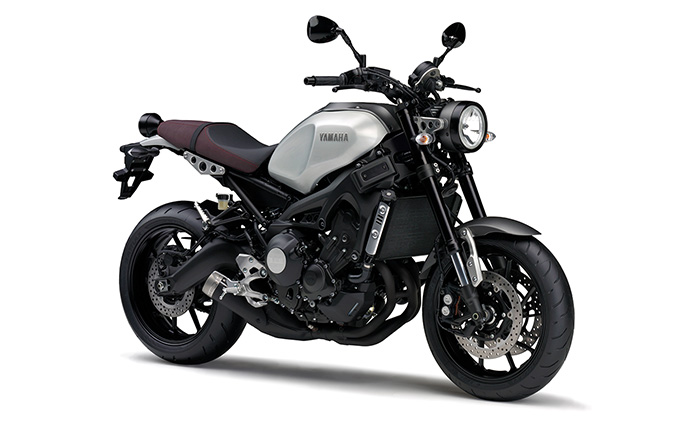 For developed markets that have an established culture of enjoying motorcycles as a hobby, the XSR900 was designed targeting riders who prefer a bike with a more traditional look and style. With its attractive new combination of a simple, "retro" exterior design and modern performance through state-of-the-art technology, this model offers both pride of ownership and a genuinely fun motorcycling experience.
---
Electrically Power Assisted Wheelchair (Concept model)
&Y01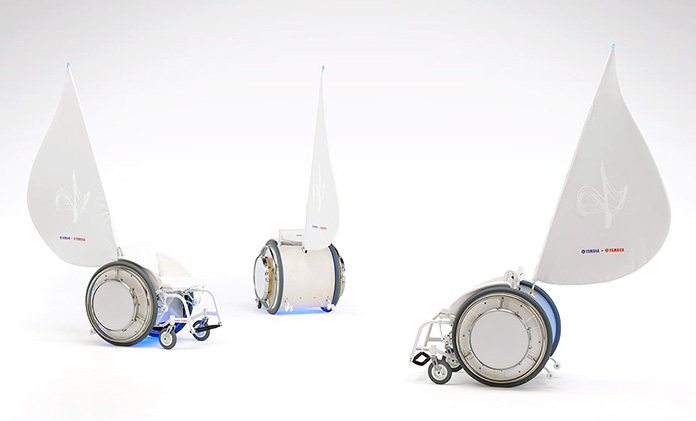 &Y01 (Andy 01) is a working concept model co-created by Yamaha Corp. and Yamaha Motor designers with an image of a white yacht sailing through the waves. A JW Swing electric wheelchair mounts a TLF (Thin, Light, Flexible) Speaker shaped like a boat's sail or a musical note's flag on the back, and slim percussion instruments on the wheels to create the new experience of "riding a musical instrument."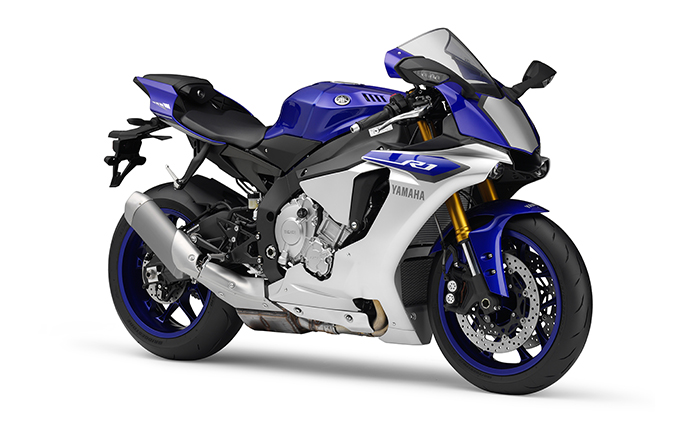 The market-leading YZF-R1 1,000cc supersport model has been completely redesigned with a new focus primarily on riding on a racetrack. It features a new high-performance engine, electronic control systems employing a six-axis attitude sensor unit and a chassis using magnesium and aluminum parts throughout, all combining to achieve an incredible level of performance. The exterior design has improved aerodynamics and also adds new individuality to the model's appearance.
---
Smartphone Application
RevTranslator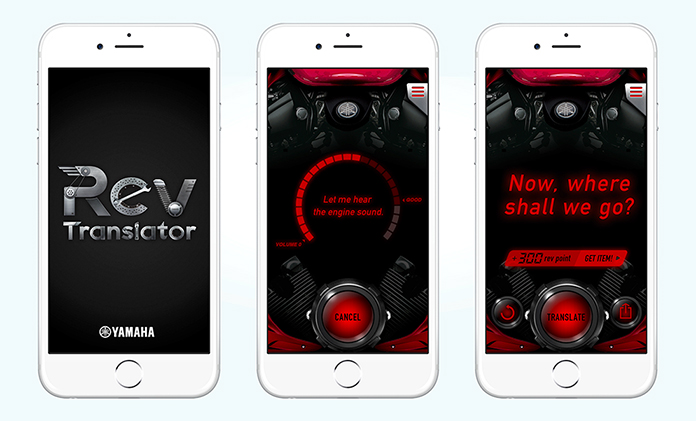 This is the world's first smartphone application that translates engine sounds into human language. By selecting one of the six personalities in the app and recording the engine sound, the app translates the sound into over 100 million realistic and unique combinations of spoken lines. The engine's translated "emotions" and spoken lines vary depending on the engine sound, the time of day and the weather. The app was developed under Yamaha's "Revs your Heart" Brand Slogan.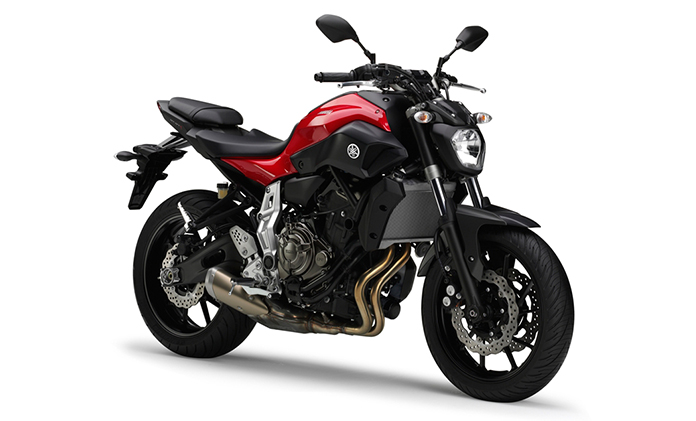 The MT-07 is a sport bike designed and engineered to deliver "enjoyment of motorcycling that feels as natural as your favorite outfit of casual clothing" and "a more fulfilling lifestyle with a motorcycle."
---
Power Assist Wheelchair
JWX-2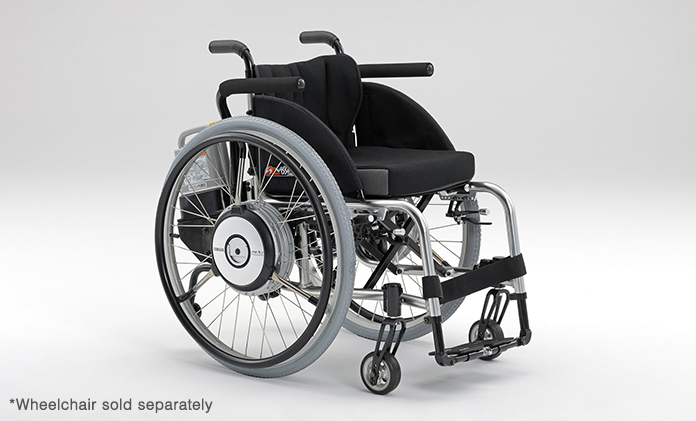 The JWX-2 applies the power assist system technology from Yamaha's PAS electrically power assisted bicycles to wheelchairs, to create a power assist unit that adjusts the level of assistance based on the wheelchair hand rim input load. It can be installed on a variety of wheelchair shapes, and features the dedicated 'JW Smart Tune' software, which allows detailed setting of assist force, response, linear advancement capability, left-right balance, etc. to suit the user's condition.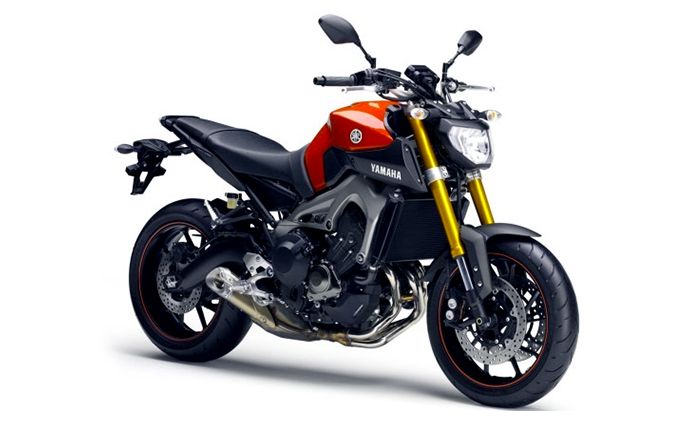 A synchronized-performance motorbike, equipped with a three-cylinder engine and developed in accordance with the cross-plane concept.
Awards Top
Design Top