Top Message
A message from our President and CEO, Hiroyuki Yanagi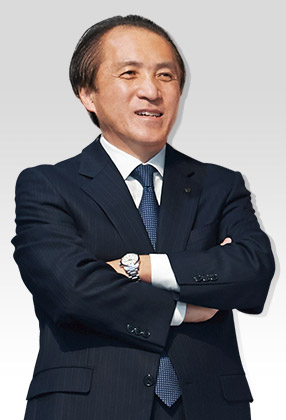 A Company that Creates Kando
The founder of Yamaha Motor Co., Ltd., Genichi Kawakami, set a clear standard for Yamaha engineering and manufacturing when he said, "It isn't a product if it isn't world class." Of course, the meaning of the "world" he spoke of half a century ago and our global business environment today are very different. Still, as we work today to supply products of increasing quality to people all over the world who use and love the Yamaha brand, these words remain an inspiration and a reminder for us to always set our goals high and continue the challenge of pioneering new fields of growth for the future. It is this "spirit of challenge" nurtured over many years that drives us toward constantly higher goals as we seek to build products with Yamaha's high standard of quality that move and inspire people.
Our corporate mission of being a "Kando* Creating Company" is an expression of our desire to offer our customers around the world products and services that bring joy and unexpected exhilaration of the kind that enriches their lives with new fulfillment. To realize this mission, I want us to continue to be an excellent engineering, manufacturing and marketing enterprise with a prominent presence in the global market. Product creation is a process that begins from the customers. I believe our task as a manufacturer is to maximize and optimize the value we provide our customers, in terms of product appeal, reliability and cost-performance. What's more, we must always do it in ways that exceed customer expectations. That's why we always listen to the voices of the customers in each market and build and supply products that fit the realities of specific markets, because we know that each product has to be authentic and we have to offer it at a price that represents real value for the customers in their market.
As Yamaha Motor looks ahead long-term toward the year 2020, our business in the emerging markets will be our primary growth driver. At the same time, we will continue to take on new challenges in the three areas of "creating enjoyment in personal mobility," "socially and environmentally creative technology" and "helping create more fulfilling lifestyles." Through these and all of our corporate activities, we will continue to strive for excellence in engineering, manufacturing and marketing and to be a company with a prominent presence in the global market.
We want to be a corporate group that people always look to for the next advances and innovations, and we hope that you will continue to look to Yamaha Motor with expectations for the next Kando.
*Kando is a Japanese word for the simultaneous feeling of deep satisfaction and intense excitement that people experience when they encounter something of exceptional value.