Yamaha Journey Vol.28
Metabon's touring adventure of Eurasia and Africa on a Yamaha XT660Z Ténéré.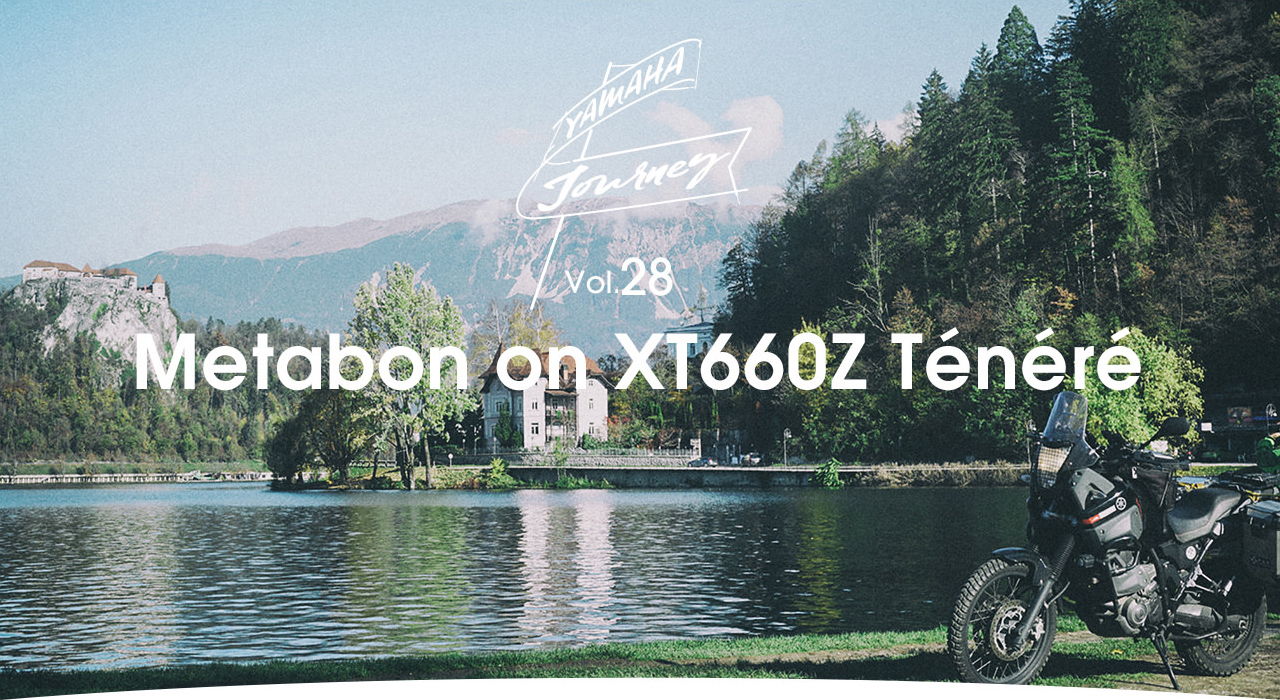 A miracle encounter beyond the horizon.
Metabon
XT660Z Ténéré
#02 Halfway through the journey:
Enjoying the culture of Europe with all my senses.

Europe in 2018
Koji Mochizuki (Metabon) was born in Tokyo in the first half of the 1970s into what is often called the lost generation. Metabon had an adventurous streak, which led him to take to the road to make a continuous journey across the Eurasian and African continents. In this installment, Metabon travels from Georgia to the Strait of Gibraltar, enjoying the warmth of people, the diversity of the culture, and experiencing the occasional breakdown.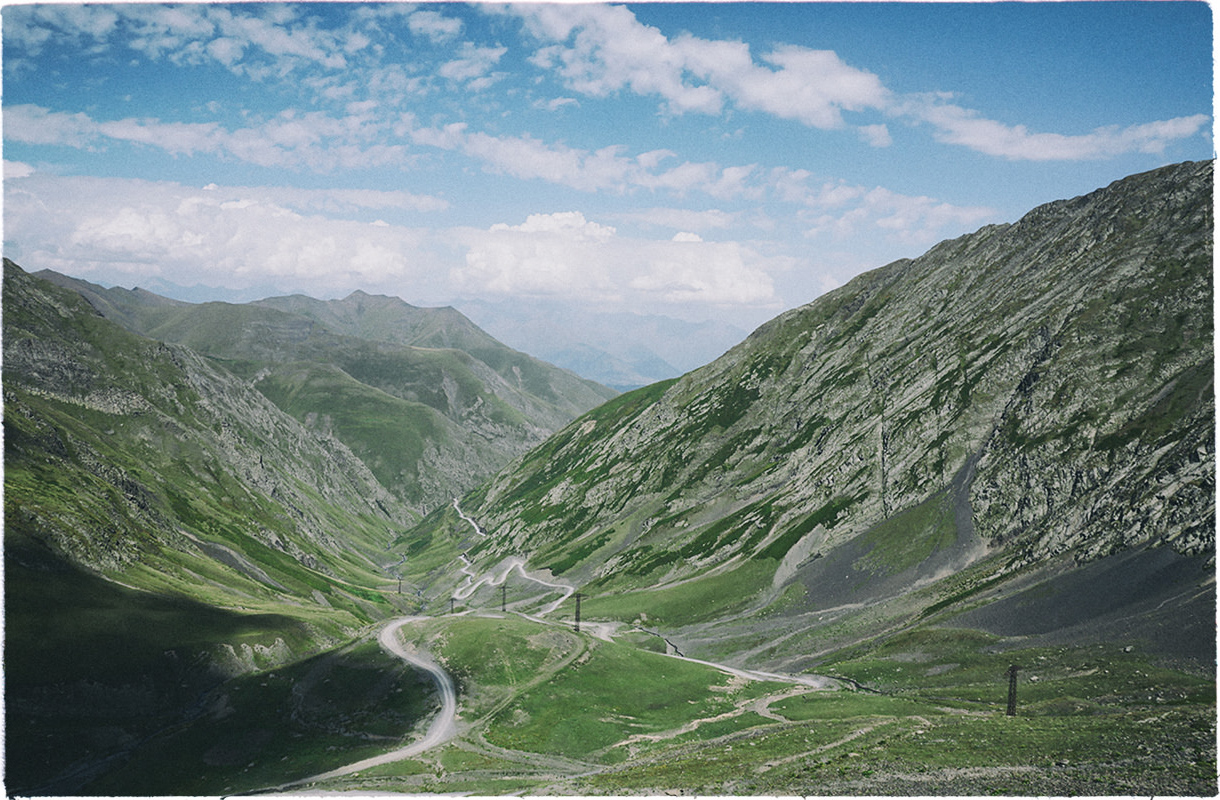 I was invited by an acquaintance and headed to the unexplored region of Omaro.
Along the way, following a road winding and coiling like a snake,
this suddenly came into view. I had to be careful not to fall off the cliff.
Omaro, Georgia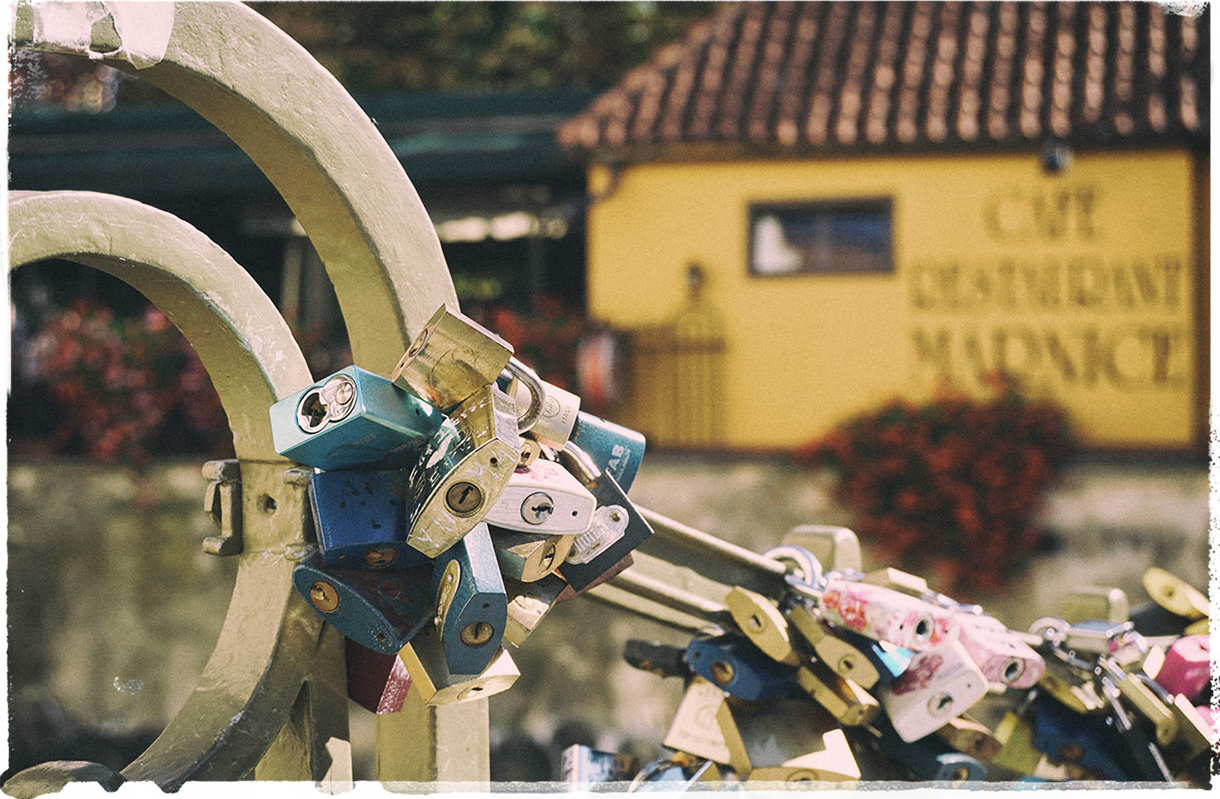 Along the Vltava River in Prague, there are a series of tiny alleyways so narrow that traffic can only go one way at a time,
and I never got over the wonderful tiny signals they had.
There are some padlocks that couples had left on a bridge to symbolize their love for one another.
Prague, Czech Republic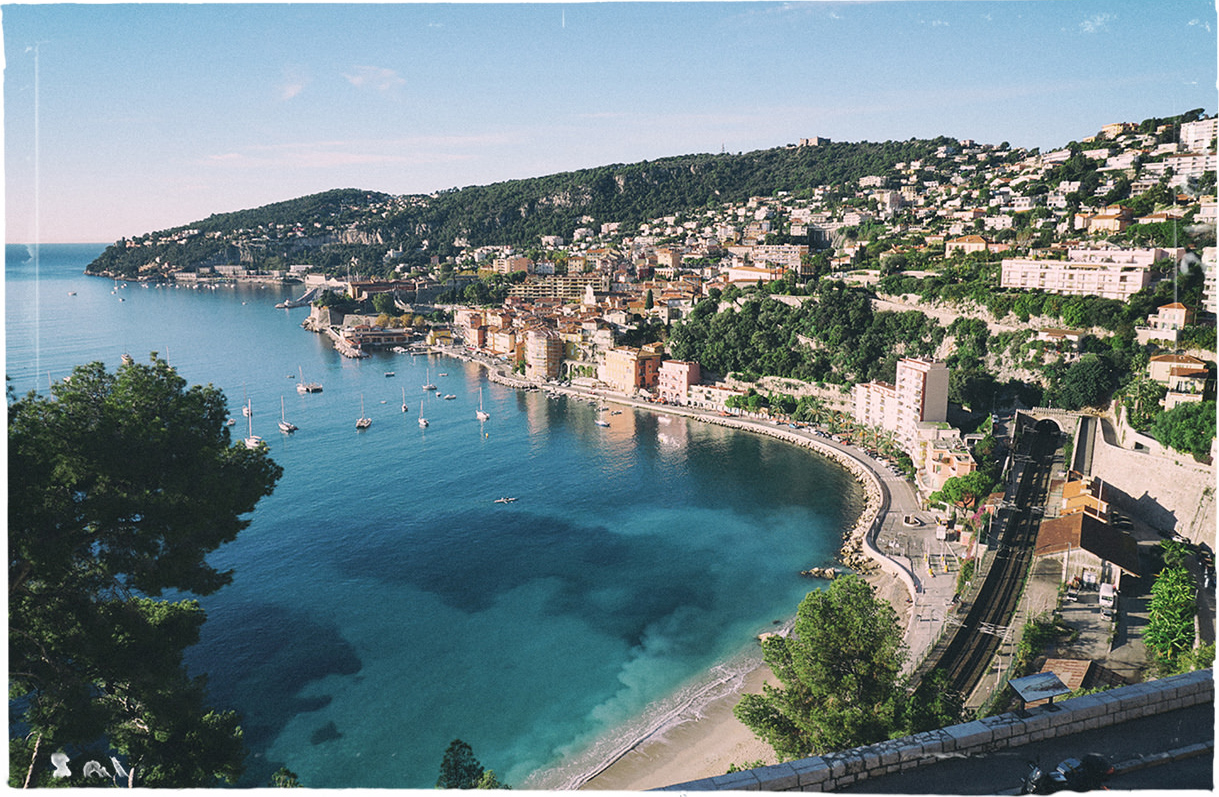 The word "sublime" is a perfect description of the scene.
How does it feel to look out over the sea from a yacht? I'd love to even just once experience spending time on a luxury yacht.
Côte d'Azur, France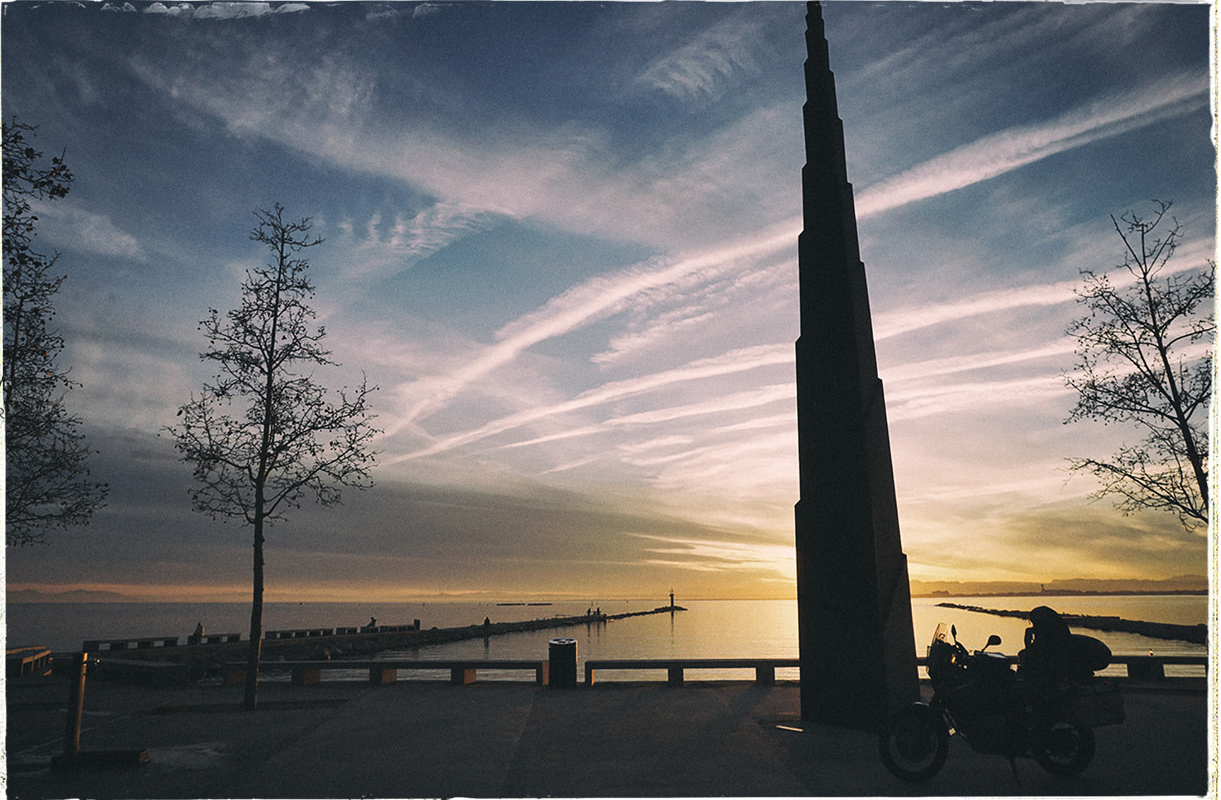 The sky, which had been cloudy, suddenly opened up in the evening.
It was such a refreshing feeling that I knew that there was a relationship between the weather and my mood.
Cadaqués, Spain

Visiting Georgia is like being in a medieval fantasy, and Turkey is a camping paradise
It was already dark by the time I rode my Ténéré into Georgia across the Russian border. Shortly entering the country, I came across a stone castle illuminated by torches, the naked flames casting light and shadows a large Christian cross. In such a medieval setting, I felt like I was the main character in a fantasy game and kept expecting mounted knights to suddenly appear from over the hills.
Tbilisi, the capital of Georgia, has a comfortable atmosphere, so it attracts a lot of Japanese tourists. There's free Wi-Fi everywhere in the city, and I decided to stay in a backpacker hostel for a couple of weeks. There were actually some Japanese people staying there, so we often cooked together and chatted over dinner. I was surprised to see quite a few high school students here as well, but I guess that must have been because school was off for the summer. A lot of people in Georgia drink grappa, a distilled grape-based spirit originally from Italy, and it's cheap – under €2 for a 500ml bottle – but the country is pretty strict about keeping the towns and cities clean and safe for tourists, so drinking on the streets is prohibited.
A stone wall runs around the outside of the city, but once you are on the other side of it, you are rewarded with a beautiful natural environment that is very enjoyable to ride through. After being on the bike for about 3 hours, I got to the small town of Stepantsminda, which is dotted with historical buildings like the Gergeti Trinity Church, located on the top of a steep mountain in the shadow of the breathtaking taller peak Mount Kazbegi. Due to its isolated setting and the natural surroundings, the church is believed to be "close to Heaven," and I could understand why. On my way back down the scenic valley of Juta, I got stopped by a herd of cows occupying the road, and I was taken aback that so many of them were packed in so tight to each other right on the edge of a cliff.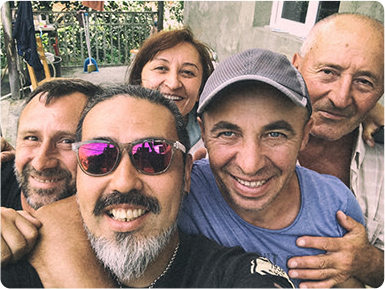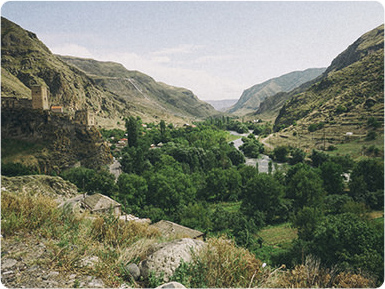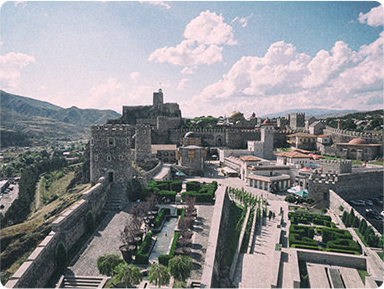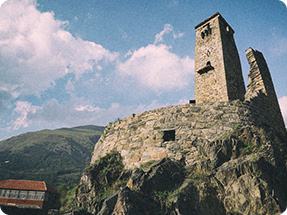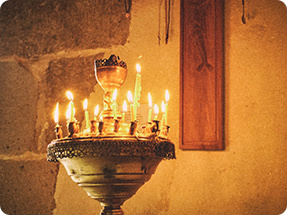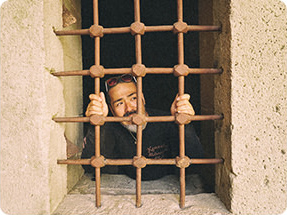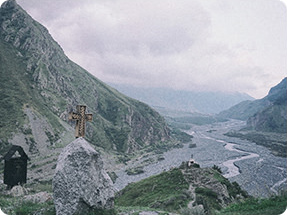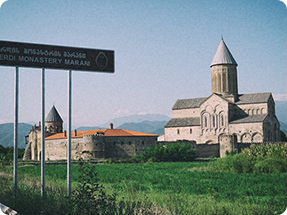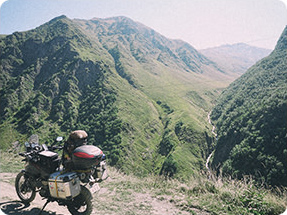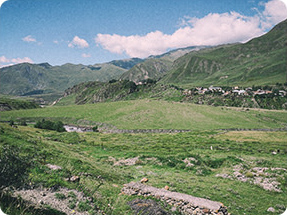 After two weeks of taking in all the sites Georgia had to offer, I decided to head to Turkey. I got into the country without any trouble except for a frustrating misunderstanding about an insurance issue at the border. The gas stations in Turkey have grassy areas next to them where you are allowed to pitch a tent, so I took advantage of that and camped a few nights at different places whilst heading to Bursa.
Once I got to Bursa, I hit up some local Ténéré riders I had been in contact with on social media. I found that if you add the hashtag #XT660Z to your posts, you get new followers from all over the world. I knew I was lucky because there is no better way to discover a new city than have a local friend as your tour guide. I will never forget the taste of the scorched butter kebabs I had there in a Michelin starred restaurant. Over dinner, I happened to mention that my brake pads were wearing a bit thin, and I was really moved when they gave me some spare ones as a gift – along with a T-shirt of their biker group, which actually came in handy later on.
Before going to Turkey, I had heard that a lot of tourists get scammed, but I didn't feel that at all when I was there. Everyone was really kind to me. One particular event exemplified that. As I approached the border, I realized it was about time that I had the bike serviced, so I went to a shop recommended for Ténéré owners. I had the tires and the oil changed and asked if they could wash the body too. After a 40 minute thorough clean, I went to pay, but the man said that I didn't need to pay for the wash and instead said, "If you are going to Africa, use the money charitably." Of course, I left Turkey determined that I would do so.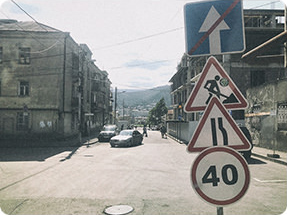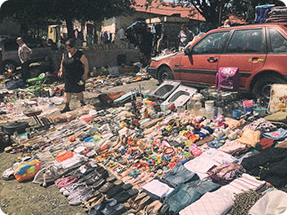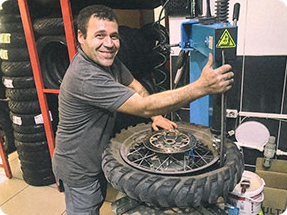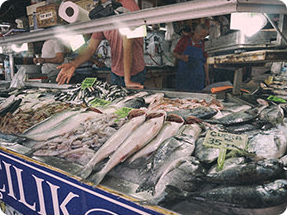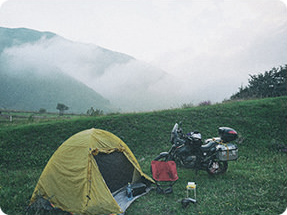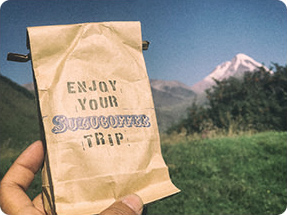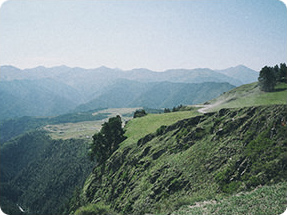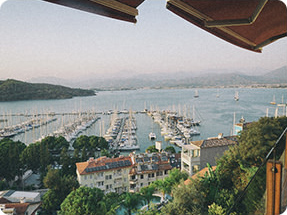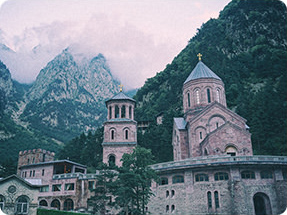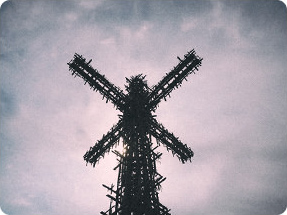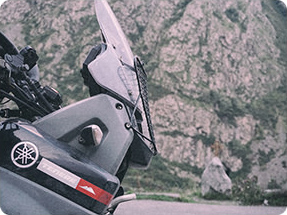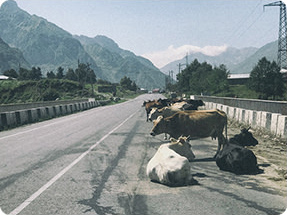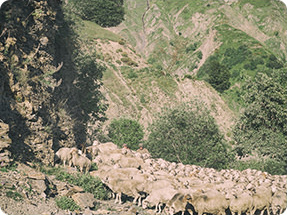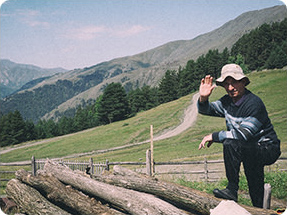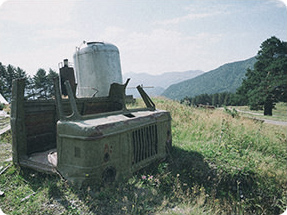 Hot spring heaven in Budapest, and feeling the power of life and death in Prague
From Canakkale in Turkey, I took a ferry for 15 lire to the opposite bank, staying overnight in Greece before entering Bulgaria. I camped next to a gas station again but decided to press onwards as it was so cold my tent was freezing over and continued on with my journey to Budapest via Belgrade.
I could tell I was in Europe just from the sound of the trams and police car sirens. Budapest is a hot spring paradise, and I decided to try the famous Gellért Thermal Baths. Although the interior is really luxurious with its stained-glass windows and high arches, the atmosphere actually reminded me of health spas back home in Japan. Men and women of all ages sat relaxing in the warm water. The sun was out, so after getting out of the bath, it was nice to cool down outside, and the huge sausage and the beer I bought from the stall there tasted amazing.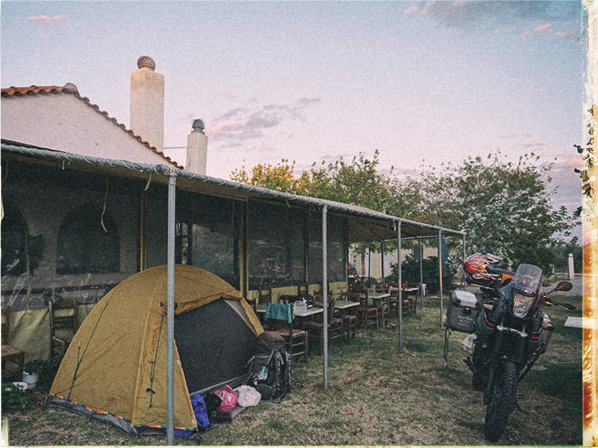 I stayed 3 or 4 nights at a cozy guesthouse in Budapest before moving on to my next destination, Prague, with an overnight stopover in Brno just across the border from Slovakia on the way. My plan was to take it easy in the Czech Republic and Poland whilst doing a spot of sightseeing.
As I was passing through Sedlec, I wanted to visit the Sedlec Ossuary, a small chapel known for its decorations and furnishings made up of the skeletons of between 40,000 and 70,000 people. I marveled at the arrangement of bones as if I was witnessing a masterpiece, forgetting the creepy undertones. I think to myself, with all the tourists that flock here, whether the church is essentially holding an extended memorial service.
From one Roman Catholic place of worship to another, St. Vitus Cathedral, known for its beautiful stained glass, overlooks the city of Prague. In awe of its grandeur, I suddenly had the urge to use my drone to film it, and I asked some people whether it was OK to do so. I'm glad I did because I found out there was a several-hundred-thousand fine for flying drones in the city. I've definitely witnessed restrictions on drones getting stricter as people become more familiar with them, so I've learned to be careful before flying it.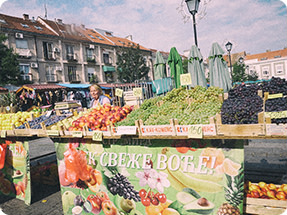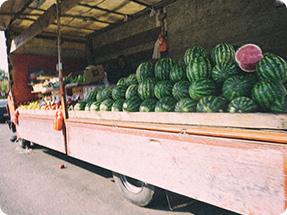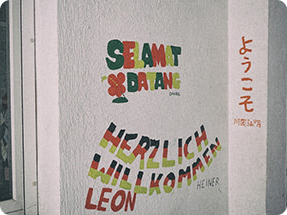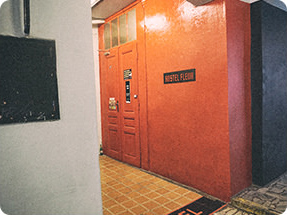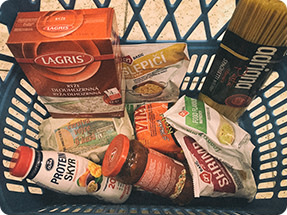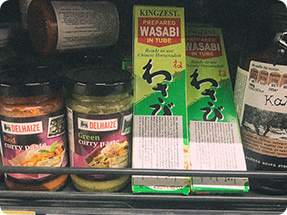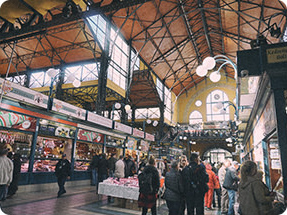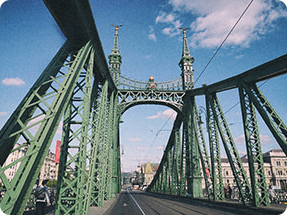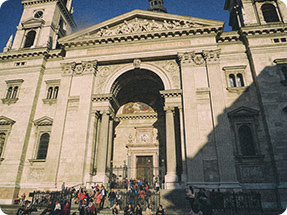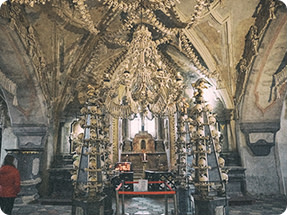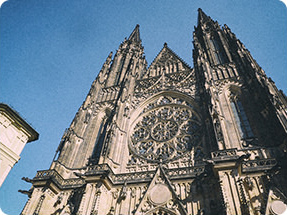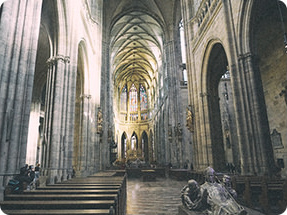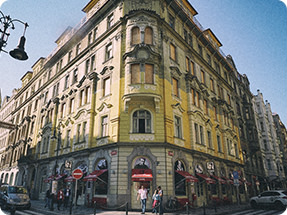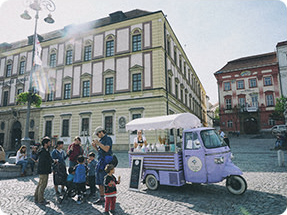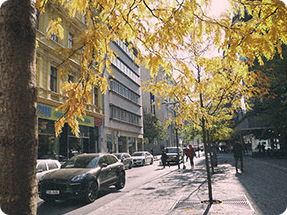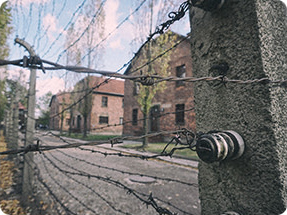 Rich food culture and generous people, Italy
Whilst traveling through Germany and staying in Munich for three days, I enjoyed taking some drone footage at Lake Chiemsee, which was recommended to me by a family I met along the way. I took a slight detour along the winding roads of Heiligenblut, Austria, taking in the spectacular views, stopping to refuel just before I entered Slovenia. For no particular reason, I glanced at the receipt and was shocked how much the gasoline cost here. When you are driving through Europe, you are less aware of the borders between countries, but prices vary drastically from country to country. Appreciating that the price of gasoline can be so surprisingly different depending on where you are, I decide to be more careful and only refuel next time when I see a good price.
Venice was flooded due to exceptional tide peaks, in a natural phenomenon known locally as acqua alta, so I decided to move on to Florence. I stayed in a hostel that was built in the Renaissance period and apparently used to house the royal family. It certainly looked like it was once a luxurious building, but it was a bit decrepit and run down and didn't feel that comfortable to stay there. On top of that, I'm pretty sure I got bitten by bedbugs because the next day I had itchy welts all over my body.
For some reason, there are far more motorbikes than cars on the roads in Genova, especially big scooters like the Yamaha TMAX and XMAX. That worked in my favor because I had a coolant leak and some engine trouble, and there was a Yamaha dealer nearby that really helped me out. I was a bit startled to hear it would cost 500 euros to replace the radiator, but overall glad that it wasn't a more serious problem.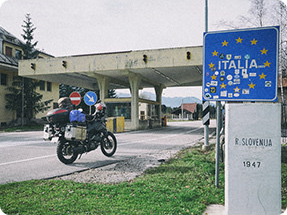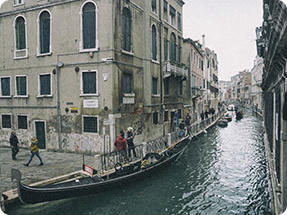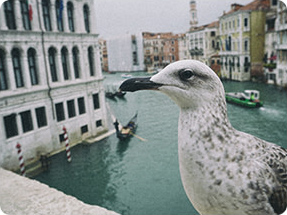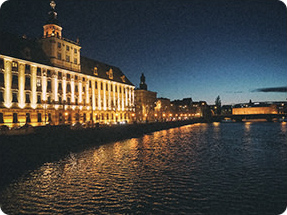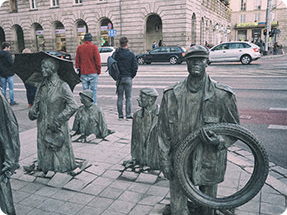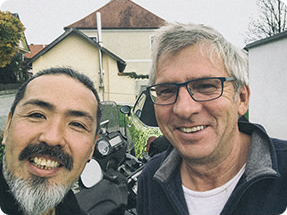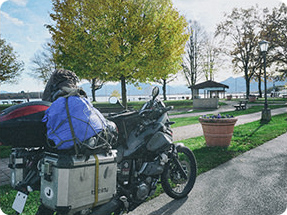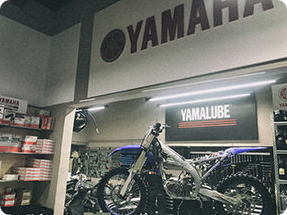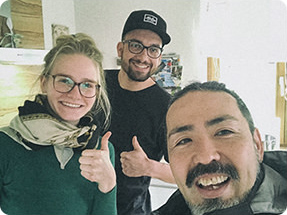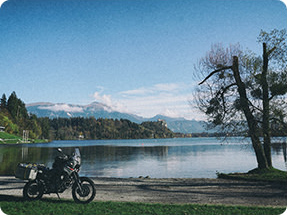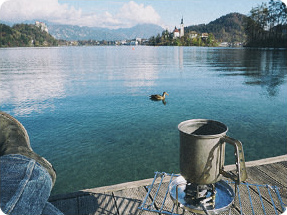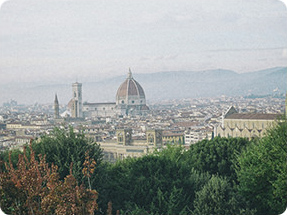 I got in touch with an Italian couple I met in Vladivostok, and they invited me to their home in Pietra Ligure. The husband used to play in a band, but now earns his living by growing olives in his private olive grove, and taking them to a nearby refinery to make premium olive oil. The freshly squeezed olive oil looks like fruit juice and can be drunk straight from the bottle. When I was served it on fresh pasta, it was a lot richer than I thought it would be, but light and refreshing at the same time – it definitely exceeded my expectations.
His friend is an artist, and he tells me that he makes his own pizzas from wheat as well as making his own wines and spirits. I'm envious of this lifestyle that these people enjoy in Italy. Life in Pietra Ligure was so comfortable that I accidentally overstayed my welcome, although they repeatedly assured me they were happy for me to be there for the nine days. I was reluctant to say goodbye to them and their hospitality. I know I will return the favor to them one day in the future.
I had wanted to stop by Paris on this trip, but traffic restrictions were in place due to the mouvement des gilets jaunes, or yellow vest, protests, so I changed my plan and headed for Spain along the south coast of France stopping at Nice on the way.
The buildings are white in Nice, and trendy-colored parasols line the sides of the roads. Even though this is December, it's warm and sunny here, and people are out on the beaches – even pensioners are in their swimwear! The climate and the atmosphere here were perfect, and when I wasn't visiting the local markets, I just spent time gazing out onto the horizon; it was soothing both physically and mentally. While I was here, I got acquainted with a filmmaker. He told me that he was going to screen a film at the Cannes Film Festival. I was invited to a party at a luxury hotel, but when I got there, I felt out of place among all the millionaire luminaries and didn't really have a good time. It was a good social learning experience for me, though.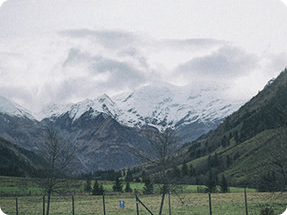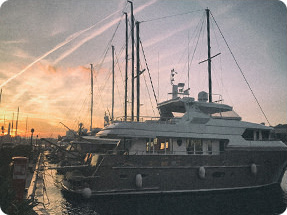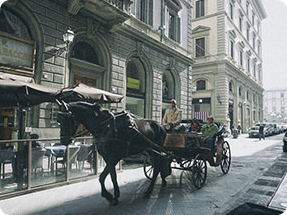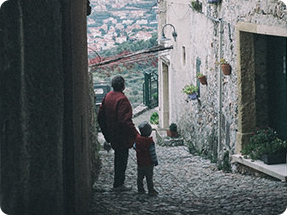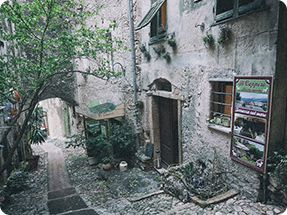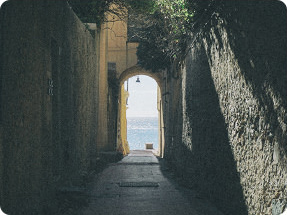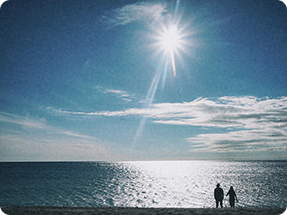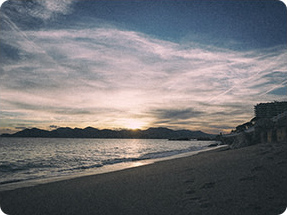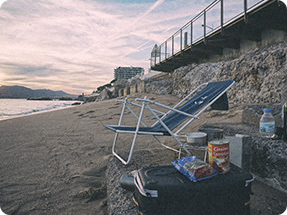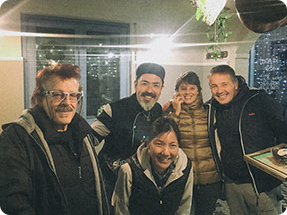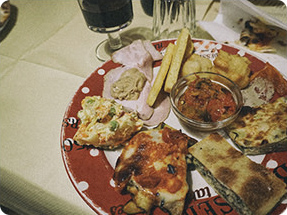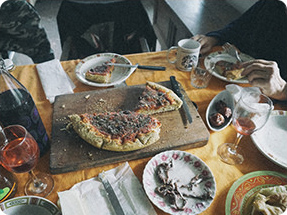 Stranded in Madrid, thinking about life before and after this trip
I crossed the French border into Spain and headed for Cadaqués, a coastal town just inside the country where Salvador Dalí lived and worked. The kind couple who put me up in Pietra Ligure told me about a seaside café bar called Bar Marítim that serves a special cinnamon flavored coffee mixed with a sweet liqueur. As I sat there, I thought about my two generous Italian friends and imagined them sitting here, enjoying the scenery.
It's well known that Valencia is famous for its oranges. Even as I rode my bike, I could smell the rich and refreshing citrus scent in the air. I had wanted to try fideuà, a kind of paella that's made from pasta rather than rice - another thing Valencia is famous for - but I was running behind schedule and had to press on.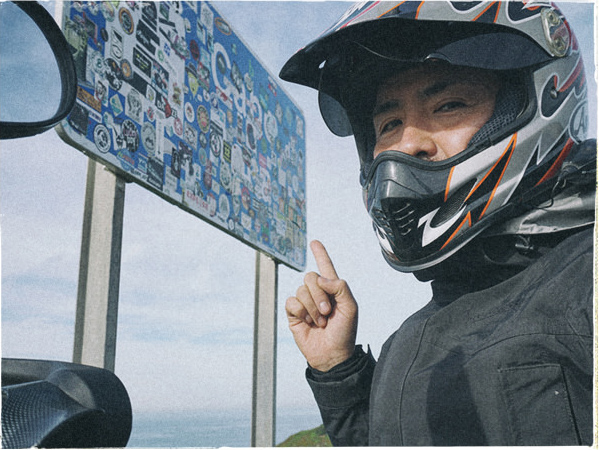 In Madrid, I decided to take my bike in for a full service before I headed to Africa, where it might be more difficult to do so. A comprehensive inspection at the Happy Rider motorcycle shop revealed a variety of problems, including a broken water pump and a malfunctioning regulator. Since it was the end of the year, I decided to stay here and enjoy some free time sightseeing in Spain and Portugal while waiting for the repairs to be completed.
I shot some footage around Miradouro da Senhora do Monte in Lisbon, where there's a great view of the city. I also visited Cape Roca, the westernmost point of the European continent, and Sagres, where Kotaro Sawaki ended his journey that was chronicled in his famous book "Midnight Express." I was also fortunate to have time to visit the Picasso Museum in Barcelona and get to see the masterpieces in the collection there.
I can't thank José from Happy Rider enough. Shortly after he completed the repairs, my battery ran out in Málaga, and he drove 550 kilometers to help me, even though it was New Year's Day. He was probably at home celebrating with his family and left them to drive out and help me. I felt really sorry to drag him away from all that, but at the same time, I felt the depth of kinship that only motorcycle riders can have.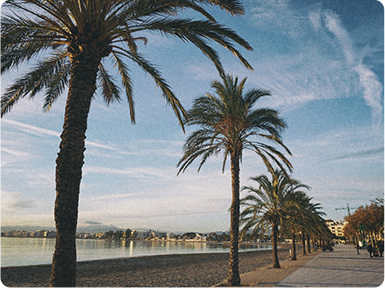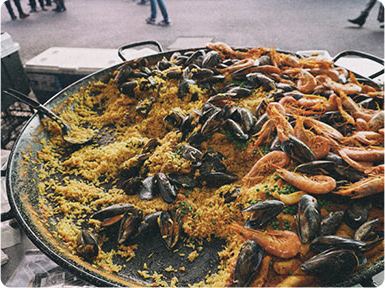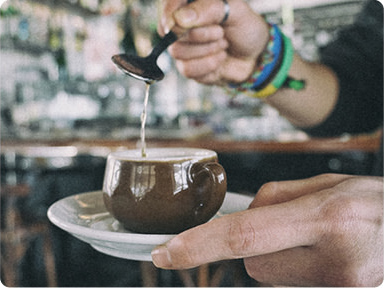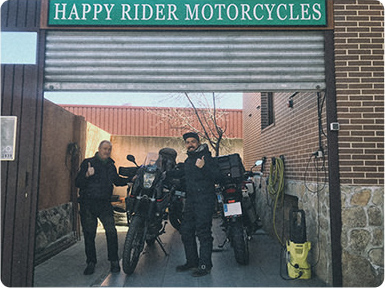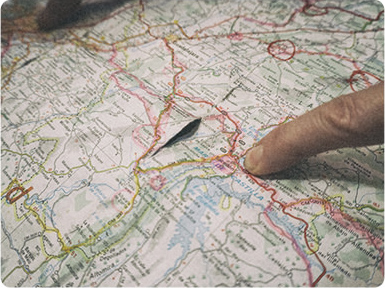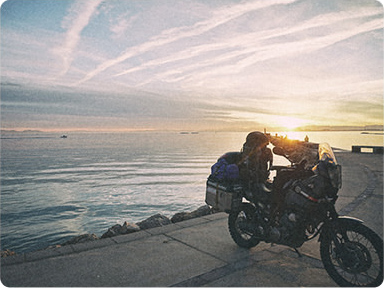 My best friend, the Ténéré, was now in great shape for the new year. In particular, the torque and the fuel consumption had notably improved, so I was ready to explore the African continent. Although feeling determined, at the same time, my mind was swirling with anxiety like I'd never felt before.
Part of this anxiety came from the realization that it had been six months since I left Japan. Now back on the road again, it was starting to feel like that this trip was becoming a daily routine, where you have to just keep moving on until your next destination checkpoint. While I was aware that I was literally living the dream, at times, I had begun to lose any sense of emotion when seeing such fantastic sites in all these countries. I wondered whether it was because an abundance of information about all these places is available online, and I didn't need to see it in person.
However, that isn't the case with Africa, where I was headed. I had a lot of questions that I couldn't find answers online even in English, let alone Japanese - questions about the conditions of the roads, being issued a visa, and so on. The situation is so volatile in the first place that even if I could find some information, it is highly likely it would change before tomorrow.

You won't know unless you go

Determined to plunge into the unknown, I crossed the Strait of Gibraltar and headed for Morocco.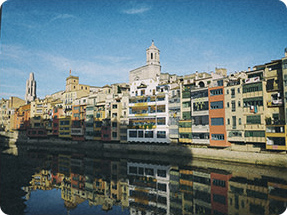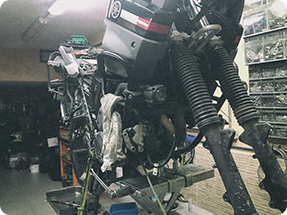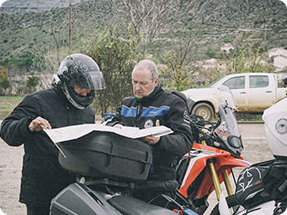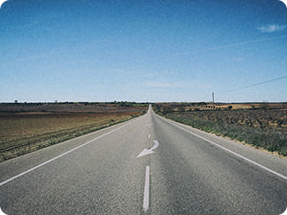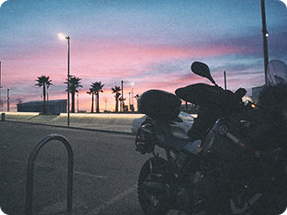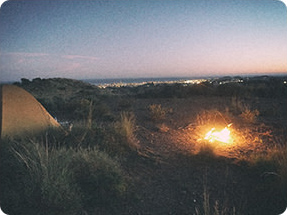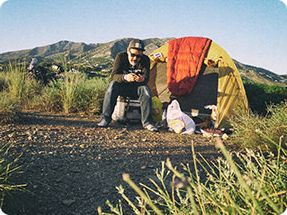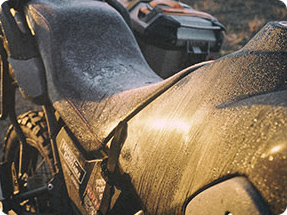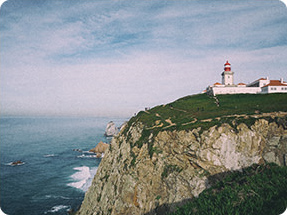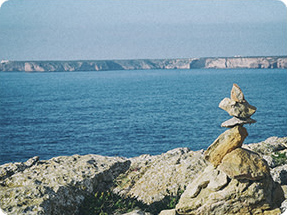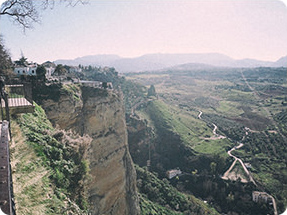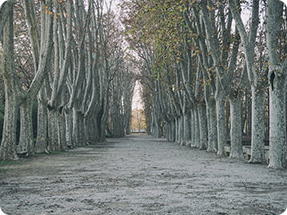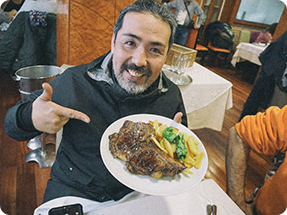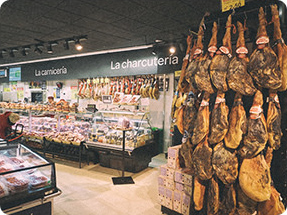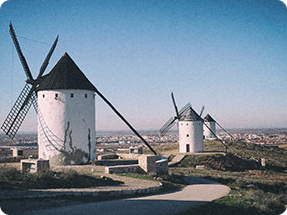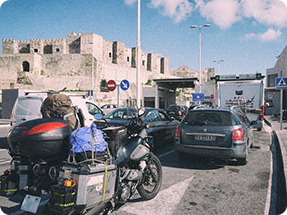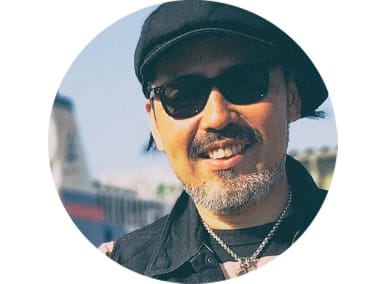 Metabon (Koji Mochizuki)
Born in 1975 in Tokyo, Metabon loves biking, camps, and bonfires. Every day at work, he daydreamed about riding my Ténéré. On his days off, he spent time on his bike, using touring as escapism. Traveling further and further, he started to set his sights on going