Vol. 17 Donating to an African Dream
Cote d'Ivoire – January 12, 2023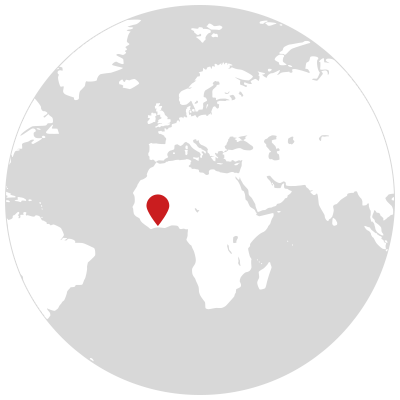 Republic of Côte d'Ivoire
Yamaha Motor made its first steps into Africa with its business in the 1960s. Spearheading the company's efforts on the continent is the Overseas Market Development Operations (OMDO) Business Unit. The men and women in OMDO have long been heading out into the field themselves, discovering various societal issues and working to devise solutions for them. One program in motion today is to donate 10,000 soccer balls to children in countries across Africa over a decade-long period, and the next batch of shiny new balls were recently delivered to a sports club in Cote d'Ivoire in West Africa.
After receiving a brand-new soccer ball, one youth in Cote d'Ivoire shared his thoughts: "Our parents believe soccer isn't for poor people. In their minds, it's a luxury for the rich, but I want to change that. To start from zero and become a hero, because soccer is for everyone, rich or poor."
Yamaha Motor's first connections with the African continent began with the supply of its products through the Japanese government's Official Development Assistance (ODA) program over 50 years ago. Since then, Yamaha Motor has continued participating in a variety of international assistance initiatives while deepening its understanding of the realities of Africa, from the daily lives of its people to methods of industrial promotion. Examples of work done thus far together with government bodies, international organizations, and local partners include using outboard motors to help motorize coastal fisheries and developing and installing Yamaha Clean Water Supply Systems to provide local residents with safe, potable water.
Soccer is, without a doubt, the most popular sport in Africa. Yamaha Motor was an official supporting sponsor of the 2019 African Cup of Nations hosted by Egypt, and the tournament captured the interest of the entire continent. It was this sponsorship that led us to start the Soccer Balls for African Children program to donate new soccer balls to youths throughout Africa. The program gives 200 balls to five randomly selected countries each year for a total of 1,000 balls annually, totaling 10,000 balls by the end of its scheduled ten-year period.
"I want to become a pro and show everyone," says the ambitious young player. As the shiny new balls are delivered, the villagers break out into joyous song and dance. Each new ball that finds its way to the continent is a small donation from Yamaha Motor to the daily lives and dreams of the children of Africa.