Vol. 10 Skill India: Schools for India's Dreamers
India - March 16, 2017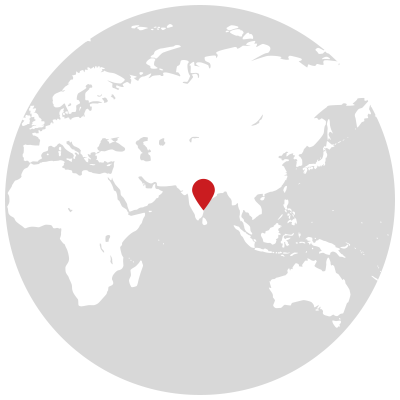 India
Yamaha Training Schools (YTS) are open to young people in India who otherwise wouldn't have the means or opportunity to study or receive vocational training, and they provide training and instruction for them to become certified motorcycle technicians. These schools are being opened throughout India and young people, each with their own personal dreams and goals, make the daily trip to learn each day. We visited a young man in his late teens learning the skills of a mechanic at the YTS in the southeastern city of Chennai. He studies with fervor and purpose; he wants to work as a professional mechanic so that he can help send his younger brother to school, and also buy a house so his parents can live at ease.
India is a country of some 1.27 billion people, with around 65% of the population under the age of 35. However, there are many young people who do not have the opportunity to get an education or vocational training, and this is a big concern in terms of the future of the working population. As a countermeasure to deal with this impending social issue, the Indian government announced its "Skill India" program in 2015 aimed at developing vocational skills among the younger demographic. Under this program, officials are currently engaging in a variety of initiatives aimed at providing training for some 400 million youths over a period of seven years.
Yamaha Motor India Sales Pvt. Ltd. (YMIS) is working in cooperation with vocational training institutes and NGOs around India to set up YTS facilities to train motorcycle technicians as part of this program. The YTS curriculum was officially designated as a vocational training curriculum by the Indian government* so graduates are issued certifications making them nationally qualified motorcycle technicians in India.
As of February 2017, YTS facilities have been set up in 28 locations around India and plans call for a total of 52 to be established by the end of 2017. The curriculum includes classroom study, hands-on training and actual workshop experience at Yamaha dealerships. After completing the training and becoming full-fledged motorcycle mechanics, virtually 100% of graduates are hired by Yamaha dealerships as already-qualified employees and they begin receiving a stable income.
Yamaha has implemented its Yamaha Technical Academy (YTA) mechanic training and education program globally, aiming to ensure that all of our customers will receive the same high-quality service at any Yamaha dealership in the world. There are currently more than 50,000 people worldwide that have completed one of the courses and become YTA-certified mechanics. Of these, about 5,000 are serving Yamaha customers in India, which now boasts the largest demand for motorcycles in the world.
In April 2015, the YTS curriculum was officially designated as a vocational training curriculum by the Indian government and received certification from the Ministry of Skill Development & Entrepreneurship's National Council for Vocational Training (NCVT).